There is growing demand of public address system in applications such as passenger amenity, marshalling yards, breakdown train emergency equipment, special functions, railway workshops, acoustic, and other applications. In order to fulfil the rising demand for a variety of applications, key enterprises have undertaken an expansion strategy to boost their manufacturing capacity. This is fostering remarkable progress of global public address system market.
Covid-19 Impact & Market Status
Coronavirus (COVID-19) epidemic has impacted every part of life around the world. Several changes in market conditions have resulted as a result of this. The paper covers the constantly changing market landscape as well as an initial and future assessment of the impact. Our data was gathered by a team of professionals who curated the research, taking into account market-relevant facts. This study offers the most up-to-date information on market drivers, restraints, opportunities, and trends. It also examines the market in several regions, as well as the growth and trends of key segments.
When it comes to the Covid-19 pandemic, the coronavirus's continued expansion throughout major countries has become a major source of concern for businesses. While it was advantageous to some industries, the interruptions caused by the health crisis have been extraordinarily difficult to deal with. In addition, the study document provides industry segmentation, as well as a broad-economy database and a summary of competition dynamics, in order to provide a better understanding of this industry. The Global Public Address System Market Report offers clients insightful data to help them improve their basic leadership capacity in the global Public Address System Market, such as market dynamics, segmentation, rivalry, and regional growth.
North America To Dominate The Market
Currently, the North American public address system market has the highest proportion of the worldwide public address system market. However, it is anticipated that the Middle East, Africa, and Latin America public address system markets will grow at the quickest rates during the projected period.
High Population Will Boost Market Sales
A high population component is anticipated to encourage Asia Pacific end-users of public address systems to buy effective and portable PA systems over the projected period. As a result, during the projected period, the public address system in Asia Pacific is expected to increase at a high rate.
Manufacturers are now developing tiny hand-held public address systems (microphones) that are convenient to carry and utilise in congested public spaces. In noisy and echoing environments, hand-held microphones improve understanding and perception of live public address system announcements. Such advancements are anticipated to advance the global public address system market throughout the forecast period.
The factors such as emerging application avenues, technological advancements in acoustic systems, companies investing in enterprise expansions, availability of advanced hand-held microphones, loudspeaker playing a major role in music programs and other events is driving the global public address system market.
A public address system, often known as a PA system, uses an amplifier, microphone, and loudspeakers to electronically amplify and broadcast sound. These public address systems allow a speaker or performer to address a sizable audience.
A public address system is a piece of equipment that consists of a mixing console, loudspeakers, and amplifiers. These integrated public address systems with mixing consoles can be used for both speech and music. The microphones are the principal sound input sources.
Manufacturers offer public address systems that allow users to choose from a variety of pre-recorded messages using automated equipment or operators. These previously recorded inputs are delivered to signal routers and preamplifiers. The control system checks the speaker lines and amplifiers for issues after transferring the pre-amplified input signals to the amplifiers before sending the signals to the loudspeakers.
The Global Public Address System is estimated to grow at a CAGR of 2.9% during the forecast period of 2022-2029 and a market size of 1919.3 Million in 2029.
The majority of participants in the public address system market have gained from promising interconnected solutions, quicker installation, and impressive end-user versatility. In order to increase the variety of sources, public-address communication system innovators are currently incorporating features like a mixing console, Bluetooth compatibility, remote control, and operability. They are emphasising the utility of the PSA's inbuilt loudspeakers.
They can be used to broadcast pre-recorded video or locally generated content, such as at train and airport terminals. The market for public address systems has developed over the years as a result of the use of sound reinforcement systems in public facilities like malls, public buildings, and schools. The research reveals new application possibilities, developments in acoustic systems for new income streams for manufacturers, as well as the share and revenue size of numerous important categories across a variety of factor.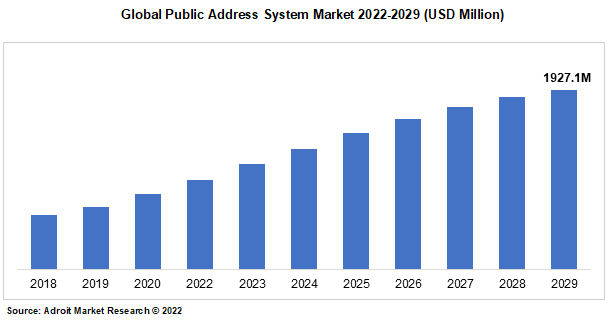 Bose, Fishman, Rockville, Fender Musical Instruments, Pyle Audio, Peavey Electronics, Power Werks, Behringer, and Yamaha are some of the market participants in the global public address systems. Leading companies like Bosch are eager to extend their product offering for public address systems. PSA developers are also introducing solutions that take a flexible approach to sound management. The introduction of more dependable IP and open public standards has allowed a slew of new players to enter the market for technologically advanced public address systems.
Major Developments and Innovation in Public Address System Market: A Snapshot
Manufacturers of public address systems place a high priority on ongoing research and development. These companies are also working to improve the efficiency of their existing public address system portfolios in order to increase the marketability of their products and preserve revenue production in an otherwise stagnant market.
Companies are concentrating on integrating smart technologies, such Bluetooth compatibility, into their public address system portfolios. The goal of integrating these smart technologies is to make remote control and operation easier.
Public purpose technology is described as technology that serves large public needs, such as the construction or upgrade of public infrastructure (PPT).
Public Address System Market Scope
| | |
| --- | --- |
| Metrics | Details |
| Base Year | 2021 |
| Historic Data | 2019-2020 |
| Forecast Period | 2022-2029 |
| Study Period | 2019-2029 |
| Forecast Unit | Value (USD) |
| Revenue forecast in 2029 | USD 1919.3 Million |
| Growth Rate | CAGR of 2.9 % during 2021-2029 |
| Segment Covered | Product Type, End- User, Regions |
| Regions Covered | North America, Europe, Asia Pacific, South America, Middle East and South Africa |
| Key Players Profiled | Bose, Fishman, Rockville, Fender Musical Instruments, Pyle Audio, Peavey Electronics, Power Werks, Behringer, Yamaha |
Key Segments of the Public Address System Market
Product Type Overview, 2019 – 2029 (USD Million)
Microphone
Mixer
Powered Mixer
Digital Mixer
Amplifier
Distribution Amplifier
Audio Power Amplifier
Loudspeaker
Others
End User Overview, 2019 – 2029 (USD Million)
Law Enforcement
Commercial
Industrial
Government and Public Sector
Others
Regional Overview, 2019 – 2029 (USD Million)
North America
Europe
Germany
France
UK
Rest of Europe
Asia Pacific
China
India
Japan
Rest of Asia Pacific
South America
Mexico
Brazil
Rest of South America
Middle East and South Africa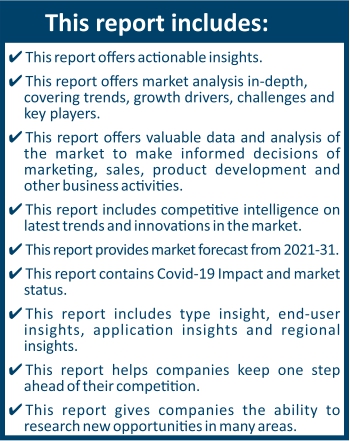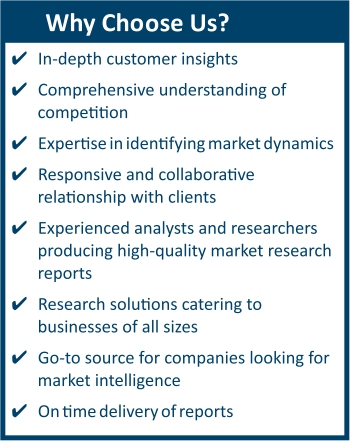 Frequently Asked Questions (FAQ) :
The market value of public address system market in 2029 was USD 1919.3 Million.
The public address system market is growing at a CAGR of 2.9% over the forecast period.
The top companies that hold the market share in public address system market are Bose, Fishman, Rockville, Fender Musical Instruments, Pyle Audio, Peavey Electronics, Power Werks, Behringer, Yamaha & among others.