The food and beverage sector is predicted to benefit from rising consumer desire for convenience meals as a result of lifestyle changes throughout the world, which is likely to stimulate demand for propanediol as an artificial ingredient.
The value of the Propylene Glycol Solvent market is projected to grow to USD 6.54 billion with an estimated CAGR of 4.3% by 2030
The pharmaceutical grade segment is accounted for the highest market share
Polypropylene glycol is primarily used in the pharmaceutical and food and beverage sectors, accounting for the bulk of the market. Propylene glycol is also used as a humectant, a preservative in food and tobacco products, a solvent, and a primary component of e-liquid in electronic cigarettes, where it is blended with vegetable glycerin. Propylene glycol is declared safe in food and consumables by the US Food and Drug Administration.
APAC region is likely to grow significantly
The polypropylene glycol market in Asia Pacific is expected to develop at a steady pace. The increased use of the product in leather processing is credited with the growth. Furthermore, rising product application in the laxatives and paintballs manufacturing industries would help to drive market expansion in this area. In North America, market growth will be fueled by rising demand for items in the cosmetics and attention industry.
The increased use of polypropylene glycol in leather processing, as well as increased demand for leather in garment applications, will boost market growth in Europe, with the United Kingdom and Germany leading the way. Because of increased product acceptance in the solvent and rheology industries, the Middle East and Africa are expected to see substantial growth.
The introduction of bio-based propanediol is likely to have a big impact on the global humectant market, ensuring a continuous income stream throughout the forecast period.
Polypropylene glycol is a glycol and propylene oxide polymer. It appears as a viscous translucent liquid that may be soluble in organic solvents such as methylbenzene, ethyl alcohol, and trichloroethylene. Polypropylene glycol is also commonly used as anti-foaming, anti-static, and pigment dispersion agent. It is environmentally friendly, cost-effective, and biodegradable. Rheology, the leather industry, spectrometry, cosmetics, and sports are just a few of the applications for the product. It's also used in the processes of etherification, esterification, and polycondensation.
Because of changing lifestyles in both developed and emerging areas, the cosmetics and attention sector has witnessed substantial expansion in recent years, which is likely to create strong demand for humectant over the forecast period. Furthermore, throughout the forecast period, the strong automotive industries in China and Germany are expected to boost the global antifreeze market for automotive applications such as coolants and antifreeze, hydraulic and brake fluid, and aviation deicing fluid to an outsized extent. Furthermore, rapid industrialization and urbanization in Asia Pacific as a result of rising population, ongoing infrastructural projects in the region to boost tourism, and increasing construction activities in the region are expected to spice up the global industry and, as a result, fuel the global propanediol marketplace for construction applications over the forecast period.
Propanediol production technologies that are environmentally friendly might be a crucial element driving the global bio-based antifreeze market. Because of its lower temperature, it is utilized as a coolant in industry. The coolant prevents corrosion in the cooling system and also removes waste heat from the engine. During the projected period, significant expansion in the automotive industry is expected to fuel growth of the bio-based humectant market, owing to rising socioeconomic class and a youthful population. China is the world's largest vehicle market, according to the United States' ITA (International Trade Organization), with sales of over 28 million units in 2012 and a prediction of 35 million units by 2029.
The growing demand for polypropylene glycof in the cosmetics, leather, and horticulture sectors will propel the market forward. Polypropylene glycol is used as a emollient, softening agent, and lubricant in the cosmetic and aid industries. As a result, it helps to prevent skin dryness and dullness while also softening it. Furthermore, the product is used as a surface-active agent, a surfactant, and dispersion for leather finishing in the leather sector. The rise of the cosmetics sector, as well as the rising demand for leather in purses, belts, and clothing applications, will all contribute to the polypropylene glycol market's robust expansion throughout the projected period.
Propylene glycol is becoming more widely used in a variety of industries, including pharmaceutical, medical, automotive, and industrial. Paints and coatings, anti-freeze, aviation de-icing, solvent, and liquid detergents, among other industrial uses, have seen an increase in demand for humectant. It can act as a heat-transfer medium while also acting as a barrier to pressure bursts and corrosion. The different sources of antifreeze include bio-based antifreeze and petroleum-based propanediol. The petroleum-based antifreeze segment dominated the world market in 2019. During the projection period, however, demand for bio-based antifreeze is expected to grow dramatically. The growth of this market is fueled by rising environmental concerns and a growing movement toward the use of organic aid products.
Because of its low toxicity and high water solubility, bio-based propanediol is used in a variety of culinary, medicinal, and personal care products. Companies, manufacturers, and private organizations are partnering to expand and cater to a larger range of applications and create improved solutions in the worldwide humectant market.
Because of its increasing use in a variety of applications requiring low toxicity and low vapour pressure, the demand for industrial-grade humectant is expected to grow throughout the projected period. Lubricants, deicing fluid, polyester resins, motor coolants, commercial paints, varnishes, and laundry detergents, among other uses, use industrial grade antifreeze as a solvent, chemical intermediate, and warmth transmission medium. Because of its great melting point depressing, humectant, and mold preventing characteristics, antifreeze is increasingly being utilized in skincare, hair care, color cosmetics, and soaps. Bio-based humectant sector is expected to provide a significant proportion of propanediol market revenue through 2029, according to research. This is often because the assembly of bio-based antifreeze provides a discount of 61% in GHG emissions as compared to the merchandise procured from petrochemical method. While oil derivatives may experience price swings, the benefit of bio-based goods is price consistency. The use of plant-derived components in goods such as cleansers and detergents supports 'green' claims such as plant-based, renewable, and sustainable, which will help the sector develop even more.
Because of the rising usage of propanediol in transportation, the market is expected to rise significantly by 2028, based on end-use. The growing use of the product as a heat transfer medium for dissolving active substances, regulating viscosity, and protecting against corrosion is responsible for the segment's growth. The fabric is also utilized as an aircraft de-icer to provide safe transportation and smooth surfaces so that the aircraft may stay in the air. Antifreeze is also being more widely used in the manufacturing of tough polymers such as UPR (unsaturated polyester resins) in automotive and electrical components such as ship hulls.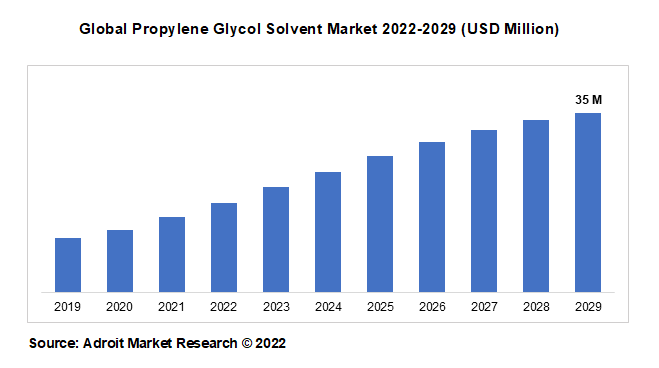 Dow Chemical Company, BASF SE, LyondellBasell Industries N.V., Archer Daniels Midland Company, DuPont Tate & Lyle Bio Products, LLC, Global Bio-chem Technology Group Co., Ltd., Huntsman Corporation, Temix International S.R.L., SKC Co., Ltd, and Ineos Oxide are some of the major players operating in the market.
Propylene Glycol Solvent Market Scope
| | |
| --- | --- |
| Metrics | Details |
| Base Year | 2020 |
| Historic Data | 2018-2019 |
| Forecast Period | 2021-2028 |
| Study Period | 2018-2028 |
| Forecast Unit | Value (USD) |
| Revenue forecast in 2028 | USD 35 million |
| Segment Covered | Source, End User, Grade, Regions |
| Regions Covered | North America, Europe, Asia Pacific, Middle East and Africa, South America |
| Key Players Profiled | Dow Chemical Company, BASF SE, LyondellBasell Industries N.V., Archer Daniels Midland Company, DuPont Tate & Lyle Bio Products, LLC, Global Bio-chem Technology Group Co., Ltd., Huntsman Corporation, Temix International S.R.L., SKC Co., Ltd, and Ineos Oxide |
Key Segments of the Propylene Glycol Solvent Market
Source Overview, 2022-2029 (USD Million)
Petroleum-based PG
Bio-based PG
Grade Overview, 2022-2029 (USD Million)
Industrial Grade
Pharmaceutical Grade
Other Applications
End-Use Industry Overview, 2022-2029 (USD Million)
Building & Construction
Transportation
Food & Beverage
Cosmetics & Personal Care
Pharmaceuticals
Others
Regional Overview, 2022-2029 (USD Million)
North America
Europe
Germany
France
UK
Rest of Europe
Asia Pacific
China
India
Japan
Rest of Asia Pacific
South America
Mexico
Brazil
Rest of South America
Middle East and South Africa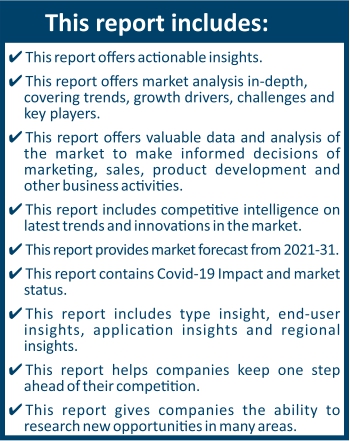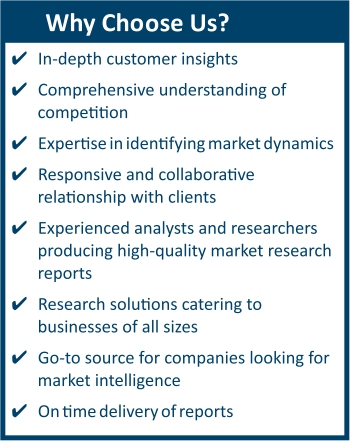 Frequently Asked Questions (FAQ) :
Asia Pacific dominated the market for propylene glycol solvent market and accounted for the largest revenue share.
The top companies that hold the market share in propylene glycol solvent market are Dow Chemical Company, BASF SE, LyondellBasell Industries N.V., Archer Daniels Midland Company, DuPont Tate & Lyle Bio Products, LLC, Global Bio-chem Technology Group Co., Ltd., Huntsman Corporation, Temix International S.R.L. & among others.
To get latest version of propylene glycol solvent market report can be obtained on demand from the website.
The base year for the report is 2021 in propylene glycol solvent market.