The global productivity software market size is anticipated to triple by 2025 expanding at a double digit CAGR from 2019 to 2025. The market is driven by increasing adoption of productivity software and applications by individuals as well as businesses at all levels. With the advent of Industry 4.0, enabled by advancement in edge peripheral technology and enhanced integration capabilities through better connectivity over internet, monitoring and management of devices has become imperative. Productivity software have also evolved with better hardware and connectivity.

This report on the global productivity software offers insights into the evolution of productivity software and their various use cases in varied settings ranging from individuals to SME's to Large enterprises. At present, SME's are the leading demand market for productivity software.
The global Productivity Software market size is expected to reach close to 47.33 by 2029 with an annualized growth rate of 13.8% through the projected period.
The report also analyzes the changing trends in the deployment models of productivity software offering a contrast between on-premise and cloud-based deployment models. Cloud-based deployment models are leading the growth driven by increasing demand for edge computing capabilities and need for integrating remote workplaces with the main systems.
The competitive landscape of the global productivity software market is fragmented. It includes large multinational players leading with cutting-edge technology offering premium services to large enterprises with varied needs for integration and process management. The smaller pockets of the market are served smaller players offering generic productivity software to individuals and customized solutions to SME's at lower costs.
Productivity Software Market Scope
| | |
| --- | --- |
| Metrics | Details |
| Base Year | 2022 |
| Historic Data | 2020-2021 |
| Forecast Period | 2022-2030 |
| Study Period | 2020-2030 |
| Forecast Unit | Value (USD) |
| Revenue forecast in 2030 | USD 149.74 billion |
| Growth Rate | CAGR of 13.8 % during 2022-2030 |
| Segment Covered | Solutions, Deployment, Enterprise, Regions |
| Regions Covered | North America, Europe, Asia Pacific, South America, Middle East and Africa |
| Key Players Profiled | Google LLC, Microsoft, Salesforce.com, Inc, Slack Technologies, Inc, and Adobe. |
Key Segment Of The Productivity Software Market
Solution, 2022-2030 (USD Million)
• Content Management & Collaboration
• AI & Predictive Analytics
• Structured Work Management
• Other Solutions
Deployment, 2022-2030 (USD Million)
• On-Premise
• Cloud
Enterprise, 2022-2030 (USD Million)
• Large Enterprises
• Small & Mid-Size Enterprises
Regional Overview, 2022-2030 (USD Million)
North America
• US
• Canada
Europe
• Germany
• France
• UK
• Rest of Europe
Asia Pacific
• China
• India
• Japan
• Rest of Asia Pacific
South America
• Mexico
• Brazil
• Rest of South America
Middle East and South Africa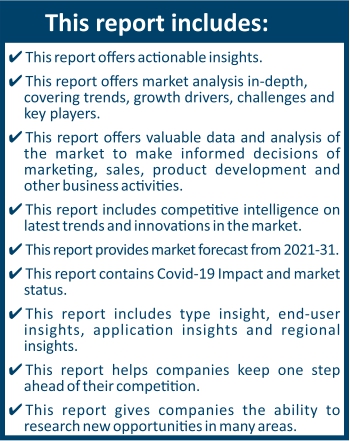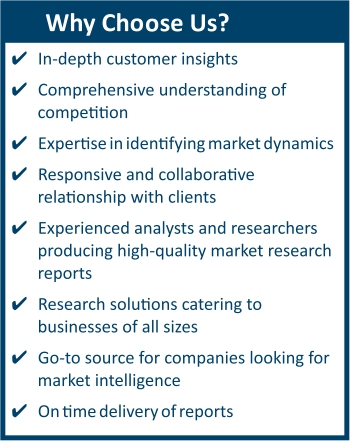 Frequently Asked Questions (FAQ) :
The productivity software market is growing at a CAGR of 16.5% over the forecast period.
To get latest version of productivity software market report can be obtained on demand from the website.
The top companies that hold the market share in productivity software market are Google Inc., Microsoft (Office 365), SoftMaker Software GMBH, Corel Corporation, LibreOffice, IBM, Zoho Corporation, KOffice, and Hancom Inc. & among others.
Due to the growing competition, businesses are seeking alternatives to enhance profit and reduce costs. The use of productivity software is significant in large scale enterprises to complete a task in less time. The companies can improve their efficiency and effectiveness of its activities. Productivity software reduces the workload and eliminates human errors, in turn, improves effectiveness and consistency.
Of the productivity software, the cloud-based productivity software (also called cloud computing) has been favored by many small companies, since it allows them to approach software and servers placed in a secure data center, maintained by the software provider, and not by any IT staff, hence saving the company's expenses. The cloud-based productivity software assists to advance integration and connectivity, by creating documents, files and excels sheets online with a better capability to share data in real-time. The files can be downloaded and used from anyplace across the world.
Market leaders are investing in enhancing their cloud capabilities to offer better cloud-based productivity software solutions. For e.g. In July 2019, IBM acquired Red Hat Inc. for USD 34 billion. Such acquisition aims to position IBM as the leading provider of hybrid cloud, accelerating its high-value business model, and boosts open source innovation to a vast range of clients. Combined, the two companies intend to provide a next-generation hybrid, multi-cloud stage.
Based on the end use application, the market includes categories: individual, Small and Medium Enterprises (SMEs), and large enterprises. Small and Medium Enterprises (SMEs) segment led the end user market demand in 2018. SMEs are projected to attain a 68.2% market share by 2025, expanding with a CAGR of 16.7%.
Increasing availability of highly trained and skilled software developers across the world has enhanced affordability of the right talent pool for the software providers. This has, in turn, enhanced the capabilities of smaller players to offer customized productivity software solutions to SME's, the biggest chunk of the demand market. This trend is projected to continue over the forecast period as more and more software developers join the available talent pool.
The global productivity software market is dominated by the US, followed by Europe and China, respectively. The US was the largest market for productivity software in 2018 and is expected to dominate the market till 2025. Asia Pacific is the fastest-growing market owing to the factors such as the development of the industrial sector, growing investments in enterprise IT, ambition of developing countries to emerge into the forefront of IT revolution, and increasing cloud readiness of Asian countries.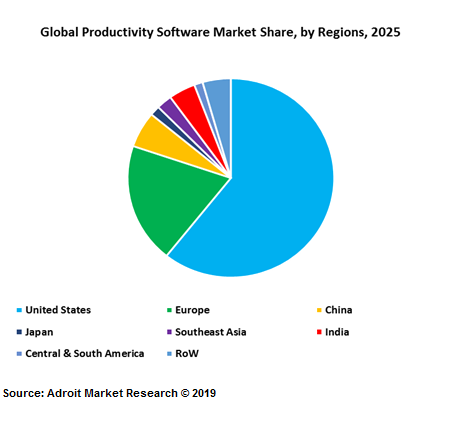 The US is anticipated to dominate the software productivity market with an estimated market share of 60.7% in the year 2025. This is mainly attributable to advance adoption of the technological advancements in the country. The US is the most developed market in terms of adopting cloud computing services, or AI and Internet of Things (IoT) adoption due to a few factors, as many enterprises consists of technical expertise along with availability of advanced IT infrastructure. Furthermore, significant players such as Microsoft (Office 365), (US), Google, etc. operating in the productivity software are based out of this county and hence, there is a cut-throat competition in the US besides raising the value of the US as a market. Moreover, the strong economic position in the US allows it to capitalize massively on innovative solutions and technologies.
The major players of Global Software Productivity Market include Google Inc., Microsoft (Office 365), SoftMaker Software GMBH, Corel Corporation, LibreOffice, IBM, Zoho Corporation, KOffice, and Hancom Inc.