Rise in process oil use in the personal care and polymer industries, followed by the textile industry is anticipated to drive the market growth. Consumers of personal care goods are following the trend of using natural-based goods. Process oil is a combination of paraffinic, naphthenic, and aromatic compounds of varying molecular weights. It is used in industries such as textiles, rubber and polymers, as a raw material component or as an aid in the manufacturing of materials.
Revenue from the global process oil market is expected to hit USD 6,220 million by 2028. Oil demand has historically been a derivative of demand. For direct use, oil is not used. It is predominantly used for shipping, aviation, synthetic fibres and energy as a chemical. The demand for oil is also very high in both strong and poor economies, owing to the rise in buying power induced by an increase in global GDP. Developing economies such as China and India are also making a major contribution to global oil production.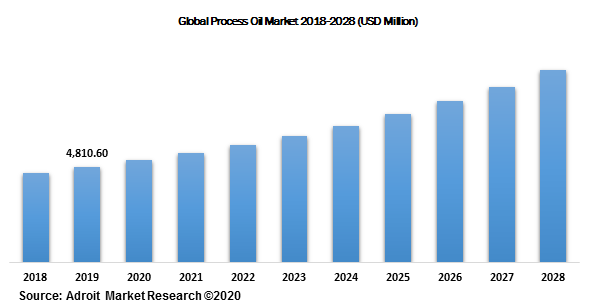 Process oil is also used in the rubber industry to increase rubber's capacity to be processed. In order to lower the quality, it also helps to maximize the bulk of rubber. Process oil is also used in a wide variety of uses, such as spray oils, defoamers, bombs, fertilizers, hot-melt adhesives, filling gels for optical cables, petroleum jelly, peripheral cloth and leather and thermoplastic elastomers. In the near term, the process oil market is also projected to grow. However, presence of substitutes such as soyabean oil, may impede the market growth.
Key Segments of the Global Process Oil Market
Type Overview, 2018-2028 (USD Million) (Kilo Tons)
• Paraffenic
• Napthenic
• Aromatic
• Non-Carcinogenic
Application Overview, 2018-2028 (USD Million) (Kilo Tons)
• Polymer
• Rubber& Tire
• Textile
• Personal care
• Others
Regional Overview, 2018-2028 (USD Million) (Kilo Tons)
North America
• U.S.
• Canada
Europe
• UK
• Germany
• France
• Rest of Europe
Asia Pacific
• China
• Japan
• India
• Rest of Asia-Pacific

Middle East and Africa
• UAE
• South Africa
• Rest of Middle East and Africa

South America
• Brazil
• Rest of South America
Reasons for the study
• The purpose of the study is to give an exhaustive outlook of the global process oil market.
• Ensure you remain competitive as innovations by existing key players to boost the market growth.
What does the report include?
• The study on the global process oil market includes qualitative factors such as drivers, restraints, and opportunities
• Actual market sizes and forecasts have been provided for all the above-mentioned segments.
• The study covers the competitive landscape of existing/prospective players in the process oil industry and their strategic initiatives for the product development
• The study covers a qualitative and quantitative analysis of the market segmented based on type, and application. Moreover, the study provides similar information for the key geographies.

Who should buy this report?
• This study is suitable for industry participants and stakeholders in the global process oil market. The report will benefit: Every stakeholder involved in the process oil market.
• Managers within the process oil industry looking to publish recent and forecasted statistics about the global process oil market.
• Analysts, researchers, educators, strategy managers, and academic institutions looking for insights into the market to determine future strategies.
• Government organizations, regulatory authorities, policymakers, and organizations looking for investments in trends of global process oil market.

The demand for process oil is highly reliant on rubber tire manufacturing. The future growth of process oil, from both a volumetric and a value-based viewpoint, is heavily dependent on harmonizing global agricultural standards and indoctrinating new farming practices among farmers. The planet still depends heavily on oil, considering the diversity of energy supplies, which will eventually deplete the world's supply of traditional crude oil. The demand for upgrading and recovery unconventional crude oil, such as bitumen and heavy oil, to satisfy existing and potential global energy needs is also growing. Usually, "coking" is the refining of traditional and synthetic oils to satisfy demand or pipeline needs, which is commonly applied in refineries. It is important in the textile industry that goods made from fabrics have very low aging and discoloration effects. Such goods can also resist electrostatic charge forming on them and are not vulnerable to quick wear.
Type Segment

Based on type, the market is bifurcated into paraffenic, napthenic, aromatic, & non-carcinogenic. Aromatic oils are obtained from the extraction of aromatics in the production of paraffinic oils. These are majorly used due to its dark color, with relatively high flash points, low aniline points and a high aromatic content. For a softening or plasticizing effect, aromatic oils are usually used where a degree of solvency is desired.
Application Segment
Based on application, the market is segmented into polymer, rubber& tire, textile, personal care, others. In the process oil market, the rubber & tire segment offers maximum market potential as it is expected to see rising demand coming from developing countries like India and Brazil. Due to high demand for automobile sales, increase in demand for tires is expected during the forecast period. Additionally, in the manufacturing of vehicle tires and tubing, bi-cycle tires, tire retreading components, belting, hoses, pipes, battery containers, extruded products, and technical molded products, rubber process oils are commonly used.

Asia-Pacific is expected to dominate the process oil market during the forecast period from 2018 to 2028. Asia Pacific demand represents the fastest CAGR for process oil. The major countries in this regional process market are China, India, Japan, and South Korea. Increasing disposable income has contributed to a rising demand for vehicles and personal care goods in this area, which is driving consumer development. In order to meet the rising demand from various end users, various leading players have been carrying out strategic expansion activities in the region.
Moreover, according to a study published by the Ministry of Economy and Industry, the beauty and personal care (BPC) industry in the country is projected to reach more than USD 10 Million by 2021, at an approximate growth rate of 5 percent -6 percent annually. India's personal care and cosmetics market is projected to continue to expand, with growing shelf space in Indian retail stores and boutiques.
North America is expected to significantly contribute to the market growth. Especially, in the U.S. the rising construction activities are expected to support the market growth. As, process oils are used in adhesives, leather chemicals, silicone sealants, wood treatments & others. For instance, according to US Census Bureau the U.S value of construction in August was 1,412,823 USD Million.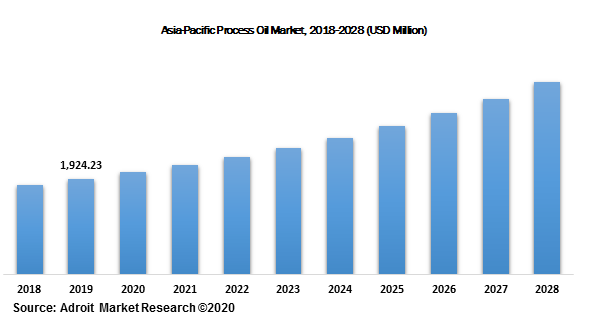 The major players of the global process oil market are ExxonMobil, Petronas Group, Unipetrol Group, Royal Dutch Shell N.V, Indian Oil Corporation Limited, Repsol S.A, Hindustan Petroleum Corporation Limited, Total S.A., Panama Petrochem Ltd, Gandhar Oil Refinery Limited, Apar Industries, & Nynas AB. Moreover, players are focused to expand their presence on the global market through mergers & acquisitions, collaboration & joint venture and new product launches. The market for process oil is highly fragmented.