The size of the global market for Printing Inks is expected to reach US$ 43090.6 Mn by 2031, expanding at a compound annual growth rate (CAGR) of 5.4%.
The global printing inks market crossed USD 5.10 billion in revenue in 2019 and is expected to grow with a CAGR of 4.4% from 2019 to 2025. The increased demand for packaging label sector along with increasing urbanization are few of the significant factors that will drive the global printing inks market in the forecasted period.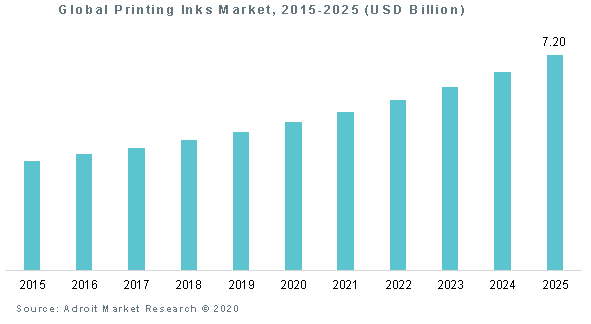 Traditional printing inks come in two main forms: liquid inks (which are soft and watery) and paste inks (which are sticky which tacky) which usually consist of three common categories of substances: a tank, a dye, and several various types of chemicals, such as dryers.
The ink carrier is the fluid component of the paint that, as its name suggests, brings the pigment to the substrate. The type of vehicle to be used with a given ink depends on the type of drying method used. Inks that dry by absorption require non-drying oil vehicles that do not dry by any methods until they can be absorbed into the surface. Inks that dry through oxidation and/or polymerization require drying oil vehicles and paper grades that do not allow the vehicle to drain until oxidation can take place. Inks that dry by evaporation use low-boiling-point solvent-resin vehicles. Dry precipitation inks require a water-soluble glycol vehicle in which water-insoluble resins are dissolved. Once the water is applied to the material, the glycol is removed, but the resin (containing the pigment) is not removed and precipitates out onto the surface of the paper.
Inks that use a combination of drying methods, such as quick-set inks, have a portion of the vehicle which is a solvent and is absorbed first into the paper and a resin-oil mixture left behind which is dried by oxidation and polymerization. Quick-set inks are used by a resin-oil engine. Inks called cold-set inks use a resin-wax device, which is solid at room temperature, which is melted by specially heated rollers on the press, applied to the paper, and then dried by turning back into a solid. Other less-used vehicles include water-soluble rubber vehicles, such as aquarium inks, and photo-reactive vehicles, which "set" after exposure to various types of radiation.
Printing ink additives include dryers that speed up the drying of inks; body agents that improve the viscosity of the ink; waxes such as microcrystalline, polyethylene, paraffin, beeswax, carnauba wax and ozokerite are used to avoid printing defects such as ink set-off and blockage and to improve the resistance of the ink. Other fabrics, such as Teflon, can also be used to help "shorten" the ink. Many compounds can be used to could the tack of the ink. Reducing oils and solvents, such as thinners, can be added to increase the setting capacity of the ink. Antioxidants and anti-skinning agents may be applied to prevent the ink from oxidizing and setting while it is still in the news. Corn starch is added to the body to reduce the ink setting, while surface-active agents are used to increase the dispersion of pigments in the vehicle.
Printing Inks Market Scope
| | |
| --- | --- |
| Metrics | Details |
| Base Year | 2022 |
| Historic Data | 2021-2022 |
| Forecast Period | 2022-2031 |
| Study Period | 2021-2031 |
| Forecast Unit | Value (USD) |
| Revenue forecast in 2031 | US$ 43090.6 Mn |
| Growth Rate | CAGR of 5.4 % during 2022-2031 |
| Segment Covered | Product, Process, Application, Regions |
| Regions Covered | North America, Europe, Asia Pacific, South America, Middle East and Africa |
| Key Players Profiled | hemical Corporation, Flint Group, Siegwerk Druckfarben AG & Co. KGaA, TOYO Ink Group, Sakata INX Corporation, ALTANA AG, Huber Group, T&K TOKA Corporation, Wikoff Color Corporation, Zeller+Gmelin GmbH & Co. KG, |
Key Segment Of The Printing Inks Market
Product, 2022-2031 (USD Million)
• Solvent-based Printing Inks
• Water-based Printing Inks
• Oil-based Printing Inks
• Other Printing Inks (including UV-cured Inks and Offset Printing Inks)
Process, 2022-2031 (USD Million)
• Lithographic Printing
• Gravure Printing
• Flexographic Printing
• Digital Printing
• Others (including Letterpress Printing and Screen Printing)
Application, 2022-2031 (USD Million)
• Packaging
• Publication and Commercial Printing
• Others (including Industrial Printing and Glass Decoration Printing)
Regional Overview, 2022-2031 (USD Million)
North America
• US
• Canada
Europe
• Germany
• France
• UK
• Rest of Europe
Asia Pacific
• China
• India
• Japan
• Rest of Asia Pacific
South America
• Mexico
• Brazil
• Rest of South America
Middle East and South Africa
Frequently Asked Questions (FAQ) :
printing inks market was valued at USD 5.10 billion in 2018.
the printing inks market is growing at a CAGR of 4.4% during the forecast period.
Asia Pacific dominated the market for printing inks market and accounted for the largest revenue share.
Increasing investment in infrastructure construction and rising urbanization is expected to boost business growth in printing inks. Such materials are used in transformers, electric vehicles, and high-speed vehicles due to their ability to decrease energy consumption, improved efficiency, reduced carbon dioxide emissions, and lack of hysteresis in high-speed electric motors. Growing urbanization and technological advances, along with growing consumer disposable income, will further drive business growth in the energy sector.
Increased demand for electricity has resulted in a rise in per capita energy consumption, thereby promoting an improvement in market demand. Governmental regulations in many countries aim to reduce carbon dioxide emissions and have introduced legislation for the use of transformers that have increased the product with better manufacturing properties. The gradual loss of electrical energy due to hysteresis is uneconomical when used in electronic equipment and can adversely affect the workability of steel. Such materials reduce energy losses due to their special properties, such as high permeability, effective magnetic properties, high power density, and durability, which are expected to improve energy efficiency.
However, it is unable to meet the dynamic specifications of precision and performance. During cutting, bending and punching operations, a large amount of mechanical stress is produced which reduces magnetism and reduces the initial magnetic effect. These products are subject to a range of technological and safety constraints that impede the growth of the sector.
The global printing inks market has been segmented based on the product, resin type, and region. Taking into consideration the segmentation analysis, based on product, the global printing inks market is categorized into gravure, flexographic, lithographic & digital. Flexography, rotogravure, and lithography/offset are the three most commonly used production methods, accounting for a large part of the industry. The lithography process retains a significant proportion of approximately 32.60% owing to its characteristic of superior image quality for smooth and functional surfaces at relatively low cost. Gravure is a high-cost and high-speed process and is commonly used as a reproduction of very fine data.
Digital and electrostatic printing (non-impact imaging processes) are new developments in ink products. The digital process is the fastest-growing printing ink product segment on the market. The competitive space of digital printing solutions differs appreciably from traditional processes and is cost-effective for shorter runs along with the added advantage of complying with the regulatory framework and advanced consumer preferences.
The global printing inks market has increased the demand for all the regions namely, Asia Pacific, Europe, North America, Latin America, and Middle East & Africa. However, Asia Pacific is expected to witness the highest growth in the printing inks market during the forecast period.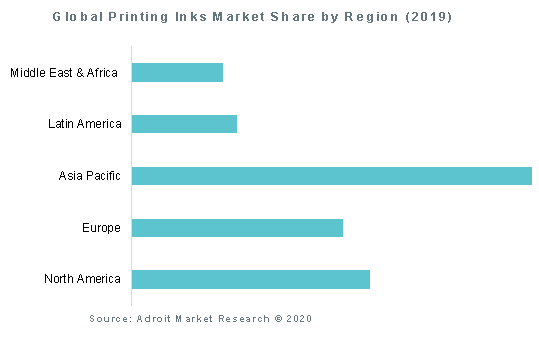 Asia Pacific was the leading global market and accounted for over USD 1.8 billion of the total revenue in 2018. The major contributors include China and Japan, which constitute numerous major industry players and a growing ink market. Technological printing ink advancements and growth of end-use applications in China also contribute to this trend. Packaging segment, ceramic, and textile printing are among the major growing applications in China. The growing packaging industry, including corrugated cartons & folding cartons, is another factor strongly attributed to the increased use of rotogravure, flexographic, and digital solutions. The use of flexographic toners for flexible packaging, digital solutions for textile and ceramic printing, conductive inks for printed electronics and UV curing inks for biodegradable alternatives are key product insights for this industry
India, Thailand, Vietnam, and Indonesia are the other emerging APAC nations to have witnessed thriving growth in the industry. North America is the second-largest regional market with the U.S. as the major contributor due to the flourishing packaging industry and easy resin availability.