Some of the key factors driving the market are the rising demand for purified water and the expanding knowledge of the advantages of using potable water filters. Additionally, rising government attempts to protect the safety and security of drinking water as well as growing consumer health concerns are all contributing to the growth of this market.
With growing consumer health concerns, there is a greater need for drinkable water filters to eliminate toxins from drinking water. Additionally, the fast industrialization and urbanisation of developing nations have increased water body pollution, driving up the need for potable water filters. Additionally, the demand for potable water filters is rising as a result of strict government requirements pertaining to clean drinking water.
The elimination of dangerous impurities, as well as enhanced taste and odour of drinking water, are benefits of using potable water filters. Lowering the operating temperature and pressure while raising the flow rate, also aids in minimising energy expenses. Additionally, they require no maintenance and are incredibly easy to install and use. By doing away with the need for bottled water, they also aid in reducing plastic waste. Additionally, a range of sizes and designs are offered for potable water filters to accommodate various customer requirements. Their suitability for residential, commercial, and other applications is increased as a result. The market for potable water filters is expanding due to all of these considerations.
The supply of goods used to filter drinking water generates sales volume and income for the global potable water filter market. These filters are intended to purge drinking water sources of contaminants like bacteria, viruses, heavy metals, silt, and other impurities. Reverse osmosis (RO), ultraviolet (UV), and activated carbon filters are a few examples of potable water filters. Applications for the goods include residential, commercial, and other uses. Potable water filters are becoming more and more well-liked since they help make drinking water taste and smell better, save energy by lowering the operating temperature and pressure while increasing the flow rate, and lessen plastic waste by removing the need for bottled water. These and other factors are fueling the expansion of the market for potable water filters worldwide.
From 2021 to 2031, the potable water filter market is anticipated to expand at a CAGR of 6.1%, reaching a value of USD 10.71 billion.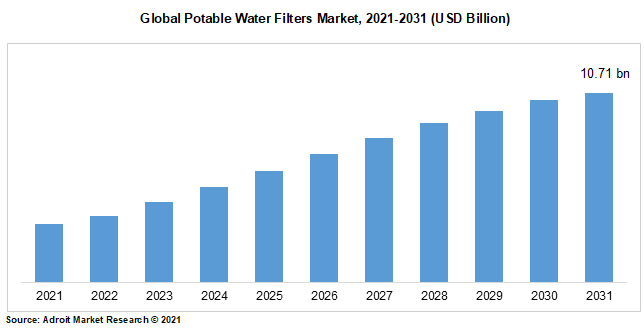 The market for potable water filters is expanding as a result of rising knowledge of the advantages of utilising these filters as well as rising demand for cleansed water. According to type, application, and geography, the potable water filter market is segmented in this study. From 2021 to 2031, estimates are given for each segment's revenue (USD Million) and volume (Units Million).
The high cost of Portable Water Filter is one of the biggest obstacles to their adoption. Additionally, the lack of knowledge about these systems among rural residents has an impact on the development of this sector. Additionally, the growth of the industry is being hampered by some regions' inadequate access to safe drinking water. Furthermore, the development of this sector may be hampered by unstable electrical supplies and technological restrictions in some areas.
Aqua Filters, Inc., Freudenberg Filtration Technologies GmbH & Co. KG, Pentair plc, 3M Company, The Dow Chemical Company, GE Appliances (Haier Group), Culligan International Company, Best Water Technology AG, and Everpure, Inc. are a few of the major players in the global potable water filters market. To keep ahead of the competition, these businesses are launching cutting-edge products, increasing their presence in several areas, and making significant investments in R&D.
Segment Analysis
RO filters segment form the major portion of the market
Throughout the projected period, RO filters are anticipated to experience the quickest growth. They are able to eliminate both organic and inorganic pollutants from drinking water, which is why. These filters are much more appealing because they can also remove dissolved particles like fluoride, arsenic, nitrates, and germs from the water. They also need little upkeep and can last a long period without replacement or repair while performing at their best. These elements are anticipated to enhance the demand for RO filters throughout the course of the projected period.
North America to dominate the market
From 2021 to 2031, North America is anticipated to hold the biggest market share. The presence of a highly developed filtration and purification technology business and rising public awareness of water safety issues are the key causes of this. Government programmes like the Safe Drinking Water Act and others are also encouraging the use of potable water filters in this area. Additionally, the region's residents' high discretionary incomes enable them to buy these systems for their homes. All these factors are projected to support the growth of the North America n portable water market during the forecast period.
Portable Water Filter segment to be on top of the market
During the forecast period, the potable water filter application in residential settings is anticipated to increase at the quickest rate. This is primarily due to increased public awarenessof the health benefits of drinking filtered water. Additionally, when people's awareness of the quality of their drinking water increases, they prefer to buy filtration devices for their houses. Further increasing their demand, technological developments in these systems have reduced their cost and ease of maintenance. All of these factors are predicted to supportthe residential segment's growthduring the projection period.
Covid-19 Impact & Market Status
The global market for potable water filters has been severely impacted by the COVID-19 outbreak. Governmental limits on manufacturing have disrupted supply chains, which has a negative effect on the development and selling of these systems. Further reducing demand, people are now avoiding outside shopping in order to prevent catching the illness. However, it is anticipated that in the upcoming years, demand for these filtration systems will increase as a result of people's growing awareness of the safety and quality of their water. Thus, even if the market may experience difficult times as a result of the pandemic, growth is anticipated to continue between 2021 and 2031.
Latest Innovations in the Global Portable Water Filters Market: A Snapshot
The Dow Chemical Company recently introduced a range of Ultrafiltration Membrane Filters. Reverse osmosis and ultraviolet (UV) filtration systems, which are intended to remove dangerous impurities from drinking water, have also been introduced by GE Appliances.
Additionally, several startup businesses have established a presence in the market because of their ground-breaking products that merge contemporary technology with accessibility.

Potable Water Filters Market Scope
Metrics

Details

Base Year

2022

Historic Data

2020-2021

Forecast Period

2022-2031

Study Period

2020-2031

Forecast Unit

Value (USD)

Revenue forecast in 2031

USD 10.71 Billion

Growth Rate

CAGR of 6.1%

during 2021-2031

Segment Covered

Type, Application,

Regions

Regions Covered

North America, Europe, Asia Pacific, South America, Middle East and Africa

Key Players Profiled

Airbus, Boeing, Bosch Aerospace, Hindustan Aeronautics Limited (HAL), Honeywell International Inc., Leonardo S.p.A., Liebherr Group, Lockheed Martin Corporation, Northrop Grumman Corporation, and Thales Group
Key Segment of Potable Water Filters Market
By Type Overview 2021-2031, (USD Billion)
RO Filters
UV Filters
Activated Carbon Filters
By Application Overview 2021-2031, (USD Billion)
Residential
Commercial
Others
By End-User Overview 2021-2031, (USD Billion)
Households
Hospitals
Restaurants
By Region Overview 2021-2031, (USD Billion)
Asia Pacific
China
India
Japan
Rest of Asia Pacific
South America
Mexico
Brazil
Rest of North America
Europe
Rest of Europe
Middle East and Africa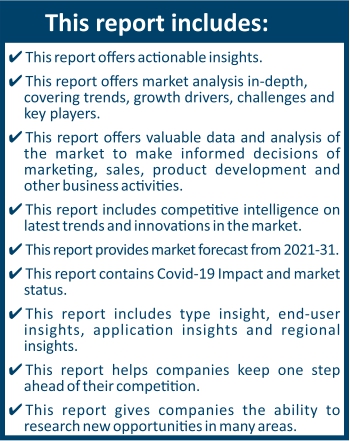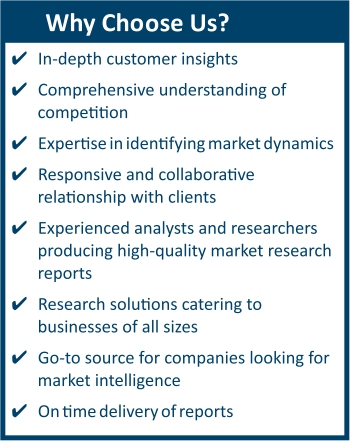 Frequently Asked Questions (FAQ) :
The global Potable Water Filters market size is expected to reach USD 10.71 billion in 2031.