Segmentation by Type
The portable hotspot market is expected to be dominated by 4G LTE. Since its debut to the market, 4G LTE hotspots have garnered substantial acceptance. This can be attributable to a variety of factors, including an increase in the number of smart gadgets that need to be connected at the same time for various reasons. Connecting several devices to a mobile hotspot, or even equipping them all with SIM cards, appears to be a difficult and costly operation. However, a hotspot provides a convenient networking option for several devices.
The size of the global market for Portable Hotspot is expected to reach US$ 29,550.0 Million by 2032, expanding at a compound annual growth rate (CAGR) of 14.6%.
Technological developments in wireless hotspot speed and battery life are assisting in the acceptance and expansion of 4G LTE hotspot devices. In addition, rising demand for on-the-go internet services is driving up demand for 4G LTE hotspots in the global market. A high number of individuals travelling demand effective solutions for continuous connectivity across regions, necessitating the use of 4G LTE hotspot devices.
Segmentation by Region
The portable hotspot market is expected to be dominated by North America, followed by Europe. The market is predicted to rise due to technological advancements and increased acceptance of wireless routers and dongles in these areas. Because to the existence of rising economies such as China, India, Japan, and others, Asia Pacific is predicted to expand at a quicker rate. People are aware of sophisticated technology and employ dongles and routers for business purposes. This trend will continue until the year 2020, when most students, professors, and other office workers will be working and attending classes online. This has boosted the region's expansion.
A portable Wi-Fi hotspot is a little gadget that allows you to connect to the internet while on the go. It works in the same way as a router, routing cellular network traffic to your phone or computer. After you've connected, you'll be able to utilise the internet on your linked device.
The device's portability is one of the most major features. The majority of portable WiFi devices are small enough to fit comfortably into your pocket or handbag. Then, if you enter a coffee shop or restaurant, you will have access to the internet.
Another significant benefit is the dedicated connection. You are the only one utilising a portable WiFi hotspot, unlike public WiFi, when other individuals are using the same connection at the same time.
This offers a number of advantages. To begin, because you are the only one on the line, you may have a better connection, which will improve your experience. It's also a more secure way of accessing the internet. Because your internet activity is accessible to anybody with that connection when using public WiFi, you may keep your information more safe by utilising a portable WiFi hotspot.
One of the key drivers of market development is rapid digitalization, which is accompanied by growing demand for wireless and mobile broadband services. The increasing use of smart devices throughout the world, as well as rising consumer knowledge of pay-as-you-go business models, are expected to propel the industry even further. Mobile hotspot routers are used by frequent business travellers and vacationers to access the internet while on the go. Consumers are embracing e-commerce platforms for mobile purchasing, which necessitates consistent internet access, boosting product demand. Additionally, technological advancements such as the development of data storage systems in conjunction with cloud-based applications are assisting market expansion. Other factors, such as increased data traffic and the adoption of favourable government efforts to supply Wi-Fi in public locations, are expected to boost the market's outlook.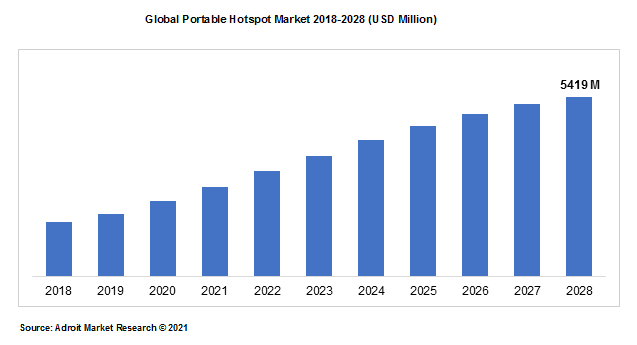 Portable Hotspot Market Scope
| | |
| --- | --- |
| Metrics | Details |
| Base Year | 2022 |
| Historic Data | 2021-2022 |
| Forecast Period | 2022-2032 |
| Study Period | 2021-2032 |
| Forecast Unit | Value (USD) |
| Revenue forecast in 2032 | US$ 29,550.0 Million |
| Growth Rate | CAGR of 14.6% during 2021-2032 |
| Segment Covered | by Type, by End User, Regions |
| Regions Covered | North America, Europe, Asia Pacific, South America, Middle East and Africa |
| Key Players Profiled | Huawei Technologies Co., Ltd.,Novatel Wireless, Inc.,NETGEAR,TP-Link Technologies Co., Ltd.,Belkin International, Inc.,Internet on the Go,Karma Mobility, Inc.,D-Link Corporation,XCom Global, Inc.,Alcatel |
Type Overview, 2018-2028 (USD Million)
Application Overview, 2018-2028 (USD Million)
Commercial use
Personal use
Regional Overview, 2018-2028 (USD Million)
North America
Europe
Germany
France
UK
Rest of Europe
Asia Pacific
China
India
JapanRest of Asia Pacific
South America
Mexico
BrazilRest of South America
Middle East and South Africa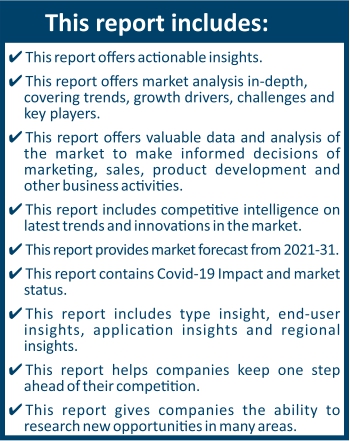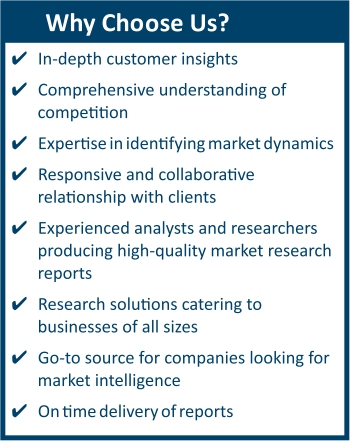 Frequently Asked Questions (FAQ) :
The portable hotspot market size is expected to reach an estimated value of USD 5419 million in 2028.
The global portable hotspot market have aimed to meet a CAGR of 16.4% for the forecast period.
North America region is expected to hold the largest market share in forecast period 2021 to 2028.
The portable hotspot market is studied from 2019- 2028.
Verizon, Internet on the Go, AT&T, FreedomPop, Sprint, T-Mobile, TP-Link, Huawei, Samsung, D-Link, Skyroam, NETGEAR are a few major players in portable hotspot market.