Polyvinyl butyral is an amorphous thermoplastic which is produced through a condensation process of butyraldehyde and polyvinyl alcohol. This resin provides effective film-forming, better adhesion properties, improved flexibility, and good withstanding capabilities against UV rays. Further, its compatibility with plasticizers and binders and solubility in solvents depend on the degree of polymerization and acetalisation. Higher presence of butyral groups improves water resistance capabilities of the polymer in the polyvinyl butyral films. It can further be cross-linked depending with multiple resins including epoxy, melamine, and phenolic resins which in turn produce high quality solvent resistant films and coatings.
The polyvinyl brutyral find its application across glass, sheets, adhesives paintings & coatings. Its capability to exhibit good adhesion properties by bonding with fractured glass splinters which sticks to the surface and prevents injury from sharp and large glass fragments. It further offers a good impact resistance, complete absorption of UV rays, and improves sound barrier & noise cancellation quality.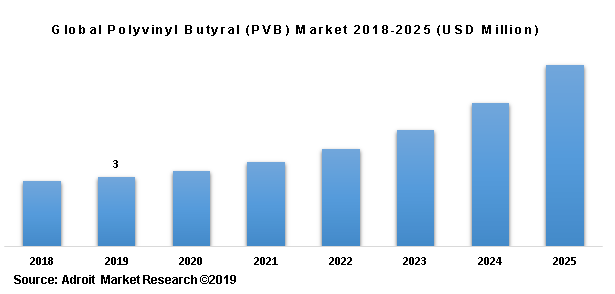 Its raw material such as butyraldehyde and polyvinyl alcohol, are obtained from petroleum and carbon compound. Price Volatility associated with its raw material significantly impacts the price of the product, which is turn is poised to sway the industry growth. Although, its growing demand across automobile and construction sector is projected to stimulate the industry upsurge over the forecasted timeframe.
Key segments across polyvinyl butyral market
End-User Overview, 2018-2025, (USD Million and kilotons)

Construction
Automotive
Photovoltaic
Defence
Others

Application Overview, 2018-2025, (USD Million and kilotons)

Paints & Coatings
Films & Sheets
Adhesives
Others
Regional Overview, 2018-2025, (USD Million and kilotons)

North America
Europe

UK
Germany
Italy
Rest of Europe

Asia Pacific

China
India
Japan
Rest of Asia-Pacific

Middle East & Africa

Saudi Arabia
Rest of Middle East & Africa

South America

Brazil
Rest of South America
Reasons for the study
The purpose of the study is to give an exhaustive outlook of the global polyvinyl butyral industry. Benchmark yourself against the rest of the market.
Be prepared for how investments across chemical and material industry will be impacted by socio-political and economic factors over the next few years
Ensure you remain competitive as new innovations by existing key players boost the market.
What does the report include?
The study on global polyvinyl butyral includes qualitative factors such as drivers, restraints, and opportunities.
The study covers the competitive landscape of existing/prospective players in the industry and their strategic initiatives for the product development
The study covers a qualitative and quantitative analysis of the market segmented on the basis of type, and form. Moreover, the study provides similar information for the key geographies.
Actual market sizes and forecasts have been provided for all the above-mentioned segments.
Who should buy this report?
This study is suitable for industry participants and stakeholders in the global polyvinyl butyral. The report will benefit:
Every stakeholder involved in manufacturing and distributing components or solutions.
Managers within financial institutions looking to publish recent and forecasted statistics pertaining to the global polyvinyl butyral.
Government organizations, regulatory authorities, policymakers, and financial organizations looking for investment trends in the global polyvinyl butyral industry.
Analysts, researchers, educators, strategy managers, and academic institutions looking for insights into the market to determine future strategies.
PVB is a thermoplastic which is used as a glass interlayer across various industries including architectural and automotive applications. These industries deploy the resin between two glass panels which act as a protective layer between the two glasses. High transparency, enhanced tensile strength and improved elasticity are some of the key features offered by the product in comparison to the other available alternatives which is positively influencing the industry landscape. Further, its growing application across various sectors such as ground transportation, building & construction, and solar energy will further augment the product demand in the coming years.
Furthermore, properties such as excellent recyclability, better appearance, and finish have expanded its application for aesthetic appearance, which in turn is stimulating the business outlook. Although, increasing replacement of these materials from optimized material may hamper the industry growth. However, ongoing innovation activities across the industry to improve its characteristics is poised to accelerate the industry growth.
End-user Segment
On the basis of the end-user segment, the market is categorized into construction, automotive, photovoltaic, defense, and others. The construction segment holds substantial share across the global polyvinyl butyral market in 2018 and photovoltaic is anticipated to witness significant growth rate for the forecast period 2019-2025.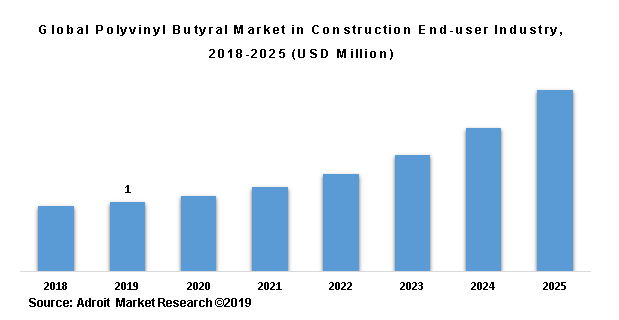 Application Segment
Polyvinyl butyral market is segmented into paints & coatings, films & sheets, adhesives, and others. In 2018, the films & sheets accounted for major contributors in revenue and it is expected to lead the polyvinyl butyral industry thorough the forecast timeline.
Asia Pacific is projected to witness significant growth in the coming years. Growing suburban migration along with rising middle class income have proliferated the real estate leading to construction of flat, apartments, and commercial complexes which have positively impacted the demand for PVB. Furthermore, the announcement of various policies regarding foreign investment have led to the establishment of various end user industries which in turn is driving the industry growth. Moreover, escalated investment across solar industry, leading to accelerated installation of solar panels is stimulating the industry landscape.
The major players of the global polyvinyl butyral market comprise of DuPont, Eastman Chemical Company, Sekisui Chemicals Co., Limited, Chang Chun Petrochemical Co., Limited, Huakai Plastic Co. Limited, Kuraray Co., Limited, Kingboard Chemical Holdings Limited, Tiantai Kanglai Industrial Co., Ltd., Zhejiang Pulijin Plastic Co., Ltd., and Everlam including others The market for polyvinyl butyral is consolidated with the presence of established global and domestic players across the globe. Moreover, the established companies are shifting focus toward establishing manufacturing facilities associated with the production of material and chemical. Furthermore, the industry players are coming up with inorganic growth strategies to expand their market presence.