The global polyphthalamide (PPA) market was valued at USD 840.5 million in 2018. Rising industrialization and increasing automotive demand is expected to drive the global polyphthalamide market during the forecast period. Improving standard of living and growing disposable income has led to increasing uptake of automation & electronics. Additionally, rapidly developing technologies and automation in electronics and automotive will lead to growing demand for smart materials, thereby supporting the consequent demand for polyphthalamide. All the above mentioned factors are poised to support the PPA market growth.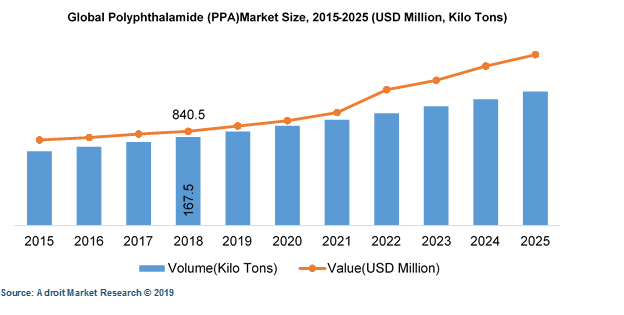 The global polyphthalamide market is expected to progress at a CAGR of 9.9% from 2019 to 2025, due to consistent rise in industrialization & increasing automobile demand. Also the increasing population in country such as China, is expected to drive the market growth. For Instance, China is in the very front of producing automobiles, while further penetrating in the electric vehicles space. China produced approximately 23 million passenger vehicles in 2018. Additionally, the growing and stable use of polyphthalamide in electronics such as home appliances, LED, mobile phones is expected to drive the market growth.
Polyphthalamide (PPA) Market Scope
| | |
| --- | --- |
| Metrics | Details |
| Base Year | 2020 |
| Historic Data | 2018-2019 |
| Forecast Period | 2021-2028 |
| Study Period | 2018-2028 |
| Forecast Unit | Value (USD) |
| Revenue forecast in 2028 | USD 1628.15 Million |
| Growth Rate | CAGR of 7 % during 2021-2028 |
| Segment Covered | By Product, Regions |
| Regions Covered | North America, Europe, Asia Pacific, Middle East and Africa, South America |
| Key Players Profiled | Solvay S.A., Arkema S.A., EMS-Chemie Holding AG, Evonik Industries AG, DUPONT EI DE Nemours & Co., Polyone Corporation, Eurotec, SABIC, Propolymers Inc. and Akro Plastics GMBH. |
Key segments of the global polyphthalamide (PPA) market
Type Overview, 2015-2025 (Kilo Tons) (USD Million)
Carbon Fiber Filled
Glass Fiber Filled
Mineral Filled
Unfilled
Application Overview, 2015-2025 (Kilo Tons) (USD Million)
Automotive
Electronics & Electrical
Industrial Equipment & Apparatus
Consumer & Personal Care
Regional Overview, 2015-2025 (Kilo Tons) (USD Million)
North America
Europe

Germany
France
U.K.
Rest of Europe

Asia Pacific

China
India
Japan
Rest of APAC

Latin America

Brazil
Mexico
Rest of Latin America

Middle East and Africa
Reasons for the study
This report study provides an extensive outlook of the global polyphthalamide (PPA) market
While analyzing the market, it is observed that PPA is majorly used in the automotive industry
Asia Pacific is the leading region and the most potential market as it is the most densely populated region and the rising demand for industrialization
Polyphthalamide market is projected to witness high growth opportunity in Europe and North America due to the presence of automotive giants and increasing demand for automobiles
What does the report include?
The study on the global polyphthalamide (PPA) market report covers key dynamic factors such as drivers, restraints, and opportunities and their penetration across geographies
Additionally, the global market size has been comprehensively studied using value chain analysis, regulatory scenario analysis, and Porter's five forces model
The study covers market estimates segmented on the basis of type, application, and geography. Moreover, the study also provides market analysis across key geographies.
Market sizes and forecast have been provided for all the above-mentioned segments. PPA market study also includes the profiles of key companies operating in the market with a significant global, regional and local presence.
Who should buy this report?
This study is beneficial for industry experts and leaders in the global polyphthalamide market, who want a thorough analysis and insight about the movement of the chemicals & materials industry. The report will benefit:-
Automobile manufacturers, aftermarket parts providers, and electronics manufacturers
Managers/executives/decision makers in financial institutions who are willing to publish current, historic and forecasted data pertaining to consumption of polyphthalamide in end-use industries
Stakeholders, venture capitalists and firms keen in investing in market and who are looking for additional information on the present, historic, and future scenario of the polyphthalamide market
Governmental organizations, policy framing bodies, regulatory organizations and financial organizations looking for additional applications in polyphthalamide market
Frequently Asked Questions (FAQ) :
polyphthalamide ppa market was valued at USD 840.5 million
the polyphthalamide ppa market is growing at a CAGR of 9.9% during the forecast period.
The base year for the report is 2019 in polyphthalamide ppa market
Changing customer demands & rise in industrialization
Globally, the polyphthalamide market has got its major chunk through the automotive segment. The rising urbanization is leading to change in customer lifestyle preferences, creating demands for the use of more automobiles.
The global market for the Polyphthalamide (PPA) is anticipated to develop at a compound annual growth rate (CAGR) of 7% throughout the course of the forecast, to reach USD 1628.15 Million by 2028.
Additionally, rising income, increase in standard of living, and evolving economic status are some factors, expected to drive the market growth. Especially in Asia, growing population with better purchasing power is inclined to buy automobiles. Engine parts, motor end caps, housings, electronic connectors, high-temperature switches, gear wheels, sensors and solenoids, and others are the major usage areas of polyphthalamide in automotive sector. Furthermore, the growing industrialization around the globe leading to increasing urbanization that tends to use of various electronic home appliances such as refrigerators, LEDs and other optoelectronic devices, tablets and laptop components is another key driving application. Solvay has Amodel A-4160 HSL "PPA" which is used in mobile electronics, home electronics & home components. Hence, all these factors shall stabilize the market demand for polyphthalamide.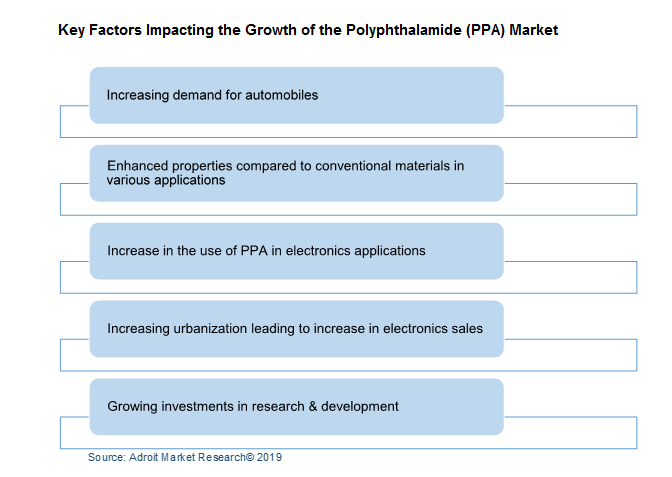 Increasing demand for light weight automotive components
Rapid urbanization in major geographic zones tends to increase the demand for automobiles. Additionally, polyphthalamide's enhanced properties such as lightweight is the major factor that influences its use in automotive components, thereby increasing vehicle efficiency. For Instance, the use of 50% glass reinforced polyamide plastic for engine brackets enabled improved NVH in the powertrain of the Mercedes 2017 E-Class Coupe. Additionally, in thermal management, research and development activities to replace components in automotive vehicles with light-weight materials, such as cooling and heating systems, resonators, air induction systems, charge air hoses, etc. is expected to drive the growth of the PPA market globally.
Global polyphthalamide market trends are heavily influenced by the usage pattern of electronics & electrical devices, along with automobiles. The increase in use of electronics especially in the home appliance segment, LEDs & other optoelectronic devices, will lead to increase in the adoption of polyphthalamide. Across the globe, China is the hub for electronics production, whereas Germany has a strong position in automobiles sector. Both the countries grab a significant chunk from the polyphthalamide market. In 2015, Evonik Industries AG (Germany) launched the polyphthalamide VESTAMID HTplus and HNBR component for automotive cooling circuit manufactured with plastic-rubber technology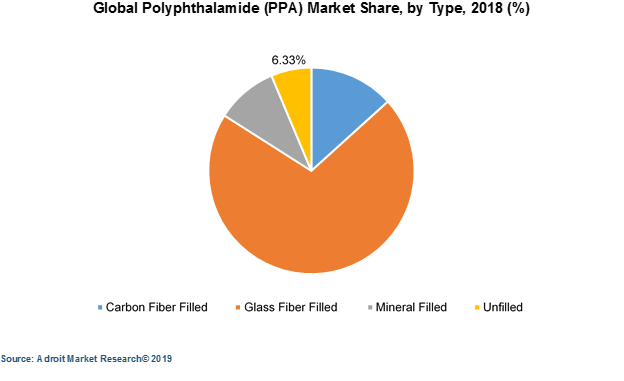 The growing use of polyphthalamide in industrial applications such as machine parts, garden equipment, and others is also a contribution market growth. Moreover, changing customer demands regarding high efficiency and low weight in automobiles can also be met through the use of polyphthalamide in various engine parts, structural parts, cooling systems and others. All these factors are shall increase the market growth for polyphthalamide. However, the rise of electric vehicles can hinder the market growth in the automotive sector, as polyphthalamide is majorly used in engine parts, and engine is absolutely withdrawn (vanished) component for the electric vehicles.
In Asia Pacific, the high demand for automobiles is due to rise in per capita income. Additionally, facilities such as easy finance is picking pace across the global market, thereby supporting the increased sale of new automotive vehicles. The latest generation of vehicles come with light weight parts for enabling better performance and mileage, wherein comes the use of polyphthalamide. In line with this trend Nilit Plastics, in 2016 launched new Nilamid XT polyphthalamide compound to be used in bearings, bushings, and automobile fuel line components. These factors tend to support the market growth. Additionally, in Europe, Germany is the hub of automobile manufacturing.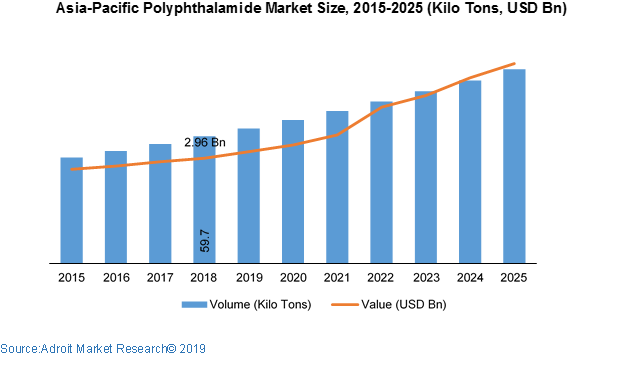 Therefore, Germany can be expected influencer in the polyphthalamide industry.
Owing to the North American Free Trade Agreement (NAFTA) agreement among North America European Union, China, and India, China & India are expected to experience high traction in the domestic PPA industry. Additionally, changing customer demands for luxury in the automotive segments, such as high-end and sports cars may also augment the polyphthalamide industry growth. Additionally, the increasing demand for electronics is also expected to drive the market growth in this region.