Manufacturing sectors like chemicals, electronics, oil, jewellery are into constant technological advancement. The platinum powder market will fuel the growth and cater the demand in these progressive sectors.
The global Platinum Powder market is expected to develop USD10.79billion by 2029, at a compound annual increase in price (CAGR) of 6.2% throughout the forecast period.
Covid-19 Impact & Market Status
The project is likely to be postponed until further notice, according to corporate officials. Platinum prices have been plummeting since the outbreak of the global pandemic, which is one of the key reasons for the expansion plan's stop. The commodity's price plummeted from about USD 32,857.3 per kilogramme in January 2020 to about USD 18,904.2 per kilogramme in March 2020. As a result, falling commodity prices combined with the cancellation of an expansion project in the United States are anticipated to stifle market growth in the short term.
In the first quarter of 2020, the new coronavirus had an impact on the global economy. As a result, many businesses, organisations, educational institutions, and government agencies are requiring their employees to work from home in order to assist prevent the virus's spread.
Mining activities were interrupted as a result of the COVID-19 epidemic, and aeroplane manufacturers also endured major production difficulties as demand slowed in response to the suspension of international flights. Major factors such as increased use in medical equipment due to Platinum Powder's exceptional characteristics, as well as its significant use in aerospace and military applications, are expected to boost the market in the medium term.
After the COVID-19 epidemic, there is an increase in manufacturing sector, chemical sector Consumer electronics, business, automotive, and other sectors will fuel the Platinum Powder market's growth.
High Platinum Powder Classification Segment Is To Expedite Growth Of Platinum Powder Market
The high platinum classification powder is finer and the purest form of platinum powder available in the market for most of the chemical reactions catalysts are used to increase the speed of the reaction time and get the product and byproduct, catalyst actually help to increase the surface area for the reaction which in result increases the speed of the reaction and get the desired product faster, whereas the alloyed platinum powder is a mixture of platinum and other metal to increase the hardness and reduces abrasions.
Nanoparticles also have a lot of surface area.Because pure platinum is too soft to be utilised for jewellery, alloying additives are applied to improve the hardness. Platinum jewellery alloys typically have a platinum concentration of 5% or more, hallmarked alloys are the most prevalent. In contrast to carat gold (Au) jewellery alloys, where relatively considerable additions may be added to change the alloy's qualities like as hardness or colour.
Jwelery Followed By Catalyst End Use Are To Fuel The Platinum Powder Market
There are a variety of platinum jewellery alloys available, and their use is determined by country preference and hallmarking rules. Copper (Cu), palladium (Pd), cobalt (Co), gallium (Ga), and indium (In) are common alloying elements (In). Cu is frequently added, resulting in a general-purpose alloy that moulds well and is simple to work with. The addition of Co produces a very excellent casting alloy, but the additions of Ga or In yield springy alloys. Pd can be added to platinum, but its softness limits its application, despite the fact that it has a superb surface polish.
Platinum is used in many sectors for research and development because of its excellent chemical characteristics. Platinum powder is also used in the medical field, where there has been a significant growth in the number of chronic illnesses in recent years. The high expenses of getting the metal are the biggest stumbling block to the market's expansion. The market might also be hampered by manufacturing expenses, which include labour, energy, and the metal's cost volatility.
The market for Platinum Powder will be fueled by US In North America Region.
Because of the country's abundant mineable resources, the United States is one of the world's major producers of Platinum Powder. More than 100,000 tonnes of Platinum Powder resources have been detected across the world, with roughly 60% of them in the United States.
Because of the restricted application industrial base in Mexico and Canada, only a little amount of Platinum Powder is consumed. However, because to the developing solar industry in Canada and the United States, the usage of Platinum Powder-based goods in solar energy-harvesting systems is expected to grow.
North America will lead the Platinum Powder market from 2022 to 2029, owing to strong demand from the industrial, consumer electronics, and jwelery, as well as rising demand from the defence and aerospace industries. Because of the availability of considerable Platinum Powder deposits in China, demand for the product in the consumer electronics sector due to the presence of key players' production units, and increased imports from China and Japan, Asia-Pacific is predicted to rise significantly from 2021 to 2029.
Due to increased imports from China and Japan, Asia Pacific is predicted to expand by 1.2 percent. The availability of significant Platinum Powder deposits in China is expected to help the Asia Pacific market.
Platinum chemical & physical properties like high density, lustorous, malleability, and ductility property, platinum is by far the most soft & ductile metal. It also has a high boiling point and is resistant to corrosion, making it suitable for a wide range of applications.
In 2022, the worldwide Platinum Powder market will be worth USD 57 million. Over the research period, the worldwide Platinum Powder market will develop at a CAGR of 3.2 percent, reaching USD 71 million in 2029.
Platinum, one of the rarest metals known to humanity, is utilised as a catalyst to delay or speed up chemical reactions in a variety of sectors. Platinum powder, which comes in a variety of grain sizes and compositions, is used in a variety of applications such as water treatment, fuel cells, solar, platinum ink for screen printing, pressing or bonding targets, and various chemical processes such as atomic layer deposition, thermal, and electron beam (E-beam) evaporation, among others. Platinum powder is used in the military, food and agriculture, medicines, and the petroleum sector to manufacture compounds that end up as fertilisers, plastics, synthetic fabrics, and vehicle exhaust systems, among other things. Platinum's chemical inactivity makes it ideal for use as a catalyst. Platinum is also called as a noble metal that means it is very stable in nature.
Chemical, electrical, glass, medical & biomedical, petroleum, and other industries make up the industrial application category. The chemical industry, which produces nitric acid, fertilisers, synthetic fibres, and other products, has a continuous demand for the item within this category. Platinum is required as a catalytic catalyst for the synthesis of the aforementioned chemical compounds.
Electrodes made of platinum are used in labs. Platinum is also used in optical fibres, cables, and pacemakers to improve efficiency. Platinum-based chemicals are used in chemotherapy to treat cancer. To make their timepieces more unique, some watchmakers utilise platinum. Platinum is a particularly essential metal because of its chemical and physical stability. It has a wide variety of uses despite its rarity. Platinum is often utilised as a catalyst for chemical processes due to its excellent stability. The Catalytic Converter in vehicles is the most popular use of this technology, which transforms carbon monoxide (CO) and other residual pollutants into carbon dioxide (CO2) and water vapour. Because of the metal's excellent malleability, ductility, and inertness, it's ideal for producing jewellery, most of the platinum is utilised in jwellery making.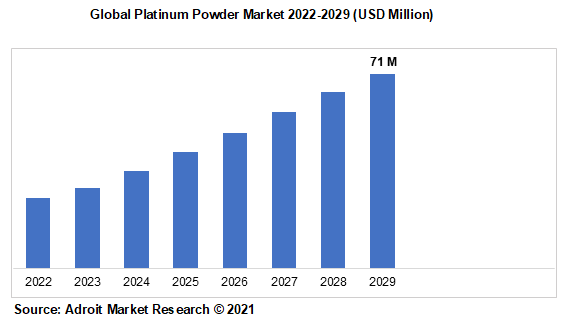 The Platinum Powder market is extremely concentrated, with the top three firms controlling almost 90% of the worldwide market. In addition, this circumstance reflects a monopolistic market. Johnson Matthey, Aida Chemical, Tanaka, American Elements are among the biggest enterprises.
Latest Innovation in the Global Platinum Powder Market Report: A snapshot
A platinum-based electrocatalyst has been created by scientists at the International Advanced Research Centre for Powder Metallurgy and New Materials (ARCI), an autonomous R&D centre of the Department of Science and Technology. The important step in the synthesis is to functionalize carbon in order to improve the carbon-platinum connection, known as strong metal substrate interaction (SMSI), and hence the electrocatalyst's longevity. The effective approach can increase the fuel stack's lifespan performance.
Johnson Matthey will also benefit from UK Export Finance's (UKEF) Export Development Guarantee scheme, which will provide £400 million in long-term funding. UKEF is the UK's export credit agency, and its plan supports UK exports, allowing Johnson Matthey to continue investing in hydrogen projects and circular technologies research and development.
Platinum Powder Market Scope
| | |
| --- | --- |
| Metrics | Details |
| Base Year | 2020 |
| Historic Data | 2018-2019 |
| Forecast Period | 2021-2028 |
| Study Period | 2018-2028 |
| Forecast Unit | Value (USD) |
| Revenue forecast in 2028 | USD 71 million |
| Growth Rate | CAGR of 3.2% during 2021-2028 |
| Segment Covered | Classification Type, End User, Regions |
| Regions Covered | North America, Europe, Asia Pacific, South America, Middle East and South Africa |
| Key Players Profiled | The top companies that hold the market share in platinum powder market are Johnson Matthey, Aida Chemical, Tanaka, American Elements, Heraeus Electronics, Shoei Chemical. |
Key Segments of the Global Platinum Powder Market
ClassificationType Overview, 2022-2029 (USD Million)
High Platinum Powder
Alloyed Platinum Powder
End User, 2022-2029 (USD Million)
Catalysts
Electronics
Chemical
Jewelry
Others
Regional Overview, 2022-2029 (USD Million)
North America
Europe
Germany
France
UK
Rest of Europe
Asia Pacific
China
India
Japan
Rest of Asia Pacific
South America
Mexico
Brazil
Rest of South America
Middle East and South Africa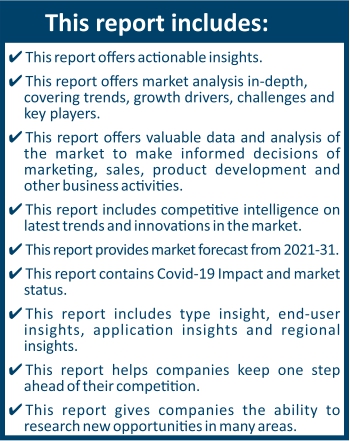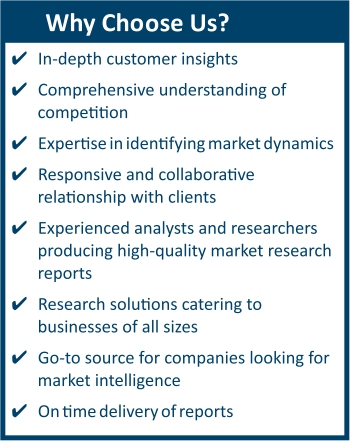 Frequently Asked Questions (FAQ) :
The market value of platinum powder market in 2029 was USD 71 million.
The platinum powder market is growing at a CAGR of 3.2% over the forecast period.
The application of the platinum powder market catalysts, electronics, chemical, jewelry and Other.
North America dominated the market for platinum powder market and accounted for the largest revenue share.
The top companies that hold the market share in platinum powder market are Johnson Matthey, Aida Chemical, Tanaka, American Elements, Heraeus Electronics, Shoei Chemical.