Photoresist is a light-sensitive material which changes its physical structure when exposed to radiation. Photoresist ancillary is related to the materials which are utilized for lithography. The photoresist grades comprise of ArF dry, ArF immersion, G-Line & I-Line, and KrF. The photoresist material is used to design circuits, which is a pattern method for fabrication of semiconductor.
The photoresist products are primarily solvent-based solutions that comprise of polymer resins, electronic-grade solvents, stabilizers, cross-linking agents, photosensitive chemicals, and surfactants. These products find application in printed circuit boards, integrated circuits and semiconductors along with sensors, microelectromechanical systems (MEMS), and nanoelectromechanical systems.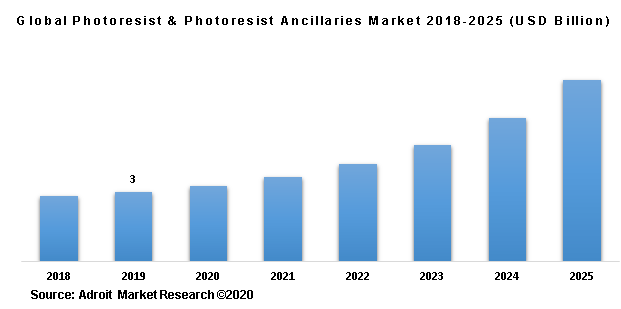 The Photoresist & Photoresist Ancillaries Market is anticipated to witness growth rate of 7% over the forecast timeframe. Ongoing growth across the semiconductor industry along with rapid advancement in display technology is driving the industry size. It is utilized for high density packaging along with wiring configuration for semiconductor manufacturing in computers, laptops, phones and servers. It is further utilized in other electronic products including music players, and household appliances.
Key segments across Photoresist & Photoresist Ancillaries market
Photoresist Type Overview, 2018-2025, (USD Billion and Tons)

ArF Immersion
KrF
ArF Dry
G-Line
I-Line

Ancillaries Type Overview, 2018-2025, (USD Billion and Tons)

Remover
Anti-Reflective Coating
Developer
Others

Application Overview, 2018-2025, (USD Billion and Tons)

Printed Circuit Boards
Semiconductors & ICS
LCDs
Others

Regional Overview, 2018-2025, (USD Billion and Tons)

North America
Europe

UK
Germany
Italy
France
Rest of Europe

Asia Pacific

China
India
Japan
Australia
Rest of Asia Pacific

Middle East & Africa

Saudi Arabia
Rest of Middle East & Africa

South America

Brazil
Argentina
Rest of South America
Reasons for the study
The purpose of the study is to give an exhaustive outlook of the global Photoresist & Photoresist Ancillaries industry. Benchmark yourself against the rest of the market.
Be prepared for how investments across the industry will be impacted by socio-political and economic factors over the next few years
Ensure you remain competitive as new innovations by existing key players boost the market.
What does the report include?
The study on global Photoresist & Photoresist Ancillaries includes qualitative factors such as drivers, restraints, and opportunities.
The study covers the competitive landscape of existing/prospective players in the industry and their strategic initiatives for the product development
The study covers a qualitative and quantitative analysis of the market segmented on the basis of photoresist type, ancillaries type, and application. Moreover, the study provides similar information for the key geographies.
Actual market sizes and forecasts have been provided for all the above-mentioned segments.
Who should buy this report?
This study is suitable for industry participants and stakeholders in the global Photoresist & Photoresist Ancillaries industry. The report will benefit:
Every stakeholder involved in manufacturing and distributing components or solutions.
Managers within financial institutions looking to publish recent and forecasted statistics pertaining to the global Photoresist & Photoresist Ancillaries industry.
Government organizations, regulatory authorities, policymakers, and financial organizations looking for T&D investment trends in the global Photoresist & Photoresist Ancillaries industry.
Analysts, researchers, educators, strategy managers, and academic institutions looking for insights into the market to determine future strategies.
Improving economic outlook across developing countries along with rising disposable income have led escalation in demand for the electronic gadgets, which in turn is boosting the product demand. Rising penetration of automation and digitization across the numerous industries leading to process optimization and enhanced productivity is further fueling the industry size. In addition, ongoing advancement across Internet of Things (IoT) along with the growing integration of Artificial intelligence is proliferating the business landscape. Although, the high cost associated with the photoresist material along with ongoing penetration of alternate technologies is anticipated to hamper the industry upsurge. However, ongoing innovation activities to improve the capabilities of the product, coupled with shifting focus toward 5G technology is anticipated to escalate the industry growth.
Photoresist Type Segment
On the basis of the photoresist type segment, the market is categorized into ArF immersion, KrF, ArF dry, and G-line and I-line. The I-Line immersion segment is analyzed to hold a significant share across the regions.
Ancillaries Type Segment
Based on ancillaries type, the segment is divided into remover, anti-reflective coating, developer, and others. The anti-reflective coating segment is analyzed to hold a significant share across the regions over the forecast timeline.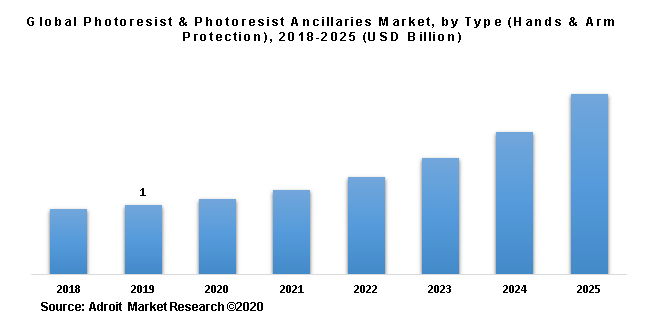 Application Segment
Photoresist & Photoresist Ancillaries market is segmented into printed circuit boards, semiconductors & ICs, LCDs, and others, on the basis of application. In this segment, semiconductor & ICs segment is anticipated to hold a major share in the coming years.
Asia Pacific is accounted for the major regional share and is expected to follow a similar trend in the coming years. Rising proliferation across various industries including automotive, and electronics is driving the regional size. Furthermore, positive economic outlook along with rising disposable income leading to escalated adoption of electronic gadgets is stimulating the industry growth. Moreover, rising investment across the region to establish manufacturing facilities along with rising integration of robotics and automated technology is fueling the business landscape.
The leading players operating across the global Photoresist & Photoresist Ancillaries market include JSR Corporation, Shin-Etsu Chemical Co. Ltd., Tokyo Ohka Kogyo Co., Ltd., Fujifilm Corporation, Sumitomo Chemical Co., Ltd., DuPont, and DJ MicroLaminates including others. The market for Photoresist & Photoresist Ancillaries is consolidated with established global players and is further witnessing the emergence of new companies. Moreover, the industry players are targeting toward enhancing their market share through implementation of merger & acquisition, collaborations growth strategies.