PET is a transparent, efficient and lightweight material of the polyester family. When used in fibres or fabrics, it is usually called polyester and when used for jars, bottles, and other packaging application it is referred to as PET or PET resin. PET is produced through the combination of terephthalic acid and ethylene glycol. In other terms, the building blocks for PET resin are Ethylene glycol and Terephthalic acid. PET is the leading packaging solution for many food products owing to its optimistic characteristics such as lightweight, hygienic, robust, and most importantly shatterproof. The common application of PET is the packaging of water and carbonated soft drinks. This is used most frequently for carbohydrate and water packaging. On the bottom of PET bottles and jars, a triangular identification code for resin No. 1 allows users to identify PET containers.
At a compound annual growth rate of 6.12%, the size of the worldwide PET Resins market is projected to reach 1.84 Million Tonnes in 2030.
Almost all soda and water bottles sold in the United States are made of PET plastic. PET being inert, it is widely preferred as an appropriate packaging option for pharmaceuticals, food and beverage packaging. Health agencies worldwide have approved PET as safe for food and drink use. Even though PET is a petroleum-based product, it has a very minimal environmental impact in comparison with aluminum, glass, etc. Above characteristics coupled with 100% recyclability is the key factor driving the demand of PER resins in the global market.
The move to a more resource-efficient and circular economy requires plastic matter as it can enable us to conserve the natural resources in each phase of a process. Significant improvements have been made by local authorities, the recycling industry and other stakeholders in the supply chain towards achieving a circular economy for plastics.
Growing demand across the globe
Global PET production capacity was around 30 million tons in the year 2017. China leads the market with a share of 30.8%, Asia excluding china accounted for 21%, North America – 16.9%, Europe – 14.7%, Middle East – 10.2%, South America – 4.1%, and Africa with 2.3%. The global production capacity was dominated by China.
Polyester is now an inseparable item of our everyday life in every area and every social strata. Production costs of bottle grade PET are more or less identical worldwide. However, Rapid growth in demand and easy availability of raw materials have led to pushing most new investments into Asia. While most of the industry in Asia nowadays have convergence with other sources such as olefines and refining, all improvements in polyester prospects continue to have global effects.
Recycling is another important aspect of this market. For instance, Branded and big leaders across the globe are setting ambitious norms to set a big recycling goal. Chinese domestic PET recyclate market accounts for more than 50% and rest is dependent on imports. However, Chinese domestic PET recycling numbers are uncertain in comparison with domestic consumption.
In terms of application, packaging holds the lion share across the globe and is anticipated to dominate over the foreseeable future. PET resins are used across various applications such as consumer goods, food packaging, sheet & films, automotive, and construction.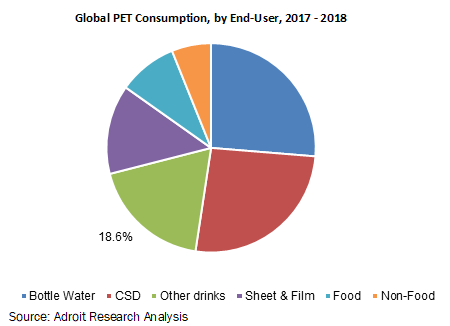 The one thing to note about the global PET resin market is, it is well spread across the globe. Most of the regions are flexible enough to meet their own demands. Hence, the future lies in sustainable plastic collection and recycling. There isn't much difference in terms of demand, capacity, and production. But still, PET is the most traded product across the globe with Asia producing the product in surplus owing to the continuous capacity expansion of Chinese players.
Europe to Be the Most Environmental Friendly Market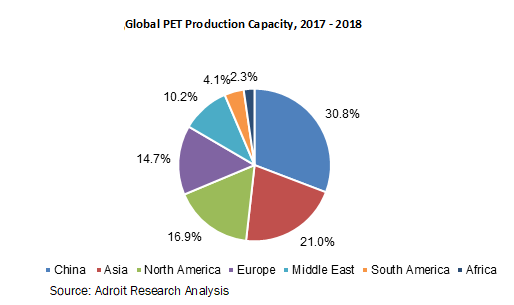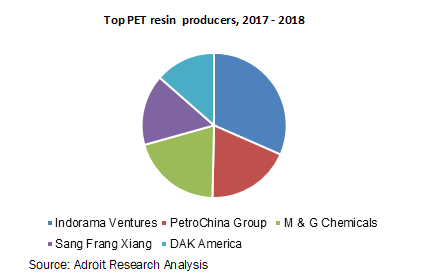 Top 5 Players in terms of PET resin production capacity includes Indorama Ventures, PetroChina Group, M & G Chemicals, Sang Frang Xiang, and DAK America.
• Sanfangxiang Group Co. Ltd.
• Teijin Limited
• SABIC
• NEO Group
• DuPont de Nemours Inc.
• Toray Industries Inc.
• SCG Chemicals Co. Ltd.
• LOTTE Chemical Corporation
• Toyota Tsusho Corporation
• Other Players
PET Resins market scope
| | |
| --- | --- |
| Metrics | Details |
| Base Year | 2022 |
| Historic Data | 2020-2021 |
| Forecast Period | 2022-2030 |
| Study Period | 2020-2030 |
| Forecast Unit | Value (USD) |
| Revenue forecast in 2030 | 1.84 Million Tonnes |
| Growth Rate | CAGR of 6.12 % during 2022-2030 |
| Segment Covered | By Product Type, End- User Industry, Application, Materia, Region. |
| Regions Covered | North America, Europe, Asia Pacific, South America, Middle East and Africa |
| Key Players Profiled | Indorama Ventures Limited (Bangkok), Mitsubishi Chemical Corporation (Japan), SABIC (Saudi Arabia), BASF (Germany), Alpek (Mexico), Nan Ya Plastics Corp. (Taiwan), DuPont (US), Reliance Industries Limited (India), Far Eastern New Century Corporation (Taiwan), and Mitsui Chemicals (Japan). |
Key Segment Of The PET Resins market
By Product Type, 2022-2030 (USD Million)
• Bottles
• Films and Sheets
• Cups
• Cans
• Pouches
• Others
End- User Industry, 2022-2030 (USD Million)
• Food & Beverage
• Automotive
• Electrical & Electronics
• Healthcare
• Consumer Goods
• Others
Application, 2022-2030 (USD Million)
• Beverages
• Sheets & Films
• Consumer Goods
• Food Packaging
• Others
Material, 2022-2030 (USD Million)
• Glass
• Plastics
• Metal
• Paperboard
• Others
Regional Overview, 2022-2030 (USD Million)
North America
• US
• Canada
Europe
• Germany
• France
• UK
• Rest of Europe
Asia Pacific
• China
• India
• Japan
• Rest of Asia Pacific
South America
• Mexico
• Brazil
• Rest of South America
Middle East and South Africa
Frequently Asked Questions (FAQ) :
The Global pet resins market is Segmented on the basis of By Product, By Application, And Geography.
To get latest version of pet resins market report can be obtained on demand from the website
The base year for the report is 2018 in pet resins market.