The introduction of new products, particularly in cosmetics, skincare, personal care, and fragrances, is propelling the industry forward.
Covid-19 Impact & Market Status
Coronavirus has spread over the world, and most nations are implementing lockdown measures to prevent the virus's spread and protect public health. All commercial and industrial operations have been completely halted, with the exception of those that are absolutely required, such as the food and medical sectors, resulting in an economic catastrophe in the country. Manufacturing and manufacturing operations have been halted, slowing the business, and inactive commerce and transportation have completely disrupted the supply chain, causing enterprises to suffer significant losses in the near future.
Orange Peel Type Segment is Likely to grow with the Majority of Share
Many of the high-end health products are made using pure orange oil. Furthermore, the substance is employed in aromatherapy as well as culinary flavoring. According to certain ideas, orange oil aroma possesses antispasmodic, depressive, and carminative qualities. Rising living standards and discretionary money are likely to have a beneficial influence on worldwide orange oil sales over the next few years. Despite the fact that orange oil is pricey, it is frequently referred to as a luxury item. It is expected that the global orange oil market will develop at a compound annual growth rate of 5% during the projected period.
The Cosmetics Segment is Likely to Grow with the Majority of Share
The peel oil is safe for use in cosmetic goods containing less than 0.0015 percent and manufactured to be non-irritating and non-sensitizing, according to the International Journal of Toxicology. Peel oil, in its pure, highly concentrated form, can be a skin irritant, causing reddening and irritation (contact dermatitis). When exposed to air, this component may potentially oxidize, rendering it unstable. This process has the potential to sensitize the skin, increasing the chance of skin irritation and other skin disorders. Orange peel oil shares some of the same skin issues as linalool, another plant-based scent.
North America is expected to be a High Growth Potential in the near Future
At the moment, North America controls the bulk of the global peel oil market, followed by European nations, as demand for natural components in food and beverage, cosmetics, and other sectors grows. Southeast Asia, on the other hand, is predicted to see a substantial rise in output throughout the projection period.
Peel Oil Market strongly driven by healthcare expansion owing to soaring demands for herbal and organic products
The growing need for essential oils, oil blends, and other products in sectors like food and drinks, cosmetics, fragrance, and others is driving up the market demand for peel oil. Citrus fruit peel oil is used to provide sweet refreshing qualities to beverages such as lemonade and smoothies, as well as to improve the flavors of baked food goods such as muffins, cookies, and others. Customers are turning to alternative medical treatments that involve natural and organic materials, such as aromatherapy. The global Peel Oil market is estimated to reach 17 USD billion at a CAGR of 7% throughout the estimated timeframe.
Peel oil is commonly used by food and cosmetics manufacturers, beverage makers, and pharmaceutical manufacturers to improve the quality of their products. As customers become more aware of the detrimental effects of chemical and synthetic substances, the demand for natural ingredient products rises. Peel oil market is expected to develop significantly due to its numerous advantages and rising use in a variety of sectors.
The global market for peel oil is being driven by the development of new products, particularly in cosmetics, skincare, sprayers, personal care, fragrances, and others. The most popular applications of peel oil is in skin care products, owing to multi dimensional effects on skin appearance and feel. Peel oil is beneficial in the treatment of acne because it aids in the removal of sebum, which typically collects on the face. Peel oil may be used as a mild cleaning agent since it efficiently unclogs pores, which is increasing its demand in the production of different face wash, masks, and cleansers.
When compared to fruit pulp, orange peel is more effective in purifying the skin. Peel oil is also becoming more popular in the production of oral care products. Several research investigations show that using lemon peel oil promotes brain activity and aids persons suffering from depression. The growing habit of using essential oils for a variety of home purposes, personal care products, and a surge in the popularity of DIY approaches is propelling the peel oil industry.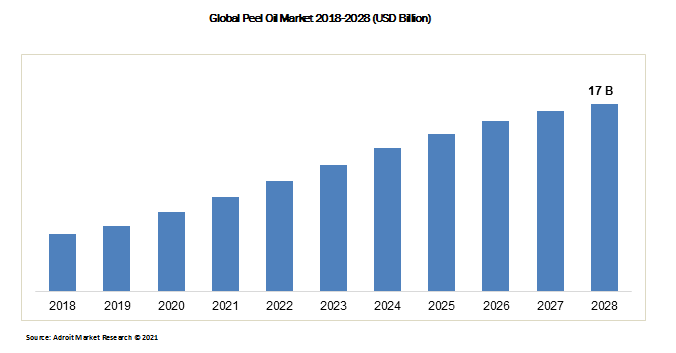 Our competitive landscape study of the peel oil market will comprise an assessment of market competition by the firm, including its respective overview, business description, product portfolio, important financials, and so on. Market likelihood scenarios, a PEST analysis, Porter's Five Forces analysis, supply-chain analysis, and market expansion plans are also included. Frontier Natural Products Co. Op., Health & Beauty Natural Oils Co. Inc., Heritage Brands Pty Ltd., SRS Aromatics Limited, Global Essence Inc., Essential Care Organics Ltd., TERRA Holdings LLC, Goddess of Spring LLC, The Essential Oil company, and Ventos, S.A.
Latest Innovations in the Global Peel Oil Market: a Snapshot
In August 2021, Former NFL Company Chris Hetherington has officially launched Peels, the first orange-derived CBD oil, in the US via its direct-to-consumer website, promising a pure, more consistent, and stable texture.
In October 2021, with its newest release, the Vitamin C Ester Daily Brightening & Exfoliating Peel, innovative and clinically-proven skincare company Perricone MD continues to employ the strong and very stable form of antioxidant powerhouse vitamin C, Vitamin C Ester. This no-rinse resurfacing peel exemplifies why the premium skincare brand is so popular: it works smoothly to level uneven texture and eradicate dead skin cells, all while rapidly boosting the face's luminosity and shine.
The goal of the market analysis is to provide reliable research of the Peel Oil market throughout the world. The study simplifies complicated data and illustrates the current and historical state of the industry, as well as predicted market trends and size. The research looks at all facets of the sector, including a complete review of key firms such as market investors, leaders, and new entrants.
Peel Oil Market Scope
| | |
| --- | --- |
| Metrics | Details |
| Base Year | 2020 |
| Historic Data | 2018-2019 |
| Forecast Period | 2021-2028 |
| Study Period | 2018-2028 |
| Forecast Unit | Value (USD) |
| Revenue forecast in 2028 | 17 USD billion |
| Growth Rate | CAGR of 7% during 2021-2028 |
| Segment Covered | Type, Application, Distribution Channel, Regions |
| Regions Covered | North America, Europe, Asia Pacific, Middle East and Africa, South America |
| Key Players Profiled | Frontier Natural Products Co. Op., Health & Beauty Natural Oils Co. Inc., Heritage Brands Pty Ltd., SRS Aromatics Limited, Global Essence Inc., Essential Care Organics Ltd., TERRA Holdings LLC, Goddess of Spring LLC, The Essential Oil company, and Ventos, S.A. |
Key Segments of the Global Peel Oil Market
Type Overview, 2018-2028 (USD Billion)
Orange
Bergamot
Grapefruit
Lemon
Others
Application Overview, 2018-2028 (USD Billion)
Pharmaceuticals
Fragrance Industry
Cosmetics
Food and Beverage
Others
Distribution Channel Overview, 2018-2028 (USD Billion)
Regional Overview, 2018-2028 (USD Billion)
North America
Europe
Germany
France
UK
Rest of Europe
Asia Pacific
China
India
Japan
Rest of Asia Pacific
South America
Mexico
Brazil
Rest of South America
The Middle East and South Africa
Frequently Asked Questions (FAQ) :
The global demand for Peel Oil Market is presumed to reach the valuation of nearly 17 USD bn by 2028 with a CAGR of 7% under the study period.
Increase in population and rise in disposable income has turned the market for peel oil toward growth. Rising purchasing power and changing lifestyles of consumers have played a major role in increasing demand for peel oil.
Orange Peel & Cosmetics Segment grow with majority market share and North America is expected to be a High Growth during the forecast period.
The sample for Peel Oil market report can be obtained on demand from the website. Also, the 24*7 chat support and direct call services are provided to procure the sample report.