Today, many businesses opt to automate or partially automate their logistics processes, and Palletizing Software can generate packing sequences compatible with robotics. In addition, due to limited space within the facility, the centralized palletizing concept was the most practical alternative, and palletizing Software can be utilized to achieve the same result.
Palletizing software enables the optimization of the primary product size for shipping, the creation of new case sizes, the construction of effective pallet patterns, the analysis of the compression strength of cases and pallets, and the enhancement of material and cube use.
Pallet software is a computer tool that assists workers and managers in determining the optimal method for loading shipping pallets. Depending on its capabilities, this software tool could be dubbed "Pallet Maker" or "pallet design software." In industrial contexts, when a large quantity of cargo is shipped in and out of a facility, pallet software assists planners in managing numerous pallet kinds and other warehouse equipment. Pallets are floor-standing platforms on which employees load materials and containers. Pallets may store a giant drum, multiple interconnecting boxes, or product items. In several types of storage and shipping sectors, pallets are practically universal.
When it comes to embracing cutting-edge palletizing technologies, the United States is a leading market. Demand for palletizing solutions in the United States is predicted to increase as a result of the booming economy, which has led to increased manufacturing thanks to more volume of vehicles, more e-commerce, and other important manufacturing indicators. The retail sector, the automotive industry, the food and drinks industry, and the pharmaceutical companies are the major demand drivers in the country for such solutions.
Palletization software is an essential component of supply chain operations since it places things to be sent on pallets. The primary objective of the palletization engine is to achieve optimal pallet stability, fill quality, and load stability. They support both manual and robotic packing stations.
With so many positives, it's no surprise that this curriculum is in such high demand. It aids in selecting the optimal method of Palletization. There are numerous methods for palletizing a shipment, but all products must be stacked properly. A pile of bulging or improperly positioned containers will be less stable. While direct stacking onto pallets is feasible, a more consistent loading is achieved when containers or packages are used according to their regular shapes allowing for proper piling. Once the pack is complete, it should be wrapped in transparent film and attached with strapping to preserve the products and help bind them together. Offers improved inventory management. Monitoring each SKU when loads are palletized is more straightforward, which improves inventory control. Since they will be aware of how many products are stored on each pallet, logistics managers may quickly determine the quantity of a product's stock. It also facilitates warehouse storage optimization. Material handling is more efficient, allowing for improved warehouse storage optimization since stackability and transit optimization are essential factors. The final component is Versatility. Typically, goods carried onto pallets are piled in columns, with each item resting directly on the one beneath it. In contrast, load strength and stability are significantly enhanced when pallets are stacked in an interlocking pattern. Consistently loading at the optimum level is challenging to do.
The Palletizing Software Market is anticipated to expand at a CAGR of 6.5% between 2021 and 2031. As of 2021, the palletizer market was worth $2.56 billion, but projections show that number rising to $5.77 billion by 2031.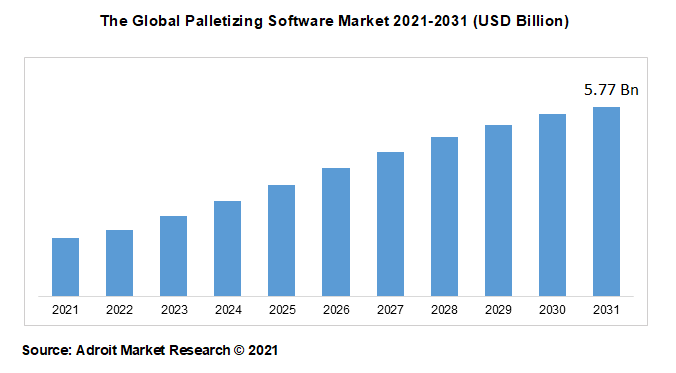 Multiple reasons are driving the growth of the Palletizing Software Market. The increasing need for speedier delivery is one of the contributing causes. By providing a stable base for goods during transport, pallets save the time and effort required to drop off and pick up them, as well as associated expenses. More Efficient Handling is urgently required. As handling equipment can stack products, minimizing the number of movements needed, operators may insert and remove pallets more efficiently.
Additionally, we can secure perishable commodities using this Software. Palletization is especially crucial for perishable items that must be refrigerated. By utilizing pallets, these items can be transported across unrefrigerated locations and loaded and unloaded more quickly.
Covid 19 Impact & Market Status
Despite the fact that the COVID-19 pandemic would cause income declines, CXOs from various companies believe that the issue pushes them to expedite plans to make investments in automated systems and robotics to effectively manage activities. As firms increase their worker safety and adaptability demands, the transition from manual to automated activities is becoming increasingly common. In addition, due to the advent of the COVID-19 pandemic, several manufacturing facilities in the FMCG industry are under more significant pressure to accelerate output. Consequently, the Software market is anticipated to expand throughout the forecast period.
The market for palletizers has traditionally benefited tremendously from the rise of the food and beverage sector.
Segment Analysis
By Technology
The market is divided by Technology into Robotic, Low Level or Floor Level, and High Level. Robotic Technology is anticipated to see the highest yearly compound growth rate of any technology category (CAGR). It possesses the capacity to adjust product dimensions and intricate layer patterns. In addition, because of the improved human-machine contact, it does not communicate the risk of harm, boosting the demand for robotic palletizing equipment. The low-level or floor-level category is anticipated to account for the most significant proportion of the Palletizer Market, as it provides immediate access to all products. In addition, it offers the maximum capacity for palletizing and the finest quality pallet building.
By Product Type
The market is categorized by Product Type into Bulk, Case, Bag, and Pail. The bulk segment is anticipated to experience the most significant CAGR due to the increasing use of robotic palletizing equipment. It performs tasks such as palletizing cans and bottles without human interaction. Since low- and high-level palletizers can produce the most cases per minute compared to robotic machines, the case segment is anticipated to increase steadily. Additionally, it primarily handles items with rigid shapes. The sectors of pails and bags are expected to grow slowly over the projected period.
By Application
Based on Application, the market is divided into Food and Beverage, Cosmetic and Personal Care, Healthcare and Pharmaceuticals, and Others. During the predicted time frame, the healthcare and pharmaceutical industries are expected to expand at the fastest rate. It is attributed to increased pharmaceutical consumption. In addition, these machines accelerate the packaging process, lowering the transit time for medications. The epidemic of COVID-19 has boosted the need for drugs, hence boosting the requirement for this equipment. On a world stage, the food and beverage category dominated the global market. As a result of the businesses' implementation of robotic and advanced equipment capable of handling several case sizes and pattern layers, product damage is decreased, and manufacturing efficiency is enhanced. In the following years, the remaining categories are projected to expand steadily.
When Product or Production Method Changes, Reprogramming Can Be Expensive: In most circumstances, a pricey programmer must re-program the Palletizing Software when the product size or production process changes. Complexity-increasing software necessitates a more qualified staff. We cannot rely on a small workforce to operate this Software. The pallet design, the flexibility of the tools, and the cycle duration are three additional key hurdles of employing Software.
Market players
ESKO, Well, Rocketfarm, Yaskawa, Fives Group, OnRobot, Schneider, Logen Solutions, KUKA, and Lead Robotics & Sealing System are the major players covered in this report.
Latest Innovations of the Global Palletizing Software Market: a snapshot
Software usage contributes to the reduction of energy expenses. It anticipates developments in the packaging machinery and palletizer industries shortly.
August 2021 - Geek+ announces the debut of a new Smart Mixed Case palletizing solution, created in collaboration with WSR Solutions, a provider of intelligent warehouse management technologies. The solution coupled Geek+ autonomous mobile robots and WSR's revolutionary palletizing algorithm to aid warehouse personnel safely, efficiently, and adaptable handling multiple outgoing orders.
Robotiq Inc. unveiled a new robotic palletizing system in October 2020 that is intended for lower throughput applications that demand regular job modifications and container or pallet size adjustments.
Palletizing Software Market Scope
| | |
| --- | --- |
| Metrics | Details |
| Base Year | 2021 |
| Historic Data | 2020-2021 |
| Forecast Period | 2022-2031 |
| Study Period | 2021-2031 |
| Forecast Unit | Value (USD) |
| Revenue forecast in 2031 | $5.77 billion |
| Growth Rate | CAGR of 6.5 % during 2022-2031 |
| Segment Covered | by Product Type, by Technology, by Application, Regions |
| Regions Covered | North America, Europe, Asia Pacific, Middle East and Africa, South America |
| Key Players Profiled | ESKO, Well, Rocketfarm, Yaskawa, Fives Group, OnRobot, Schneider, Logen Solutions, KUKA |
Key Segments of the Global Palletizing Software Market
Type Overview, 2021-2031 (USD Billion
• Bulk
• Case
• Bag
• Pail
Technology Overview, 2021-2031 (USD Billion)
• Robotic
• Low Level or Floor Level
• High Level
Application Overview, 2021-2031 (USD Billion)
• Food and Beverage
• Cosmetic and Personal Care
• Healthcare and Pharmaceuticals
• Others
Regional Overview, 2021-2031 (USD Billion)
North America
• U.S
• Canada
Europe
• Germany
• France
• UK
• Rest of Europe
Asia Pacific
• China
• India
• Japan
• Rest of Asia Pacific
South America
• Mexico
• Brazil
• Rest of South America
Middle East and South Africa
• UAE
• South Africa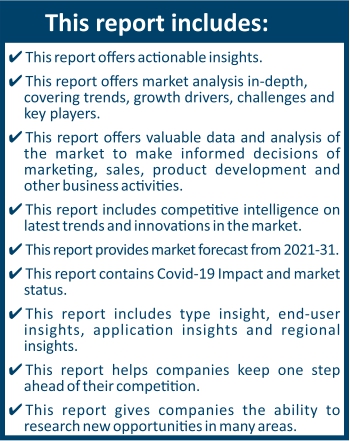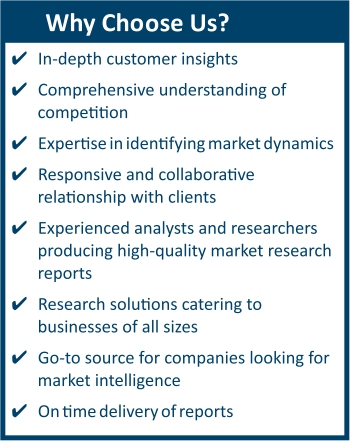 Frequently Asked Questions (FAQ) :
The global Palletizing Software market size is expected to reach in USD 5.77 Billion
The Palletizing Software market is estimated to grow at a CAGR of 6.5 %
The top leaders analyzed in the Palletizing Software market study are ESKO, Well, Rocketfarm, Yaskawa, Fives Group, OnRobot, Schneider, Logen Solutions, KUKA