The growing need for autonomous mobile robots (AMRs) across a range of end-use sectors is what is driving the global market for AMRs. The hospitals and healthcare sector are anticipated to contribute significantly to the expansion of the AMR market. This is due to both the increasing demand for efficient and effective hospital operations and the expanding use of AMRs in this sector for jobs like material handling and cleaning, among other things. The expansion of the AMR market is anticipated to be significantly aided by the manufacturing sector. This can be attributed to the growing use of AMRs in this sector for a variety of tasks like pick and place operations and assembly line automation.
Due to the numerous benefits, they offer, such as increased efficiency, productivity, and safety, AMRs are being used more and more in a variety of business sectors, including healthcare, manufacturing, logistics, and others. Additionally, one of the key factors boosting the market for autonomous mobile robots is the considerable drop in the cost of LiDAR sensors. Global demand for these robots is also being fuelled by increased industrialization and rising labor expenses.
Utilizing AMRs can help cut costs by automating operations that are now done by human workers, which is one of their main advantages. To help eliminate the need for physical labor, delivery robots can be utilized to transfer medicines and other supplies inside of hospitals. By automating labour-intensive or precisely timed tasks, AMRs can also aid improve operational efficiency. Robots can, for instance, move laboratory samples or dispense medication, freeing up nurses and other staff workers for other duties. By helping with activities like transporting patients from one area to another or bringing food to them, AMRs can also enhance patient care.
Robots that can move and explore on their own in an unstructured environment are known as autonomous mobile robots (AMR). Robots that can be remotely controlled or programmed to follow instructions are made using AMR technology. AMRs can develop a virtual map of their environment thanks to the sensors and mapping software they are equipped with. The robots can now navigate without assistance from people thanks to this.
At a CAGR of 27.1% during the forecast period, the size of the global autonomous mobile robots (AMR) market is anticipated to reach USD 31.9 billion by 2031.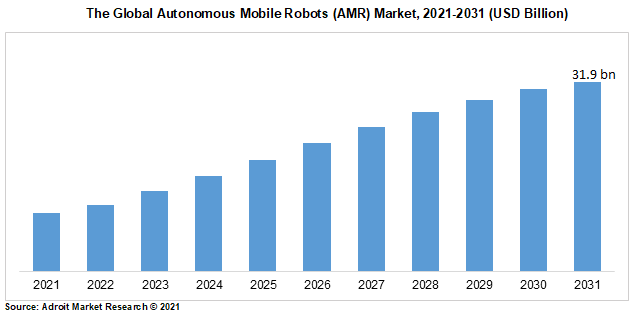 One of the biggest issues facing the global market for autonomous mobile robots is the high cost of AMRs. These robots use pricey contemporary technologies, which is the primary reason for the high price. Another difficulty the market faces is the lack of competent workers to operate these robots. However, due to rising demand from a variety of end-use sectors and rising investments by major players in R&D activities, the market is anticipated to experience considerable expansion in the upcoming years.
KUKA AG (Germany), Fetch Robotics Inc. (US), Locus Robotics Corporation (US), iRobot Corporation (US), Mobile Industrial Robots A/S (Denmark), Panasonic Corporation (Japan), Omron Adept Technologies, Inc. (US), Robert Bosch GmbH (Germany), Seegrid Corporation (US), and Yaskawa Motoman Robotics Division (Japan) are the major players in the global autonomous mobile robots' market.
Segment Analysis
Type Outlook
Over the course of the anticipated period, LiDAR Based is anticipated to grow at the highest CAGR. This expansion can be due to the growing use of these robots across a range of end-use industries, including the automotive, retail, and logistics sectors. Additionally, it is projected that this market sector would develop as a result of rising labour costs and the demand for quick and efficient operations.
Application Outlook
In the coming ten years, the hospital and healthcare sectors are anticipated to experience rapid growth. The expansion of this market is being fuelled by the high precision and efficiency of AMRs in carrying out various duties in hospitals, such as waste management, linen transfer, and patient transport. Additionally, this market is expanding as AMRs are being used more and more in nursing homes and long-term care facilities.
Regional Outlook
Research has been done on the autonomous mobile robot markets in North America, Africa, Asia Pacific, South America, Europe, and the Middle East. Among these regions, Asia Pacific is anticipated to grow at the fastest rate during the forecast period. The AMR market in this region is expanding as a result of reasons such as rising labor expenses, strict government laws surrounding employee safety and security, and the demand for efficiency and productivity.
COVID-19 Impact and Market Status
Due to the COVID-19 outbreak, which has caused people to stay indoors and slowed down industrial activity, the supply chains of numerous sectors have been impacted. The automotive industry is one of the sectors that has been severely impacted by the COVID-19 outbreak. Due to the worldwide lockdown imposed by various governments, the production facilities of various automakers have been shut down. Production has been made more difficult by the paucity of components brought on by supply chain disruptions. The supply chain interruptions have reduced consumer demand for robots, which is hindering the development of the market for autonomous mobile robots. Additionally, the COVID-19 epidemic has caused a drop in investment by a number of businesses in the creation of new technologies, which has slowed the expansion of the market for autonomous mobile robots. However, it is anticipated that the market will grow significantly over the next ten years as a result of the growing use of robot technology across a variety of industries and the increasing demand for warehouse automation. Additionally, the growing need for effective and affordable logistics solutions is expected to drive growth in the market for autonomous mobile robots during the forecasted period.
Latest Innovations in the Autonomous Mobile Robots Market: A Snapshot
• Teradyne finalized the acquisition of Mobileye in March 2019. Teradyne will be able to provide its customers solutions for ADAS and autonomous driving (AD) thanks to this acquisition, which will hasten their time-to-market.
• The growing acceptance of cloud-based solutions is one of the major trends in the market for autonomous mobile robots. Numerous advantages, including improved scalability, flexibility, and real-time data processing, are provided by these solutions.
Autonomous Mobile Robots (AMR) Market Scope
| | |
| --- | --- |
| Metrics | Details |
| Base Year | 2022 |
| Historic Data | 2021-2022 |
| Forecast Period | 2022-2031 |
| Study Period | 2021-2031 |
| Forecast Unit | Value (USD) |
| Revenue forecast in 2031 | USD 31.9 billion |
| Growth Rate | CAGR of 27.1 % during 2021-2031 |
| Segment Covered | by Type, By Application, Regions |
| Regions Covered | North America, Europe, Asia Pacific, South America, Middle East and Africa |
| Key Players Profiled | KUKA AG (Germany), Fetch Robotics Inc. (US), Locus Robotics Corporation (US), iRobot Corporation (US), Mobile Industrial Robots A/S (Denmark), Panasonic Corporation (Japan), Omron Adept Technologies, Inc. (US), Robert Bosch GmbH (Germany), Seegrid Corporation (US), and Yaskawa Motoman Robotics Division (Japan) |
Key Segments of the Global Autonomous Mobile Robots (AMR) Market
Type Overview, 2021-2031 (USD Billion)
LiDAR Based

LiDAR+Vision Based
Application Overview, 2021-2031 (USD Billion)
Hospitals and Healthcare

Manufacturing

Logistics and Warehouse

Others
Regional Overview, 2021-2031 (USD Billion)
North America
Europe
Germany

France

UK

Rest of Europe
Asia Pacific
China

India

Japan

Rest of Asia Pacific
South America
Mexico

Brazil

Rest of South America
Middle East and South Africa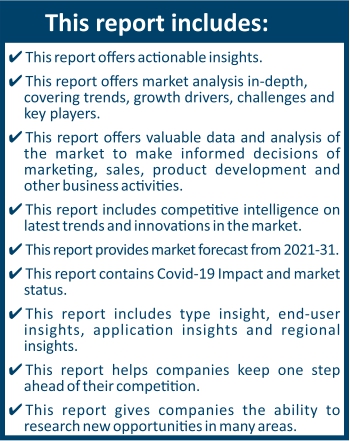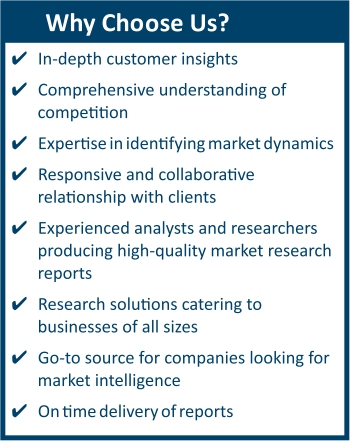 Frequently Asked Questions (FAQ) :
Autonomous Mobile Robots (AMR) Market is projected to reach USD 31.9 billion by 2031, growing at a CAGR of 27.1%
The Autonomous Mobile Robots (AMR) market is growing at a CAGR of 27.1% during the projection period
Key companies covered in the Autonomous Mobile Robots (AMR) market are KUKA AG (Germany), Fetch Robotics Inc. (US), Locus Robotics Corporation (US), iRobot Corporation (US), Mobile Industrial Robots A/S (Denmark), Panasonic Corporation (Japan), Omron Adept Technologies, Inc. (US), Robert Bosch GmbH (Germany), Seegrid Corporation (US), and Yaskawa Motoman Robotics Division (Japan