The market is growing due to the increased usage of commercial display advertising, which is a powerful medium for promotion across all industries and applications. The affordability of digital displays is what drives the market.

To improve their position in the market, the participants in this space must constantly come up with novel product implementations, complementary goods, and cutting-edge services. Since most people spend their time outside, expanding urbanization is emerging as a significant medium that enables companies to quickly reach large audiences. OOH will give advertisers the ability to target people more precisely and raise awareness to attract greater interest. The public may witness and connect with brands through creative campaigns, which aids in customer relationship management.
Companies now use cutting-edge tools to market their products as a result of technological advancements like the Internet of Things (IoT) and Artificial Intelligence (AI). On a digital platform that supports data-driven campaigns, AL can be employed in a variety of applications. Using the supplied data, it can optimize and update it. For instance, McDonald's used weather and time information to remind customers about their product line.
Advertisers can successfully reach their target population in a number of ways by using digital out-of-home advertising. Digital out-of-home advertising is another crucial component of smart city projects. Facial recognition technology is connected with full-motion digital locations and Wi-Fi technology to connect mobile viewers. With the growth of mobile-based digital networks and the pervasiveness of the Internet, Digital Outdoor Advertisers are expanding their location-based advertising to target consumers anywhere. These elements will probably fuel the expansion of the out-of-home industry.
Due to the apparent correlation between the amount of time spent at home and media consumption, traditional Out-of-Home (OOH) advertising is predicted to decline over the future years, while digital advertising platforms have mostly gained possibilities for engaging consumers. Because target customers are generally remaining indoors and avoiding busy areas as much as possible, the OOH Advertising Market may be facing lesser reach, particularly around transportation hubs. This is due to the fact that public transit systems provide the perfect setting for the spread of a lethal disease like this.
The adoption of digital platforms as a result of the pandemic's advent is anticipated to impede the growth of the conventional out-of-home market. Numerous rules pertaining to DOOH are as follows: fluctuating costs, content from different locations, and a lack of real-time data. These elements could slow market expansion.
Out-of-home Advertising, which takes the form of billboards, appears in front of consumers' homes. It consists of sales of consumer goods and services by brands that control marketing campaigns through out-of-home channels. It enables brands to interact with potential clients and boost engagement. It assists brands with outdoor advertising while conserving time, being economical, and getting a lot of responses from customers.
The global out-of-home market was valued at USD 17,770 Million in 2021 and is projected to grow to USD 28,279 Million in 2031, at a CAGR of 8.05%.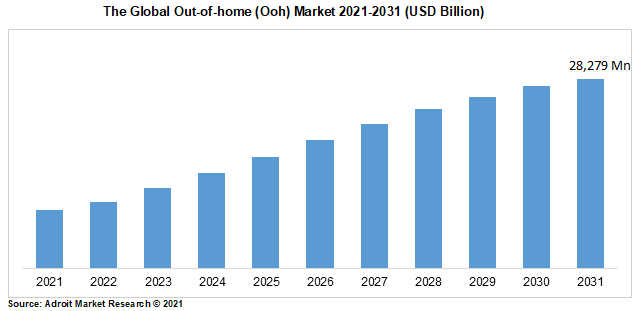 With several advertising companies operating in numerous markets, the industry is tremendously fragmented. Small businesses increase their market presence by winning new contracts and entering new markets due to technological advancements and product breakthroughs. Small vendors in the worldwide out-of-home market should stick to the fundamentals of the industry to increase their chances of success. A few of the major players in the market are Stroer SE &Co. KGaA, JCDecaux, Broadsign International LLC, Clear Channel Outdoor Handling, Inc., NEC Display Solution, Ltd., OUTFRONT Media, Daktronics, Lamar Advertising Company, Christie Digital System USA, Inc., Aoto Electronics Co., Ltd., and Prismview LLC.
Segment Analysis
Digital Out-of-Home to Lead the Market
Due to digitization, Digital out-of-home (DOOH) is anticipated to be the leading sector. It can reach a large audience and is more affordable than conventional billboards. Its use in commercial and transit structures is anticipated to sharply increase its demand. These elements could promote industry growth.
Public Places to rise at a Higher pace
The market expansion may be led by the public sector due to the growing demand for real-time information. It is anticipated that rising public demand for displays would accelerate market growth. The use of the screen in the public sector is anticipated to increase product demand due to the presence of train stations, airports, and bus terminals.
Outdoor Advertisement is the Most Favoured
The sports, hospitality, and transportation sectors all frequently use outdoor displays. During the projected period, it is anticipated that outdoor advertising would be highly pervasive in the transportation sectors. Large advertisements for passing drivers and pedestrians are frequently shown on billboards in busy regions. As the advertisements are mostly visible along express routes and high-density consumer exposure regions, this draws a lot of customers. Text that is continually changing and blinking makes an impression on buyers and gives the targeted audience extensive exposure.
Asia Pacific to Lead Among all Regions
Due to growing expansion in the transportation, public infrastructure, and construction sectors, Asia Pacific is predicted to hold the largest proportion of the out-of-home market. These developments are probably going to accelerate the growth of digital screens and consumer expenditure. Some issues are straightforward, such as the availability of more reasonably priced, higher-quality screens, while advertisers look for increased audience engagement and effect from their innovative messaging and new technologies.
Impact of COVID-19 and Market Status
Numerous markets throughout the world have been badly impacted by the COVID-19 epidemic. Because individuals were unable to travel and were forbidden from leaving their homes, the unexpected rise in COVID-19 prompted governments to impose restrictions on operations and travel, which had an impact on outdoor advertising. In the upcoming years, market growth for marketing agencies is anticipated to decelerate. As outdoor advertising's return on investment declines, firms resort to digital channels for their advertising. In order to reach the target demographic, agencies are lowering their OOH footprint and shifting to digital.
Latest Innovations and Developments in Global OOH Market: A Snapshot
• Wickes is a partner with Posterscope, a digital OOH and location marketing expert. The collaboration will launch Wicke's first digital OOH platform.
• JCDecaus and its partner DXB Media Advertising recently finalized a new street furniture deal in Dubai.
Out-of-home (Ooh) Market Scope
| | |
| --- | --- |
| Metrics | Details |
| Base Year | 2021 |
| Historic Data | 2020- 2021 |
| Forecast Period | 2022-2031 |
| Study Period | 2021 – 2031 |
| Forecast Unit | Value (USD) |
| Revenue forecast in 2031 | USD 28,279 Million |
| Growth Rate | CAGR of 8.05 % during 2021-2031 |
| Segment Covered | Type, Application, by End-Use, Regions |
| Regions Covered | North America, Europe, Asia Pacific, Middle East and Africa, South America |
| Key Players Profiled | Stroer SE &Co. KGaA, JCDecaux, Broadsign International LLC, Clear Channel Outdoor Handling, Inc., NEC Display Solution, Ltd., OUTFRONT Media, Daktronics, Lamar Advertising Company, Christie Digital System USA, Inc., Aoto Electronics Co., Ltd., and Prismview LLC. |
Key Segments of the Out-of-Home Market
By Type Overview, 2021-2031 (USD Billion)
Traditional OOH

Billboards

Digital OOH
By Application Overview, 2021-2031 (USD Billion)
BFSI

Hotels

Streets

Public Places

Corporates

Others
By End User Overview, 2021-2031 (USD Billion)
Military
By Regional Overview, 2021-2031 (USD Billion)
North America
Europe
Germany

France

UK

Rest of Europe
Asia Pacific
China

India

Japan

Rest of Asia Pacific
South America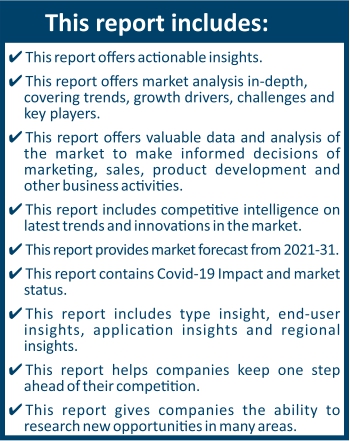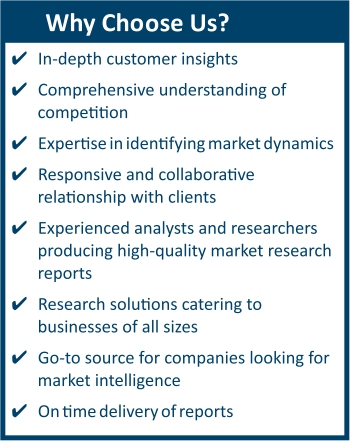 Frequently Asked Questions (FAQ) :
The global Out-of-home (Ooh) market size is expected to reach USD 28,279 Million in 2031.