The global organic tea market has been expanding with high revenue in recent years and is anticipated to expand with USD 1919 million at a CAGR of 12% over the forecasted period. The increasing relevance of flavonoid-based food and drinks with antioxidant qualities is projected to broaden the market reach in the next years. Furthermore, rising worries about cadmium's negative effects on human health are projected to broaden the spectrum of nutritious commodities generated from organic crops. Organic tea offers several advantages as mentioned above which are likely to ensure a flourishing growth in the global organic tea market.
Researches support the role of organic tea in addressing multiple digestive and gastro-intestinal conditions. It also aids in increasing the activity of beneficial bacteria in the stomach, therefore enhancing gut health. It also increases relaxation by reducing sleepiness and slowing heart rate. Caffeine, which enhances the human body's focus and attention, is present in such goods.
The health advantages described above are likely to enhance the acceptance of these goods among health-conscious customers in the near future. Caffeine-free goods are becoming increasingly popular. The tendency has had a significant impact on market growth. Organic decaffeinated tea has been sweeping the market.
In recent years, the market has seen a surge in the number of producers selling decaffeinated organic tea varieties. Twining and Business Limited, a tea company located in the United Kingdom, sells decaffeinated green tea bags that provide a smooth and balanced blend of taste and flavor.
Turmeric tea is rapidly gaining popularity among customers. It has become the best-selling herbal teas in the previous alongside hibiscus, peppermint, half-decade, chamomile, and ginger varieties. Such goods are beneficial in improving physical and mental stress responses, and as a consequence, people are drinking functional teas at a higher level that is more appropriate for today's lifestyle. As a result, an organic tea demand is likely to grow among high-performance athletes, elderly people, and the urban professionals. However, challenges in the storage capacities and supply-chain loopholes are restraining full-fledges growth in the global organic tea market.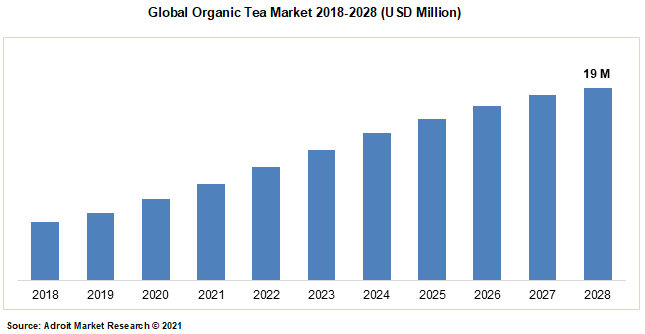 The prominent players of the global organic tea market are Tata Tea Limited (Tetley), R.Twining and Company Limited, Alkaloid AD Skopje (Good Nature), Unilever (Lipton), Ceylon Organics Limited, Organic India, and The Stash Tea Company etc. The market is projected to expand rapidly in the coming years.
Product releases have paved the path for the product's penetration. In this light, in the year 2019, leading market participant, Mindful Inc. revealed its organic electrolyte tea in the ready-to-drink category. The firm has been concentrating its efforts on developing next-generation functional goods for customers that promote health, wellbeing, and sustainability.
Key Segments of the Global Organic Tea Market
Product Type Overview, 2018-2028 (USD Million)
Herbal
Camelia Sinesis based
Taste Overview, 2018-2028 (USD Million)
Form Overview, 2018-2028 (USD Million)
Tea Bag
Liquid
Leaf & Powder
Distribution Channel Overview, 2018-2028 (USD Million)
Hypermarkets & Supermarkets
Online & D2C
Convenience Store
Others
Regional Overview, 2018-2028 (USD Million)
North America
Europe
France
UK
Germany
Rest of Europe
Asia Pacific
China
Japan
India
Rest of Asia Pacific
South America
Brazil
Mexico
Rest of South America
The Middle East and Africa
Reasons for the study
The report specifically features crucial data about major growth milestones in the global organic tea space, besides highlighting core growth strategies braced by local and global players across regions.
It looks into probabilities, mergers and acquisitions, and analyst perspectives and opinions.
What does the report include?
The study contains a discussion of the major drivers, limits, and opportunities, as well as an assessment of their impact.
Current and future organic tea market trends are extensively researched in order to assess overall attractiveness and find profitable trends in order to get a stronger foothold in the global market.
The study of Porter's Five Forces illustrates the significance of consumers and suppliers in the global organic tea industry.
Who should buy this report?
Managers in the organic tea business who want to talk about current and future global market statistics.
The market data pertaining to development milestones in the global organic tea market is particularly important for research analysts, government organizations and business managers.
Traditional teas are gaining popularity among the worldwide population because they provide the advantages of natural ingredients with the least number of preservatives and encourage cultural moral interchange throughout the world. Traditional tea businesses are increasingly attempting to broaden their functional offerings, emphasizing a holistic lifestyle that promotes both general well-being and more specialized health advantages. Teas that have been fortified by combining naturally useful components with additional nutrients take functional tea to the next level. In Germany, Lipton produced a similar product; a flavored green tea with additional vitamin C and superfoods such as fragrant lemon verbena, bright turmeric, and a hint of fiery ginger.
Teas that have been supercharged by combining naturally useful components with additional nutrients take functional tea to the next level. Organic tea has several uses as a nutritious meal, and it is especially beneficial to those suffering from obesity, heart disease, and excessive cholesterol. The rising consumer desire for healthy food and beverages is a significant driver of the global organic tea market.
The tea is well-known for its ability to reduce extra body fat and increase metabolic rate without causing any severe adverse effects. The notable characteristics and medicinally significant chemicals contained in the tea are not lost as a result of its organic manufacturing. When compared to other teas, this makes it a healthier option.
Product Type Segment
Camellia sinensis based products segment accounted for more than 70% of the market in 2020. The product's ease of availability has resulted in greater global penetration. In addition, industry participants have increased their investments in the creation of innovative products in the black, white, green, and oolong categories in order to appeal to everyone's taste and health indicators.
Taste Segment
In 2020, the flavored organic products segment accounted for more than 80.0 percent of the market. Inclusions and extracts are used to flavor these goods. Blossoms, herbs, dried fruit, or spices are added directly to the tea leaves for both aesthetic and sensory effects.
Distribution Channel Segment
In 2020, the hypermarkets and supermarkets segment accounted for more than 35.0 percent of the market. Because there are so many goods on the market, it can be difficult to choose the one that is right for you. As a result, supermarkets and hypermarkets that provide a wide range of options may be seen as the best place to shop for these items, resulting in the channel's expansion.
Form Segment
In 2020, leaf and powder accounted for more than 45.0 percent of the total. This is due to the fact that leaf and powder versions have a first-mover advantage. Furthermore, these items provide users the option of choosing the flavor of their tea, which may be robust or moderate. Buyers are more inclined to choose such items since they are more cost-effective.
In 2020, Asia Pacific had the highest share of more than 35.0 percent. In most Asian countries, tea is seen as a serious matter. People drink tea with their morning meal, during mid-day breaks, and with their friends and relatives. China, India, Myanmar, Japan, Taiwan, and South Korea, all eat it in various ways.