Increased infrastructural development, increased need for better treatments along the dire need of reducing time intervals are some of the reasons responsible for the Operating Room Integration Market is growing at a rapid pace.
Covid-19 Impact & Market Status
The Operation Room Integration market size increased immensely due to the advent of Covid-19. This is because of the massive uptrend in the demand for services, rooms, oxygen cylinders, general surgery and a huge increase in all health-related things. Increased digitization was needed so as to increase productivity and efficiency. The times were really tough and people were panicking all around which is why integrated ORs were adopted as fast as the hospitals could. A lot of people had to wait for surgeries and this meant that the processes need to be more efficient so that more and more patients could be treated as early as possible.
The global Operating Room Integration market is expected to develop USD 4.27 Billion by 2030, at a compound annual increase in price (CAGR) of 10.96% throughout the forecast period.
The present market, regulatory concerns, possible prospects, and difficulties in various market segments are all examined in this Operation Room Integration Market research.
The Software Industry Will Become the Most Profitable
The software segment supplied the biggest market share in terms of components, accounting for about half of the worldwide Operation Room Integration market. This is due to the advantages that these software solutions provide. It helps in streamlining surgical workflows by enabling seamless communication and also removes any sort of complex processes associated with the whole system. This is the reason why the software segment is the most lucrative in the component segment of the Operation Room Integration Market.
General Surgery to Remain Atop
The general surgery segment led the Operation Room Integration market by application in 2020, and it is expected to continue to do so during the forecast period. This is because of the rise in the number of hospitals adopting MIS technology along with an increased number of chronic illnesses. This has many benefits to go with it like reduced hospital stays, less painful features, and a high focus on patient safety.
The orthopedic segment is also expected to grow at a rapid pace of about 12% because of the rise in demand; this is because of an increase in a number of orthopedic conditions, including osteoarthritis, osteoporosis, rheumatoid, etc.
Hospitals to Ensure Highest Sales
The hospitals' segments have dominated the market in 2020 and it is because of the fact that the hospitals have huge penetration of integrated operating rooms. Hospitals have the capital to buy and maintain these integrated ORs and experienced surgeons who know the technology of the systems. Hospitals tend to include these because there is usually a high-tension environment and to streamline things, reduce complexity and make the process efficient, integrated ORs are adopted.
The North American region will provide several investment opportunities.
North American market had a market share of 45% in 2020. This is because there is a huge need of reducing medical expenditure and integrated ORs help in reducing that. The presence of established players, appropriate funding, and advanced technology are some more factors due to which North America comes at the top.
The Asia Pacific region is also expected to have a great CAGR owing to the huge population and increasing technological advancements in that region.
The increasing complexities in terms of the equipment available in the operation room and the need to reduce it are driving the growth of the Operation Room Integration Market.
Owing to the highly tensed environment in the hospitals and the operation rooms, it is super necessary to keep everything else simple so that the treatment can be performed without distractions. An increasing amount of equipment in the OR made the situation more complex and also reduced the concentration of the staff, hence a system that would integrate all the data of patients and streamline it was needed, which, in turn, resulted in the growth of Operating Room Integration Market.
An Operation Room Integration is a type of system that helps in concentrating all the data of the patient in one place which would be highly beneficial for the reduction in time. It also helps in centralizing all the commands so that all the devices are connected to a master device which reduces the complexities in the operation room.
The rise in the adoption of technology and growth in digitization among hospitals to improve efficiency and reduce the complexities is one of the reasons due to which this market is gaining importance. This system's distinguishing characteristic is that it maximizes efficiency, reduces surgery time, reduces manpower, and manages patient surgical data.
Improvements in AI technology can help hospitals and surgical centres improve efficiency and lower costs by playing a key part in a comprehensive plan to address specific backlogs. Additionally, market growth is likely to be fuelled by improved results from less intrusive treatments.
However, lack of skilled surgeons and a high cost of installation are some of the factors that are hampering the market growth. Nevertheless, Operating Room Integration Market has growth prospects, because of the increasing need for highly efficient systems to reduce complexities.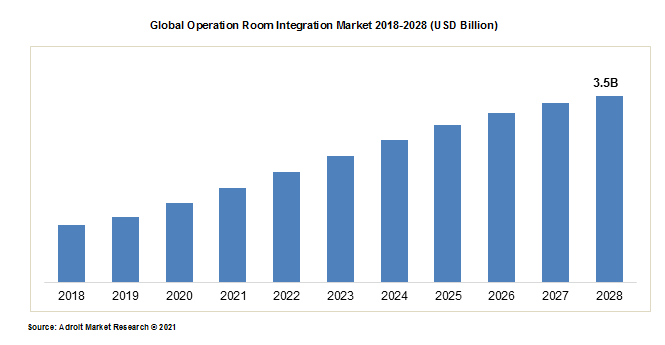 The major players of this market are Canon Inc. (Canon Medical Systems Corporation), KARL STORZ GMBH & CO. KG, STRYKER CORPORATION, SKYTRON LLC GETINGE AB (MAQUET HOLDING B.V. & CO. KG.), BRAIN LAB AG, DORICON MEDICAL SYSTEMS, OLYMPUS CORPORATION, STERIS PLC., and MERIVAARA CORP. By applying technology, the R&D teams of the companies must try to mitigate the risks associated with security concerns. The Graphic User Interface i.e., ease of use, size of the software and useful features will prove to be essential factors determining the dominant player in the market.
Latest Innovations in the Global Operation Room Integration Market: A Snapshot
In March 2021, Olympus introduced EASYSUITE, a next-generation OR integration solution, in the EMEA market. EASYSUITE offers video management and routing, procedure recording, medical content management, and virtual collaboration.
CrossRoads Extremity Systems, located in Tennessee, has created a line of procedure-specific, sterile-packed implants and equipment systems that have been certified for use in the lower extremity. With the help of HealthpointCapital, the firm has grown into a market leader in the foot and ankle arena.
Operating Room Integration Market Scope
| | |
| --- | --- |
| Metrics | Details |
| Base Year | 2022 |
| Historic Data | 2020-2021 |
| Forecast Period | 2022-2030 |
| Study Period | 2020-2030 |
| Forecast Unit | Value (USD) |
| Revenue forecast in 2030 | USD 4.27 Billion |
| Growth Rate | CAGR of 10.96 % during 2022-2030 |
| Segment Covered | by Application, By Device Type, By End-User, Region. |
| Regions Covered | North America, Europe, Asia Pacific, South America, Middle East and Africa |
| Key Players Profiled | Olympus, Stryker, STERIS, FUJIFILM Medical Systems, Getinge, Merivaara, Image Stream Medical, KARL STORZ, Skytron, Doricon Medical Systems. |
Key Segments of the Operation Room Integration Market
Components Overview, 2018-2028 (USD Billion)
Application Overview, 2018-2028 (USD Billion)
General Surgery
Orthopaedic Surgery
Cardiovascular Surgery
Neurosurgery
Thoracic Surgery
End-User Overview, 2018-2028 (USD Billion)
Regional Overview, 2018-2028 (USD Billion)
North America
Europe
Germany
France
UK
Rest of Europe
Asia Pacific
China
India
Japan
Rest of Asia Pacific
South America
Mexico
Brazil
Rest of South America
Middle East and South Africa
Frequently Asked Questions (FAQ) :
The global operating room integration market size is expected to reach USD 3.5 billion by 2028.
The operating room integration market is growing at a CAGR of 11% over the forecast period.
North America dominated the market for operating room integration market and accounted for the largest revenue share.
The application of the operating room integration market General Surgery, Orthopaedic Surgery, Cardiovascular Surgery, Neurosurgery, Thoracic Surgery & others.
The top companies that hold the market share in operating room integration market are Canon Inc. (Canon Medical Systems Corporation), KARL STORZ GMBH & CO. KG, STRYKER CORPORATION, SKYTRON LLC GETINGE AB (MAQUET HOLDING B.V. & CO. KG.), BRAIN LAB AG, DORICON MEDICAL SYSTEMS, OLYMPUS CORPORATION, STERIS PLC., and MERIVAARA CORP.