As there is casino and clubs throughout the world people have become more used to the betting process. But the offline betting market was not too safe so steps were taken to improve the user or customer's experience and privacy Online Betting Market was introduced. The customers increased drastically as the payments were made cashless and usage was also easy. Hence, there is a greater need for Online Betting Market.
Driving factors of the Online Betting Market
There are several driving factors of the Online Betting Market some of them are :
1. Convenient and Easy Access: Online betting provides convenience and easy access to bettors as they can participate in betting activities from anywhere at any time. It allows bettors to bet on their favorite sports event or team without having to physically go to a gambling venue.
2. High Acceptance of Mobile Betting: The increasing acceptance of mobile betting has been a major driving factor for the growth of the online betting market. Mobile betting is convenient and hassle-free, allowing bettors to place bets on the move without having to visit a physical sportsbook.
3. Increase in Smartphone Penetration: The growing penetration of smartphones across the world has also been a key driver of online betting market growth. Smartphones allow users to access online sportsbooks quickly and conveniently, making it easier for them to place wagers on their favorite events or teams anytime, anywhere.
4. Adoption of Cashless Payment Solutions: The adoption of cashless payment solutions such as e-wallets, debit cards, credit cards, etc., by online sportsbooks, is expected to be one of the primary drivers of growth in the online betting market over the next few years due to its
Advantages of the Online Betting Market
There are various advantages of the Online Betting Market some of them are as follows:
1. Convenience: Online betting sites offer considerable convenience for bettors, making it easy to place bets without having to travel to a gambling venue. This can be especially useful for those who live in remote areas or have busy lifestyles.
2. Variety of Odds and Markets: Online betting sites allow players to choose from a wide variety of odds and markets, offering more choices than traditional bookmakers. This allows them to find the most advantageous prices and make their bets accordingly.
3. Bonuses and Promotions: Many online betting sites offer bonuses and promotions which can help players maximize their winnings while minimizing their losses. These are typically tailored towards specific types of bettors, such as those who wager on in-play markets or those who prefer accumulators.
4. Lower Costs: Most online betting sites charge lower fees than traditional bookmakers, allowing players to save money when placing bets on sports or other events. This can be especially helpful for those with smaller bankrolls or limited incomes.
5. Security: Online betting sites employ sophisticated security systems which protect player funds and data from unauthorized access or manipulation. This ensures that players'
Market Size and Value of the Online Betting Market from 2021 to 2031
The global Online Betting Market is predicted to grow at a CAGR of 9.20% during the forecast period 2021-2031, reaching a total market size of USD 101.7 billion by 2031.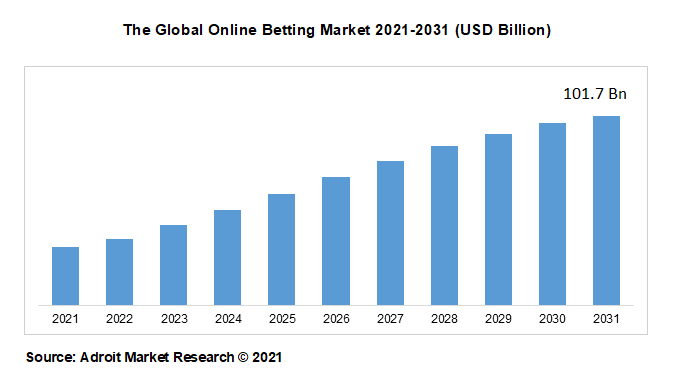 This growth is mainly attributed to rising disposable income among people, increasing internet penetration, and the growing popularity of sports betting across different regions. Additionally, the introduction of mobile betting apps and other user-friendly wagering services is expected to drive growth in this market over the forecast period. Furthermore, an increase in online promotions and bonus schemes from online bookmakers is anticipated to further boost the online betting market.
Challenges faced by the Online Betting Market/ Restraining factors of the Online Betting Market
Some restraining factors of the Online Betting Market are the following:
1. Legal and Regulatory Restrictions: Online betting is still illegal in many countries, which limits the potential market size. This can also limit the ability of online betting sites to offer certain types of bets or promotions.
2. Lack of Trust: Many customers may be wary of trusting online betting sites due to the risk of fraud or scams. Online betting sites need to build trust with their customers by establishing a secure platform and providing ample customer support.
3. Low Customer Loyalty: The online betting market is highly competitive, and customers may not be loyal to any particular site for long periods due to better deals or promotions available elsewhere.
4. Technology Issues: Technical issues such as slow loading times or unreliable connections can lead to negative experiences for customers, which can result in lost business if not addressed quickly and efficiently.
5. Data Security Concerns: As with any type of e-commerce website, data security is a major concern for customers when it comes to placing bets online. Customers must feel confident that their personal information will remain secure before they will place bets on an online site.
Key Market Players of the Online Betting Market
Some key players/manufacturers/Vendors of the market are William Hill, Paddy Power Betfair, VGC Holdings, 888 Holdings, The Stars Group, Kindred Group, bet365 Group Ltd., Unibet Group plc., Ladbrokes Coral Group, Bet-At-Home.com AG, Amaya Inc., William Hill US LLC., BetAmerica, and others.
Segment Analysis
Based on type Online Betting Market can be divided into:
1. Sports Betting: It involves placing a bet on the outcome of a sporting event such as football, hockey, basketball, horse racing, etc. This segment has seen tremendous growth in recent years due to the increasing popularity of online betting platforms across the world.
2. Casino Betting: This includes placing bets on casino games such as roulette, blackjack, slots, etc. The growth of this segment is driven by the expansion of online casinos and their availability in different countries.
3. Bingo Betting: This is a form of online betting which involves playing bingo games for real money on an online platform. The growth in this segment is driven by the rising number of bingo websites and apps available for users to play from anywhere around the world.
4. Lottery Betting: This involves purchasing tickets for lotteries and winning prizes if one's numbers match those drawn by the lottery agency or operator running the game. This segment has seen steady growth due to its convenience and ease of access with most operators accepting players from all over the world.
Based on application the Online Betting Market is divided into two parts:
1)Desktop
2)Mobile devices
Among these mobile devices are used more than desktops for Online Betting as it is easy and convenient to carry. The transaction can also be easily carried out by various methods.
Based on end-user and region the Online Betting Market is divided into
1)United States
2)Europe
3)Asia-Pacific
4)Rest of the World
The United States, Europe, and Asia Pacific are some of the major regions that have seen significant growth in online betting due to factors such as increasing disposable income and convenience.
COVID-19 Impact and market status of the Online Betting Market
COVID-19 had a great impact on the Online Betting Market.
The pandemic has resulted in a massive shift in the way people gamble, with many people shifting to online gambling as they are unable to visit traditional brick-and-mortar casinos or sports betting establishments. This shift has increased the demand for online betting platforms and services, leading to overall growth in the market.
In addition, due to the current economic situation, many people have chosen to invest their money in online gambling sites as a form of entertainment and/or additional income. This increased demand for online gambling services has also contributed to the market's growth.
Despite this growth, there are still some challenges that the market faces. These include regulatory issues, problems related to addiction and fraud prevention, anti-money laundering measures, and ensuring adequate customer protection. To ensure a successful future for the market, it will be important for stakeholders such as platform providers and operators to address these issues appropriately.
The recent development in the Online Betting Market from 2019 to 2022
In 2019 January, the online betting market was estimated to be worth approximately $53 billion. From 2019 to 2022, the online betting market is expected to experience significant growth due to the rising popularity of online sports betting, ease of access and convenience offered by online gambling platforms, changes in regulations regarding online gambling activities across different countries, increased investment in marketing strategies by industry players, and technological advances such as artificial intelligence (AI) and virtual reality (VR).
In 2020, the global online betting market size was valued at USD 86.05 billion and is projected to reach USD 296.93 billion by 2027 with a CAGR of 17.7% from 2020 to 2027. The increasing internet penetration rate in emerging markets such as China, India, Brazil, and Mexico has enabled an increase in the customer base for the global online betting market over the forecast period. The increased use of mobile phones has also made it easier for customers to access various websites offering betting services on their smartphones rather than using computers or laptops.
Furthermore, owing to the COVID-19 pandemic outbreak that is leading to lockdowns across several countries worldwide is likely to boost the demand for digital gaming applications and thus significantly contribute towards the growth of this market during the forecast period.
Online Betting Market Scope
| | |
| --- | --- |
| Metrics | Details |
| Base Year | 2022 |
| Historic Data | 2020-2021 |
| Forecast Period | 2022-2030 |
| Study Period | 2020-2030 |
| Forecast Unit | Value (USD) |
| Revenue forecast in 2030 | USD 101.7 billion |
| Growth Rate | CAGR of 9.2 % during 2021-2030 |
| Segment Covered | Type, Application, Regions |
| Regions Covered | North America, Europe, Asia Pacific, South America, Middle East and Africa |
| Key Players Profiled | William Hill, Paddy Power Betfair, VGC Holdings, 888 Holdings, The Stars Group, Kindred Group, bet365 Group Ltd., Unibet Group plc., Ladbrokes Coral Group, Bet-At-Home.com AG, Amaya Inc., William Hill US LLC., BetAmerica, and others. |
Key Segments of the Online Betting Market
Type Overview, 2021-2031 (USD Billion)
• Casino
• Sports Betting
• Poker
• Bingo
• Lottery
• Others
Application Overview, 2021-2031 (USD Billion)
• Desktops
• Mobile Devices
Regional Overview, 2021-2031 (USD Billion)
North America
• U.S
• Canada
Europe
• Germany
• France
• UK
• Rest of Europe
Asia Pacific
• China
• India
• Japan
• Rest of Asia Pacific
South America
• Mexico
• Brazil
• Rest of South America
• Middle East and South Africa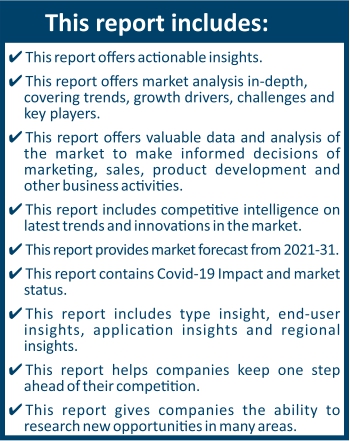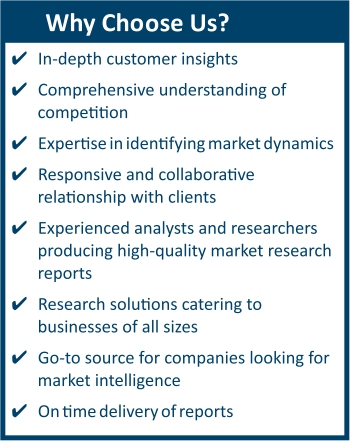 Frequently Asked Questions (FAQ) :
Online Betting Market is projected to reach USD 101.7 billion by 2031, growing at a CAGR of 9.2%