Covid-19 Impact & Market Status
The coronavirus outbreak has imposed a slew of limitations on land-based gambling venues. The offline gaming sector has been severely hurt by limitations on public transportation, tourism, and public meetings, among other things. The COVID-19 pandemic, on the other hand, has boosted demand for internet-based mobile betting across the globe. The industry is expected to develop due to the temporary closure of universities and the increasing acceptance of work-from-home policies.
At a compound annual growth rate of 12.1%, the size of the worldwide Mobile Betting market is projected to reach USD 154.81 Billion in 2030.
In a short amount of time, the COVID-19 pandemic had a profound influence on markets, customer behaviour, economies, and society. With offices, educational institutions, and manufacturing facilities closing indefinitely, major sports and events being postponed, and work-from-home and social distance laws in place, businesses are increasingly looking for solutions to assist them manage these difficult times.
These developments have resulted in supply chain disruptions, stock market inefficiencies, and vendor instability. These are constantly interfering with the normal operations of industry.
Since the beginning of the global crisis, the impact on the upstream, downstream, and midstream businesses has been disastrous. The report offers a ready-to-implement plan for coping with such crises and steering the Mobile Betting Market toward long-term growth and methodical improvement.
In the midst of the pandemic, new dynamics have emerged in the global Mobile Betting Market, prompting the development of new business models and techniques to recuperate growth and revenue streams.
Sports Betting is estimated to be lucrative segment in the upcoming years
During the projection period, sports betting is expected to dominate the market. The demand for sports betting is projected to be driven by the growing popularity of online gaming, fantasy leagues, and betting activities. Sponsorships in online sports betting are also predicted to rise, which will help to boost this market. Because of the multi-layer taxing environment in the casino industry, the industry is expected to grow rapidly during the projected period. Furthermore, the growing popularity of remote gaming is projected to fuel demand for online mobile betting. The popularity of online lotteries and their dissemination is growing. The mobile betting business is likely to be driven by rising per capita income, technological penetration, and interest in draw-based games. Similarly, because to the growing number of bingo sites, bingo is expected to continue to grow steadily. The growing popularity of poker among young folks is expected to enhance internet gambling.
Asia Pacific is anticipated to gain attraction from Market Players
Due to the availability of internet infrastructure and the increasing popularity of smartphones, Asia Pacific is expected to gain substantial traction during the projection period. Japan and South Asian nations are likely to lead the market over the projection period. According to a Summit Barcelona Digital (SBC) report, the demand for Bitcoin in gaming is expanding in Japan. Europe is expected to dominate the market. The presence of key players in the area is expected to fuel market growth during the forecast period. Furthermore, Europe's rich sporting history, as well as the broad presence of sports-obsessed fans in the region, is driving market expansion. Various European sports fans are heavily spending in online sports betting sponsorship. For example, to preserve a relationship with clients, William Hill Plc. and Caesars Entertainment, Inc. inked a National Football League (NFL) franchise sponsorship in October 2020.
Japan and South Asian nations are likely to lead the market over the projection period. According to a Summit Barcelona Digital (SBC) report, the demand for Bitcoin in gaming is expanding in Japan. Europe is expected to dominate the market. The presence of key players in the area is expected to fuel market growth during the forecast period. Three states in the United States, Nevada, Pennsylvania, and New Jersey, have gambling laws, which are fuelling demand for sportsbooks and betting apps. South America is predicted to grow significantly during the forecast period in terms of market size. Colombia and Argentina, for example, are working on regulating the betting industry, which is encouraging investments in online and mobile betting.
Mobile betting is when you utilize a remote device with a wireless internet connection, such as a tablet, smartphone, or mobile phone, to play games of chance or skill for money. Since December 2013, hundreds of mobile casinos have been functioning, with the majority of the major casino operators now offering a mobile platform to their customer base.
The rising usage of smartphones, advancements in internet technology, and higher purchasing power of customers, among other things, is driving market demand for mobile betting. Players' curiosity will be piqued as online betting software suppliers invest extensively in new technology to improve the user experience. The income collected by betting platforms from users is used to estimate the market in the scope of the market analysis.
Apart from the urgency and panic that has been sparked around the world, particularly in areas where the growing number of positive cases and transmission is high, the pandemic is being viewed as a time for people to sit at home and reflect on their abilities, loves, and dislikes for things and events. Throughout the epidemic, social media was flooded with many trends that were not only copied and imitated, but also assisted individuals in recognising their own abilities and talents.
In addition, the target population plays a variety of games on a variety of devices, including smartphones, mobile phones, tablets, iPads, and tablets, among others. Ludo King, driving games, online cricket, fantasy leagues/games and cards and casino games, among others, saw a surge in popularity, with apps being downloaded on a variety of platforms.
Mobile Betting is another form of entertainment that has seen a significant increase in popularity, with people engaging in it for a variety of reasons, including trying their luck, passing the time, thinking of it as a entertainment source, and others who wished to gamble through various means and sources in order to invest less and earn a large sum of money for various purposes.
Betting includes activities such as betting, lottery, and bingo, among others, in addition to the movement of money and resources through many hands. The major competitors in the global market are improving their operations and introducing new programmes in order to entice a broader audience to test what they have to offer. In addition, the players are legitimising their business by providing clean, authentic services that cannot be questioned. Furthermore, the market is being promoted exclusively for the sake of enjoyment and entertainment, and nothing illegal is being done.
The mobile betting market share is predicted to expand throughout the forecast period. Players are likely to be presented with variables that will drive them towards expanded growth due to the extensively functioning market segments and an assortment of services offered by them by targeting the interest of significant target audiences and gambling. For the time being, Chabot, artificial intelligence, and machine learning features have effectively taken over market operations. Furthermore, the presence of a significant number of females in casinos, as well as the maintenance of a high level of convenience by providing cashless payment options, bodes well for the market's and players' operations.
Some segments of the target population, however, are becoming addicted to mobile betting. To satisfy their desire to win big, they invest large sums of money in the game and its numerous divisions, but to no avail. The loss is significant, causing people to become financially burdened and, as a result, fall into debt traps.
Owing to which, the government is acting to control the global growth of the business in order to decrease the ramifications and negative impacts linked with mobile betting sector services. Various governments across the world are developing severe laws that are anticipated to restrain market operations that seek to extend their scale of operations over the forecast period.
The major players of the Global Mobile Betting Market are Entain PLC, Kindred Group PLC, BETSSON B, William Hill PLC, Bet365 Group, and 888 Holdings Plc. The Stars Group Inc., and Flutter Entertainment PLC among others.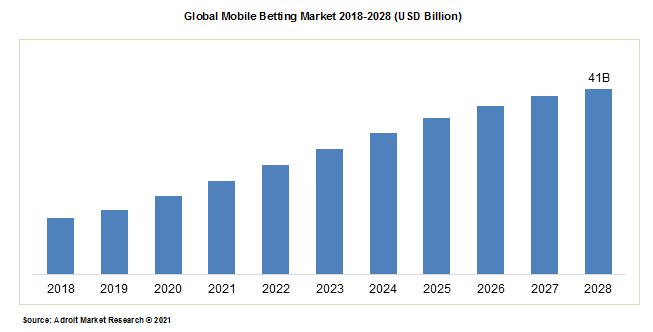 Key Developments in the Mobile Betting Market: A Snapshot
GVC Holdings Plc announced the establishment of an online BetMGM Casino in Pennsylvania in December 2020, in collaboration with MGM Resorts International. The company offers 140 different sorts of online games for Android and iOS.
In conjunction with CBS Sports, William Hill Plc. announced the debut of a comprehensive range of digital content and solutions for sports bettors and fans in September 2020. It will bring William Hill's free-to-play gaming, video programming, and editorial content to the CBS Sports Digital ecosystem.
Mobile Betting Market Scope
| | |
| --- | --- |
| Metrics | Details |
| Base Year | 2022 |
| Historic Data | 2020-2021 |
| Forecast Period | 2022-2030 |
| Study Period | 2020-2030 |
| Forecast Unit | Value (USD) |
| Revenue forecast in 2030 | USD 154.81 Billion |
| Growth Rate | CAGR of 12.1% during 2021-2030 |
| Segment Covered | By Type, By End-User, Regions |
| Regions Covered | North America, Europe, Asia Pacific, South America, Middle East and Africa |
| Key Players Profiled | Honeywell International Inc.,Hanwha Techwin Co. Ltd.,Agent Video Intelligence Ltd.,Tiandy Technologies Co. Ltd.,Genetec Inc.,Dahua Technology USA Inc.,MOBOTIX,VIVOTEK,Axis Communications AB |
Key Segments of the Global Mobile Betting Market
By Type Overview
Casino
Sports
Poker
Lottery
Online Bingo
Others
End Users Type Overview
Gambling Enthusiasts
Social Exuberant
Dabblers
Regional Overview
North America
Europe
Germany
France
UK
Rest of Europe
Asia Pacific
South America
Mexico
Brazil
Rest of South America
Middle East and South Africa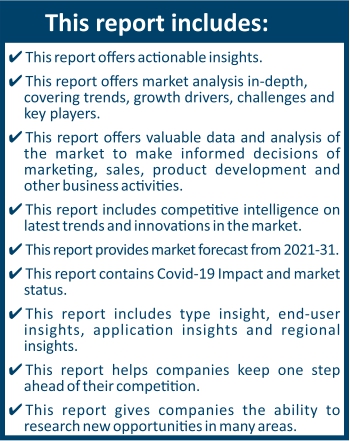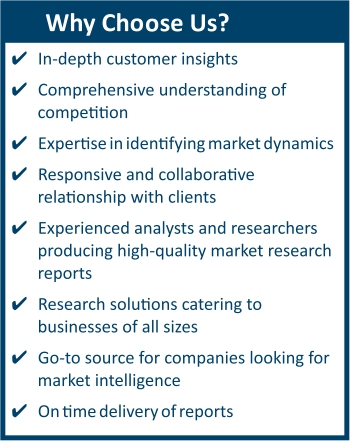 Frequently Asked Questions (FAQ) :
The global mobile betting market have aimed to meet a CAGR of 31% for the forecast period.
The mobile betting market size is expected to reach an estimated value of USD 41 billion in 2028.
Asia Pacific region is expected to hold the largest market share in forecast period 2021 to 2028.
Sports Betting segment is estimated to be lucrative segment in the upcoming years in the global mobile betting market.
Entain PLC, Kindred Group PLC, BETSSON B, William Hill PLC, Bet365 Group, and 888 Holdings Plc. The Stars Group Inc., and Flutter Entertainment PLC are a few major players in mobile betting market.