On-Demand Ride Services offers numerous advantages including driver such as optimal matching, scale effect, regulatory setting, supply, and fare facility, route planning and dispatch, driver routing & navigation, address context and validation, and task tracking, all these factors are fostering growth in the global On-Demand Ride Services market.
Covid-19 Impact & Market Status
Ride-hailing services gained popularity prior to the epidemic because of benefits like lower travel costs, less traffic, and lower emissions. Even still, COVID-19's consequences have decreased the market share of ride-hailing as a form of transportation for insurrection. A Scholastic study found that the use of ride-hailing services significantly decreased during the pandemic. The decline in ride-hailing trips outweighed the decline in total passenger volume by a wide margin. Second, because of widespread transportation network issues during the pandemic, non-shared trip distances were substantially greater, while route duration were not necessarily longer. Third, the number of quick journeys between census tracts declined as the distance between them increased.
Car Rental to show maximum growth
In terms of market share, car rentals are anticipated to dominate the on-demand transportation business in 2020. Ride-sharing, which joins ride-hailing as a new trend, is also becoming increasingly popular. Due to their low prices, Uberpool and Lyft offer a platform that will be helpful to their clients. E-hailing services (ride-hailing platforms) are commonplace in most geographic locations. Although ride-hailing trips still make up a relatively small portion of all trips made in cities—they are estimated to account for only about 1% of all kilometres travelled globally—they are anticipated to grow quickly and have an increasing impact on urban mobility systems as users adjust to the new paradigm.
Micro mobility to Increase Revenue
In industrialized nations, the four-wheeler market offers benefits like lower noise pollution and a more comfortable driving experience. Growing consumer discretionary income in nations like China and India is also contributing to growth. As a result, the four-wheeler segment dominates the market for on-demand transportation. Numerous benefits of micro-mobility include reduced fuel use and more mobility flexibility. Improved cost and energy efficiency are also made possible, which motivates users to select this particular vehicle type. Users are anticipated to switch to micro-mobility throughout the projected period as environmental rules tighten and traffic congestion intensifies.
Asia-Pacific Region is Dominating the Market
The region with the biggest anticipated market share for on-demand transportation is Asia Pacific. The Asia-Pacific area serves as a forum for reporting on concerns related to public health, such as traffic safety and pollutant emissions, as well as the supply of transportation infrastructure and services, and regional, urban, and rural connection challenges. On-demand transportation services are anticipated to become more popular in Europe thanks to improvements in IT infrastructure and millennials' growing use of car-sharing services.
When compared to traditional taxi services, on-demand services can boost the productivity of vehicles by between 30 and 50%. Advanced matching algorithms are used by on-demand services to try to match a passenger with a driver or vehicle in the best way possible. Mobile technologies that can instantly match geo-located demand and supply are heavily reliant on this. This matching takes into account a number of variables and aims to optimize the system as a whole. When there is a severe mismatch in demand, on-demand taxi services have the flexibility to immediately respond by increasing the number of vehicles and fares.
Traditional taxi services have been surpassed by on-demand taxi booking. As on-demand taxi services have grown in popularity, drivers and passengers may now communicate in real time, which improves their security. A taxi on-demand app connects drivers and customers in real-time via maps so that both parties know the other's precise position. Traditional taxi services don't ask passengers about their experiences with a particular driver or offer a feedback option. There would be no way for a passenger to determine if their poor experience was their fault or the fault of the driver.
With rising revenue, on-demand business success trends are now widely accepted. Numerous elements, including user-friendliness, profit margins, cost-effectiveness, and simplified company processes, are responsible for this increase in income. For millennials, the on-demand market has emerged as the best source of goods and services. The on-demand mobile app startup sector is now dominated by rising income, which can help the company grow. The development of the global ride-hailing service market is also fueled by improvements in connected and fully autonomous vehicles that minimize carbon dioxide emissions as well as a sharp increase in sales of these vehicles for usage with ride-hailing services.
On-demand transportation primarily depends on information technology and artificial intelligence to successfully coordinate and manage transportation services. For self-driving systems, artificial intelligence (AI) is a crucial technology since it is the only one that makes it possible to reliably and instantly recognize objects in the environment of the car. Additionally, an on-demand transportation network's role enables users to keep track of traffic for improved coordination and driver safety. In addition, it is anticipated that the growth of on-demand transportation will be accelerated by the increase in traffic congestion brought on by the rising number of cars. The market for On-Demand Ride Services is expected to reach 10.7 billion by 2029 anticipating to expand at a 7.5% CAGR from 2022 to 2029.
Due to people moving to cities from rural regions in search of better prospects, there is a rapid increase in the urban population, which increases traffic congestion and parking space shortages. These elements are pushing people to use taxis and ride-hailing services for transportation, which will support the market trend for ride-hailing services in the anticipated time period. Increased traffic congestion, a lack of suitable public transit options, and lengthier wait times for these services are all issues brought on by the growing population. Because they offer faster services and on-demand services, on-demand ride services are becoming more and more popular.
The ease of use and convenience these services provide is credited with the increase. Car-sharing and ride-hailing services that are digitally connected effectively manage transportation needs and offer convenient, sustainable transportation. A single smartphone application handles this, and it's predicted that during the projected period, this will create a lucrative opportunity for the market.
An Inter-American Development Bank analysis claims that the digital revolution has the potential to enhance the performance of markets like the transportation industry, which are characterized by weak problem coordination and high degrees of fragmentation. It is commendable that Latin America is currently embracing electronic portals, particularly in ride-sharing services. This area now has more access to better career prospects because of these recent developments.
The major companies ranking on top in On-Demand Ride Services Market- Ube, Lyft, Via, Juno, Xoox, Wheely, My Taxi, ViaVan, Gett, and Addison Lee are among all the well-established and emerging players.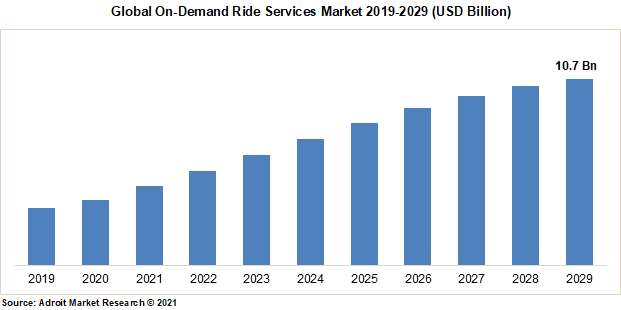 Innovations in the Global On-demand Ride Services Market: a Snapshot
In April 2021, Gett and Curb agreed to a collaboration to boost post-pandemic business travel. Through their agreement, the two businesses will be able to provide limousine, local taxi, and ride-hailing services like Lyft to corporate clients on their platform.
In June 2021, In order to provide mobility services, Grab Holdings Inc. and Hyundai Motor Group have partnered strategically. The initial stage of the agreement will hasten the uptake of electric vehicles in Southeast Asia.
On-Demand Ride Services Market Scope
| | |
| --- | --- |
| Metrics | Details |
| Base Year | 2021 |
| Historic Data | 2019-2020 |
| Forecast Period | 2022-2029 |
| Study Period | 2019-2029 |
| Forecast Unit | Value (USD) |
| Revenue forecast in 2029 | USD 10.7 billion |
| Growth Rate | CAGR of 7.5% during 2021-2029 |
| Segment Covered | Service Type, Vehicle Type, Regions |
| Regions Covered | North America, Europe, Asia Pacific, South America, Middle East and Africa |
| Key Players Profiled | Ube, Lyft, Via, Juno, Xoox, Wheely, My Taxi, ViaVan, Gett, and Addison Lee are among all |
Key Segments of the Global On-Demand Ride Services Market
Service Type Overview, 2019-2029 (USD Billion)
E-Hailing
Car Sharing
Car Rental
Station-Based Mobility
Vehicle Type Overview, 2019-2029 (USD Billion)
Four-Wheeler
Micro Mobility
Regional Overview, 2019-2029 (USD Billion)
North America
Europe
Germany
France
UK
Rest of Europe
Asia Pacific
China
India
Japan
Rest of Asia Pacific
South America
Mexico
Brazil
Rest of South America
Middle East and South Africa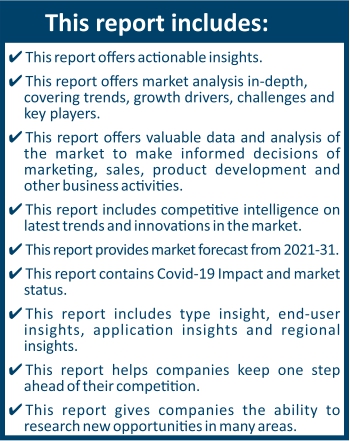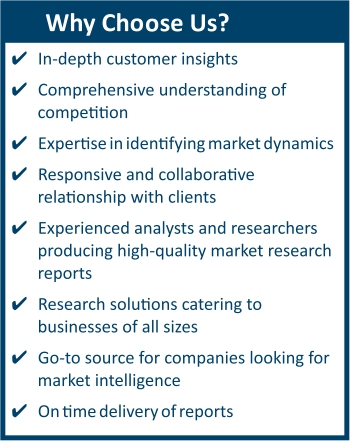 Frequently Asked Questions (FAQ) :
The market value of on-demand ride services market in 2029 was USD 10.7 billion.
The on-demand ride services market is growing at a CAGR of 7.5% over the forecast period.
The top companies that hold the market share in on-demand ride services market are Ube, Lyft, Via, Juno, Xoox, Wheely, My Taxi, ViaVan, Gett, and Addison Lee & among others.