Both the ROV (remotely operated vehicle) and the AUV (autonomous underwater vehicle) are robotic machines that are utilised in offshore platforms with cameras.
Covid-19 Impact & Market Status
The sudden emergence of the COVID-19 epidemic prompted the establishment of strict lockdown requirements in some countries, causing delays in the import and export of offshore ROVs. COVID-19 has the potential to have three major effects on the global economy: directly impacting production and demand, causing supply chain and market disruption, and having a financial impact on businesses and financial markets.
Almost every business on the planet has suffered a setback in the last few months. This can be attributed to major disruptions in their manufacturing and supply-chain operations as a result of numerous precautionary lockdowns and other restrictions imposed by governments around the world. The same may be said for the global market for offshore AUVs and ROVs. Also, consumer demand has decreased as people are now more focused on removing non-essential expenses from their budgets since the general economic situation of most people has been badly impacted by the outbreak. Over the projected period, the aforementioned factors are expected to weigh on the worldwide Offshore AUV & ROV market's revenue trajectory. The global Offshore AUV & ROV industry is likely to rebound as respective governing agencies begin to abolish these enforced lockdowns.
Increased Demand from the Oil and Gas Industry
Over the projection period, the oil and gas industry is expected to maintain its dominance in the market. ROVs are employed extensively throughout the offshore oilfield life cycle. They're also employed for subsea hardware installation, building, pipeline inspection, survey and facilities inspection, maintenance, and repair, as well as offshore drilling support and vessel-based services.
Market Share of Offshore ROVs by Type
The offshore ROV market is divided into three types: observation class, work class, and intervention/inspection class. The observation class segment leads the market since it can be utilized for viewing processes during drilling and finishing activities in a variety of offshore applications.
Market Share of Offshore ROVs by Application
Drilling & well completion, construction support, inspection, repair & maintenance service, remote subsea intervention tooling design & build, and subsea engineering services are the application types that the market is divided into. Drilling and well completion held the biggest market share in 2019 and is likely to continue to do so during the forecasted period. The expanding deepwater offshore activities in regions such as Angola and ultra-deep water in Brazil are propelling the market forward.
Market Share of Offshore ROVs by Depth Type
The market is divided into three categories based on the depth type: 5,000 ft., 5,000-10,000 ft., and >10,000 ft. During the projected period, the 5,000–10,000 feet category is expected to lead the market. The segment's growth can be attributed to operators' practise of undertaking difficult offshore field development reserves in order to gain access to the remaining marginal reserves in deep and ultra-deep water, particularly in the deep-water 'Golden Triangle' regions of North America, Latin America, and Africa.
Market Share of Offshore ROVs by Region
During the forecast period, the Rest of the World is expected to lead the offshore ROV market in terms of regions. The market in the Middle East and Africa is being bolstered by the rise of offshore deep and ultra-deep water activities. Offshore exploration and production are becoming more common in countries like Angola.
Because humans can only reach a certain depth at sea, a remotely operated vehicle or autonomous underwater vehicle is utilised to maintain the problems that develop at the seabed.
Underwater cameras are installed in AUVs and ROVs for taking photos and correlating the scenario for whether or not a platform should be installed at that location/position. The size and depth to which ROVs and AUVs can be reached at different depths at sea coast can be modified.
The capabilities of ROVs and AUVs in the offshore oil and gas business have improved. At a depth of up to 10,000 feet, a ROV can carry a large number of manipulators to carry out various tasks. Furthermore, the AUV may glide, drift, or roll, and vary their depth, which detects radar or navigation with GPS embedded in it, which aids navels in obtaining information at sea. Offshore AUVs are frequently used to survey platforms and map the bottom, as well as to identify chemical, biological, and physical aspects of the water.
Remotely operated vehicles (ROVs) have become more significant in the offshore oil and gas industry for subsea construction and drilling support, allowing for global deep-water exploration and development operations.
ROVs are frequently employed in the offshore sector, from decommissioning projects to exploration drilling. As a result of the rising usage of fossil fuels, end-users are progressively embracing AUV and ROV. The ever-increasing demand for hydrocarbons has encouraged businesses to focus their efforts on offshore drilling in order to increase green energy production.
The importance of AUVs in exploring seafloors prior to the construction of subsea infrastructure has fueled demand for AUVs in recent years. Incorporating technology like as sensor-based steering and intelligent control systems is predicted to help the market develop.
The increasing usage of ROVs in a range of industries, such as search and rescue, marine biology, military, oil and gas, underwater infrastructure, and aquaculture, as well as developments in ROV technology, are expected to propel the market forward. The demand for large AUVs in military and defence applications, as well as for oil and gas exploration, is propelling the industry forward.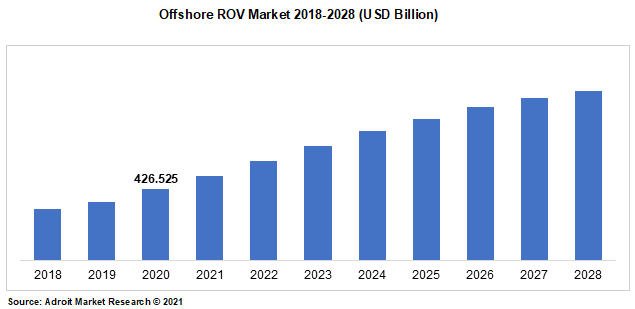 Oceaneering (US), Subsea 7 (UK), Fugro (Netherlands), TechnipFMC (UK), Saipem (Italy), Forum (US), DOF (Norway), ECA (France), Deep Ocean Group (Norway), ISE (Canada), Deep Ocean Engineering (US), and AC-CESS are some of the leading competitors in the offshore ROV market (Scotland). From 2014 to 2018, the major players in the market used contracts and agreements as their most popular technique. New product releases, expansions, and alliances followed.
Latest Innovations in the Offshore ROV Market: a Snapshot
In the next years, there is likely to be an increase in demand for offshore ROV in North America and Europe, which will fuel the market for more advanced offshore ROV.
Increased spending on underwater fields, oil and gas industry recovery, product launches, increased spending on marine work, retrofitting and refurbishment of obsolete technologies, and increased usage of offshore ROV will fuel worldwide growth.
Industry growth overshadowing factors are critical since they may be used to create new methods for capturing the rich chances that exist in the ever-growing market.
AUV devices that can glide or drift are also capable of detecting and mapping radars beneath the surface of rock waters.
Offshore AUV & ROV Market Scope
| | |
| --- | --- |
| Metrics | Details |
| Base Year | 2020 |
| Historic Data | 2018-2019 |
| Forecast Period | 2021-2028 |
| Study Period | 2018-2028 |
| Forecast Unit | Value (USD) |
| Segment Covered | By Class, By Size Type, By Application, By Depth, Regions |
| Regions Covered | North America, Latin America, Europe, Asia Pacific, Middle East and Africa |
| Key Players Profiled | Oceaneering (US), Subsea 7 (UK), Fugro (Netherlands), TechnipFMC (UK), Saipem (Italy), Forum (US), DOF (Norway), ECA (France), Deep Ocean Group (Norway), ISE (Canada), Deep Ocean Engineering (US), and AC-CESS are some of the leading competitors in the offshore ROV market (Scotland). |
Key Segments of the Offshore ROV Market
Observation Class
Work Class
Intervention Class
By Size Type
Small AUV
Medium AUV
Large AUV
By Application
Drilling and Well Completion Support
Construction Support
Inspection, Repair and Maintenance Service
Subsea Engineering Services
Remote Subsea Intervention Tooling Design and Build
By Depth:
Less Than 5,000 Feet
5,000–10,000 Feet
Above 10,000
By Region
North America
U.S.
Canada
Latin America
Brazil
Mexico
Rest of Latin America
Europe
Germany
UK
Rest of Europe
Asia-Pacific
China
India
Japan
Australia
New Zealand
Rest of Asia Pacific
Middle East and Africa
North Africa
South Africa
Rest of Middle East and Africa
Frequently Asked Questions (FAQ) :
The offshore AUV & ROV market is studied from 2018 - 2028.
The Middle East and Africa is growing at the highest CAGR over 2021- 2028.
Oceaneering (US), Subsea 7 (UK), Fugro (Netherlands), TechnipFMC (UK), Saipem (Italy), Forum (US), DOF (Norway), ECA (France), Deep Ocean Group (Norway), ISE (Canada), Deep Ocean Engineering (US), and AC-CESS