One of the main factors propelling the expansion of the motorsports market is the growing popularity of motorsports among spectators. Many sports enthusiasts enjoy watching motorsports because of the distinctive blend of speed, loudness, and risk it offers. One of the few spectator sports, where spectators can get close to the action and see the cars and drivers up close, is motorsports, which contributes to its popularity. Additionally, it is anticipated that the growth of new technologies like autonomous vehicles and electric vehicles will open up new opportunities for manufacturers in the motorsports industry.
The market for motorsports is thriving thanks to expanding fan interest in the sport, rising disposable money, and technical developments in both the broadcasting and car industries. Because motorsports are a very popular sport that people all over the world follow, there is a need for a market for them. Additionally, as a result of technological advancements, broadcast quality has significantly improved, increasing viewership. The market for motorsports is expanding as a result of rising disposable income and greater expenditure on sporting events and associated goods.
Racing motorised vehicles is a common sport event known as "motorsports." It encompasses a wide variety of activities, including drag racing, karting, truck racing, motorcycle racing, and car racing. The two types of motorsports are venue racing and non-venue racing. Rallycross, drifting, and autocross are examples of non-venue racing, whereas Formula One, MotoGP, NASCAR, and IndyCar are examples of venue racing.
By 2031, the motorsports market is projected to increase at a CAGR of 12.14%, reaching a value of $20.9 million.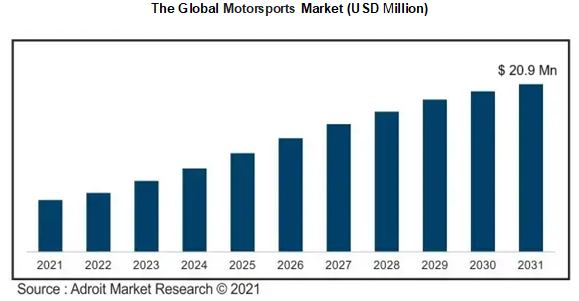 This expansion can be ascribed to a number of factors, including an increase in fan interest in racing, greater disposable money, and technological developments in both the broadcasting and car industries.
One of the main obstacles to business expansion is the high entry barrier to racing. Players must have access to costly facilities and equipment in order to compete in motorsports competitions. For new entrants trying to make a name for themselves in the market, this can be a major obstacle. The erratic character of the auto sector may also be detrimental to the expansion of the racing industry as a whole. Certain car types may become less popular as a result of variations in fuel prices and shifting consumer preferences, which may therefore result in a decline in interest in related motorsports events. Despite this, the market is expanding due to the rising popularity of electric vehicles, which are projected to rise in the marketplace in Future.
Organizer of the Blancpain GT Series Endurance Cup, Stéphane Ratel Organisation SARL (Belgium), Motorsport Network, LLC (U.S.), NASCAR, Inc. (U.S.), Formula One Group (Jersey), World Rally Championship Promoter GmbH (Germany), The National Hot Rod Association (NHRA) (U.S.), Deutsche Tourenwagen Masters Promoter ITR eV (Germany), and others are some of the major players in the To improve their position in the international motorsports industry, these businesses have used a variety of growth methods, including mergers and acquisitions, collaborations, expansions, and the introduction of new products.
Segment Analysis
The Broadcasting Revenue Type to Emerge as the Most Lucrative Segment
The motorsports industry is divided into categories based on types, including revenue from broadcasting, ticket sales, merchandise sales, advertising and sponsorships, and others. With a share of 38.97% in 2021, the broadcasting revenue category led the motorsports industry. This is a result of more people watching motorsports events, which has raised the number of money broadcasters make from commercials.
The Most Popular Application Segment is Venue Racing
The motorsports market is bifurcated into Venue Racing & Non-Venue Racing based on Application. Formula One, IndyCar, NASCAR, MotoGP, and the World Rally Championship are just a few examples of venue racing. This can be ascribed to the fact that these races are becoming more and more well-liked, but also to the higher earners and large audience they draw.
North American region renders Ample Financing Opportunities
According to geography, the world's motorsports market is divided into North America, South America, Africa, Asia Pacific, Europe, and the Middle East. Due to the high popularity of motorsports in the region and the presence of numerous important players, North America is anticipated to expand at the highest CAGR over the planning horizon.
COVID-19 Impact and Market Status
The COVID-19 pandemic has had a detrimental effect on the world economy, with enterprises in a variety of industries ceasing operations as a result of stringent lockdowns and social exclusionary measures. The pandemic has forced the cancellation or rescheduling of important events like the Formula One Championship and the IndyCar Series, so the motorsports industry is not an exception. Key market participants have seen a drop in revenue as a result of this. Nevertheless, the market is anticipated to gradually rebound in the upcoming years as governments around the world loosen tight restrictions and people eventually acclimate to the new status quo.
Recent Developments in the Motorsports Market
• Alfa Romeo Racing, formerly Sauber, announced in October 2018 that it had partnered with M-Sport on a technical level (Ford). According to the agreement, M-Sport will boost Alfa Romeo's engineers.
• Ford Motor Company announced in January 2019 that starting with the 2020 season, it would compete in the FIA World Rallycross Championship with its brand-new Mustang Supercar.
• For the promotion and management of MotoGP events in Europe, Dorna Sports and Eurosport Events struck a long-term partnership in October 2020. The 52 European nations covered by this arrangement will be able to watch all MotoGP classes exclusively on Eurosport. Through this alliance, Dorna will be able to penetrate more of the European market.
• The leading provider of daily fantasy sports and online gambling, DraftKings Inc., and NASCAR increased their collaboration in September 2020. According to the contract, DraftKings will serve as NASCAR's official daily fantasy and gaming partner in the United States. This collaboration will increase revenue and help NASCAR reach a larger audience.
• A Honda Civic Type R won the Nürburgring 24-hour race in January of 2021. One of the most important and well-attended motorsports events in recent memory was made possible by the car setting the track record for the quickest FWD vehicle.
Motorsports Market Scope
| | |
| --- | --- |
| Metrics | Details |
| Base Year | 2022 |
| Historic Data | 2021-2022 |
| Forecast Period | 2022-2031 |
| Study Period | 2021-2031 |
| Forecast Unit | Value (USD) |
| Revenue forecast in 2031 | $20.9 million |
| Growth Rate | CAGR of 12.14% during 2021-2031 |
| Segment Covered | Type, Application, Regions |
| Regions Covered | North America, Europe, Asia Pacific, South America, Middle East and Africa |
| Key Players Profiled | Organizer of the Blancpain GT Series Endurance Cup, Stéphane Ratel Organisation SARL (Belgium), Motorsport Network, LLC (U.S.), NASCAR, Inc. (U.S.), Formula One Group (Jersey), World Rally Championship Promoter GmbH (Germany), |
Key Segment of Global Motorsports Market
By Type Overview ($ Million)
• Broadcasting Revenue
• Ticketing Revenue
• Merchandising Revenue
• Advertising/Sponsorship Revenue
• Other
By Application Overview ($ Million)
• Venue Racing
• Non-venue Racing
By Region Overview ($ Million)
North America
• USA
• Canada
Asia Pacific
• China
• India
• Japan
• Rest of Asia Pacific
South America
• Mexico
• Brazil
• Rest of North America
Europe
• Germany
• France
• UK
• Rest of Europe
Middle East and Africa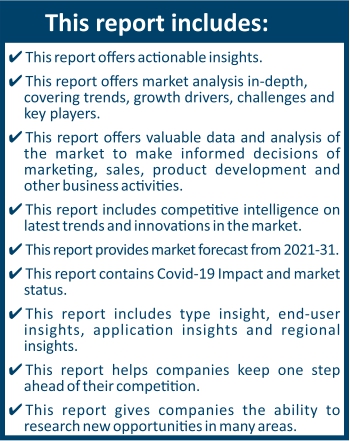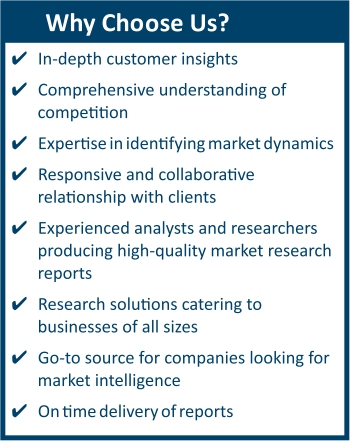 Frequently Asked Questions (FAQ) :
The global Motorsports market size projected to reach $20.9 million by 2031.