The increasing usage of smartphones and easy access to the internet across the world has helped customers to perform a wide array of tasks. One of the key drivers of the market's growth is the constantly shifting consumer demand.
COVID-19 impact and market status
COVID-19 has played a significant role in impacting the whole global market, trade, and economy as well as the health conditions of millions of people across the world. It is not strange to say that the transportation business has also been disturbed due to the pandemic. Nations have tried their best to protect their citizens from the worst conditions and had also limited the entry of other Nation citizens to enter their Nation so that the spread of the virus could be controlled. Only people who had legitimate reasons to cross the border and who already had vaccination done were allowed to do so. After the pandemic subsidized and was under control only then there was a bit of ease seen in lockdowns.
The companies that were highly dependent on Travel, Tourism, hospitality, and entertainment suffered major losses. The official U.K data showed a huge decline in the use of vehicles used for public transportation, train travel was reduced by 90% whereas bus use came down to 87% compared to normal usage i.e., before the pandemic. Steady growth is expected in the global Mobile ticketing Market during the forecast period with the relaxation seen in the lockdown restrictions more public places, public transport, sports events, and stadiums will be opened.
Increase use of NFC and QR Code during the forecast period
The major technologies that will be used in the mobile ticketing market are Near Field Communication (NFC), Optical Character Recognition (OCR), bar code, and QR code. The increasing adoption of the technology and Smartphones will boost the usage of NFC and its share in the global market. The use of smart cards such as travel cards used for transportation is enhanced and made much easier and smoother to use with the help of this technology
Customers prefer to use online platforms to reserve tickets for movies, transit, and a variety of other activities as a result of increased urbanisation and changes in people's lifestyles.
The increased use of smartphones and the internet is helping people to perform a wide range of tasks such as downloading videos from websites, checking emails, use of GPS for driving directions, keeping a check on investments, ordering online stuff, and many more. Before the use of technology to buy and carry electronic tickets for transportation and entertainment purposes, it was very time-consuming to go over that place a lot before the actual time to buy tickets. To make the task much easier the companies are providing many applications and mobile-ready content for the customers. This is encouraging the use of more technology-based applications in day-to-day life of customers which is the reason for the size growth of the Mobile Ticketing Market.
Along with rising demand, there is also rising competition among market participants, which promotes the expansion of the mobile ticketing market. To maintain a good place in the market the companies are now coming up with better applications, and improved technology, and also offer attractive discounts and cashback to get the attention of more people and increase their customer base. Major Mobile ticketing companies now have their own online portals that have helped in providing safer platforms for online payments.
By eliminating the need to spend a lot of time waiting in lines to buy tickets for either entertainment or transportation, the usage of smart or mobile ticketing saves time. The globalisation of cashless transactions has also greatly expanded the potential for the expansion of the mobile ticketing industry. Smart tickets are significantly simpler and safer to use than paper tickets. Paper tickets are exceedingly difficult to replace, but if a smart card is stolen or destroyed, the ticket that is linked to it can be instantly cancelled using a mobile application.
In 2019, the global mobile ticketing market had a value of $7.26 billion. According to estimates, the market will grow from $8.28 billion in 2022 to $21.34 billion in 2029.
Mobile ticketing is an online way to pre-book Or book ticket's on the spot through the use of mobile applications. Instead of the traditional way of buying tickets, people can now pay online for their tickets and smart cards. The use of these mobile ticketing applications helps to save time, provides the best fare price for each journey, the environmental impact is reduced, and gives stress and hustle-free traveling experience.
The increased adoption of mobile ticketing solutions among public transportation service providers is another reason that drives the growth of the market. Governments across the world are now trying to turn simple cities into a smart city by encouraging people to use more technology-based applications in their daily lives. The introduction of online payment has made it easier for customers to access their bank money anywhere and anytime and at present, it's the most used mode of payment across the globe. Service providers in the transportation, hotel, and entertainment industries are the main consumers of mobile ticketing solutions.
Issues with data safety and security when using mobile tic-ting market solutions are the main factor impeding the market's growth. There is a higher risk of data leakage and theft with the use of online ticking applications and of customers are reluctant to use these. One of the main factors limiting the growth of the mobile ticketing business is the absence of internet connectivity in many emerging markets. Though, the increased demand to provide efficient services to customers has created the need for service providers to come up with better and safer solutions. In order for clients to simply log in and book tickets online without worrying that their personal and sensitive information will be leaked or stolen, service providers and ticketing agencies are working together to develop a much safer web platform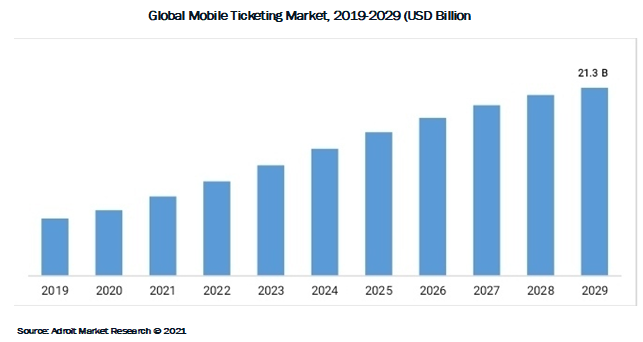 Latest Innovations in the Global Mobile ticketing Market:
Improved Biometric recognition systems like face recognition, fingerprint recognition, and IRIS recognition technologies will allow the passenger to access smart technology with convenience increasing the growth of the global Mobile ticketing market. People can use their phones as virtual ticket wallets and smart travel cards thanks to technology. Account-based ticketing (ABT), which does not require advance ticket purchase, has recently become very popular for booking tickets. Furthermore, governments are trying different ways to promote mobile ticketing applications among passengers. The rapid demand for paperless, cashless, and contactless dealings will influence the growth of the global Mobile ticketing market. Mobile ticketing apps are better manageable, safer, and more efficient than the traditional buying of paper tickets.
Mobile Ticketing Market Scope
| | |
| --- | --- |
| Metrics | Details |
| Base Year | 2021 |
| Historic Data | 2019-2020 |
| Forecast Period | 2022-2029 |
| Study Period | 2019-2029 |
| Forecast Unit | Value (USD) |
| Revenue forecast in 2029 | $21.34 billion |
| Segment Covered | Technology, Component, Source, Application, Regions |
| Regions Covered | North America, Europe, Asia Pacific, South America, Middle East and Africa |
| Key Players Profiled | CKD, PISCO, KOGANEI, SMC, Convum, ORION, FUJIKIN, AYUMI, VENN, YOSHITAKE, TACO, Prius |
Key Segments of the Global Mobile Ticketing Market
Technology Overview, 2019-2029 (USD Billion)
Radio frequency identification (RFID)
Near field communication (NFC)
Quick response code (QR Code)
Component Overview, 2019-2029 (USD Billion)
Source Overview, 2019-2029 (USD Billion)
Smart card's
Ticket Validators
Ticketing machine
E-toll
Others
Application overview, 2019-2029 (USD Billion)
Parking and transportation
Sports and entertainment
Regional Overview, 2019-2029 (USD Billion)
North America
Europe
Germany
France
UK
Rest of Europe
Asia Pacific
China
India
Japan
Rest of Asia Pacific
South America
Mexico
Brazil
Rest of South America
The Middle East and South Africa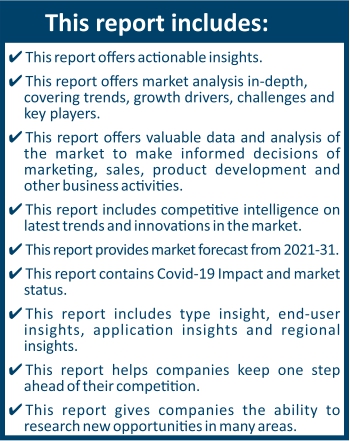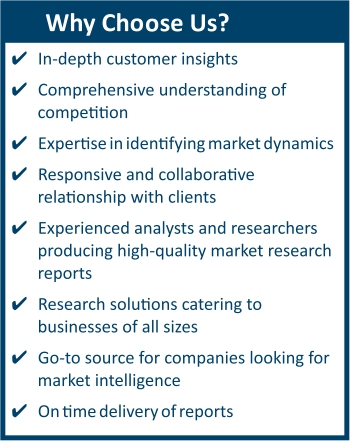 Frequently Asked Questions (FAQ) :
The market value of mobile ticketing market in 2029 was USD 21.34 billion.
The application of the mobile ticketing market Parking and transportation, sports and entertainment and other.
To get latest version of mobile ticketing market report can be obtained on demand from the website.