Increased infrastructural development, increased need for a better understanding of things, and the need for research are some of the reasons responsible for the Microscope Software Market growth.
Covid-19 Impact & Market Status
The Microscope Software market size increased immensely due to the advent of Covid-19. This is because of the massive uptrend in the demand for Microscopes because research had to be done in terms of making a vaccine. Increased demand was also there because almost all the countries and scientists from all over the world were trying to study the corona virus and they had to make sure that they find the solution to this as early as possible. The times were really tough and people were panicking all around which is why microscopes were adopted as fast as the research laboratories could.
This Microscope Software Market report explores the current market, regulatory aspects, potential opportunities, and challenges in individual market segments.
Optical Microscopes to Emerge as the Most Lucrative Segment
Based on type, Optical microscopes accounted for the highest global microscope software market share. This is because the use of an optical microscope makes a magnified picture of a double magnified picture of the specimen thereby producing a clear image and helping in study and research purposes. It uses an eyepiece to go along with an objective lens which magnified the picture even more. This segment remains at the top also because of the large availability of Optical Microscopes and instruments. The low cost of optical microscopy software also helps in the increased adoption of these microscopes.
Life Sciences to Remain Atop
Because of increased demand for microscopes from life sciences institutions, growing investment in R&D activities and faster growth in nanotechnology research the life sciences application industry is expected to take a significant part of the market within the forecasted timeframe. The microscopes help scientists to see cells, bacteria, and other such structures which can't be seen with the naked eye. The application is highest in this segment because of the number of complexities that are there. It is also increasing due to the need for new innovations and breakthroughs in the field of life sciences.
Pharmaceuticals & Biotech to Ensure Highest Sales
Because of the rising usage of microscopes in R&D operations, the pharmaceutical and biotechnology organisations sector is predicted to have a significant part of the market over the forecasted timeframe. Studying patterns, cells, bacteria help in finding out many new things in the field of healthcare which thereby help in developing medicines and other remedies.
Asia Pacific Region to Render Ample Investment Avenues
The Asia Pacific was the largest market for Microscope Software. This is because of the rising demand in the healthcare sector, an increased number of students in the medical field, and a culture of research that is up and coming.
North America is estimated to have the second-largest share of the market in the forecasted timeframe, owing to growing penetration of advanced microscopes, the existence of important rivals in the region, and the expanding strategic collaboration in the region.
The increasing need to understand things better and to solve problems by studying the minutest things possible are the reasons driving the growth of the Microscope Software Market.
Advances in the fields of biomedical and pharmaceutical research have led to the creation of large amounts of data that demands the supply of advanced software solutions with proper microscopy which is amplifying the market growth. An increasing amount of importance in almost any field in terms of the research work done is also responsible for driving the market. The microscope software market has also grown because of the integration of microscopes in sectors such as polymers.
Microscope software is a sort of system that uses digital image processing techniques to assist in the gathering, analysis, and display of pictures produced by a microscope. It also allows for advanced image processing in a variety of sectors, such as biological research, medicine, cancer research, drug testing, metallurgy, and so on. These factors combine to drive the worldwide Microscope Software market, which is expected to reach 1.5 billion dollars by 2028, with an annual growth rate of 12.8 percent throughout the forecast period. The increase of growth from the government in the scientific hardware industry eventually benefits the global microscope software market. The unique feature of this system is that it joins together the highlights of computerized/digital cameras and accessories into a completely integrated solution.
Improvements in AI technology can play an important role in a complete plan to increase the overall quality of the results produced by the software. Super-resolution, Digitization, high-throughput technologies, and live-cell imaging are examples of technological advances in the microscopy software industry.
However, lack of skilled professionals, high cost of Microscopes, and subscriptions are some of the factors that are hampering the market growth. Nevertheless, Microscope Software Market has growth prospects, because of the increasing need for highly efficient systems to reduce complexities.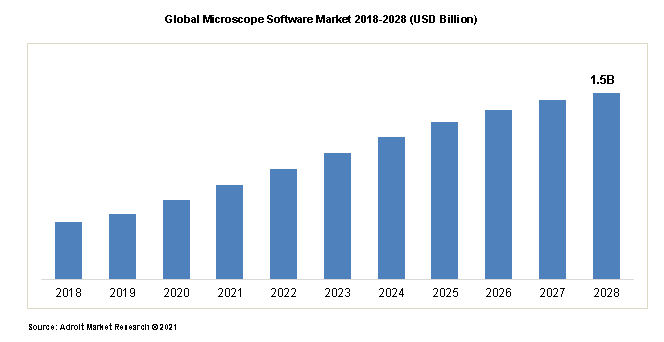 The major players of this market are Drvision Technologies, Jeol, Media Cybernetics, Nikon Corporation, Carl Zeiss, Hitachi High-Technologies, Object Research Systems, Olympus Scientific Volume Imaging, Corporation, and Thermo Fisher Scientific. By applying technology, the R&D teams of the companies must try to bring in new technologies so that the overall quality of microscopes improves.
Latest Innovations in the Global Microscope Software Market: A Snapshot
At Microscopy and Microanalysis 2019, Thermo Fisher Scientific announced "Thermo Scientific Avizo2D software," an AI-powered programme that enables automated imaging and analysis by assisting researchers in obtaining data faster and more efficiently using electron microscopy.
In an attempt to extend its microscopy business abroad, ZEISS acquired a majority share in arivis AG, a German software company, in 2020. The latter develops software that allows for seamless viewing of 2D, 3D, and 4D imaging data.
ZEISS and Vision Engineering have joined forces to bring the real-time expanded depth of focus photography to a wider range of customers. Right now, more people will be able to profit from being able to snap "all-in-focus" images.
Microscope Software Market Scope
| | |
| --- | --- |
| Metrics | Details |
| Base Year | 2020 |
| Historic Data | 2018-2019 |
| Forecast Period | 2021-2028 |
| Study Period | 2018-2028 |
| Forecast Unit | Value (USD) |
| Revenue forecast in 2028 | US$ 1.5 billion |
| Growth Rate | CAGR of 12.8 % during 2021-2028 |
| Segment Covered | Type, Application, End User, Regions |
| Regions Covered | North America, Europe, Asia Pacific, Middle East and Africa, South America |
| Key Players Profiled | Drvision Technologies, Jeol, Media Cybernetics, Nikon Corporation, Carl Zeiss, Hitachi High-Technologies, Object Research Systems, Olympus Scientific Volume Imaging, Corporation, and Thermo Fisher Scientific |
Key Segments of the Microscope Software Market
Type Overview, 2018-2028 (USD Billion)
Electron Microscope
Optical Microscope
Raman Microscope
Application Overview, 2018-2028 (USD Billion)
Healthcare
Automotive
Life Sciences
Aerospace
Material Sciences
Others
End User Overview, 2018-2028 (USD Billion)
Academic and Research Institutes
Pharmaceutical and Biotechnology Organizations
Neuroscience Research
Others
Regional Overview, 2018-2028 (USD Billion)
North America
Europe
Germany
France
UK
Rest of Europe
Asia Pacific
China
India
Japan
Rest of Asia Pacific
South America
Mexico
Brazil
Rest of South America
Middle East and South Africa
Frequently Asked Questions (FAQ) :
The global microscope software market size is expected to reach USD 1.5 billion by 2028.
The microscope software market is growing at a CAGR of 12.8% over the forecast period.
Asia Pacific dominated the market for microscope software market and accounted for the largest revenue share.
The application of the microscope software market Life Sciences, Material Sciences, Aerospace, Healthcare, Automotive & others.
The top companies that hold the market share in microscope software market are Drvision Technologies, Jeol, Media Cybernetics, Nikon Corporation, Carl Zeiss, Hitachi High-Technologies, Object Research Systems, Olympus Scientific Volume Imaging, Corporation, and Thermo Fisher Scientific.