The growing use of 3D printing equipment in the aerospace business is an important factor in driving market growth during the review period.
The global Metal 3D Printing market is projected to reach $6 Billion by 2030, growing at a CAGR of 29%
The expiration of selected laser patents, extensive customization, alongside the adoption of 3D printing in all new forms are just a few of the features that drive the Metal 3D Print Market.
Covid-19 Impact
Covid-19 outrage has been a major drawback so far in slowing down the global economy, simultaneously affecting the metal 3D printing space as well. In addition, the situation worsened in the U.S. Because of the rapid spread of the virus, governments have issued a decree to close some important cities. Sudden breakdown and low production across industries have affected the metal 3D printing space. Inadequate staff, disrupted operations and demand-supply inconsistencies have caused serious dents. The suspension of 3D printing production had a negative impact on overall market growth in the first and second half of 2020.
Global 3D Printing Metal Market Segment Analysis:
Based on the foam, the market is divided into powders and filaments. Some of the powder forms will hold the largest market share of 94% by 2020 and are expected to continue their dominance over the forecast period 2021-2027. Metal powder particles have many important properties that affect the properties of the final component as well as the further building process. To create fine prints of the finished product, the round metal particles used in the 3D printing process need to be small, typically 15-75 microns. During the forecast period 2021-2027, these are the main benefits projected to fuel the growth of mould power moulds in the global market.
CAGR's titanium steel share is expected to grow xx% rapidly between the projected period 2021 and 2027. Titanium-based products are witnessing sharp decline in industrial applications owing to benefits of high quality and re sistance available in alternative metals such as stainless steel. The global metal 3D printing market is on a lucrative growth curve owing to the easy availability of 3D printed metalloid parts from conventional 3D polymer printers.
3D printing reduces mass flight and wastes fuel. In the aerospace and defense industries, metal 3D printing has the advantage of being able to create fuel holes and other important engine components that require high precision and precision.
Titan segments are expected to react with the maximum percentage of 3D printed metal market during prediction.
The growth of titanium components is due to an increase in demand for 3D printed metal parts from the aerospace and industrial automotive industry. Titan has high effects such as high effects and high temperature resistance. Titanium also found use in teeth and dentistry to produce bone, dental implant, and knee and waist change. This technology is expected to be most of the 3D printed metal market during prediction. The growth of a compact floor component may be due to an optical component and component having a high degree of computer shape (CAD) process (CAD). B. Topology efficiency to create. Pulverbett Assembly technology is often used in automotive and aerospace industries to manufacture 3D printed metal parts with accurate details and accuracy. Aerospace and defense industries are expected to be the most rapidly growing industry for the final use of 3D printed metal market during prediction. Metal 3D printing is heavily used to obtain fuel hoses, besides other equipment and engine parts for meticulous aerospace operations.
Fuel consumption is decreased significantly owing to pressure reduction resulting in demand drive for the global 3D printing. It is also used to build satellites without changing shape design and manufacturing processes. Defense and aerospace industries are likely to become major end-use applications for metal 3D printing. North America dominates the market and widely adopted additional production in the region, and it has become more than 30.0% of the world's sales. North American countries such as America and Canada are also various manufacturing processes in major innovative applications in this technology.
The regional market offers favorable 3D metal pressure opportunities for various applications. European Random is the largest area associated with geographical locations. It houses a handful player in the extracurricular industry that protects the strongest technology in the manufacturing process. Therefore, the European market is the second largest.
Making metal additions is another term for 3D printing. It is a production process that is widely used in the production of complex structures and small designs. The introduction of 3D printing equipment has helped manufacturers to create more complex structures, which was not possible with the use of traditional manufacturing techniques, 3D printing equipment is a production technology in which layering is done by layer, hence, precision. production has also risen to a higher level.
Major factors contributing to the expansion of the global 3D printing press market can be attributed to the rising call for these instruments from aerospace and defense and businesses to automotive use, low production costs, and reduced lead times. The components used in aircraft design require advanced engineering materials and sophisticated geometry. 3D printing in aircraft design allows for the construction of very complex and simple structures. Advanced design allows for fine-tuning of components and integration of functional elements into a single component. Also, 3D printing offers a preferred design in an effort to reduce weight and improve flight performance For example, space finishing is important in the aerospace business, 3D printing equipment plays a major role by providing high finishing components.
The Global Metal 3D Printing Market is driven primarily by the increasing use of these materials in a variety of high-tech engineering programs, highly commendable in the aerospace and automotive industries.
In addition, the Metal 3D Print Marketplace is determined to improve as the authorities pressure manufacturers to use products, which allow for more environment and use fewer natural resources during the production process. Metal 3D Printing Market has a wide range in the field of research and development as researchers and scientists come up with a unique metal and very powerful and economical software. However, increasing the use of 3D printing equipment in the healthcare industry in the production of clinical plants is also expected to provide beneficial market opportunities during forecasting.
The increase in aircraft production is estimated to accelerate the expansion of the 3D Printing Metals Market. With the growth of passengers around the world, there has been a huge demand for new aircraft, which indirectly creates a global business opportunity for 3D printing. Automotive is another promising alternative to these metals. The growing desire for lightweight components to improve fuel efficiency and reduce carbon emissions in cars should accelerate the proliferation of 3D printing presses. Increased automotive production in developed and developed countries is likely to accelerate demand and, therefore, increase the market size of 3D printing equipment.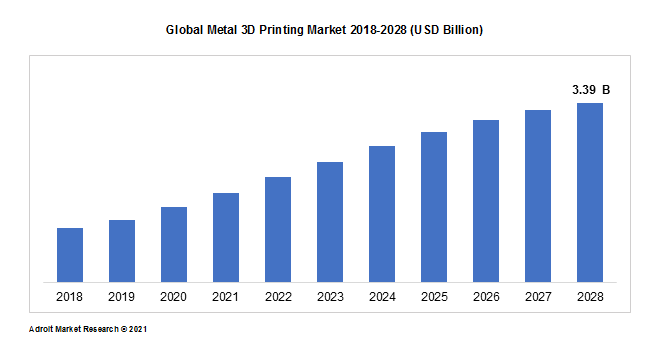 Recent Development
• Sadwick Additive Manufacturing and Renishaw entered into a partnership to improve production capacities of additional production materials with high-density material attributes. Through this partnership, Renishaw plc has developed new 3D printing materials.
• The agreement signed in 2019 between ORNL and GE Additive focused on processes, building materials, and software to increase customer flexibility in additional production from standard production.
• March 2019, Stratasys Direct Manufacturing, a company owned by Stratasys, Ltd. expanded its production of Metal 3D printing with VELO3D's Sapphire 3D printing system and Flow software. This expansion has helped the company meet customer demand for 3D printed metal products in North America.
Metal 3D Printing Market Scope
| | |
| --- | --- |
| Metrics | Details |
| Base Year | 2022 |
| Historic Data | 2020-2021 |
| Forecast Period | 2022-2030 |
| Study Period | 2020-2030 |
| Forecast Unit | Value (USD) |
| Revenue forecast in 2030 | $6 Billion |
| Growth Rate | CAGR of 29 % during 2022-2030 |
| Segment Covered | By Material, By Form, By Technology, By Application, Region. |
| Regions Covered | North America, Europe, Asia Pacific, South America, Middle East and Africa |
| Key Players Profiled | SLM Solutions (Germany), Materialise (Belgium), CRS Holdings Inc (US), Optomec Inc (US), Concept Laser GmbH (Germany), EOS GmbH (Germany), EOS GmbH (Germany) |
Key Segments of the Metal 3D Printing Market
By Types
Steel
Titanium
Aluminum
Nickel
Others
By Forms
By End-users
From Aerospace & Defense
From Automotive
From Medical & Dental
Others (Marine, Art & Sculpture, Jewelry, and Architecture)
By Technological use
Powder Bed Fusions
Directed Energy Deposition
Binder Jetting
Metal Extrusion
Others (Digital Light Projector, Multi-jet Fusion, and Material Jetting)
By Regions
North America
Europe
Asia Pacific
Rest of the World (RoW) (South America, Middle East & Africa)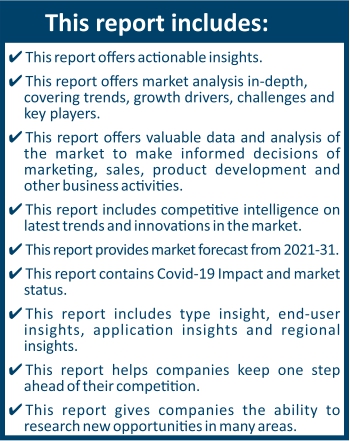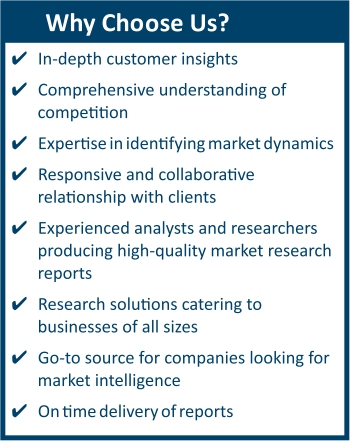 Frequently Asked Questions (FAQ) :
The global metal 3D printing market size is expected to reach USD 3.39 billion by 2028.
The metal 3D printing market is growing at a CAGR of 28% over the forecast period.
The types of the metal 3D printing market Steel, Titanium, Aluminum, Nickel & others.
The top companies that hold the market share in metal 3D printing market are 3D Systems Corporation (US), Stratasys Ltd. (US), Renishaw plc (UK), General Electric Company (US), Carpenter Technology Corporation (US), Materialise NV (Belgium), Voxeljet AG (Germany), Sandvik AB (Sweden), EOS GmbH Electro Optical Systems (Germany), The ExOne Company (US), and Proto Labs, Inc. (US).
To get latest version of metal 3D printing market report can be obtained on demand from the website.