The market's expansion may be ascribed to rising usage of smartphones, Internet - of - things devices, virtual reality (VR) headset, hearing assistive aids, and other consumer electronics, as well as smart city efforts underway throughout the world.
The global market for the MEMS Microphones is anticipated to develop at a compound annual growth rate (CAGR) of 12.4% throughout the course of the forecast, to reach USD 6.78 Billion by 2030.
Covid-19 Impact & Market Status
The COVID-19 pandemic disrupted supply chain systems, since a number of fundamental equipment and consumables are direct factor on foreign imports. Furthermore, the strict demand of governmental bodies to adhere to social distance requirements pushed businesses to function with a bare minimum of workers, resulting in a drop in the output rate of the sectors. As a result, all of these problems harmed the MEMS microphones market.
Digital MEMS Microphones Will Propel The Global Market Growth
There are two types of MEMS microphones available on the market: digital and analog. The analog category is expected to grow gradually throughout the forecast timeframe. Microphones with analogue outputs are in high demand for use and are mostly utilised in most of the mobile phone devices. Analog mics holds about 70 % to 80 % of market share in the global MEMS microphones market. Samsung is the sole manufacturer of smartphones with digital MEMS microphones.
Digital output type microphone are more costly and less susceptible to electromagnetic interference than analogue output-type microphones. As a result, they are favoured in laptop computers, particularly because to their resistance to the friction created by the LCD unit.
In conclusion, the digital MEMS microphones is invariably increasing at a faster rate than the analog segment globally. In the future, the majority of MEMS microphones will be digitally enabled, and analogue microphones will eventually become obsolete.
Hearing Aid Will Remain At The Top In The Global MEMS Microphones Market.
Hearing problems, various electronic goods, and IoT & VR are predicted to grow substantially throughout the forecast period. Smartphone as well as other sophisticated consumer electronics have grown in popularity as expendable income has increased, especially in the developing markets. In conclusion , MEMS microphones are expected to grow in popularity in mobile phones during the next several years. Similarly, technological advancements have opened the path towards smooth incorporation of IOT with VR platforms, resulting in an increase in market for high quality microphones.
Miniaturization has recently resulted in an increase in the usage of higher-quality microphones in hearing aids. Miniaturization has benefited in keeping the looks of hearing devices without sacrificing their capacity to collect the proper audio sounds and suppress background noise, therefore assisting the elderly and those with hearing impairment.
In the worldwide MEMS Microphones market, signal to noise ratio greater than or equivalent to 64 decibels has the highest market share.
The MEMS microphones with a high SNR (>= 64dB) record sounds with great audio clarity and can quickly distinguish a voice from background noise. As a result, they're usually utilised to record sound from far away. As a conclusion, the very high SNR mic sector is expected to emerge first, followed by the high SNR mic, and finally the low SNR mic.
MEMS microphones with a high SNR (>=60dB, 64dB) are commonly found in camcorders, tablets, computers, smartphones, and earbuds, among other things. Before the development of piezoelectric technology based MEMS microphones having greater SNR, they were quite popular. When compared to electret condenser microphones, MEMS microphones with a low SNR (=59dB) provide equivalent or higher audio quality. Their diminutive stature is an additional benefit. Microphone miniaturisation, in particular, contributes in the improved operation of electrical gadgets.
Capacitive Technology Gains The Highest Revenue In The Global MEMS Microphones Market.
Capacitive technology has always dominated the market and is widely regarded as the best option for high (>= 64dB) SNR MEMS microphones since it does not compromise the size and form factor of the microphones. To gather sound, capacitive microphones employ a capacitor composed of a rigid backing plate and a movable diaphragm. Nevertheless, the microphone's usefulness is reduced since the acoustic transducer is free to move in response to strong sound pressures.
The development of piezoelectric technology has opened the way for MEMS microphones with greater signal-to-noise ratios (SNRs) of 64dB to 66dB, which are typically used in far field communication systems to distinguish a sound from background noise. These mics are more robust, strong, power-efficient, and dust and moisture resistant. Higher-SNR MEMS microphones, on the other hand, proved to be too bulky for smartphones.
In conclusion MEMS microphones based upon piezoelectric devices are now integrated into remote controlled devices and portable smart speakers.
One of the most essential features of piezoelectric devices appears to be that they have a long lifespan and are less prone to deterioration even after continuous use. They also have a very short pick-up time because they lack the capacitor gap, which is vulnerable to dust and moisture. Due to the high cost for piezoelectric technology-based microphones, the piezoelectric segment is likely to gain traction throughout the forecast period.
APAC Region Gains Highest Revenue In The Global MEMS Microphones Market.
MEMS microphone industry is driven by Asia Pacific region leads, thanks to the well settled manufacturing & co-packer facilities that are located in china and other APAC regions. During the forecast timeframe, the Asia Pacific regional market is expected to develop at the quickest pace due to the continued rise of hearing impairment devices along with numerous different electronic products and the Internet of things integrated with VR devices. The market in the MEA region is also expected to grow considerably. Considering that VR technology is still in its early stages, a number of hackathon events are performed on a regular basis to raise awareness of the innovation in the MEA region, resulting in increased market growth MEMS microphones.
MEMS microphone prices, on the other hand, are predicted to fall throughout the projection period. Manufacturer profit margins are projected to drop as a result. Automotive, agriculture, oil and gas, construction, telepresence, manufacturing and medical telemetry are just a few of the industries and end-use verticals where MEMS microphones are likely to be widely deployed. As a result, MEMS microphone unit shipments are predicted to rise throughout the projection period.
Increased disposable income, which has driven desire for smartphones, is expected to be one of the key factors boosting demand for MEMS microphones. Simultaneously, an ageing population with hearing loss has vast development for hearing devices with elevated quality microphones, which is expected to drive market growth over the forecast period.
The worldwide MEMS microphone market was worth USD 1.2 billion in 2020, and it is predicted to develop at a CAGR of 7.4% from 2022 to 2029. The market will be valued at USD 2 billion in 2029.
Micro-electromechanical system or MEMS microphone are manufactured with a MEMS component put on a printed circuit board (PCB) and shielded with a mechanical cover. To let sound into the microphone, a small hole is drilled into the casing. The mechanical diaphragm of a MEMS component is typically constructed, while the mounting framework is built on a semiconductor chip. MEMS is typically used in sound source localization WSNs , audio monitoring, audio monitoring WSNs, and other wireless applications commonly employ MEMS microphones. These applications often need tiny size, lower power consumption, and reasonably good data quality.
Compact microphones with remarkable performance have been made possible because to microelectromechanical systems (MEMS) technology. MEMS microphones offer a low power consumption, a high signal-to-noise ratio (SNR), high sensitivity, and are available in extremely small packages that are highly consistent with surface mount assembly methods. MEMS microphones have outstanding thermal properties and virtually little performance loss during reflow soldering.
Smartphones, smart TVs, computers, tablet, and notepads have all seen substantial demand in recent years, boosting the consumer electronic goods sector in both established and emerging nations. Consumers are increasingly interested in next-generation consumer devices including such wearables and smartwatches. According to the India Brand Equity Foundation, the Indian appliance and consumer electronics (ACE) market reached USD 10.93 billion in 2019 and is expected to reach USD 21.18 billion by 2029. (IBEF). MEMS are important in the above mentioned electronics goods since they are small and consume little power. As a result, throughout the forecast period, these factors are projected to propel the worldwide MEMS microphone market forward.
Although MEMS microphones are most commonly found in consumer electric devices, they are also being used in other industries such as automotive and hearing aids. Hearing aids' basic purpose is to detect sound and enhance it for the user. This action necessitates the usage of a microphone, which is increasingly being done with MEMS. MEMS microphones have a better level of dependability and robustness, as well as a lower risk of particle intrusion. As a result, traditional electric condenser microphones are rapidly being replaced. MEMS microphones are also employed in audio sensors in the automobile industry, within and without the car cabin. As a result, these factors are projected to propel the worldwide MEMS microphone market forward in the coming years.
MEMS microphones are notoriously difficult to package due to their tiny size. Because sloppy packaging can harm sensitive microphones, a unique packaging strategy is necessary. Many suppliers are working on new packaging strategies to maintain MEMS microphones in perfect condition. As a result, these issues are projected to limit the worldwide MEMS microphone market's growth in the next years.
Voice-enabled smart assistants are becoming more popular, which has boosted MEMS microphone use. Despite the increased deployment of sophisticated speakers with voice-controlled capabilities, the majority of voice activated usage is anticipated to occur on smartphones, as opposed to in-home devices. According to the Association for Federal Enterprise Risk Management (AFERM), 5 billion assistants will be installed on cellphones worldwide by 2022.?
Virtual reality (VR) and Internet of Things (IoT)-enabled smart gadgets have created new prospects for MEMS microphones. These microphones are commonly used during Internet - of - things smart devices, including such Amazon Echo smart speakers, which use speech recognition to function. MEMS microphones are also included in the headsets that provide users with an immersive experience for VR-based movies and games. Over the projected period, these new application areas are likely to drive demand for MEMS microphones.
MEMS microphones have also made significant progress inside the adoption of Technology and VR. By immersing users in the virtual environment, such an integration aims to create a dreamlike experience for them. A recent example of such integration is the creation of the VR Star theme park in China, which was built solely to provide consumers with an immersive experience. As a result, the market is predicted to increase throughout the forecast period.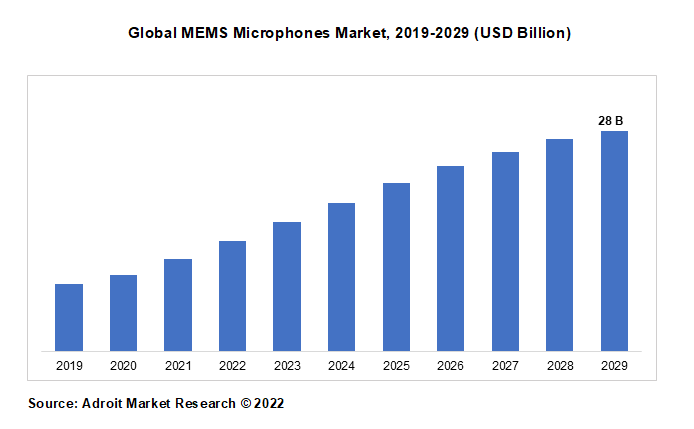 Key players operating in the global MEMS Microphones market include STMicroelectronics, Cirrus Logic, Inc., CUI, Inc., Infineon Technologies AG, Knowles LLC, InvenSense, Inc., AAC Technologies, Goertek, Vesper Technologies Inc.. and others.
Manufacturers are also focusing on establishing a strong network of partners across many nations. Most businesses like this approach since it allows them to progressively increase their presence in the world market. CUI Inc., for example, has arrangements with Master Electronics and Arrow Electronics, Inc., whereas DB Unlimited has a deal with Symmetry Electronics. InvenSense, Inc., a subsidiary of TDK Corporation, has renewed its global distribution relationship with Symmetry Electronics.
Latest Innovation in the Global MEMS Microphones Market: A snapshot
Infineon Technologies AG's automotive experience is combined with high-end MEMS microphones in the XENSIV IM67D130A to meet the rising need for high-performance, low-noise MEMS microphones in vehicles.
SPH1878 and SPH9855 are two new Automotive-Grade MEMS microphones from Knowles, which are developed to a higher degree of supply assurance and quality to satisfy the growing demands of the automotive business. The microphones meet the Automotive Electronics Council's AEC-Q100/103 certification criteria.
MEMS Microphones Market Scope
| | |
| --- | --- |
| Metrics | Details |
| Base Year | 2020 |
| Historic Data | 2018-2019 |
| Forecast Period | 2021-2028 |
| Study Period | 2018-2028 |
| Forecast Unit | Value (USD) |
| Revenue forecast in 2028 | USD 2 billion |
| Growth Rate | CAGR of 7.4 % |
| Segment Covered | Type, Application, SNR, Technology, Regions |
| Regions Covered | North America, Europe, Asia Pacific, Middle East and Africa, South America |
| Key Players Profiled | STMicroelectronics, Cirrus Logic, Inc., CUI, Inc., Infineon Technologies AG, Knowles LLC, InvenSense, Inc., AAC Technologies, Goertek, Vesper Technologies Inc.. and others. |
Key Segments of the Global MEMS Microphones Market
By Type Overview, 2019-2029 (USD Billion)
By Application, 2019-2029 (USD Billion)
Mobile Phones
Other Consumer Electronics
IoT & VR
Hearing Aids
Others
By SNR, 2019-2029 (USD Billion)
Very high (>=64dB)
High (>=60 dB, < 64 dB)
Low (<= 59 dB)
By Technology, 2019-2029 (USD Billion)
Regional Overview, 2019-2029 (USD Billion)
North America
Europe
Germany
France
UK
Rest of Europe
Asia Pacific
China
India
Japan
Rest of Asia Pacific
South America
Mexico
Brazil
Rest of South America
Middle East and South Africa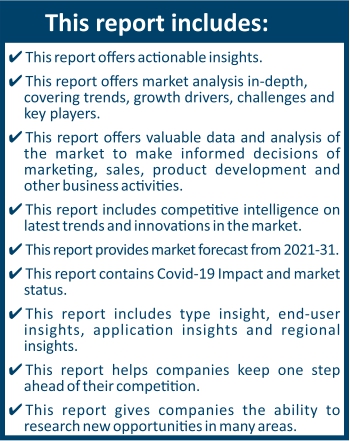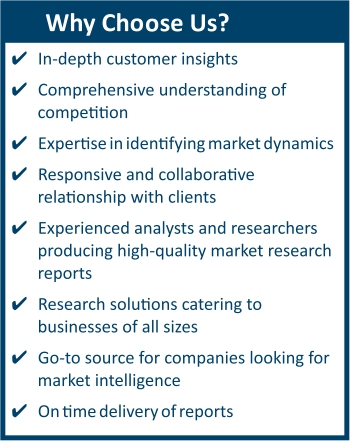 Frequently Asked Questions (FAQ) :
The market value of MEMS microphones market in 2029 was USD 2 billion.
The MEMS microphones market is growing at a CAGR of 7.4% over the forecast period.
The application of the MEMS microphones market Mobile Phones, Other Consumer Electronics, IoT & VR, Hearing Aids and other.
Asia Pacific dominated the market for MEMS microphones market and accounted for the largest revenue share.
The top companies that hold the market share in MEMS microphones market are STMicroelectronics, Cirrus Logic, Inc., CUI, Inc., Infineon Technologies AG, Knowles LLC, InvenSense, Inc., AAC Technologies, Goertek, Vesper Technologies Inc & among others.