It's being expected that by 2031, the Medical Simulation market cap will hit US$ 7.1 Bn at a CAGR growth of about 14.4.%.
Growing adoption of simulation in healthcare, growing demand for enhanced patient safety results, and an increase in mortality as a result of medical mistakes are some of the driving factors of the Medical Simulation Market expansion.
Covid-19 Impact & Market Status
Due to the COVID-19 pandemic, a large number of clinics and hospitals throughout the world were redesigned in order to improve hospital capacity for COVID-19 patients. The non-essential processes created a possible backlog as a result of the fast-increasing COVID-19 cases, which had a detrimental influence on the market.
During the pandemic, virtual simulation technologies were used to improve and increase procedural and patient care abilities. Furthermore, the increased usage of remote learning via screen-based simulation, mixed reality, augmented reality/AR, extended and blended reality, and virtual reality is likely to fuel the growth of the virtual medical simulation market.
Healthcare Anatomical Model Segment Type is Accounted for Highest Revenue during the Prediction Period
In 2020, the healthcare anatomical model segment maintained the maximum market share. These simulators have been shown to be beneficial in the manufacturing and research sectors for performing trials and permutation and combination proceeding to the completion of processes, design, or systems. These factors are projected to contribute to the segment's growth throughout the forecast period.
Procedure Rehearsal Technology Segment is Likely to Register Maximum Revenue during the Forecast Period
In 2020, the procedure rehearsal technology sector had the biggest market share of 40.6 percent. The increasing incidence of medical mistakes, which is driving up demand for patient safety, is predicted to drive up demand for procedure rehearsal technologies.
Academic Institute Segment is anticipated to Hold Highest Share throughout the Forecast Period
The academic institute segment held the most proportion in 2020. The academic research institutes industry is predicted to grow gradually due to the existence of several university research groups specializing in the study of complex biological systems utilizing computer models. For instance, the NIDDK used PBPK modeling to investigate the effect of decreasing kidney function on the pharmacokinetics of medicines ejected renally through organic anion transporters.
North American Region to Hold Highest Revenues during the Predicted Period
North America had the highest revenue share of 47.3 percent in 2020. The presence of important companies in the area, as well as substantial investments in technology, may be credited to the market's growth.
The Asia Pacific region is expected to increase significantly throughout the projection period as healthcare infrastructure continues to improve. Furthermore, increased healthcare facility utilization, along with the fast development of manufacturing facilities in emerging markets such as China and India, is fuelling the market growth.
Furthermore, there are possibilities in unexplored, growing markets with great potential, as a result of enhanced healthcare infrastructure, an increase in unmet healthcare demands, and an increase in the occurrence of medical mistakes in populations.
Medical simulators have established a valuable place in medical education across the world because they mimic human traits. Due to the restricted access to patients and the need to preserve patient safety throughout training, medical simulation in professional training programs and conventional learning is becoming more popular which is increasing growth of the market.
The term "simulation" refers to an artificial model of a real-world process that is used to attain educational goals through experience learning. Simulation-based medical education is any educational activity that uses simulation tools to simulate clinical circumstances. AR and VR are becoming more popular, and they have been demonstrated to increase collaboration inside medical simulation programs.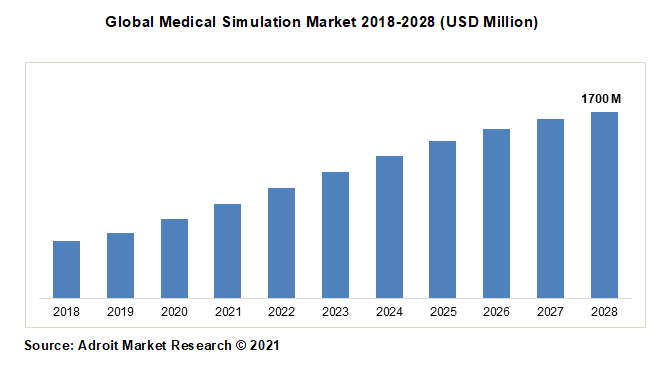 For instance, virtual reality (VR) might be used to let faraway students collaborate on operations and other activities. This allows pupils to use their knowledge and improve their mistakes. The use of VR and AR in medical simulation might be a wonderful addition to hands-on training by inserting IVs and conducting surgery.
The simulation may be used by students to develop their clinical and critical thinking skills in high-risk settings. As military forces throughout the world demonstrate, the training and education paradigm is developing. As a result, in medicine, simulation has considerable potential for improving the training of multidisciplinary medical teams.
Because of the COVID-19 outbreak, there is greater adoption of advanced approaches and methods for providing medical education, a greater demand for minimally invasive treatments, and limited access to patients during medical training, a greater demand for virtual training interaction, and a greater emphasis on patient safety. Organic growth techniques used by vendors, such as new releases and advancements, have resulted in an increase in the availability of sophisticated products internationally.
However, the restricted availability of finances and poorly constructed medical simulators are projected to hamper the market's growth throughout the projection period.
The global medical simulation market is already very competitive, and it is expected to become much more so in the coming years. The expanding number of competitors, on the other hand, is likely to improve total market growth throughout the forecast period. CAE, Inc., Gaumard Kyoto Kagaku Co. Ltd., Scientific Company, Inc., Limbs and Things, Ltd., Laerdal Medical AS, Mentice AB, Simulab Corporation, Intelligent Ultrasound Group Plc., Operative Experience, Inc., and VirtaMed AG.are some of the key competitors operating in the global medical simulation market.
Latest Innovations in the Global Medical Simulation Market: a Snapshot
LAERDAL MEDICAL AS declared the acquisition of B-Line Medical in July 2019 in order to extend the integration and extent of the company's product lines. The goal of the purchase was to create the market's most comprehensive simulator, services, and center management platform.
IngMar Medical announced the release of RespiPro, their next-generation ventilation, and respiratory training system, in August 2021.
SYNBONE AG declared the launch of the Skull Holder System in July 2021 for use in neurosurgery education, trauma, and orthognathic surgery.
The market research report is carried out utilizing a range of sources, such as corporate websites, technical journals, paid data sources, financial reports, and other industry publications. Furthermore, in order to get first-hand data, the study approaches conduct extensive primary research with key industry players. The data is subsequently examined and validated by industry experts.
Medical Simulation Market Scope:
| | |
| --- | --- |
| Metrics | Details |
| Base Year | 2022 |
| Historic Data | 2021-2022 |
| Forecast Period | 2022-2031 |
| Study Period | 2021-2031 |
| Forecast Unit | Value (USD) |
| Revenue forecast in 2031 | US$ 7.1 Bn |
| Growth Rate | CAGR of 14.4.% during 2022-2031 |
| Segment Covered | Product, Technology, End User, Regions |
| Regions Covered | North America, Europe, Asia Pacific, South America, Middle East and Africa |
| Key Players Profiled | CAE Inc., Mentice, Gaumard Scientific, Limbs & Things LTD, 3D Systems, Intelligent Ultrasound, Kyoto Kagaku, Operative Experience, Inc., Synaptive Medical, 3B Scientific, Laerdal Medical, VRmagic Holding AG, VirtaMed AG, Invous Limited, SynBone AG |
Key Segments of the Global Medical Simulation Market
Product & Services Overview, 2018-2028 (USD Million)
Simulation Training Services
Healthcare Anatomical Models
Web-Based Simulators
Healthcare Simulation Software
Technology Type Overview, 2018-2028 (USD Million)
3D Printing
Virtual Patient Simulation
Procedure Rehearsal Technology
End-Use Type Overview, 2018-2028 (USD Million)
Academic Institutes
Military Organizations
Hospitals
Research
Regional Overview, 2018-2028 (USD Million)
North America
Europe
Germany
France
UK
Rest of Europe
Asia Pacific
China
India
Japan
Rest of Asia Pacific
South America
Mexico
Brazil
Rest of South America
The Middle East and South Africa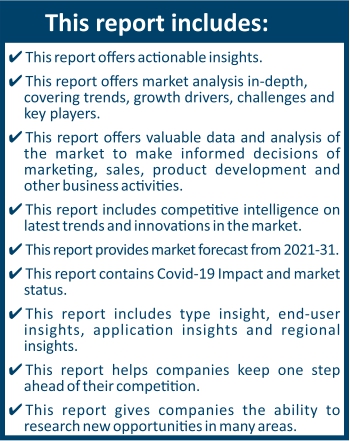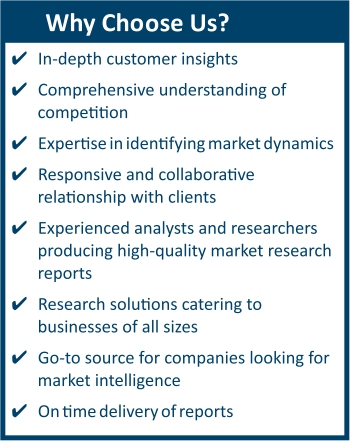 Frequently Asked Questions (FAQ) :
The forecast period for medical simulation market is 2018 to 2028
The medical simulation Market is growing at a CAGR of 15% over the Forecast period 2018-2028.
The base year is 2020 in medical simulation market
CAE, Inc., Gaumard Kyoto Kagaku Co. Ltd., Scientific Company, Inc., Limbs and Things, Ltd., Laerdal Medical AS, Mentice AB, Simulab Corporation, Intelligent Ultrasound Group Plc., Operative Experience, Inc. and VirtaMed AG.are some of the key competitors operating in the global medical simulation market.
The medical simulation anatomical models segment accounted for the largest market share in 2020. The demand for medical simulation anatomical models such as patient simulators and surgical simulators is increasing owing to an increase in demand for patient safety, rising demand for primary care services and growing need for high fidelity (degree of realism) products.