Owing to the benefits even if you have health or mobility issues, Medical Beds allow you to remain at home. Medical beds are built with safety in mind. To avoid falling out of bed, adjust the side rails of your bed. These rails also provide something to grip onto while you adjust and feel comfy in your medical bed. Hospital beds come in a variety of styles and types. Depending on their circumstances and the length of time they spend in the bed, the user can pick between a manual and an electric bed. These beds also come with a selection of bedside tables and pedals in a number of shapes and colours.
The global Medical Beds market is anticipated to increase at a 4.9% CAGR to reach value US$ 3.4 Billion in 2032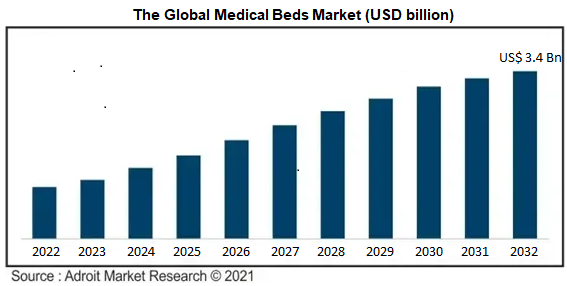 Covid-19 Impact & Market Status
The global outbreak of COVID-19 has led public and health officials to be concerned. During the epidemic, the first and most pressing issue that many nations encounter is a lack of medical resources. Manufacturers from a variety of industries that are not normally linked with medical device production are checking out resources to assist them produce and sell these things to the healthcare community so as to satisfy this demand. the bulk of the areas, especially, had a big number of obtainable beds thanks to the high availability of beds combined with the low percentage and high turnover interval. Also confine mind that this is often usually how difficult issues are handled. Due to so much issue of bed availability government has started to increase bed supply so that maximum people who are in problem can use.
General Category to Emerge as the Most Lucrative Segment
The hospital bed market is divided into four types: general, birthing, pediatric, bariatric, and pressure relief. In the historical years, the general category claimed substantial revenues owing to features such as affordability, user convenience, and easy availability. Hospitals, clinics, and care centers continue to benefit from the category hence making the segment still a major attraction throughout the projected timeline in the global medical beds market growth outlook.
Long-Term Category to Witness Fastest Growth
Long-term segment to draw maximum user benefits and is expected to reckon the largest revenue share in the global medical beds market through 2022-2029. This is mainly due to the increasing number of patients with serious health problems and those requiring long-term hospitalization, such as Patients with cancer or other chronic illness.
Manual Category to Remain Atop
The single bed market is split into three categories supported power: manual, semi-electric, and electric. During the forecast period, the manual bed category is probably going to dominate the market. this is often thanks to the very fact that, as compared to electric and semi-electric beds, these are the well-liked option of end users in underdeveloped nations thanks to their cheaper cost. Furthermore, because these beds require minimal upkeep, they're commonly utilized in hospitals, nursing homes, and residential care settings.
Hospitals Category Accounts for Largest Share
Hospitals are the primary end users, accounting for the majority of the hospital bed market in 2019. This is mostly due to rising healthcare costs, which has resulted in the building and refurbishment of old hospitals, as well as the installation of new medical equipment and hospital beds. Furthermore, as healthcare costs rise, various governments throughout the world are concentrating on providing better healthcare facilities to patients, such as more hospital beds per population and improved treatment for critically sick patients through the provision of hospitalization facilities.
Asia Pacific Region to Render Ample Investment Avenues
The Asia Pacific hospital bed market is expected to grow at the fastest CAGR in the world during the forecast period. This is associated with a fast-growing medical tourism business, an increasing prevalence of chronic diseases, an aging population, and a constant improvement in the health care infrastructure. According to the IDF, 11.3 percent (87.6 million) of Southeast Asia's total population will be diagnosed with diabetes in 2019, and the number is expected to increase to 12.6 percent by 2045. Therefore, hospitalization rates in the area are likely to rise and demand for beds is likely to increase. Improving the healthcare infrastructure, increasing the number of outsourced manufacturing organizations (CMOs), and increasing the number of obese patients seeking care are driving the growth of this geographic market.
Technological advancements have resulted in custom intensive care unit beds with last options. Continuous lateral rotation treatment, patient position support, weight-based pressure distribution at each bed position, and electric bed expansion / expansion are just a few of the options that make it easier for the caregiver to treat the patient. Patients benefit from these highly enhanced medical beds because they boost comfort and compliance.
A medical bed, usually called a hospital cot, could be a bed that's specifically created for hospitalized patients or people who need medical attention. These beds supply distinctive characteristics that profit the patient's comfort and well-being furthermore because the convenience of health-care workers. Adjustable for the whole bed, the head, and also the feet, adjustable facet rails, and electronic buttons to regulate the bed and different encompassing electrical gadgets square measure all common options.
These beds supply distinctive characteristics that profit the patient's comfort and well-being furthermore because the convenience of health-care workers. as a result of a patient World Health Organization sits up plenty, like once observance tv, tends to dip, medical beds will spherical a patient's spine. Some category A bed manufacturers include a built-in anti-slip feature in their beds.
The market is valued at over $ 17.6 billion in 2019 and is expected to grow by over 8.3% annually from 2020 to 2026. By 2029, the global market is worth about US $ 5.8 billion. The market is growing due to increasing hospitalizations and medical crises around the world. The growing elderly population, which is afflicted by chronic illnesses, is contributing to a rise in hospital admissions. The development of well-equipped, well-furnished, and modern infrastructure in hospitals is being aided by increased financing for healthcare infrastructure. Furthermore, an increase in the number of private hospitals in developing economies is expected to boost market revenue throughout the forecast period.
Latest Innovations in the Medical Bed Market
Wireless hospital beds are one among the foremost significant innovations within the medical bed business. This smart bed is designed to minimize inpatient falls, increase the efficiency and safety of care workflows, and help hospitals achieve savings. This is currently the only bed on the market that connects to a nurse call system without cables or wires.
Hospitals throughout the world are investing in high-tech beds to assure their patients' safety and comfort during their stay. In many hospitals, smart beds have become an essential safety element. The smart beds on the market today are the result of years of research and development, as well as industrial design and engineering. These smart beds have remarkable features and were designed and constructed with patient safety as a top focus. When a patient gets out of bed, most smart beds have sensors that alert nurses.
Medical Beds Market Scope :
| | |
| --- | --- |
| Metrics | Details |
| Base Year | 2022 |
| Historic Data | 2021-2022 |
| Forecast Period | 2022-2032 |
| Study Period | 2021-2032 |
| Forecast Unit | Value (USD) |
| Revenue forecast in 2032 | USD 3.4 Billion |
| Growth Rate | CAGR of 4.9% during 2022-2032 |
| Segment Covered | Type, Consumer Type, Application, Regions |
| Regions Covered | North America, Europe, Asia Pacific, South America, Middle East and Africa |
| Key Players Profiled | WABCO, Haldex, Knorr-Bremse, Bendix, ZF TRW, Meritor, and TBK |
Key Segments of the Medical Bed Market
By Type Overview, (USD Billion)
General
Pediatric
Birthing
Bariatric
Pressure Relief
Based on Treatment Overview, (USD Billion)
Acute Care
Long-Term Care
Critical Care
Based on Power Overview, (USD Billion)
Manual
Semi-Electric
Electric
Based on End User Overview, (USD Billion)
Hospitals
Home Care Settings
Elderly Care Facilities
By Region Overview, (USD Billion)
North America
Europe

UK
Germany
France
Rest of Europe

Asia-Pacific

China
Japan
India
Rest of Asia-Pacific

South America
Mexico
Brazil
Rest of South America
Middle East and South Africa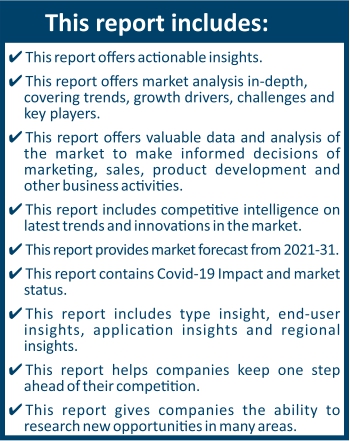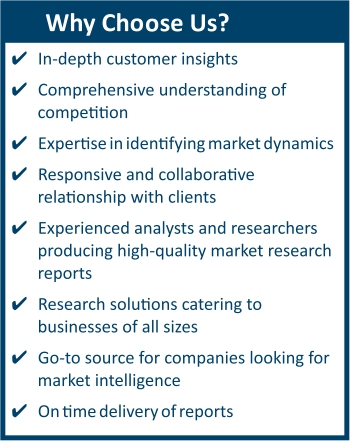 Frequently Asked Questions (FAQ) :
The market value of medical beds market in 2029 was US $ 5.8 billion.
The medical beds market is growing at a CAGR of 8.3% over the forecast period.
Asia Pacific dominated the market for medical beds market and accounted for the largest revenue share.
The top companies that hold the market share in medical beds market are Paramount Bed Co, NOA Medical Industries, ArjoHuntleigh, Invacare Corporation, Stryker Medical, Sunrise Medical, Joerns Healthcare, Hill-Rom, Medline Industries, Hard Manufacturing, BaKare.
To get latest version of medical beds market report can be obtained on demand from the website.