The global medical affairs outsourcing market was valued at USD 1.93 billion in 2020 and is projected to grow at a CAGR of 10.9% during the forecast period. Factors driving the growth of the medical affairs outsourcing market include increasing number of clinical trials and inclination of life science companies to manage product life cycles effectively while saving cost.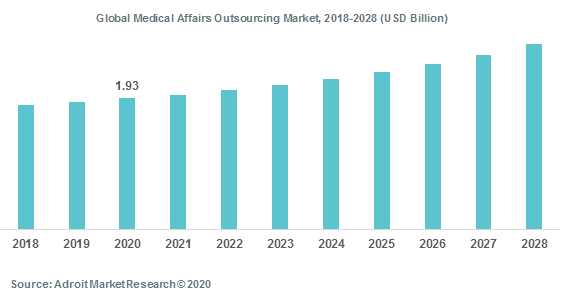 The global medical affairs outsourcing market is segmented based on service and industry. On the basis of service, the market is segmented into medical writing & publishing, medical monitoring, medical science liaisons, medical information, and others. The medical writing & publishing was the largest market in 2019. By industry, the market is segmented into pharmaceutical, biopharmaceutical, and medical devices. The pharmaceutical segment accounted for the largest share of the global medical affairs outsourcing market and is projected to sustain its dominance over the forecast period.
Regionally, North America accounted for the largest market share of the global medical affairs outsourcing market attributable to increasing drug approvals. Leading players of the global medical affairs outsourcing market include ICON plc, The Medical Affairs Company (TMAC), IQVIA Holdings Inc., Syneos Health Inc., Ashfield Healthcare Communications, Pharmaceutical Product Development, LLC., ZEINCRO Group, SGS SA, Wuxi Clinical Development, Inc., Indegene Inc. among others.
Key segments of the global medical affairs outsourcing market
Services Overview, 2018-2028 (USD Billion)
Medical Writing & Publishing
Medical Monitoring
Medical Science Liaisons (MSLs)
Medical Information
Others
Industry Overview, 2018-2028 (USD Billion)
Pharmaceutical
Biopharmaceutical
Medical Devices
Regional Overview, 2018-2028 (USD Billion)
North America
Europe

Germany
United Kingdom
France

Asia Pacific
Latin America
Middle East & Africa
Reasons for the study
Increasing number of clinical trials
Surge in patent expiration
Pharmaceutical and medical devices companies willing to reduce operational costs, minimize regulatory compliance risk, and prevent process delays
What does the report include?
The study on the global medical affairs outsourcing market includes qualitative factors such as drivers, restraints and opportunities
The study covers qualitative and quantitative analysis of the market segmented on the basis of service and industry. Moreover, the study provides similar information for the key geographies.
Actual market sizes and forecasts have been provided for all the above-mentioned segments
The study includes the profiles of key players in the market with a significant global and/or regional presence
Who should buy this report?
The report on the global medical affairs outsourcing market is suitable for all the players across the value chain including product manufacturing companies, suppliers/distributors, R&D labs, CROs, healthcare organizations, medical reimbursement and insurance providers
Venture capitalists and investors looking for more information on the future outlook of the global medical affairs outsourcing market
Consultants, analysts, researchers, and academicians looking for insights shaping the global medical affairs outsourcing market
The pandemic has emphasized the need for the pharmaceutical and biopharmaceutical industry to rethink its reliance on offshore manufacturing and complex global supply chains, as well as how to utilize technology to adopt a more decentralized approach to conducting clinical trials. Needless to say, COVID-19 has significantly disrupted the CRO sector. Lockdown and social distancing measures have caused elevated suspensions of clinical trials. Clinical trials for infectious disease, respiratory treatment, and vaccines have experienced significant challenges with research and development (R&D) leaders reporting major disruption across these subsectors. In addition, an estimated 50% of companies have paused recruitment for the majority of clinical trials with approximately 75% pausing site activation. However, clinical trials have begun to display signs of resumption in recent weeks. At the end of June, new subjects entering trials fell 30% globally year-over-year, a strong improvement compared to a 70% decline in April.
The medical writing & publishing was the largest market in 2019. The need for medical writing continues to grow, influenced in part by increasing regulations and governmental scrutiny of pharmaceutical and device companies. Activity is currently high in China and other parts of Asia in response to the volume of research in these areas. In order to restrict headcounts many companies now outsource writing to agencies and freelancers, resulting in a multibillion dollar medical commun - ications sector.1 Those involved in develop - ing publications, presentations, and regul - atory documents are often highly qualified, with a background in research, medicine, or education. Projects requiring their inputs span the whole field of medicine from medicinal products to medical devices, with a small but increasing overlap between some of these areas.
Asia Pacific is expected to surpass other region's growth by 2028. India is a highly populated country with increase in the aging population; the pharmaceutical companies are targeting it to conduct clinical trials. Nearly, a fifth of all the global clinical trials are being conducted in India that provides a financial and scientific gain to the pharmaceutical companies. The cost of clinical trials is more than 50% cheaper in India as compared to the developed countries. India is reported to be the second country after China to provide the largest patient pool. Comparatively, the timeframe for getting regulatory approval is less stringent and faster in India. Several regulatory documents need to be submitted for conducting trials, thus foreign companies prefer to outsource these activities to the native service providers based in India. India is also reported to have around 500 regulatory medical writers. India's clinical development activities also target Europe and the U.S. market, thus there is need of medical writers who can prepare complex regulatory documents. In addition, India also has a pool of medical writers who have an expertise in the pharmacovigilance sector. The outsourcing of medical writing business to India is associated with several key opportunities.