Consumers are constantly modifying their purchasing habits for a variety of reasons, one of which is the rise in disposable incomes. Investments in remodelling and interior design projects have grown as a result. As a result, there are several business prospects for luxury furniture producers to create items that are appealing and meet the specific needs of their clients. This has pushed manufacturers of furniture to incorporate cutting-edge technologies into their finished goods and offer creative storage solutions, which will increase demand for luxury furniture market solutions.
High-end interior design and adding aesthetic value to a home's décor are two of the most common uses for luxury furniture. The rising preference for opulent comfort when unwinding is a major factor fuelling the market for high-end furnishings. Governments all over the world are concentrating heavily on raising funding for the improvement of home furnishings, which is anticipated to provide a lot of prospects for the industry in the future.
The fact that luxury furniture products are available in a wide range of sizes and shapes is one of their biggest benefits. Consider the Fowler Etagere shelf unit, which is a striking piece of furniture that can serve as the center of attention in any space. Customers prize individuality and specially-made furniture frequently come in small quantities. You can be certain that very few Calgary living rooms will include the same expensive coffee table if you spend the money on one with an artistic design, like the Adora cocktail table! Unique things let your individual style stand out.
The term "luxury furniture" refers to a category of movable objects that exemplify the peak of quality and style at the turn of the century. frequently made of wood, glass, and metal. They increase an establishment's aesthetic value by enhancing houses, hotels, offices, and other indoor or outdoor spaces. The luxury furniture market has benefited from rising disposable incomes, globalization, and the worldwide trend toward urbanization.
Manufacturers of high-end furniture are particularly interested in finding ways to lessen their products' environmental impact. Industries are now providing environmentally sustainable options. Furniture designers are becoming more inventive and creative in their designs as technology advances. Also, when looking for eco-friendly furniture, consumers place a premium on selecting pieces with low levels of toxicity since they want to avoid or at least mitigate any potential health consequences.
With a CAGR (compound annual growth rate) of 6.1% between 2021 and 2031, the luxury furniture market is expected to grow from its 2021 valuation of $22.8 billion to $39.8 billion.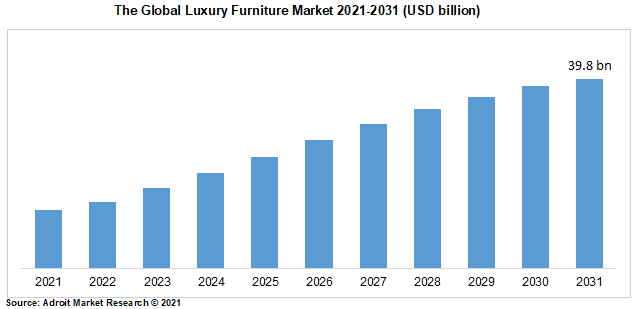 Despite the fact that demand for luxury furniture is increasing significantly every year, there is a critical shortage of trained workers to produce expensive furniture. The development of the luxury furniture sector may be hampered by the high expertise requirements. The Ifo Institute for Economic Research estimates that in July 2022, 49.7% of firms in Germany were impacted by a skilled labor shortage. These setbacks could make it more difficult to produce luxury furniture.
Among the top companies working in the luxury furniture market are Godrej & Boyce Manufacturing Co. Ltd., Kohler Inc., Illulian Luxury Rugs, IKEA, Cassina, MARIONI, Bentley Home, Knoll Inc., Boca do Lobo, Heritage Home, Furniture Concepts, Haworth Inc., and others. Participants in the luxury furniture industry are stepping up their research and development efforts in order to provide cutting-edge goods that will aid nations in achieving their sustainability goals.
SEGMENT ANALYSIS
The material, end-use, distribution method, and geographic region are the segments used to divide the luxury furniture market.
The market is divided into categories for the metal, wood, plastic, glass, leather, and other materials. Depending on the material, the glass category is expected to expand at the highest CAGR throughout the forecast period, despite the fact that the wood segment accounts for a sizable market share in luxury furniture.
It is separated into residential use and commercial use based on end-use. According to end use, the domestic use segment accounts for a sizable market share; however, the commercial use segment is anticipated to develop at the highest CAGR throughout the forecast period for the luxury furniture market.
It is divided into online and offline distribution channels according to the channel. Through 2032, the global market for luxury furniture sold through online distribution channels is expected to expand by 5%. Furniture firms aiming to increase their profit margins are paying close attention to this sales network, which is proving to be a viable retail avenue. People now have access to a broader variety of furniture products as a result of the rapid expansion of e-commerce platforms in recent years. Additionally, these programs frequently offer alluring discounts, aiding businesses in growing their clientele and promoting the sale of luxury furniture items through these channels.
The United States, Canada, and Mexico are included in the analysis of North America, as are Germany, the United Kingdom, France, Italy, Spain, and the rest of Europe, as well as China, India, Japan, Australia & New Zealand, South Korea, and the rest of Asia-Pacific and LAMEA (Brazil, South Africa, Saudi Arabia, and rest of LAMEA). By 2031, the value of the North American luxury furniture market will reach USD 7.5 billion.
Governments are investing more money in creating modern, easily accessible public infrastructure and collaborating with private businesses to accomplish this. To meet the increasing demands of the urban population, commercial and residential construction is progressing rapidly in the USA and Canada, for instance. These innovations will encourage the use of enticing and luxurious furniture options.
Due to the COVID-19 pandemic, some key industries, including
manufacturing, construction, and food and beverage, were compelled to temporarily halt operations in order to stop viral transmission. The manufacturing and retail of high-end furniture suffered greatly as a result. Numerous supply chain disruptions had a devastating impact on the demand for and supply of high-end furniture. Many businesses also had a severe lack of the necessary labor and raw supplies to maintain manufacturing, which could have slowed down the growth of the industry. However, the recovery of luxury furniture producers from the effects of the crisis by 2031 will be aided by the gradual restart of economic activity, particularly construction projects.
A group of friends led by London-based real estate mogul Bill Patel turned an ordinary apartment into a lavish home on August 17, 2022, at a total cost of 1.3 million GBP. The flat's bedroom layout completely outnumbers different conventional ideas for the typical bedroom walls. It underwent a significant alteration, and as of right now, it appears ten times brighter and is furnished with gorgeous paintings, closets, pot plants, and another trendy décor.
Additionally, the flooring's lamination and the recessed lighting actually give the design a sense of modernity. In July 2020, Cassina partnered with Mobilia, an Australian business that specializes in producing high-end design furniture for markets around the world.
Through this collaboration, Mobilia would become Cassina's sole distributor in the Australian market. Additionally, Mobilia had intended to expand its coverage to include Australia's eastern states.
Luxury Furniture Market Scope
| | |
| --- | --- |
| Metrics | Details |
| Base Year | 2022 |
| Historic Data | 2021-2022 |
| Forecast Period | 2022-2031 |
| Study Period | 2021-2031 |
| Forecast Unit | Value (USD) |
| Revenue forecast in 2031 | US$ $39.8 billion |
| Growth Rate | CAGR of 6.1% during 2021-2030 |
| Segment Covered | Type, Application, By End-use, Regions |
| Regions Covered | North America, Europe, Asia Pacific, South America, Middle East and Africa |
| Key Players Profiled | Godrej & Boyce Manufacturing Co. Ltd., Kohler Inc., Illulian Luxury Rugs, IKEA, Cassina, MARIONI, Bentley Home, Knoll Inc., Boca do Lobo, Heritage Home, Furniture Concepts, Haworth Inc., and others. |
Key Segments of the Photonics Market
By Type Overview, 2021-2031 (USD Billion)
• Indoor
• Outdoor
By Application Overview, 2021-2031 (USD Billion)
• Home
• Hospitality
• Office
• Others
By Regional Overview, 2021-2031 (USD Billion)
North America
• U.S
• Canada
Europe
• Germany
• France
• UK
• Rest of Europe
Asia Pacific
• China
• India
• Japan
• Rest of Asia Pacific
South America
• Mexico
• Brazil
• Rest of South America
Middle East and Afric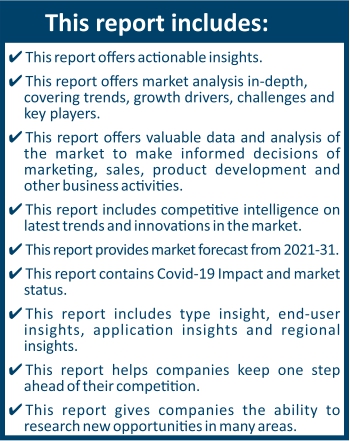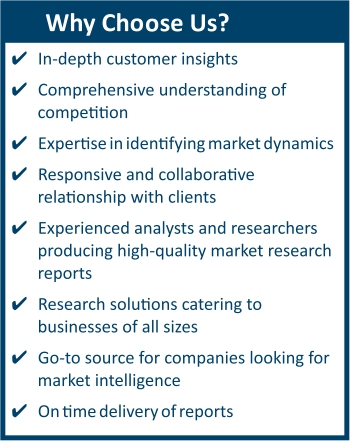 Frequently Asked Questions (FAQ) :
The global Luxury Furniture market size projected to reach $ 39.8 billion by 2031.