Owing to the LTE and 5G technologies, mobile network operators may now directly offer new goods and services to clients. They also provide significant cost-saving opportunities and revenue generation to mobile network operator since they can monetize their media and network assets.
The global LTE and 5G Broadcast market size is expected to reach close to US$ 1.8 Billion by 2029 with an annualized growth rate of 9.9% through the projected period.
Covid-19 impact and market status
The COVID-19 epidemic has wreaked havoc on health systems all around the world, with many people dying as a result. North America was one of the worst-affected regions in the globe, and the United States was one of several countries impacted hard by the epidemic. It posed a number of ongoing issues for the country's healthcare infrastructure, since the country's health services were not prepared to handle such a crisis. Lockdowns, quarantines, border closures, and a stop to economic activity were all implemented as a result of the epidemic. This caused disruptions in the supply chain systems which negatively affected the supply of raw materials from and to several countries. The region witnessed a decrease in the mobile revenue growth because of the commitments made by the mobile operators to waive off any data overage and late payment fee as a result of the pandemic. Physical stores have also been forced to close as a result of the lockdowns, with many of them closing permanently. This is because regional operators foresee a movement in consumer behaviour toward the digital channel for a variety of services. The third quarter of 2020 showed scope of recovery for the market as network performance remained resilient with the increasing bandwidth pressure.
The COVID-19 pandemic has affected various European countries as well. Various countries such as France, Italy, and the UK suffering the most. Europe witnessed a large number of causalities due to the pandemic. As a result, the region's economy was disrupted, with various industries seeing a drop in demand and being unable to supply due to stringent lockdown restrictions.
Despite fluctuations in consumption volumes and peak hours, telecom networks have performed admirably throughout difficult times. Residential internet usage and video calls both climbed, while voice call volumes momentarily reversed their decreasing trend. During the epidemic, several of Europe's leading telecom companies followed a similar course. The operators are finding ways to propel new opportunities in digital transformation, connectivity, and adjacent services while enabling their customers move through a challenging macroeconomic climate. The region has seen development in terms of 5G deployment and testing. Following previous postponements, there has been a rebound in spectrum allocations in the area in Q3, which will assist operator rollout plans.
In the year 2020, LTE technology has the biggest market share in the LTE and 5G Broadcast market.
LTE broadcast is changing the various types of services mobile customers are able to receive, which includes their quality, and the way they get delivered. LTE broadcast is equipped with eMBMS, which is a 3GPP standardized technology. This technique allows mobile carriers to broadcast popular data or content using a portion of their network capacity. Instead of unicasting, LTE broadcast offers multiple consumers inside a single cell with the same TV, video, or other data services. LTE transmission has a substantial influence on the bandwidth required to offer popular programming. For many cellphone providers, the technology is also bringing up new economic prospects. Users anticipate minimal latency from mobile devices and prefer to watch material on TV and videos, resulting in increased demand for LTE and 5G broadcast services.
During the projection period, LTE and 5G broadcast technology is predicted to increase at the quickest rate for connected automobiles.
The industry is evolving and new LTE broadcast ideas and services are being developed, including a trial by Japanese operator KDDI. The study employs eMBMS in two connected vehicle applications: the first includes broadcasting a status warning from one of the cars to the network, which is then relayed to a large number of additional users and automobiles through eMBMS. The other application is to provide real-time mapping and navigation. With the technology fueling the market growth for connected automobiles, it is expected that potential applications and prospects for LTE broadcast and 5G broadcast will continue to expand.
A shift toward to various online platforms for purposes such as online classes and e-learning is also slated to propel the growth of the overall market over the coming few years.
Between 2019 and 2028, the global adoption rate of smartphones is predicted to increase by 15%. 4G connections accounted for around 52 percent of all connections in 2019 and are predicted to account for 56 percent of all connections by 2028. 5G connections, on the other hand, are expected to reach 1.8 billion by 2028. The increased popularity of smartphones is mostly due to the increase in consumer purchasing power and the low cost of devices. 5G network technologies are commercially accessible in 61 countries, including the United States, China, the United Kingdom, Australia, and New Zealand.
Legacy telecom environments are expected to be the main restraint to new commercial telecom expenditure on LTE and 5G broadcast markets. Many telecommunications companies have continued to retain and operate legacy systems, which are extremely complicated and inefficient for meeting business needs. Telecom operators frequently encounter a variety of issues as a result of legacy systems, including expensive unsupported hardware and software, expertise shortages, maintenance costs, and lack of interoperability across numerous platforms, such as hypervisors, servers, and cloud.
New commercial hardware and software must be sufficiently adapted to support legacy services. There is always an added risk that the conversion will remain incomplete. The conversion has a substantial upgrade cost associated with it. Operators are hesitant to migrate any existing services to newer systems when new systems are implemented to serve new services. Some operators will continue to employ outdated systems even if they are unable to handle new services for the rising user population, which could result in service disruption and a poor customer experience.
Traditional EPC solutions for LTE networks have already been implemented internationally by major companies. Traditional EPC systems are prohibitively costly and need extensive upkeep. The installation lifespan of network components varies between two and five years. As a result, many mobile operators are hesitant to add new solutions to their existing networks.
One of the major challenges faced by the market is that significant investments are needed for building and maintaining a dedicated and efficient network. The core network has large upfront expenditures, and overlaying LTE broadcast over the 4G core network is difficult due to the radio network. The large initial cost is due to the difficulty of synchronising the current radio network infrastructure with the new LTE broadcast equipment. This puts the market's expansion in jeopardy.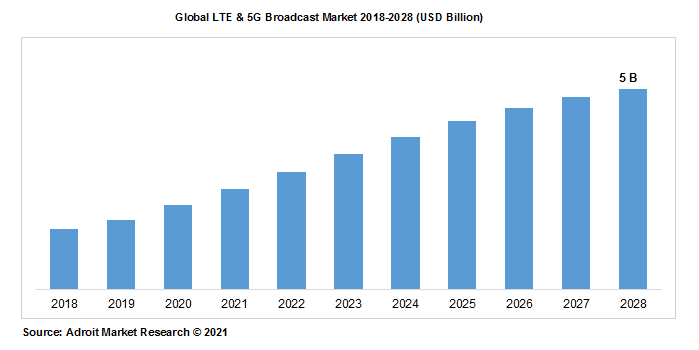 The major players in the LTE & 5G network market are Qualcomm Technologies, Inc. (Qualcomm), Samsung Electronics, Cisco Systems, Inc.,AT&T Intellectual Property (AT&T), Huawei Technologies Co., Ltd. Nokia Corporation, (Huawei Investment & Holding Co., Ltd.), and Reliance Industries Limited, amongst others.
Recent innovations in the LTE & 5G Broadcast market: a Snapshot
Qualcomm introduced the second-generation 5G Fixed Wireless Access Platform in February 2021, which includes 10 Gigabit, 5G connectivity for households and businesses. Mobile operators will be able to deliver fixed internet broadband services to people and companies utilizing the 5G network infrastructure, thanks to the new platform, which is powered by Qualcomm's fourth-generation SnapdragonTM X65 5G Modem-RF System.
Cisco will release a new integrated SDN transport solution in March 2020. Cisco's new converged SDN transport solution allows PLDT (Philippines) to fully realize the benefits of 5G for a better customer experience.
In September 2020, at the Ultra-High Definition Video (Beijing) Production Technology Collaboration Center, ZTE demonstrated the industry's first broadcast demonstration based on 5G NR physical layer technology, achieving end-to-end 5G HD video broadcast service on the 700 MHz spectrum.
To speed 5G mid-band rollouts, Ericsson announced three new MIMO radios in February 2021 and extended the RAN compute portfolio with six new RAN compute solutions.
LTE and 5G Broadcast Market Scope
| | |
| --- | --- |
| Metrics | Details |
| Base Year | 2022 |
| Historic Data | 2021-2022 |
| Forecast Period | 2022-2032 |
| Study Period | 2021-2032 |
| Forecast Unit | Value (USD) |
| Revenue forecast in 2032 | US$ 1.8 Billion |
| Growth Rate | CAGR of 9.9% during 2021-2032 |
| Segment Covered | by Technology, by End Use, Regions |
| Regions Covered | North America, Europe, Asia Pacific, South America, Middle East and Africa |
| Key Players Profiled | Qualcomm Technologies,Samsung Electronics,Huawei,Cisco,Ericsson,ZTE,Nokia,NEC,Enensys Technologies,Rohde Y & Schwarz,EXPWAY,AT&T Intellectual Property |
Key Segments of the LTE and 5G Broadcast Market
By Technology, 2021-2026 (USD Billion)
By End Use, 2021-2026 (USD Billion)
e-Newspapers and e-Magazines
Last Mile CDN
Data Feeds & Notifications
Video on Demand
Fixed LTE Quadruple Play
Mobile TV
Connected Cars
Emergency Alerts
Radio
Stadiums
Others
By Region, 2021-2026 (USD Billion)
North America
Europe

UK
Germany
France
Italy
Russia
Spain

APAC

China
Japan
Australia & New Zealand (ANZ)
South Korea
India

MEA

South Africa
UAE
Saudi Arabia
Israel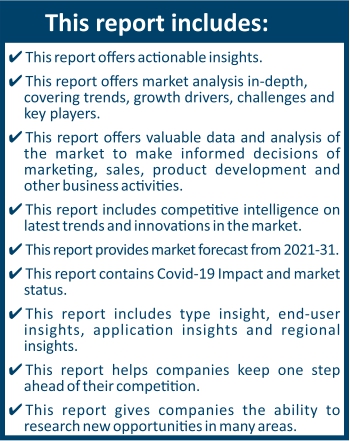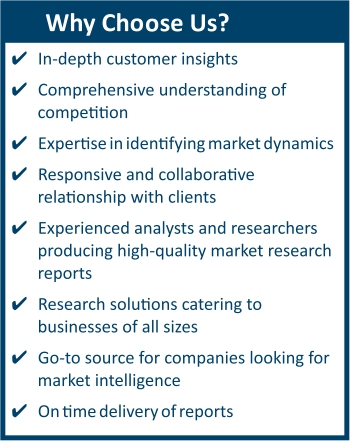 Frequently Asked Questions (FAQ) :
The LTE and 5G broadcast market is studied from 2018- 2028.
Qualcomm Technologies, Inc. (Qualcomm), Samsung Electronics, Cisco Systems, Inc.,AT&T Intellectual Property (AT&T), Huawei Technologies Co., Ltd. Nokia Corporation, (Huawei Investment & Holding Co., Ltd.), and Reliance Industries Limited are a few of the key vendors in the LTE and 5G broadcast market.
In the year 2020, LTE technology has the biggest market share in the LTE and 5G Broadcast market.
The report sample for LTE and 5G broadcast market report can be obtained on demand from the website. Also, the 24*7 chat support & direct call services are provided to procure the sample report.