The market for lateral hydraulic dampers is primarily driven by increased consumer demand for improved vehicle comfort, rising sales of passenger cars, technological developments in dampers, and government programmes to promote public transportation safety. This market has grown significantly as a result of the rising demand for energy efficiency. Additionally, businesses have increased their focus on creating lightweight and efficient dampers as a result of growing environmental consciousness and emission reduction standards. Moreover, during the projection period of 2021–2031, the development of new technologies like as sensors and actuators, enhanced processing power, and advanced materials used in shock absorbers will give the market an additional push.
Due to the rising demand for safe and comfortable public transportation, there is a requirement for the market for Lateral Hydraulic Damper. There is a greater demand for effective public transit networks as cities become more populated. Governments are therefore making efforts to invest in infrastructural components that improve safety, including shock absorbers. In addition, businesses are concentrating on producing lightweight dampers that offer improved energy efficiency and reduce the overall vehicle weight, giving a huge opportunity for growth in this market. This is due to the introduction of eco-friendly automobiles and strict emission standards.
A lateral hydraulic damper is a passive component that aids in reducing vibrations and shocks in cars. The suspension system of autos and other vehicles typically uses it. The passengers will experience a more comfortable ride thanks to the dampers' assistance in lessening the effect of road imperfections. They are intended to absorb lateral pressures (side-to-side) caused by interactions with impediments like potholes or uneven terrain. These dampers also improve the cars' stability and aid in minimising body roll during turns. They can therefore be found in all passenger vehicles, subway trains, railroad systems, buses, and other forms of public transportation.
The Global Lateral Hydraulic Damper Market is anticipated to develop at a CAGR of 6.7% from 2021 to 2031, from a value of USD 2.3 billion in 2021 to USD 3.7 billion in 2031. The market's expansion is linked to the adoption of cutting-edge technologies, increased demand for cutting-edge passenger automobiles, and expanding government measures to improve public transportation safety.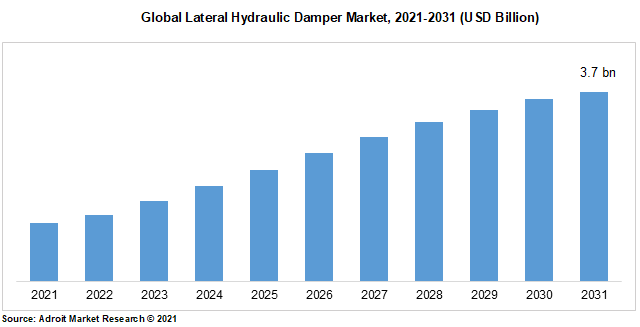 The cost of raw materials and the cost of goods supplied are two issues that the market for laterally acting dampers is now dealing with (COGS). Furthermore, market expansion is being constrained by a lack of knowledge in low-income nations. Additionally, the market's expansion is being constrained by strict emission rules. Another difficulty the market has experienced is the rise in costs involved with product development and integration due to technical improvements. Lastly, during the course of the forecast period, a lack of skilled labour is anticipated to constrain the growth potential of the worldwide lateral hydraulic damper market. The market is anticipated to have possibilities in the near future, nonetheless, as a result of increased investments in the infrastructure for public transportation and a growing preference for security features in automobiles.
In addition to KYB Corporation, Monroe Shocks and Struts (Tenneco Inc.), ZF Friedrichshafen AG, Sachs Automotive (ZF Friedrichshafen AG), Continental AG, Tenneco Inc., Showa Corporation, AVS Technologies Inc.,BWI Group, and Mitsubishi Heavy Industries, Ltd., these companies also dominate the global market for lateral hydraulic dampers. To increase their market share, these businesses are increasingly concentrating on product innovation, mergers and acquisitions, collaborations, and partnerships.
Segment Analysis
The Secondary Suspension Segment emerged as the Most Lucrative Type
The market is divided into primary suspension and secondary suspension based on the kind. Due to its rising employment in suspensions of buses and trains that provide better driving experiences, the secondary suspension type sector is anticipated to have a higher CAGR of 7.3% during the forecast period, 2021-2031. The increased competition for semi-active dampers in automobiles, for example, is another element boosting the development of this market.
The Most Prominent Application is the Subway Segment
The market is divided into the following application categories: buses, trains, and subways. Due to the growing number of public transportation systems worldwide and the rising demand for mass transit, the subway sector is anticipated to dominate the market over the forecast period. The development of this market is also being aided by other reasons including the deployment of high-speed rail networks and rising disposable income.
The Asia Pacific Region to render Ample Financing Opportunities
North America, South America, Asia Pacific, Europe, the Middle East & Africa regions make up the majority of the global market for lateral hydraulic dampers. Due to expanding public transportation infrastructure investments, rising disposable income, and rising passenger car demand, the Asia Pacific market is anticipated to experience a higher CAGR throughout the forecast period. Additionally, the existence of major firms like KYB Corporation as well as Mitsubishi Heavy Industries Ltd. is fostering the expansion of this local market.
COVID-19 Impact and Market Status
A slowdown in growth is anticipated for the lateral hydraulic damper market as a result of the pandemic. This is mostly due to the decline in demand for cars on a global scale brought on by significant production halts, lockdowns, and limitations. Furthermore, governments around the world are concentrating on the healthcare sector rather than helping the auto industry with regulations that could lessen the effects of COVID-19. As a result, damper demand has decreased, which has hurt the market's expansion. Even if the market is anticipated to improve with fewer limitations and the liberalisation of the automotive sector, it will likely take some time for it to return to its pre-COVID levels.
Recent Developments in the Lateral Hydraulic Damper Market
• The Ford Motor Company revealed in May 2020 that they have created a new suspension system called "Progressive Rate Springs." The dampers' technology enables them to control rough road surface irregularities, give exceptional driving comfort, and keep excellent levels of body control.
• The world's first active chassis with adjustable lateral dampers and variable damping rates for better handling performance will be unveiled in June 2020 by ZF Friedrichshafen AG in partnership with Bosch Automotive Technology.
• The third generation of dampers, having enhanced passive and active dampening capabilities to provide greater performance, was announced by ZF Friedrichshafen AG in March 2021.
• Mercedes-Benz announced the introduction of its new Active Body Control (ABC) suspension system in April 2022. This system uses an active lateral hydraulic damper system.
Lateral Hydraulic Damper Market Scope
| | |
| --- | --- |
| Metrics | Details |
| Base Year | 2020 |
| Historic Data | 2020-2021 |
| Forecast Period | 2022-2031 |
| Study Period | 2021-2031 |
| Forecast Unit | Value (USD) |
| Revenue forecast in 2031 | USD 3.7 billion |
| Growth Rate | CAGR of 6.7 % during 2022-2031 |
| Segment Covered | by Type, By Application, Regions |
| Regions Covered | North America, Europe, Asia Pacific, Middle East and Africa, South America |
| Key Players Profiled | KYB Corporation, Monroe Shocks and Struts (Tenneco Inc.), ZF Friedrichshafen AG, Sachs Automotive (ZF Friedrichshafen AG), Continental AG, Tenneco Inc., Showa Corporation, AVS Technologies Inc.,BWI Group, and Mitsubishi Heavy Industries, Ltd., these companies |
Key Segments of the Lateral Hydraulic Damper Market
Type Overview, 2021-2031 (USD Billion)
Primary Suspension

Secondary Suspension
Application Overview, 2021-2031 (USD Billion)
Subway

Railway

Bus

Others
Regional Overview, 2021-2031 (USD Billion)
North America
Europe
Germany

France

UK

Rest of Europe
Asia Pacific
China

India

Japan

Rest of Asia Pacific
South America
Mexico

Brazil

Rest of South America
Middle East and South Africa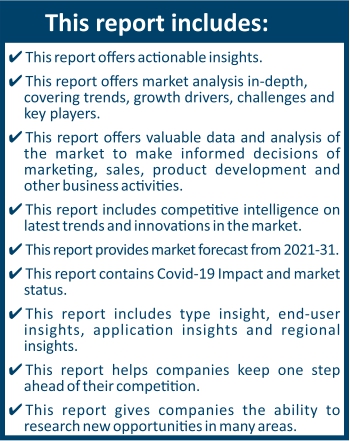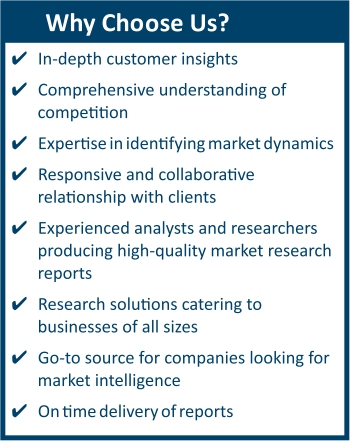 Frequently Asked Questions (FAQ) :
The global Lateral Hydraulic Damper market size projected to reach USD 3.7 billion by 2031.
The Lateral Hydraulic Damper market is growing at a CAGR of 6.7% during the projection period
Key companies covered in the Lateral Hydraulic Damper market are KYB Corporation, Monroe Shocks and Struts (Tenneco Inc.), ZF Friedrichshafen AG, Sachs Automotive (ZF Friedrichshafen AG), Continental AG, Tenneco Inc., Showa Corporation, AVS Technologies Inc.,BWI Group, and Mitsubishi Heavy Industries, Ltd., these companies