The global Kinesiology Tape market is expected to develop USD 436.42 million by 2028, at a compound annual increase in price (CAGR) of 9.11% throughout the forecast period.
Kinesiology tapes are short, flexible linen strips that is being used to treat sports and muscular injuries, as well as a range of inflammatory disorders that impair full movement. These are used to improve operational flexibility and to reduce discomfort and spasms
Covid-19 Impact & Market Status
The COVID-19 epidemic is an extraordinary public health risk that has had a substantial impact on the global sports medicine sector. The majority of biopharmaceutical firms were working hard to create vaccinations. Meanwhile, when every other business was faltering, the demand for kinesiology tape grew. It can be emphasized by the fact that individuals began to participate in numerous sporting activities, exposing themselves to more accidents. As a result, it has led to the growth of the kinesiology tape market.
Pre-cut tapes segment is going to propel the market
Pre-cut tape is becoming increasingly popular due to the decrease in time necessary to cut down Kinesiology tapes into pieces because they are previously cut and reshaped. With their growing popularity, pre-cut pieces in a range of widths and lengths have become more widely available. Kinesiology tape can successfully alleviate the physical pain despite the fact that it includes no drugs or topical chemicals. This is especially useful for pain caused by blistering injuries when the level of the pain is disproportionate to the degree of the damage. It decreases swelling and inflammation, hastens healing from bruises and contusions, and alleviates muscular spasms and cramping. Additionally, the growing senior population is a primary driver of industry growth. As the frequency of sprains and strains rises, so does the need for and adoption of pre-cut tapes.
North America to be the leader of Kinesiology Tape Market
North America is anticipated to show its dominance all across the world in the forthcoming years. The existence of significant competitors, the high frequency of accidents and muscular aches and cramps in the region and developed healthcare infrastructure all contribute to market growth. These are among the primary elements responsible for its enormous market share.
The population aged is predicted to expand, boosting the country's geriatric population and hence the market. Attractive efforts and a spike in the proportion of research collaborations are also predicted to fuel market expansion. Because of favourable healthcare regulations, a large percentage of people, and an established healthcare sector, the US has the largest share in this area.
Physiotherapists employ kinesiology taping to rectify patterns of movement, enhance lymph transfer and fluid flow, promote circulation, and improve flexibility.
Kinesio tapes are being used to relieve tendon discomfort and do not impede bodily movement. Many individuals are embracing an active lifestyle, which is increasing the incidence of small mishaps and the expansion of the Kinesio Tape sector. Such mishaps during training, sports, as well as other forms of exercise would enhance the usage of Kinesio tapes, resulting in market development. The kinesiology tape market is expected to be of worth USD 453.9 million at a CAGR of 10.7% during 2022-2029.
Kinesio tapes are used for a number of applications, such as physiotherapy, and pain management. The tapes are mostly utilized for rehabilitation since they provide more assistance than other cassettes. They are increasingly being used by older people who are in discomfort and require muscular assistance in the legs or hands. Athletes often use them to tighten muscles after an injury. Professional athletes frequently utilize them. They engage in frequent physical exercise, which causes muscular wear and strain. As a result, the popularity for Kinesio tape grows since it does not restrict their movement while simultaneously rehabilitating the muscle.
Moreover, assistance for painful muscles, swelling alleviation, and physical therapies are among the kinesiology tape qualities that drive market expansion. Treatment of ligaments strain, arthritis, and poor muscle tone or stiffness is some of the applications that would drive the kinesiology tape market expansion during the forthcoming years.
The kinesiology taping technique is distinct from sports stretching tape and the primitive taping technique. Athletics strapping tape is primarily used to tighten muscle action, and the result of this approach forms a connection across injured and damaged portions of the body, allowing athletes to undertake athletic motions while aiding an affected part of the body. The athletic tape is removed following the conclusion of the sporting event. The kinesiology tape is a flexible, stretchy cotton tape that may be stretched far further than its real length. Because the tape is very elastic, it shrinks after being stretched beyond its typical length, causing a tugging pressure on the skin. The elastic nature of kinesiology tape provides for a far larger range of motion than typical sports tape, and it may also be left on for extended durations before reapplication.
One of the primary factors responsible for the expansion of the kinesiology tape market is the rise in the incidence of muscular discomfort among the population as a result of minor injuries during sports throughout the world. The increased demand for pre-cut tapes, which minimize the time necessary to cut down Kinesio tapes into pieces since they are generally cut and pre-shaped, as well as the extensive accessibility of pre-cut tapes in a variety of sizes and lengths, are driving the expansion of the kinesiology tape market.
The popularization of kinesiology tapes is because of their effectiveness in alleviating both pain and other symptoms, particularly pain from blistering injuries where the level of the pain is out of proportionate to the seriousness of the damage, has influenced the kinesiology tape market. Furthermore, strong demand, particularly from the elderly, use for treating edema and discomfort, an increase in the geriatric population, and an increase in healthcare spending all benefit the kinesiology tape market. Furthermore, product improvements provide economic potential for kinesiology tape market participants.
Rising desire for versatile and easy-to-use therapeutic tape, as well as increased usage of kinesiology tape for musculoskeletal treatment, are developing trends driving kinesiology tape market expansion during the projected period. Furthermore, the rise in elderly population and frequent usage of tape in athletics and gymnastics as a result of an increase in minor sports injuries are two important drivers propelling the market expansion. Furthermore, rising awareness regarding physical limitations, together with expanding healthcare infrastructure, are projected to drive kinesiology market growth in the future.
Nonetheless, tight policies and guidelines governing patient rights, a lack of knowledge in developing nations, a scarcity of high-cost raw materials, and other issues are limiting the growth of the kinesiology tape sector in the foreseeable future. Furthermore, difficulties in obtaining copyrights by new market participants may impede the expansion of the kinesiology tape business.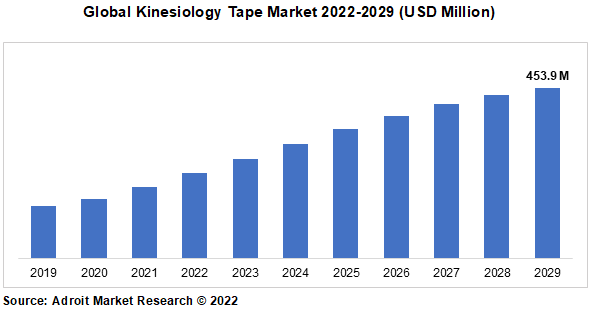 The key market players in the kinesiology tape market includes Compass Health Brand, Spidertech Inc., Nitto Denko Corporation, Atex Medical Co. Limited, Mueller Sports Medicine Inc, Pyramid Technologies, etc
Major Developments in the Kinesiology Tape Market: A Snapshot
In December 2021, KT Tape announced the resumption of its collaboration with England Athletics, under which KT Tape will distribute its products to the organization's registered athletes, coaches, and clubs.
A new relationship between KT Tape and USA Diving was established in March 2021, making KT Tape the official kinesiology tape sponsor of USA Diving's athletes and programmes and encouraging divers to compete for Olympic gold in Tokyo.
Key Segments of the Kinesiology Tape Market
Type Overview, 2022-2029 (USD Million)
Pre-Cut Strips
Single Roll
Multiple Rolls
Others
Application Overview, 2022-2029 (USD Million)
Rehabilitation
Pain Management
Others
End-Users Overview, 2022-2029 (USD Million)
Hospitals
Rehab Centres
Clinics
Others
Regional Overview, 2022-2029 (USD Million)
North America
Europe

UK
Germany
France
Rest of Europe

Asia Pacific

China
Japan
India
Rest of Asia Pacific

South America

Brazil
Mexico
Rest of South America

Middle East & Africa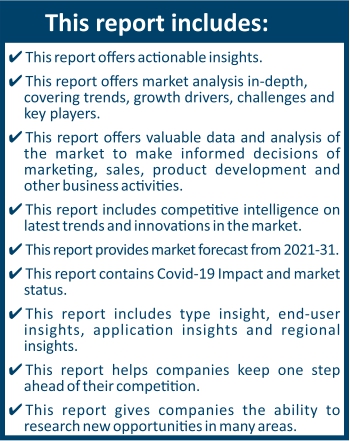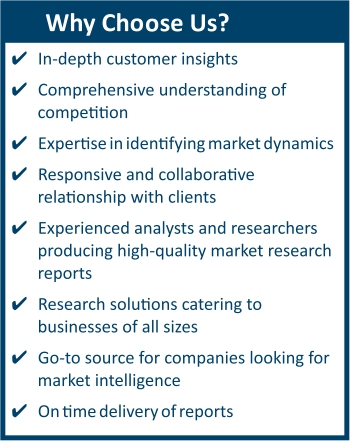 Frequently Asked Questions (FAQ) :
The market value of kinesiology tape market in 2029 was USD 453.9 million.
The kinesiology tape market is growing at a CAGR of 10.7% over the forecast period.
The application of the kinesiology tape market rehabilitation, pain management and other.
North America dominated the market for kinesiology tape market and accounted for the largest revenue share.
The top companies that hold the market share in kinesiology tape market are Compass Health Brand, Spidertech Inc., Nitto Denko Corporation, Atex Medical Co. Limited, Mueller Sports Medicine Inc, Pyramid Technologies & among others.