In the food processing industry, animal feed, pharmaceutical, and other industries, use of hydrocolloids such as carrageenan, alginate, and agar has risen. As a result, algae output has increased, but so has demand for kelp. Furthermore, many health advantages of consuming macro algal products are encouraging individuals to integrate kelp into their regular diet.
Covid-19 Impact & Market Status
The breakout of the COVID-19 pandemic has had a significant impact on practically every industry. As the COVID-19 virus grows, regulatory authorities throughout the world are being forced to implement strict lockdowns and travel bans. This has also had a substantial influence on the growth of the kelp product market.
The COVID-19 pandemic disrupted supply chain systems, since a number of fundamental equipment and consumables are significantly reliant on foreign imports. Moreover, the strict demand of governmental bodies to adhere to social distance requirements pushed businesses to function with a basic minimum of workers, resulting in a decline in the efficiency rate of the sectors. As a result, all of these problems harmed the kelp product business.
Human Consumption Gains The Highest Market Share Global Kelp Product Market
Kelp is commonly used as a natural human dietary source. On the basis of a population increase, rising disposable incomes, knowledge of good nutrition among health conscious customers, and rising demands for processed food items throughout the world, the Human Consumption sector accounts for the biggest revenue share of 81.43 percent in 2020. Due to cultural factors, the need for kelp for direct human consumption is greater in the Asia Pacific area, particularly in South Korea, China, and Japan.
Kelp is used in a variety of cuisine preparations, including topping, condiments, dressings, stews, and gravies. They are also used to impart the required texture in a variety of culinary products, including desserts, sweets, jams, jellies and ice - cream. As a result, rising kelp applications in the food and beverage sector are expected to drive market expansion in the future years.
Red Kelp Will Continue Propelling in the Global Kelp Product Market
In 2020, the red kelp product segment held the largest market, accounting for 52.6 percent of total sales. Because of its great functional qualities, the category is predicted to increase significantly throughout the projection period. They're grown as food crops, and they're high in vitamins and proteins. Red kelps are also a great source of two hydrocolloid, agar and kappa carrageenan, which are often utilised in culinary preparations.
The capacity of red algae to manage blood glucose levels and decrease bad cholesterol is one of its main advantages. It is also high in antioxidants, which helps to stimulate the immune system and hydrate the skin. These factors are expected to drive red kelp market expansion in the food and beverage as well as other application industries. Brown kelp is the second largest type of product, accounting for 45.92 percent of total sales in 2020. Because of its extensive use in sectors such as food and beverage, agricultural, and animal feed, the brown kelp segment is expected to rise rapidly throughout the projected period. Rising consumer health awareness, along with ongoing research and development operations aimed at generating new products, is likely to take the industry forward.
Liquid Kelp Posses The Largest Market Share In Global Kelp Product Market
In 2020, the liquid form of kelp accounted for 52.30 percent of total income. Plants receive nutrients, pottasium, vitamins, and enzymes from the liquid form of kelp, which is utilised as a foliar fertiliser spray and soil conditioner. These nutrients promote plant cell development, making plants bigger, healthier, and more disease resistant.
Because they include several growth regulators including cytokinins, gibberellins, auxin, betaines and macronutrients like K pottasium, Ca calcium, and P phosphorous, as well as micronutrients like Cu Copper, B Boron, Fe Iron, Zn ZInc, Mn Manganese, Co Cobalt, and Mo Molybdenum, kelp extracts are sold as inoculants and liquid fertilisers. Over the projected period, the liquid form segment is expected to rise due to rising quantity demanded as bio stimulants and pesticides for plant growth.
Due to distinct qualities such as extended shelf-life, reduced operational costs, and simpler transport and storage, which decreases the risk of spoiling, powdered-based kelp is expected to increase at a considerable rate of 10.7% throughout the projection period. Furthermore, increased demand for organic and non-GMO components, which are cost-effective in nature and have minimal toxicity in human consumption, is expected to boost the market for powdered form based kelp in the near future.
The Kelp Product Market is dominated by APAC, followed by Europe.
Asia Pacific led the market, accounting for 75.1 percent of the total revenue. China is the region's major producer of kelp, with South Korea, China and Japan among the region's top consumers. In these nations, kelp is among the most prominent marine plant foods, with historic uses in food and medicine. In the Asia Pacific, rising product consumption in the local food sector is expected to benefit the business. Over the projection period of 2020-2028, the Asia Pacific market is expected to develop at the quickest pace of 11.0 percent.
After Asia Pacific, Europe is one of the most important locations for kelp production and consumption worldwide. Ireland, Norway, and Spain are among of the region's most important kelp growers. Ireland dominates the European kelp export market, exporting to the majority of European nations, including the United Kingdom, France, and Germany.
Growing consumer awareness is driving interest in sustainable products. Kelp is a fast-growing, nutrient rich alga which absorbs carbon dioxide and releases oxygen, making it a sustainable crop.
The key factors such as
Kelp is a form of kelp or algae that grows near coastal fronts in shallow, nutrient-rich waters. Kelp grows nearly half a metre every day and can grow to a of 30 to 80 metres. It is mostly found in kelp forests. Kelp forest are considered to be among the world's most environmentally productive and biologically varied environments. Kelp is considered aa superfood because of its high vitamin content. Kelp is widely used for human consumption because of its great nutritional content and use in Japanese, Chinese and Korean cuisine. Increased consumer attention on a healthy lifestyle is driving the kelp industry.
Kelp is a multipurpose substance that is commonly used as a human meal. Kelp has a variety of health advantages due to its high content of vitamins, minerals, and fibre, all of which are required to raise to the worldwide kelp market's rise in the coming years. Improves metabolic function, increases the energy balance in the bloodstream, reduces hair loss, and promotes bone formation, among other health advantages.
The growing application and use of kelp in the food industry is driving the market. Kelp is popular in Japanese and Chinese cooking. Consumers' increased business travel has resulted in a rise in need for kelp in international cuisines, and so kelp's increasing usage in the food sector is likely to fuel market expansion.
A latest craze in the kelp market is the increased use of kelp in the beauty and pharmaceutical industries. One of the constraining considerations for health conscious customers is the adverse effects of excessive kelp intake.
Kelp products are a good source of iodine, which really is hard to come by in other foods or substances. Furthermore, controlling the levels of estradiol and oestrogen inside the human body is critical. The usage of kelp derivatives and isolates increases satiety, lowering postprandial glucose and fat absorption rates in humans, which aids in the creation of anti-obesity meals. Kelp products are used as both food and additives because of their antimicrobial characteristics, which help to preserve meals.
However, the high cost of production and pricncipal difficulties that lie in cultivation and management is likely to limit the production of kelp products. This is further projected to hamper the global kelp products market.
However, growing demnd for kelp products in cosmetics industry which gives significant profits, additive as an animal feed, rapid expansion of kelp farmimg, increasing production for commercial harvesting for use in food and other industries is anticipated to be a growth opportunity to the global kelp products market.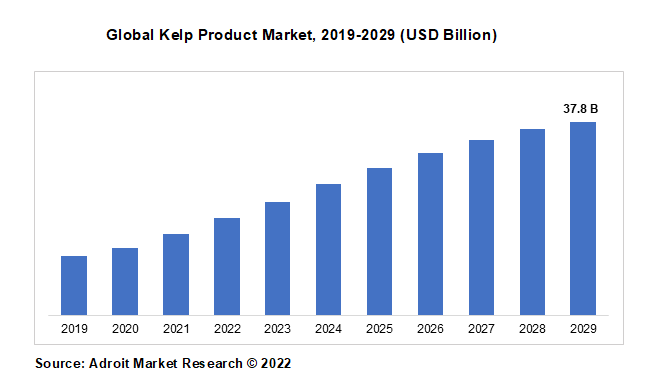 Some of the key players operating in the global kelp product market are Compo GmbH & Co. KG., Main Coast Sea Vegetables, Acadian SeaPlants Limited, Atlantic Holdfast Kelp Company, Biostadt India Limited, Roullier Group, E.I. Du Pont de Nemours and Company, Cargill, Seasol International, Smart Organic AD, and North America Kelp among others.
Latest Innovation in the Global Kelp Products Market: A Snapshot
Cargill introduces kelp powder in response to customer demand for label friendly ingredients. With Cargill's new label friendly WavePure® kelp powder, food producers can provide customers with the rich eating experience they demand. Cargill is the first to make substantial, commercial scale amounts of such a familiar and versatile component available to its European consumers, as it is made from local seaweed and acquired without chemical alteration.
On World Oceans Day, DuPont Nutrition and Health (DuPont N&H), one of the world's major consumers of kelp, announced the first sustainable seaweed programme designed exclusively for the hydrocolloid sector. It was a unique new kelp initiative developed in partnership with the New England Aquarium's Anderson Cabot Centre for Ocean Life that would lead kelp producers and harvesters toward more sustainable methods.
Kelp Product Market Scope
| | |
| --- | --- |
| Metrics | Details |
| Base Year | 2020 |
| Historic Data | 2018-2019 |
| Forecast Period | 2021-2028 |
| Study Period | 2018-2028 |
| Forecast Unit | Value (USD) |
| Revenue forecast in 2028 | USD 37.8 billion |
| Growth Rate | CAGR of 10.8 % during 2021-2028 |
| Segment Covered | Type, Application, Form, Regions |
| Regions Covered | North America, Europe, Asia Pacific, Middle East and Africa, South America |
| Key Players Profiled | Compo GmbH & Co. KG., Main Coast Sea Vegetables, Acadian SeaPlants Limited, Atlantic Holdfast Kelp Company, Biostadt India Limited, Roullier Group, E.I. Du Pont de Nemours and Company, Cargill, Seasol International, Smart Organic AD, and North America Kelp among others. |
Key Segments of the Global Kelp Product Market
Application Overview, 2019-2029 (USD Billion)
Agriculture
Animal Feed
Human Consumption
Others
Type, 2019-2029 (USD Billion)
Brown Kelp
Red Kelp
Green Kelp
Form, 2019 – 2029 (USD Billion)
Regional Overview, 2019-2029 (USD Billion)
North America
Europe
Germany
France
UK
Rest of Europe
Asia Pacific
China
India
Japan
Rest of Asia Pacific
South America
Mexico
Brazil
Rest of South America
Middle East and South Africa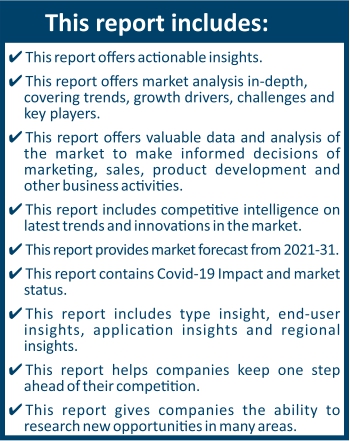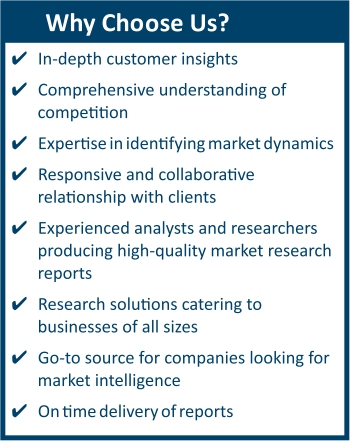 Frequently Asked Questions (FAQ) :
The market value of kelp product market in 2029 was USD 37.8 billion.
The kelp product market is growing at a CAGR of 10.8% over the forecast period.
The application of the kelp product market agriculture, animal feed, human consumption and other.
Asia Pacific region dominated the market for kelp product market and accounted for the largest revenue share.
The top companies that hold the market share in kelp product market are Compo GmbH & Co. KG., Main Coast Sea Vegetables, Acadian SeaPlants Limited, Atlantic Holdfast Kelp Company, Biostadt India Limited, Roullier Group, E.I. Du Pont de Nemours and Company, Cargill, Seasol International & among others.