The ability to efficiently maintain and manage an organization's network infrastructure will lead to the subsequent growth of the global IT operations management market. Effectiveness towards smooth service delivery along with troubleshooting technical obstacles will drive the global market growth
IT operations management allows businesses to streamline the security and support for internal and external network users. Proper implementation of IT operation management allows better network infrastructure to fulfil business objectives. Accurate operations management estimation and execution can help minimize IT costs and reduce errors. The involvement of assured quality and support for hardware and software will serve as a crucial factor for the growth of the global IT operations management market. Businesses can utilize IT operations management to ensure customer satisfaction with products and services. The ability to direct information technology technicians and monitor information technology systems and servers will immensely drive the global IT operations market. Moreover, businesses can use IT operations to manage vendor negotiations and ensure the smooth resolution of helpdesk escalations. IT operations management enables the reduction of operations expenses for a business and maximizes the efficiency and agility of information technology operations.
The modernized form of IT operations allows efficient transition of companies and helps to compete in the global landscape. Likewise, the implementation of IT operations reduces IT complexity and maximizes visibility across IT infrastructure. The ability to fuel the profitability and productivity of companies will serve as a crucial factor for the growth of the global IT operations management market. The advancements made in artificial intelligence will foster IT operations management growth and improve business productivity.
Furthermore, the ability to build cost-efficient business solutions will significantly drive the growth of the global IT operations management market. IT operation is capable of providing instant support to devices and helpdesk for the smooth functioning of business essentials. The automated creation and routing of critical issues to relevant agents will benefit businesses and increase demand for the global market. The maximization of operational efficiency to help manage critical incidents will foster the growth of IT operations management. The ability to form a seamless workflow across different tools and applications will increase business productivity.
IT operations management offers accurate functionality of network performance and risk management. Businesses utilize IT operations management for providing access to authorised users and managing access protocols. The effective maintenance of network security and regulation of traffic will immensely contribute to the growth of the global IT operations management market. Owing to support and helpdesk operations, IT operation enables businesses to maximise network stability. The smooth upgradation and patching of servers and cloud-based infrastructure will benefit the growth of the global IT operations management market.
By 2031, the global market for IT operations management is anticipated to reach a value of USD 62.0 billion with a predicted CAGR of 9.25%.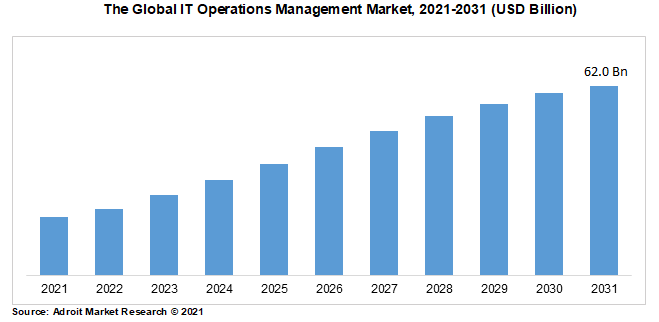 Despite having many advantages, a few things could hinder the global market for IT operation management from expanding. Small businesses may suffer due to the high expenses of IT operations management. Inadequate training or knowledge may lead to anomalies in the business functionalities. IT operations management requires regular advancement toward modernised technology which may otherwise lead to inaccurate prediction and management. Inefficiency in measuring device performance will lead to downtime and cause major device health issues degrading the IT operations management. High network traffic and low network bandwidth can lead to severe issues and create inadequate problems for end-users. Cyber attacks involving unauthorised access to IP addresses can lead to multi-billion losses for businesses. IT operations management performance can be affected due to slow server response time and traffic spikes. There should be continuous coordination between several components of the organization. The lack of a dedicated information technology team to manage the operations may lead to inefficient operations management. IT operations management without in-house technology support may not cover all technical aspects of a business.
Segment Analysis
Collaboration with artificial intelligence will fuel the global market demand
The advancements made in the artificial intelligence segment help to achieve automated task completion without the requirement to hire manual resources. The advent of artificial intelligence benefits businesses to implement a wide range of services for smooth IT operations. The maximized adoption of the internet of things and artificial intelligence will enable businesses to grow demand for efficient information technology operations management.
Increased adoption of cloud services will fuel the global market
Cloud-based tools and applications enable businesses to minimize information technology infrastructure costs by lowering the number of resources required. The ability to maximize business stability and provide enhanced scalability will drive the demand for the global IT operations management market.
North America will dominate the global market share
The presence of key market players will foster the demand for IT operations management across several business segments. The development of core technologies along with advancements made will contribute to the market growth in this region.
Covid 19 Impact and market status
Despite negatively impacting all segments, the covid 19 pandemic was not able to hamper the growth of the IT operations management market. The cloud-based deployment model enabled businesses to implement operations management efficiently across the IT teams in the organization.
Global IT Operations Management Market 2019-2029 (USD Billion)
The key market players in the IT operations management segment are IBM Corporation, Microsoft Corporation, Oracle Corporation, SAP SE, Splunk, Hewlett Packard Enterprise, Glassbeam, ExtraHop Networks, BMC Software and Aptio. The major market players have implemented artificial intelligence to advance IT operations management and ensure smooth business operations throughout. The increase in market investments made by the top market players will foster the global IT operations management market growth.
Technical Developments
• Expansion of IT operations management portfolio was made by SolarWinds to support information technology professionals in hybrid environments.
• LUMA 2.5 was launched by Serviceaide in September 2020 to serve as a support for IT and enterprise service management.
IT Operations Management Market Scope
| | |
| --- | --- |
| Metrics | Details |
| Base Year | 2022 |
| Historic Data | 2021-2022 |
| Forecast Period | 2022-2031 |
| Study Period | 2021-2031 |
| Forecast Unit | Value (USD) |
| Revenue forecast in 2031 | USD 62.0 billion |
| Growth Rate | CAGR of 9.25% during 2022-2031 |
| Segment Covered | by Type, By Application, Regions |
| Regions Covered | North America, Europe, Asia Pacific, South America, Middle East and Africa |
| Key Players Profiled | IBM Corporation, Microsoft Corporation, Oracle Corporation, SAP SE, Splunk, Hewlett Packard Enterprise, Glassbeam, ExtraHop Networks, BMC Software and Aptio |
Key Segments of the Global IT Operations Management Market
Application Overview, 2021-2031 (USD Billion)
Root Cause Analytics

Predictive Analytics

Visual Analytics

Behaviour Analytics
Deployment Overview, 2021-2031 (USD Billion)
Service Type Overview, 2021-2031 (USD Billion)
Cloud Management

Event Management

Service Management

Configuration Automation and Discovery

Cloud Provisioning

IT Automation and Workload

Asset Performance Management

Log Management

Security Management

Network Management
End-Use Overview, 2021-2031 (USD Billion)
Education

Manufacturing

Healthcare

BFSI

Aerospace

Government

Telecom and IT

Energy Utilities

Government
Regional Overview, 2021-2031 (USD Billion)
North America
Europe
Germany

France

UK

Rest of Europe
Asia Pacific
China

India

Japan

Rest of Asia Pacific
South America
Mexico

Brazil

Rest of South America
Middle East and South Africa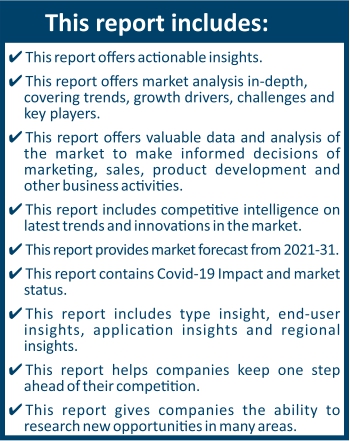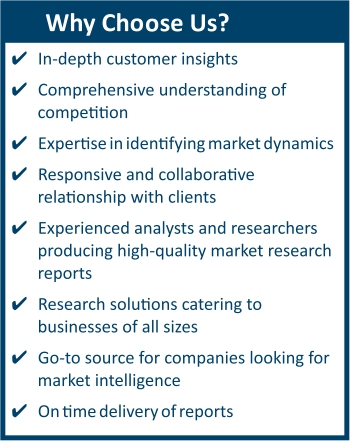 Frequently Asked Questions (FAQ) :
IT Operations Management Market is projected to reach USD 62.0 billion by 2031, growing at a CAGR of 9.25%
The IT Operations Management market is estimated to grow at a CAGR of 9.25%
The top leaders analyzed in the IT Operations Management market study are IBM Corporation, Microsoft Corporation, Oracle Corporation, SAP SE, Splunk, Hewlett Packard Enterprise, Glassbeam, ExtraHop Networks, BMC Software and Aptio