The IoT in Education market is expected to grow at a CAGR of 20.06% to reach US$ 38.78 Bn in 2029.
Major growth factors for the market include increased use of connected devices in the education institutions, rapid adoption of eLearning, and availability of the cloud-based solution.
The IoT market in education is driven by a variety of factors including, low-cost devices, an increase in internet penetration, and initiatives in the education sector by several governments. In addition to the increased need for students to get information anywhere and at any given time and the growing need to disseminate information, IoT-enabled solutions in the education sector have become more used. However, insufficient IT infrastructure and lack of funds available for IoT integration in some countries can impede market development.
The demand for IoT solutions increased government investigations in IoT technology and increasing technological advances, and at the same time, inadequate IT infrastructure would hinder the market are the main drivers of IoT in the educational market. Data infringement and malware attacks are major problems that hamper the market-facing technical infrastructure. Confidential records from institutes and universities are more vulnerable to data breaches such as the identity of the student, parent financial details, and other personal information. Bank information and access to identity are the key violations by hackers who make fraud calls, fraud emails, and unregistered applications. Phishing scams are targeted at educational and critical functions conducted in schools and institutes. As a result of the limited data control, the increased threats posed by third parties, such as company, transactional, compliance, and regulation, affect market growth.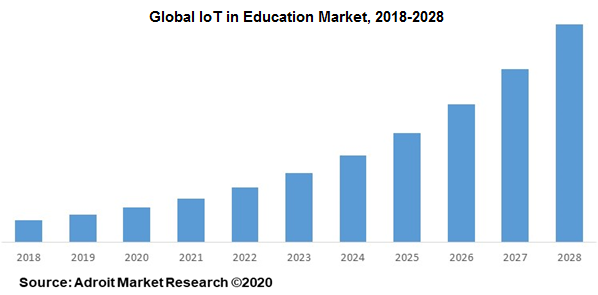 The increasing use of virtual reality in education for enhanced education allows students to carry out practical activities. The introduction of IoT integrated AR and VR in healthcare institutions lets physicians carry out practical operations and understand the topic better. Besides, the IoT advanced technology is used for productive learning in virtual classrooms of schools and universities. In the education sector, IoT is driving the emergence of IoT-based gesture solutions for advanced learning. As a result of the increased adoption of IoT in the learning sector, for example, Google is introducing gesture enhanced IoT for improved understanding of the matter.
IoT in Education Market Scope
| | |
| --- | --- |
| Metrics | Details |
| Base Year | 2021 |
| Historic Data | 2019-2020 |
| Forecast Period | 2022-2029 |
| Study Period | 2019-2029 |
| Forecast Unit | Value (USD) |
| Revenue forecast in 2029 | US$ 38.78 Bn |
| Growth Rate | CAGR of 20.06 % during 2021-2029 |
| Segment Covered | by Product, by Learning Mode, by End User, Regions |
| Regions Covered | North America, Europe, Asia Pacific, South America, Middle East and Africa |
| Key Players Profiled | Construkts Inc., DXTR Labs, Vai Kai, iYouth Lab, Mirai Mobile Technologies, EZ-Robot Inc, MUV Interactive, Novel Effect, SAM Labs, EZ-Robot Inc, MUV Interactive, Bosch Software Innovation, ThingWorx, Verizon Communications, Oracle, Fluxgen Technologies, SenseGiz, Altiux Innovations, Honeywell |

Key Segments of the Global IoT in Education Market
Product Product Type Overview, 2018-2028 (USD Million)
Hardware
Software
Services
Application Overview, 2018-2028 (USD Million)
Learning Management System
Lecture Capture Solution
Big Data Analytics
Academic Devices
Regional Overview, 2018-2028 (USD Billion)
North America
Europe

UK
Germany
France
Rest of Europe

Asia Pacific

China
Japan
India
Rest of Asia-Pacific

Middle East and Africa

UAE
South Africa
Rest of Middle East and Africa
South America

Brazil
Rest of South America
Reasons for the study
The purpose of the study is to give an exhaustive outlook of the global IoT in Education Market. Benchmark yourself against the rest of the market.
Ensure you remain competitive as innovations by existing key players to boost the market.
What does the report include?
The study on the global IoT in Education Market includes qualitative factors such as drivers, restraints, and opportunities
The study covers the competitive landscape of existing/prospective players in the IoT in Education industry and their strategic initiatives for the product development
The study covers a qualitative and quantitative analysis of the market segmented based on Product Type, organization size, Application, and End User. Moreover, the study provides similar information for the key geographies.
Actual market sizes and forecasts have been provided for all the above-mentioned segments.
Who should buy this report?
This study is suitable for industry participants and stakeholders in the global IoT in Education Market. The report will benefit:
Every stakeholder involved in the IoT in Education Market.
Managers within the Tech companies looking to publish recent and forecasted statistics about the global IoT in Education Market.
Government organizations, regulatory authorities, policymakers, and organizations looking for investments in trends of global IoT in Education Market.
Analysts, researchers, educators, strategy managers, and academic institutions looking for insights into the market to determine future strategies.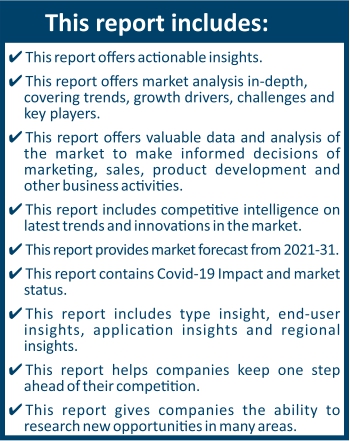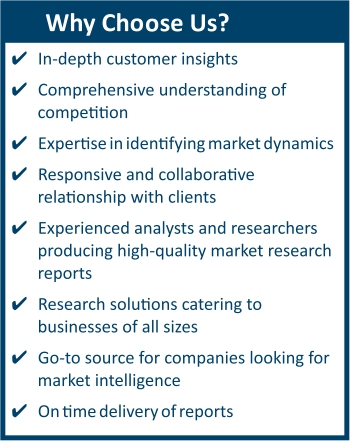 Frequently Asked Questions (FAQ) :
the iot in education market is growing at a CAGR of 20.2% during the forecast period
The Global iot in education Market is Segmented on the basis of Product Type,Application,End Users,Regions.
North America dominated the market for iot in education market and accounted for the largest revenue share
The creation of highly related digital learning solutions, cheap devices, and strong government policies in different regions has led to the IoT in education markets, promoting the use of IoT-enabled devices in schools and colleges. Successful inclusion of digital learning technology enables information to flow seamlessly and allows businesses to develop a comprehensive Big Data repository. Rising student knowledge demand and the need to disseminate information have led to IoT providing solutions to the education industry's top priorities. However, it is projected that the IoT infrastructure and services funding is increasingly fragile to safeguard and secure IoT privacy and that complications will impede the education sector's growth in the next few years.
Application Segment
Educational organizations use different applications to boost the quality of learning and to enhance the connexion between educators and students. In turn, demand for the application management solution has been significantly increased. The solution helps schools handle their diverse applications. The purpose of the app management solution is for developers and business customers to improve cost and feasibility in developing apps to collect and manage data generated from a broad range of connected endpoints. Education organizations easily integrate different applications for efficient management and operations to improve demand for the solution for application management.
The global demand for IoT in Education is split geographically into North America, Asia Pacific, Europe, South America, and the Middle East & Africa. North America will be dominating the overall market growth over the forecast period. Increasing the demand for real-time schools, colleges, and university supervision to build technology for sophisticated and safer campuses is projected to increase the educational markets in the Asia Pacific IoT.
To enhance campus security, technical companies provide face recognition and management of digital data. To control students' movement on and off campuses, parents and educational institutions use the real-time monitoring solution. The investment is projected to increase the supply of IoT in Asia in technical infrastructure growth. Increased investments in IoT R&D and government activities, such as smart town plans, are improving the Asia Pacific.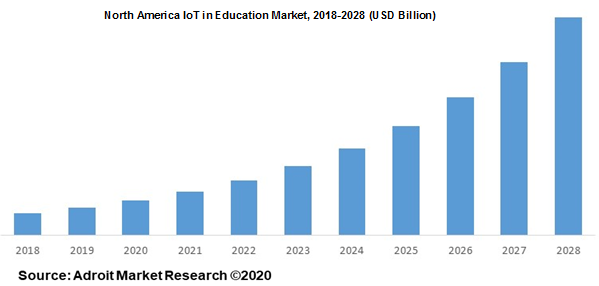 The global market for IoT in education is made up of a large number of influential players. Market players such as Google Inc., Educomp Solution, Intel Corporation, IPEVO Inc., Adobe Systems, IBM Corporation, TopScan LLC (Scanmarker), Sonic Foundry Inc., ARM Ltd., SMART Technologies, Cisco Systems dominate the worldwide emotion analysis market.