Increasing internet penetration and IoT adoption is anticipated to boost the internet browser market.
Covid-19 impact and market status
The onset of the pandemic affected many industries drastically and led to impostiton of strict lockdown restrictions. The internet usage increased by a large amount any people turned to online platforms for entertainment purposes. As organizations adopted work from home culture, internet usage by the employees further shot up as everything was conducted on an online platform. Video calls increased as individuals tried connecting to their loved ones living in different cities or countries. Online classes, increase use of various entertainment platforms such as Netflix, Hotstar etc., increase in the use of e-commerce platforms etc. have all led to an increase in the usage of internet during the covid-19 era.
APAC region to propel the growth of the Internet Browser Market
Chrome has the highest market share in APAC region, with a total of 71.22% of market in the year 2021. Chrome has the largest market share in most of the APAC countries such as India and China. The total market share of Chrome in China is 42.72% contributing majorly to the global internet browser market. Google Chrome to continue holding the largest market share
The Internet Browser Market is expected to reach US$ 326.06 billion during the forecast period at a 17.33% CAGR.
Chrome had over 60% market share globally in December, 2021. It is expected to hold the market share during the forecast period. Google chrome has the highest download rate.
Increasing disposable income Increasing usage and penetration of internet and growing amount of connected devices is expected to propel the demand for browsing thereby leading to the growth of the market.
Owing to benefits such as fastest load time for websites, latest version of world wide web for displaying websites, support to latest technology, easier integration of G-mail and other products of Google, the internet browser is experiencing rapid adoption thus fostering progress in global internet browser market.
Furthermore, internet browser offers cross-platform compatibility as opposed to traditional software and easy integration with operating systems such as Mac OS, Linux, and Windows. Internet browser provide easy manageability than traditional software, minimal end user requirements, simple maintenance, regular updations, easy client updates deployment, manageability, and cross-platform support. They are also ideal to use where the data is remote to the user and the bandwidth is limited.
An internet browser is a web browser that allows users to view webpages on their device. It is a gateway of the internet that translates the code use for creating websites into text and graphics.
In larger and more complex systems data is moved around and stored in separate data sources and systems. The internet browser provides system and process consolidation. Web browsers allow advanced security to data and back-end servers. Internet browsers allow cost manageability due to better support and maintenance, simple architecture, and lower end user requirements.
The Internet Browser Market is one of the largest consumer markets in IT industry. One of the major drivers for growth is the trend of Internet becoming more crucial to people's lives globally. Regions which did not have access to internet are now being connected because of an increased penetration of the internet browser market. In regions where the Internet is already established for a while, people are using internet connected devices more and more.
Additionally, the number of devices capable of running a web browser is also increasing - all kinds of devices and IoT gadgets can be used now to browse the Internet. These days' web browsers already come pre-installed on devices. Therefore, companies that sell both devices and also have their own web browsers are able to retain large web browser markets. For example, Apple's Safari and Google Chrome.
Technology advancements, increasing adoption of integrated systems has boosted the internet browsers demand for advanced protection against malware like ransomware, and other cyber based attacks. However, some key factors like increasing data security and privacy concerns due to increasing incidences of data breaches is likely to hamper the global internet browser market.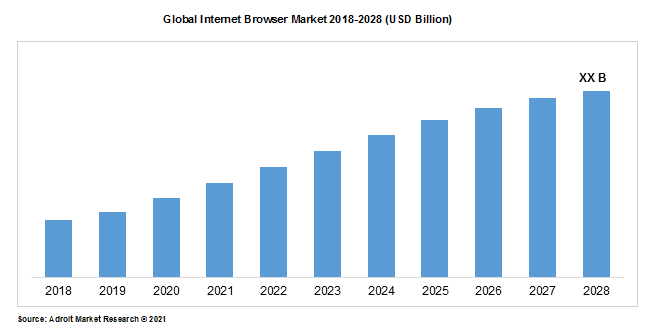 The major players global internet browser market are Authentic8, Bromium, Light Point Security, Menlo Security, Cigloo, Bomgar, Tucloud Federal, Cyberinc, Ericom Software, Citrix Systems, Symantec, Opera, Internet Explorer (Windows), UC Browser, Safari (Apple), Firefox, and Google Chrome.
Recent innovations in the Internet Browser market: A Snapshot
Recent browser usage trends suggests the way for paid browsers. Most internet activities may shift into premium browsing services. Google's feature to block ad-blockers in Chrome suggests a planned effort for pay-for-play browsing. This suggests that the tech giant intends to motivate free Chrome users to upgrade to its G Suite premium services, such as Chrome Enterprise. Chrome continues to be the industry leader.
Firefox will share its revenues with the sites that viewers visit. This way, such sites can continue focusing on bringing better quality content rather than distracting readers with ads. While its ad-free premium browser will be $4.99 a month, Mozilla will be using a more pro-user approach rather than removing popular features to boost subscriptions, the company will be expanding its premium browsing features.
Google has recently announced that it plans to initiate changes in its Chrome browser to prevent third-party extensions from blocking ads. Premium Chrome and G Suite users will not be affected.
Opera is leading the way in browser speed development. The Opera 43 was designed using machine learning technology to become a "smarter" browser. Over time, it learns what websites are attached to URL inputs, which significantly boosts page loading.
Internet Browser Market Scope
| | |
| --- | --- |
| Metrics | Details |
| Base Year | 2020 |
| Historic Data | 2018-2019 |
| Forecast Period | 2021-2026 |
| Study Period | 2016-2026 |
| Forecast Unit | Value (USD) |
| Revenue forecast in 2026 | US$ 326.06 billion |
| Growth Rate | CAGR of 17.33 % during 2021-2026 |
| Segment Covered | by Type, Application, Regions |
| Regions Covered | North America, Europe, Asia Pacific, Middle East and Africa, South America |
| Key Players Profiled | Google, Mozilla Firefox, Apple, Alibaba, Microsoft, Opera Software, Symantec, Citrix, Ericom Software, Cyberinc, tuCloud Federal, BeyondTrust, Cigloo, Menlo Security, Light Point Security, HP, Authentic8 |
Key segments of the Global Internet Browser Market
Applications Overview, 2018-2028 (USD Billion)
Type Overview, 2018-2028 (USD Billion)
Remote browser
Web browser
Regional Overview, 2018-2028 (USD Billion)
North America
Europe
Germany
France
UK
Rest of Europe
Asia Pacific
China
India
Japan
Rest of Asia Pacific
South America
Mexico
Brazil
Rest of South America
Middle East and South Africa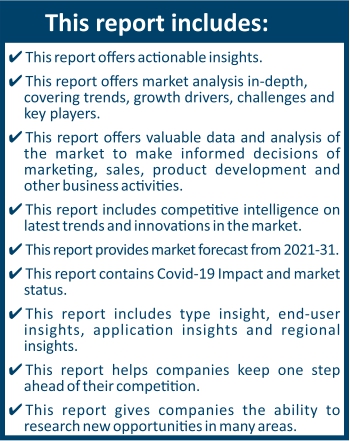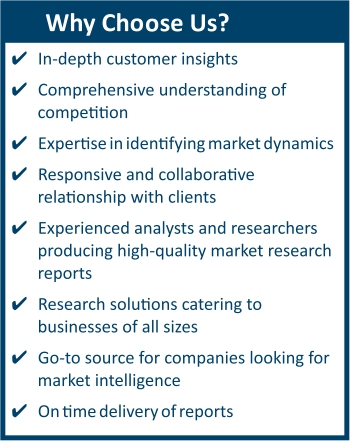 Frequently Asked Questions (FAQ) :
The base year for the report is 2020 in internet browser market.
The application of the internet browser market are PC, mobile phone & others.
APAC dominated the market for internet browser and accounted for the largest revenue share.
The top companies that hold the market share in internet browser market are Authentic8, Bromium, Light Point Security, Menlo Security, Cigloo, Bomgar, Tucloud Federal, Cyberinc, Ericom Software, Citrix Systems, Symantec, Opera, Internet Explorer (Windows), UC Browser, Safari (Apple), Firefox, and Google Chrome.
To get latest version of internet browser market report can be obtained on demand from the website.