The global intercom devices market was valued at USD 2.41 billion in 2017 and is estimated to illustrate noteworthy growth over the coming years. Increase in the demand for safety and security is the key factor to augment the growth of the global intercom devices market during the forecast period.
Use of intercoms has evolved over the past few years. They were earlier used for telephonic communications within a limited space. With the evolution of technology, the intercoms have undergone significant modifications, with the addition of video configurations, IP based systems, and several other features.
The size of the global market for Intercom Devices is expected to reach US$ 444 bn 2032, expanding at a compound annual growth rate (CAGR) of 6.8%.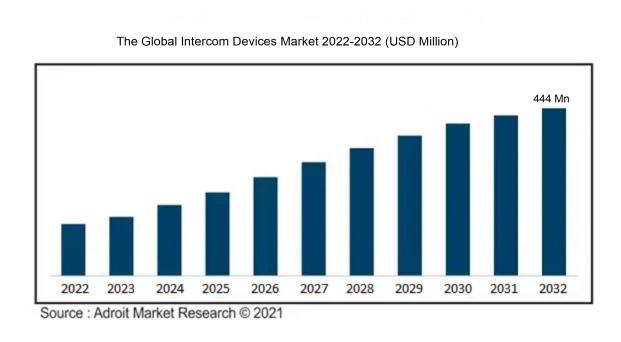 Incorporation of information technology in safety, security, and surveillance has tremendously created an impact the growth of key hardware products such as cameras, storage media, monitoring devices, and intercom devices over the recent years. With the increasing theft and criminal activities across the globe coupled with increased investments for safety and security has propelled the demand for hardware products especially intercom devices. Intercom devices provide are widely used in commercial and government verticals such as educational institutes, airports, offices, and shopping malls.
Intercom Devices Market Scope
Metrics

Details

Base Year

2022

Historic Data

2022-2023

Forecast Period

2022-2032

Study Period

2022-2032

Forecast Unit

Value (USD)

Revenue forecast in 2032

US$ 444 Million

Growth Rate

CAGR of 6.8 % during 2022-2032

Segment Covered

Product Type, Technology, Vertical

, Regions

Regions Covered

North America, Europe, Asia Pacific, South America, Middle East and Africa

Key Players Profiled

Aiphone, Panasonic, Honeywell, Entryvue, Legrand, Fermax, Samsung, TCS, Urmet
Key Segments of the Global Intercom Devices Market
Product Type Overview (USD Billion)
Technology Overview, (USD Billion)
Vertical Overview, (USD Billion)
Government
Residential
Commercial
Regional Overview, (USD Billion)
North America
Europe
Asia Pacific

China
Japan
India
South Korea

South America
Middle East & Africa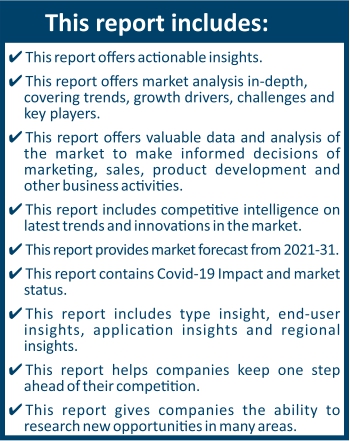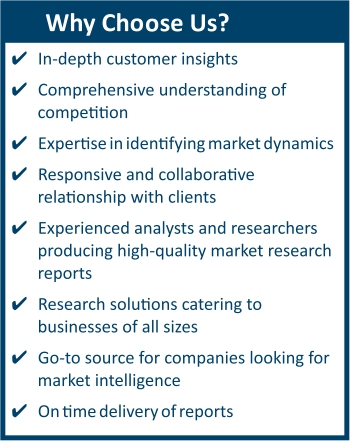 Frequently Asked Questions (FAQ) :
The intercom devices market is growing at a CAGR of 9.2% over the forecast period.
Asia Pacific dominated the market for intercom devices market and accounted for the largest revenue share.
The top companies that hold the market share in intercom devices market are Aiphone Corporation, LEGRAND SA, Commax Co. Ltd, Nidac Security Pty. Ltd., Easygates, LLC, and Hangzhou Hikvision Digital Technology Company & among others.
To get latest version of intercom devices market report can be obtained on demand from the website.
The Global intercom devices Market is Segmented on the basis of Product Type, Technology, Vertical, Regions, And Geography.
The factors that are expected to drive the global intercom devices market are industrial development of the safety & security, video surveillance, home automation sectors, and smart buildings.
Home automation allows the user to manage household i.e. lighting, heating & cooling, security systems, locks, etc. through the use of connected devices. This helps the user in the elimination of manual controls to a desirable extent and also enables in keeping a track of visitors through video-enabled communication devices. Tasks are executed in real time based on preset schedules, and sensory data, thus leading to less worry, and a convenient and safe lifestyle.
The Internet of Things (IoT) is intensely embedding computing and changing industries and into an ever-growing range of physical assets. This perspective applies to the surveillance industry as well. Associated intercom device applications can utilize machine-to-machine and sensor technologies to improve security in multiple locations. For instance, if an intruder attempts to enter surrounding, intelligent cameras can be atomized to sense the presence and begin capturing every movement. The sensors in these linked cameras can then activate external doors to lock and send signals to security managers.
Value Chain Analysis of Intercom Devices
The industry structure of intercom devices involves various operations and activities including components supply, product assembling, product distribution & marketing and end-uses or verticals. Additionally, the value chain also represents the key players throughout the various process and activities from component suppliers to distributors of the product.
The manufacturing of intercom devices involves assembling of various complex parts with a certain accuracy. IP cameras, transistors, PCB boards, SD cards, wire & cables are key components of the product. The alignment and arrangement of these parts require high precision through the use of proper tooling. Also, tangents, mates, edges, and angles are the other essential parameters under consideration during the assembly of the products. Software installation and usage of internet protocol (IP) products play a major role in enhancing the overall functionality of the product. Some of the companies, namely Dallmeier, Axis Communications AB, ADI Global Distributions, Vintron Informatics Ltd, etc. are a few of the global component suppliers for manufacturing intercom devices.
Aiphone Corporation, Hangzhou Hikvision Digital Technology Co., Ltd., Dahua Technology Co. Ltd, and Panasonic Corporation are a few of the global manufacturers of intercom devices. Based on product type, intercom devices are categorized as audio and video in the global market. Moreover, analog-based and IP based are the key technology segments of the global intercom devices industry. Hangzhou Hikvision Digital Technology Co., Ltd., offers analog-based video intercom devices that offer features such as hands-free communication, two door stations support, self-adaptive IR supplement, one-touch calling, pinhole camera, etc.
Various modes of distribution viz. supply agreement, direct selling, and selling through online portals, are preferred for the supply of intercom devices across the globe. Prama Hikvision, Matrix Comsec, and Secure Eye are some of the key product suppliers in the global market. The high degree of forwarding integration exists in the global intercom devices market. Key players such as Dahua Technologies Co., Ltd, Panasonic Corporation, Aiphone Corporation, and Legrand S.A. have integrated business operations that include manufacturing and distribution of intercoms. Furthermore, a moderate degree of backward integration exists as key players such as Honeywell Industries are into components manufacturing.
Intercom devices have myriad usage in various government, commercial and residential verticals. Growing awareness of safety and security and the rising trend of modern communication has enabled the usage of intercom devices in these verticals. Walkie talkie in sports industries, audio intercoms in workplace communication and video intercoms in houses and commercial complexes are some of the key application areas. The defense followed by banking & finance, tours & travels, and logistics is some of the commercial uses of the product.
Based on the product type, the market can be categorized as audio and video intercoms. Video intercom devices are projected to gain traction over the forecast period owing to its advanced features which serve a wide range of service. On the basis of technology, the market has been segmented as analog and IP based technology in which IP technology is anticipated to lead the market owing to its benefits such as ease of configuration, paging capability, enhanced security, real-time monitoring among several others.
Audio intercoms were among the first technology applied in intercom system technology. An intercom system uses the full-duplex mode of transfer which allows data to be transmitted in a bidirectional mode at the same time. Therefore, intercoms are widely used as telephones and door communication system for widely suitable for commercial and residential spaces. An audio intercom system consists of the input-output interface, connectors (for wired communication), automated switchovers and other support devices for connection setup. Analog communication is widely applied for intercom systems.
Analog communication uses hybrid termination circuit for carrying out the transmission of signals over a specified mode of communication or cable. Over time, analog communication technology has been widely accepted for the telephone system and intercom system owing to their technological simplicity. However, with the growing trend and wide accessibility of digital communication systems, audio intercom systems are also being modified with features such as wireless intercoms, enhanced connectivity configurations, reduction of hardware devices for storage among others.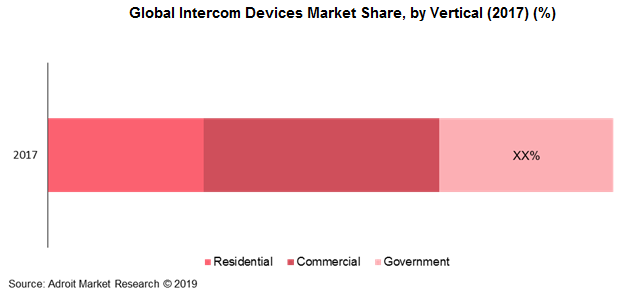 Residential, commercial and government are the key vertical segments of the global industry. Commercial segment is anticipated to maintain its dominance owing to its usage for providing information, announcements, staff management, and communication in commercial spaces.
Intercoms are widely popular in residential spaces since it was adopted to provide an effective mode of communication between rooms, gate, and other spaces. Intercom devices have gained popularity with the adoption of advanced security devices. As it has been evident that the rate of urbanization has grown significantly since the past few years, a number of people have moved to urban areas leading to an increase in population in the city. As people live in more proximity to each other, be it in a high-rise building or a complex, concerns regarding the protection of home, residents, and belongings has raised significantly. Also, increasing crime rate across the globe is also a key factor to increase the demand for intercoms.
As the intercom technology has further advanced with the integration of devices such as camera units, access control, and other devices, security surveillance has become more efficient. Nowadays, automation control devices provide features such as face recognition, assimilation with other security devices, fire stair, and others. Integration of these advanced features is estimated to propel the demand for intercom devices in the residential segment.
North America is anticipated to dominate the global intercom devices market due to a high focus on safety and security surveillance in government, commercial and residential sector. North America was accounted for nearly 22% of the overall market share in 2017. The Asia Pacific is expected to gain incremental growth over the coming years due to high growth in commercial activities in the region. Furthermore, the region is expected to grow with the fastest CAGR of 9.4% over the forecast period. Central & South America and Middle East & Africa are anticipated to account for steady growth over the forecast period.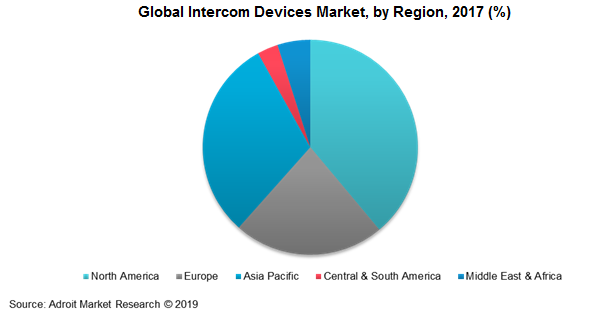 Countries in North America are switching from analog to IP intercom devices An IP intercom system offers several core advantages over an analogue system. An IP system essentially uses the existing IP network, such as the internet, rather than focusing on an analogue system that requires heavy cabling and installation. Additional benefits include ease of installation, scale, adaptability, and quality.
Intercoms devices are used by three verticals, government, residential and commercial. Intercoms devices are used to guard interior and exterior doors at university campuses, schools, college and; local, state and hospitals; government facilities; commercial buildings; mix-use structures and residential.
The global industry is fragmented, owing to the presence of several well-established players. Some of the key players operating in the industry include Panasonic Corporation, Honeywell Security Group, LEGRAND SA, Godrej Industries Limited, Zicom Electronics Security Systems Limited, Zenitel NV, Aiphone Corporation, and Comelit Group S.P.A among several others.
Global players are focused on strengthening their presence through venturing into developing countries, which are considered to be potential markets for intercoms in the future. Introduction of new products and collaboration with other industry partners and competitors are the key strategies implemented by the manufacturers. For Instance, In April 2017, Panasonic expanded its video door phone portfolio with the launch of VL-V590 and VL-V900 in the market. The products were designed to enhance the surveillance and security needs of consumers, with imperative features like location monitoring, electric lock release, multiple household connectivity and wireless connectivity.