The global internal communications software market is projected to reach approximately 1,880.09 million at a CAGR of 12% by 2028. This growth is attributed to the growing focus of adopting internal communications management tools. In addition, cost savings, and business-effectiveness offered by the software are also boosting global internal communications software market growth. However, lack of technical expertise, unclear business requirement leading to business failures are likely to hamper the market growth. Furthermore, the advancements in technologies is helping CFOs and other business leaders boost organizational performance and effectively manage internal communications in a more controlled and transparent manner. These developments are anticipated to be new opportunities for the global internal communications software market.
Internal communications software is a type of software that is used to manage internal communications like scheduling meetings, analyze staff performance, and more. For example, reporting, budgeting, scenario analysis, planning come under internal communications software. The Internal communications software serves two needs. Firstly, internal communications software solutions support efficient team management and secondly these solutions also facilitate team performance management. The internal communications software facilitates individual and project performance crucial for corporate goals and strategies. Remodeling based on results and new team plans also use internal communications software. The vendors expanding their offerings and producing better reporting making them competent in market.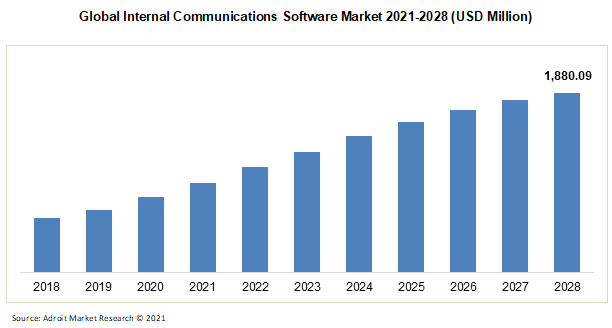 The major players of the global internal communications software market are Beekeeper, Socialchorus, WorkJam, Speakap, Smarp, Thrive.App, Sociabble, Inc., theEMPLOYEEapp, uavaHR, Workgrid. The market comprises of different players but is consolidated by mega vendors blocking smaller vendors and new entrants. This is making it harder for the small vendors and new entrants to compete in the market. However, in response to the growing dominance of mega vendors and focus on competing the market emerging players and vendors to the customers are providing flexible, responsive, and affordable solutions according to their business requirements. This is boosting their competitiveness in the global internal communications software market.
Internal Communications Software Market Scope
| | |
| --- | --- |
| Metrics | Details |
| Base Year | 2020 |
| Historic Data | 2018-2019 |
| Forecast Period | 2021-2028 |
| Study Period | 2018-2028 |
| Forecast Unit | Value (USD) |
| Revenue forecast in 2028 | USD 1880.09 million |
| Growth Rate | CAGR of 12% during 2021-2028 |
| Segment Covered | Type, Application, Regions |
| Regions Covered | North America, Europe, Asia Pacific, Middle East and Africa, Latin America |
| Key Players Profiled | Beekeeper, Socialchorus, WorkJam, Speakap, Smarp, Thrive.App, Sociabble, Inc., theEMPLOYEEapp, uavaHR, Workgrid among others. |
Key Segments of the Global Internal Communications Software Market
Type Overview, 2021-2028 (USD Million)
Application Overview, 2021-2028 (USD Million)
Regional Overview, 2021-2028 (USD Million)
North America
Europe

Germany
United Kingdom
France
Rest of Europe

Asia Pacific

China
Japan
India
Rest of Asia-Pacific

Latin America

Brazil
Mexico
Rest of Latin America

Middle East and Africa
Reasons for the study
The study covers world outlook of the internal communications software market with demand dynamics and potential industry earnings for the countries in study.
The report studies the current and future trends that may impact the performance of the industry, their significance and shares key findings and insightful perspectives from the executives.
The report provides global perspective on the major issues in the market and outlines main challenges faced by the industry players.
The tools and strategies that are implemented by the leading firms to enhance their decision making are included in the market study.
Interesting initiatives and steps taken by the firms and government authorities to boost their market competitiveness are detailed in the report.
What Does the Report Include?
The report provides a three year outlook on the global internal communications software market economic environment and the business landscape and the impact on the industry of the ongoing covid-19 pandemic.
This report looks into how the global internal communications software market has evolved since the last year of the pandemic upsurge.
The disruptions led by covid-19 and how they are shaping the global internal communications software market are discussed in the report.
Who should buy this report?
This report is created to provide better insights to the global strategic planners, customers and prospective customers, BI vendors, CFOs, CXOs, and other intermediaries across the value chain who seek insights for shaping the world market of internal communications software.
This report has been compiled for the benefit of organizations considering internal communications software market for their businesses and those who want to get more value from their existing investment.
The changing market environment in terms of technological progress, entry of new players, and policy changes are explained in the report.
Internal communications software is one of the fastest growing software in the world today given the benefits its solutions and services offer. It has become primary software to manage the business communications efficiently like team meetings, managing deadlines, scheduling meetings, editing documents, and more of an enterprise rudimentary work that needs flawless execution. To appropriately manage these enterprise relevant activities several organizations are actively seeking out for automated solutions which are cost effective and error-proof. These factors are constantly stoking high revenue growth in the global internal communication software market. Internal communications software also defines high level corporate goals, objectives, plans and associated targets that direct organizations' futuristic vision and strategies. Small, medium, and large enterprises are greatly implementing advanced business strategies through optimum use of technology enabled communication software which is accelerating the use of internal communications software. Also, internal communications software allows companies to engage with teams efficiently in business operations. An increasing number of organizations are using internal communications software to keep up with customer demand, take swift business decisions, minimize cost, and boost profits.
Type Segment
Depending on Type segment, the market is studied on the basis of segments namely on-cloud and on-premise. The on-cloud segment gathered the highest share in 2020 and is likely to see a considerable growth in the years to come. Factors responsible for high revenue returns in on-cloud internal communication software segment are better understanding of business cost dynamics, team efficiency, better business planning capabilities which are aiding in rapid adoption. Like historic years, the on-cloud segment is expected to sustain lead in the forecast years as well.
Application Segment
Small and medium enterprises and large enterprises are the prominent segments in terms of application of internal communication software solutions. However, in the forecast period, with massive surge in start-up culture, the SME segment is expected to witness surged reliance on internal communication software to manage the challenges of skill and knowledge. Additionally, cloud-based infrastructure also helps in moderating high asset expenditure which further gives a solid growth ground for internal communication software application in the SME segment. The SMEs segment reached over 4 million USD in 2021 and is expected to surge upto 9 million through 2028.
In 2021, the North American region witnessed a major growth in the Internal Communications Software Market and is anticipated to capture favorable growth in the forecast time span. This is due to increasing demand, increasing competition, and cost optimization strategies adopted by the businesses operating in the region. However, China region is projected to witness greater growth in the market. The internal communications software market in the regions has experienced solid growth and turbulence as vendors continue to provide different functionalities and viable solutions according to business requirements. These vendors have expanded their offerings through analysis of information systems enabling team or staff produce better reporting, communication, to stay ahead of the competition. These are key factors driving growth of internal communications software market in the region.