The global IIoT (Industrial IoT) market is valued at USD 171 billion in 2019 and anticipated to grow at a CAGR of 28.2% from 2019 to 2025. Growing need to contextualize the operation technology data, rising machine-to-machine systems demand and inclination of businesses towards predictive maintenance are the driving factors responsible for the growth of the IIoT industry globally.
Having realized that the industrial internet of things can enable radical improvement in functional efficacies, numerous organizations throughout the globe are adopting predictive maintenance methods based on compatible software and smart sensors. The method can particularly enable in enhancing the safety factor while restricting the equipment downtime.
The global market for the Industrial IoT is anticipated to develop at a compound annual growth rate (CAGR) of 12.2% throughout the course of the forecast, to reach US$ 400.8 Bn by 2032.
The industrial IIoT industry continues to advance with respect to the growing preference over cloud integration backed by increasing adoption of high-tech smart sensors and data analytics tools for inventory & facility management and optimization of supply chain & logistics using smart metering. On the other hand, the application of IoT is agriculture that includes managing soil and water, livestock monitoring, field monitoring through drones, managing smart greenhouses, precision farming, and more, have gained the demand for IIoT in the last few years. However, concerns over technology integration, asset-level visibility, and security, are some of the restraints that are likely to hinder the market growth.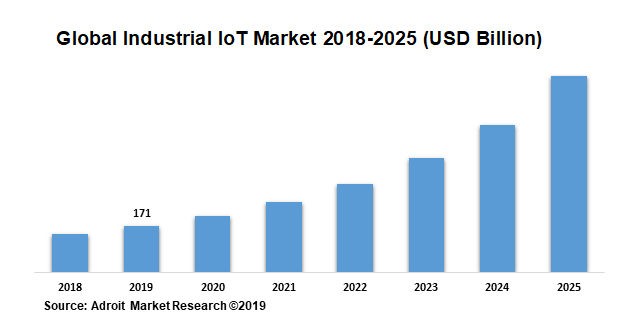 Industrial IoT is widely utilized in other industries such as banking & insurance, oil & gas, transportation, retail & infrastructure for enhancing operational efficiency. In 2017, General Electric and Huawei Technology introduced a predictive maintenance solution that calculates maintenance schedules with the help of IIoT, cloud platforms, and flexible networking. Similarly, key industry players namely AT&T, IBM, Intel, and General Electric have founded the Internet Internet Consortium to augment the adoption, development, and extensive use of intelligence analytics and interconnected devices & machines.
Industrial IoT Market Scope
| | |
| --- | --- |
| Metrics | Details |
| Base Year | 2022 |
| Historic Data | 2021-2022 |
| Forecast Period | 2022-2032 |
| Study Period | 2021-2032 |
| Forecast Unit | Value (USD) |
| Revenue forecast in 2032 | US$ 400.8 Bn |
| Growth Rate | CAGR of 12.2 % during 2022-2032 |
| Segment Covered | By Component, End Use, Regions |
| Regions Covered | North America, Europe, Asia Pacific, South America, Middle East and Africa |
| Key Players Profiled | ABB; General Electric Company (GE); IBM Corporation; Intel Corporation; Rockwell Automation, Inc.; Siemens AG; Microsoft Corporation |
Key Segments of the Industrial IoT Market
By Components, 2022-2032 (USD Million)
• Hardware
• Software
• Services
By End Use, 2022-2032 (USD Million)
• Aviation, Transportation,
• Oil & Gas
• Power Generation & Utility
• Manufacturing
• Healthcare
• Others
Regional Overview, 2022-2032 (USD Million)
North America
• US
• Canada
Europe
• Germany
• France
• UK
• Rest of Europe
Asia Pacific
• China
• India
• Japan
• Rest of Asia Pacific
South America
• Mexico
• Brazil
• Rest of South America
Middle East and South Africa
Frequently Asked Questions (FAQ) :
The market value of industrial iot market in 2025 was USD 726 billion.
The major contenders in the global market are Cisco, GE, Honeywell, Intel, IBM, ABB, Rockwell Automation, Siemens, Huawei, Bosch, KUKA AG, Texas Instruments, Dassault Systemes, PTC, ARM, and NEC
The Global industrial iot market is Segmented on the basis of Component, By Application, And Geography.
The IIoT industry is experiencing a substantial growth rate owing to the persistent efforts by key industry players along with startups to deliver connected business models. Additionally, the launch of services in the coming years is likely to increase the demand for industrial IoT since it would help in enhancing the throughput of information and reduce latency. Europe is likely to be one of the highest growing regions in the IIoT market owing to its strong inclination towards the manufacturing and automotive sector, wherein the use of IIoT solutions is greatest. However, the Asia Pacific region is anticipated to grow at a higher growth rate since governments are investing massive amounts in the R&D as well as infrastructures in the coming five years.
Companies such as IBM, Honeywell, GE, Cisco, and more are investing heavily in their R&D infrastructure along with acquiring promising startups in the areas of industrial IoT, big data, artificial intelligence, machine learning, and more. In 2019, IBM along with Arrow Electronics introduced Smart Airport Asset Management Solution comprising tested IoT gateways, sensor kits, and cloud-hosted Maximo Enterprise Asset Management (EAM) that addresses intricate challenges faced at the airport and streamlines airport operations.
Component Segment
On the basis of the component of industrial IoT, the market is categorized into hardware, software, services, and connectivity. Hardware Companies engaged in manufacturing semiconductor components have partnered with hardware, networking, and solution providers with industry associations, and academic consortiums to develop informal and formal standards for IIoT applications. This is helping companies to define industry standards & requirements, accelerate implantation of IIoT, and create interoperability across environments. Many established companies have been rigorous in adapting the Application Programming Interfaces (APIs) enabling basic commands and data transfers within IoT devices.
Application Segment
On the basis of applications, this market covers categories like manufacturing, energy & power, healthcare, logistics & transport, agriculture, and others. In 2019, the market for industrial IoT in the energy & power sector was valued at 43 billion and is anticipated to grow at a considerable rate over the forecast period.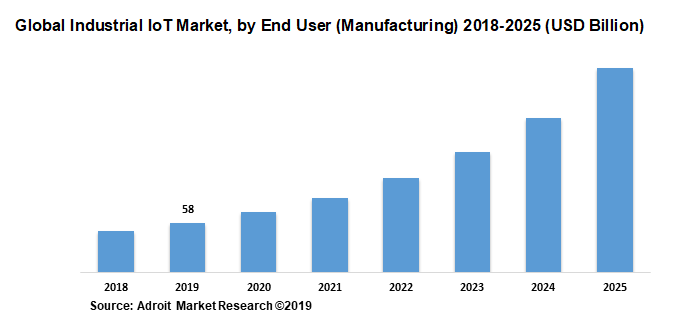 On the geographical front, North America dominated the global Industrial IoT market in 2019 and is expected to do so over the forecast period 2019 – 2025. Since the region is home for various industry players, North America is likely to possess the largest market share in the coming five years. Canada has experienced substantial growth, particularly due to vigorous government investments in technology that support IIoT solutions.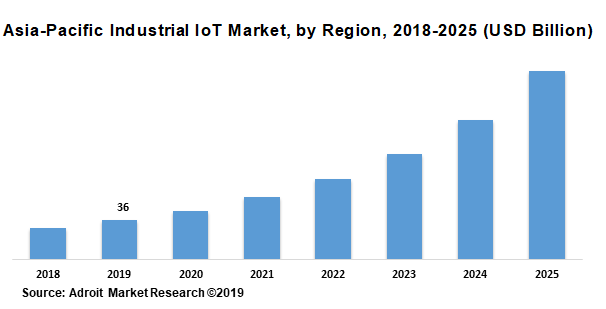 The growth for industrial IoT in the Asia Pacific region is expected to be the largest from 2019-2025. The growth in demand for automated solutions from mining, metals, healthcare, and manufacturing industries shall drive the demand for the market substantially. On the other hand, government initiatives and regulations within the IIoT industry from nations such as India, China, South Korea, and Japan, are helping them to develop manufacturing sectors with a rise in capital investments in automation solutions.
Industry 4.0 is an evolving trend in Germany which consists of cyber-physical systems fourth industrial revolution concept acquainted to classify new evolution phase over the electronic automation phase. It is a worldwide movement towards the future of various industries, that shall deliver growth prospects for the IIoT industry growth within the region.
The major players of global industrial IoT market are Cisco, GE, Honeywell, Intel, IBM, ABB, Rockwell Automation, Siemens, Huawei, Bosch, KUKA AG, Texas Instruments, Dassault Systemes, PTC, ARM, and NEC. As of 2019, the market for IIoT providers is fragmented with the presence of established global and domestic players across the globe. Moreover, the established companies are coming up with upgraded industrial IoT technologies that provide digital and automation solutions.