Market Analysis and Insights
The size of the global industrial IoT market was predicted to be USD 320.11 billion in 2021 and is projected to reach USD 1,562.38 billion by 2031, growing at a CAGR of 17.5% from 2023 to 2032.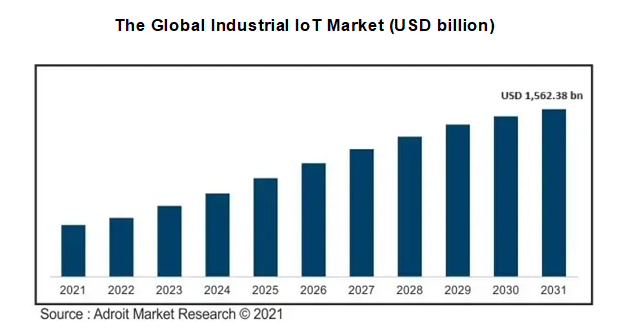 The growth is being fueled by the incorporation of data analytics and artificial intelligence (AI) technology with IIoT solutions. Large amounts of data generated by IIoT devices may be analyzed by AI algorithms to find patterns and offer actionable insights for better decision-making and operational optimization.
Industrial IoT Market Scope :
| | |
| --- | --- |
| Metrics | Details |
| Base Year | 2021 |
| Historic Data | 2020-2021 |
| Forecast Period | 2022-2031 |
| Study Period | 2021-2031 |
| Forecast Unit | Value (USD) |
| Revenue forecast in 2030 | USD 1,562.38 billion |
| Growth Rate | CAGR of 17.5% during 2021-2031 |
| Segment Covered | By Keys, By Components, By Application, Regions |
| Regions Covered | North America, Europe, Asia Pacific, South America, Middle East and Africa |
| Key Players Profiled | Cisco Systems, Inc., Intel Corporation, General Electric, Honeywell International Inc., International Business Machines Corporation, Siemens AG, Huawei Technologies Co., Ltd., ABB Group, Rockwell Automation, Bosch, KUKA Robotics, Dassault Systèmes SE, PTC, Texas Instruments Incorporated, Arm Limited, and NEC Corporation. |
Market Definition
Industrial Internet of Things, often known as IIoT (Industrial Internet of Things), is the application of Internet of Things (IoT) technologies in industrial settings.
In order to gather, analyze, and share data, enabling automation and intelligent decision-making, it requires networking and connecting a variety of devices, sensors, equipment, and systems in numerous sectors.
By using the potential of connection and data, Industrial IoT aims to improve efficiency, productivity, and safety in industrial processes. IIoT offers real-time monitoring, control, and optimization of industrial systems by linking machines, equipment, and processes. This improves operational performance, reduces costs, and improves resource management.
Sensors, actuators, communication protocols, cloud computing, big data analytics, and artificial intelligence (AI) are just a few of the technologies that are frequently integrated into industrial IoT systems. In the industrial setting, sensors and devices are used to gather information on a variety of characteristics, including temperature, pressure, vibration, humidity, and energy use. Then, for analysis and decision-making, this data is sent to a central system or cloud platform.
Key Market Segmentation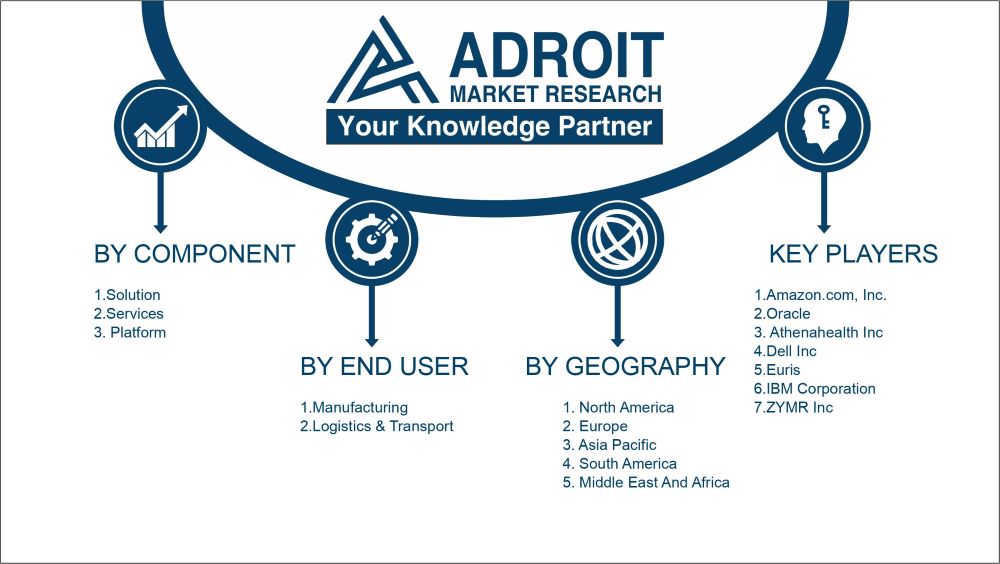 Insights on Component
The Tires Segment Valued for the Highest Share
With a revenue share of over 52.9% in 2022, the solution segment is expected to dominate the market throughout the projected period. Solution suppliers are mainly concentrating on the development of cutting-edge information systems for many sectors and industrial verticals in order to grow their market share.
Insights on End User
The Manufacturing Segment Valued for the Highest Share
The manufacturing sector, which held the greatest market share of over 18.9% in 2022, is expected to continue to dominate the market during the projected period. Additionally, industrial sectors are swiftly adopting digital manufacturing technologies, and IoT deployment is key to these cutting-edge technologies, which is likely to accelerate market growth.
Insights on Region
The North American Region Accounted for the Highest Share
The region with the biggest market share more than 32.8% in 2022 is anticipated to continue to rule over the projected period. This has happened as a result of the region's early embrace and usage of industrial IoT technology. Furthermore, the market is expected to grow over the forecast period as a result of strong government support for encouraging digitalization across the industrial sector, rising acceptance of cutting-edge technologies such as cloud computing and AI and an increase in the use of industrial IoT devices.
Key Company Profiles
Some key players in the global market are Cisco Systems, Inc., Intel Corporation, General Electric, Honeywell International Inc., International Business Machines Corporation, Siemens AG, Huawei Technologies Co., Ltd., ABB Group, Rockwell Automation, Bosch, KUKA Robotics, Dassault Systèmes SE, PTC, Texas Instruments Incorporated, Arm Limited, and NEC Corporation.
COVID-19 Impact and Market Status
The epidemic has sped up digital transformation across a wide range of sectors. Businesses have realized the need of using IIoT solutions to improve resilience, remote monitoring, and automation as a result of interruptions to traditional operations and supply chains. Investments in IIoT technology and solutions have surged as a result of this.
The epidemic exposed the weakness of international supply lines. As a result, businesses have concentrated on using IIoT technology to create robust and agile supply chains. IIoT provides essential equipment predictive maintenance, real-time visibility and monitoring of supply chain processes, and inventory management optimization.
For technicians and engineers, performing on-site maintenance and inspections has become difficult due to travel limitations and social segregation policies. Solutions for the IIoT have been essential in allowing remote monitoring and maintenance operations. proactive maintenance is made possible by real-time analytics and remote data access, which minimizes the need for manual intervention.
During the epidemic, ensuring the health and safety of employees has taken precedence. In industrial contexts, IIoT technologies have been used to monitor and enforce safety regulations including social distance and occupancy limitations. IoT-enabled wearables may measure vital signs and identify possible health problems in employees.
Latest Trends
1. In the IIoT sector, edge computing is gaining popularity. Instead of transmitting all data to the cloud, it comprises processing and analysing data at or near edge devices such as sensors or gateways. Edge computing enables real-time data processing while also reducing latency and improving decision-making. Applications like real-time monitoring and predictive maintenance, which need prompt replies, might benefit especially from it.
2. The integration of artificial intelligence (AI) and machine learning (ML) technologies with IIoT systems is a growing trend. Large data sets generated by IIoT devices may be analyzed by AI and ML algorithms to reveal trends, forecast malfunctions, and perform other useful tasks. Intelligent decision-making, automation, and process optimization are made possible by this connection.
3. Digital twins are digital replicas of real-world items, methods, or systems. IIoT enables digital twins, which allow for real-time monitoring and analysis of asset behaviour and performance. Operational optimization, predictive analytics, and simulation are all made possible by digital twins. They assist in locating abnormalities, enhancing maintenance plans, and maximizing resource allocation.
4. For IIoT applications, the implementation of 5G networks offers more bandwidth, reduced latency, and larger network capacity. Real-time data transfer and more complex use cases are supported by 5G, which makes the connection between IIoT devices quicker and more dependable. It makes it easier to grow and link, which are prerequisites for extensive IIoT installations.
Significant Growth Factors
All industries want to increase productivity and operational effectiveness. IIoT makes it possible to monitor, automate, and optimize industrial processes in real-time, which boosts productivity, decreases downtime, and lowers costs.
In IIoT systems, sensors are vital for data collection and transmission. The use of IIoT solutions has accelerated due to the constant improvements in sensor technology, including miniaturization, increased precision, and cost-effectiveness.
A lot of traction has been gained by predictive maintenance thanks to IIoT. IIoT systems may forecast probable equipment failures by gathering real-time data from linked devices, enabling proactive maintenance, and reducing unscheduled downtime.
A strong basis for IIoT deployments has been made possible by the proliferation of connection infrastructure, including 5G networks and low-power wide-area networks (LPWAN). These innovations offer a scalable, high-speed connection that enables seamless system and device communication.
Restraining Factors
Sensitive data is exchanged during IIoT deployments, and the connected systems may be exposed to online attacks. Widespread adoption has obstacles due to security and privacy issues as organisations must maintain effective cybersecurity procedures and safeguard against data breaches.
Industrial settings frequently include old infrastructure and diverse systems. The smooth integration of IIoT solutions might be hampered by the complexity of achieving interoperability across many devices, protocols, and platforms, which restricts scalability.
Up-front expenditures for hardware, software, connectivity, and infrastructure changes are associated with implementing IIoT systems. Organizations must carefully consider the long-term advantages and cost reductions because the return on investment (ROI) might not be instant.
Professionals with the necessary skills who comprehend both industrial processes and the underlying IoT technology are needed for the effective deployment and administration of IIoT solutions. Organizations may face difficulties due to the lack of highly qualified workers and the requirement for workforce training.
Recent Developments in the Global Industrial IoT Market: A Snapshot
• Cognizant purchased Bright Wolf in October 2020 in order to lay the groundwork for a brand-new IIoT innovation lab. IoT bespoke solutions are the area of expertise of Bright Wolf. The combination of Cognizant's expertise in key industrial Internet of Things technologies and Bright Wolf's experience in production-class IoT deployments has increased the company's operational effectiveness, competitive advantage, and client resilience.
• Introducing Custom Part Manufacturing Service in December 2021 was Silicon Labs. This facilitates factory-level hardware customization for manufacturers using Silicon Labs products. MCUs, modules, and wireless SoCs are all part of Silicon Labs' hardware lineup. Customers may be monitored during the whole travel of the chip with the assistance of this kind of function, leaving a footprint.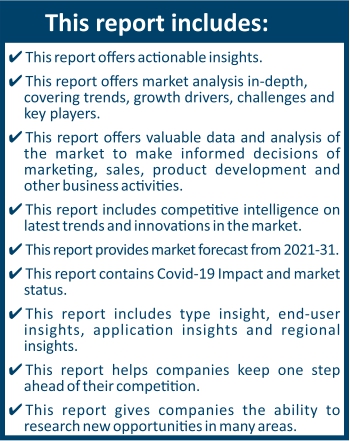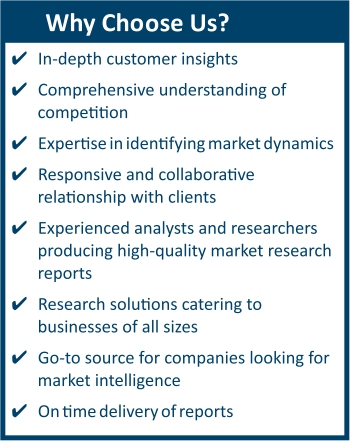 Frequently Asked Questions (FAQ) :
The market value of industrial iot market in 2025 was USD 726 billion.
The major contenders in the global market are Cisco, GE, Honeywell, Intel, IBM, ABB, Rockwell Automation, Siemens, Huawei, Bosch, KUKA AG, Texas Instruments, Dassault Systemes, PTC, ARM, and NEC
The Global industrial iot market is Segmented on the basis of Component, By Application, And Geography.