Industrial cleaning materials are chemicals which are used to clean institutes, offices, research and development laboratories, industrial facilities, and warehouses. These chemicals are used for periodic maintenance of light and heavy and machineries in order to increase their operational life. Raw materials including chelating agents, surfactants, and solvents are used for multiple cleaning applications such as food processing, manufacturing & commercial offices, hospitality, retail services, automotive & aerospace.
These chemicals prevent rust formation on vessels and pipelines, to eliminate contamination and maintain product sanity. These chemicals are efficient, although different chemicals are used to serve different purpose owing to their impact on cleaning surface. Rising demand for cleaning chemicals owing to their rising capabilities to exhibits improved cleaning action on various surfaces, metal, and elements are driving the industry size.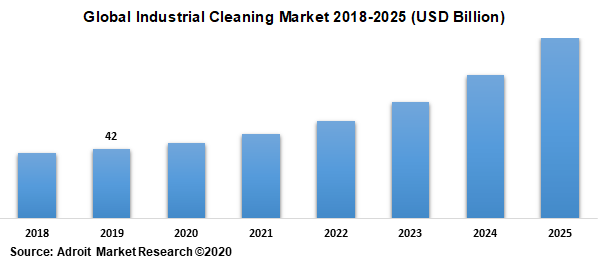 The Industrial Cleaning market is projected to witness growth at a CAGR of 5% over the forecast timeline. Ongoing proliferation across core industries such as aerospace, and automotive, along with chemical industry, which utilizes various acids and chemicals to perform operations are focusing on maintaining hygiene, which in turn is fueling the product demand. In addition, burgeoning healthcare industries involved in developing multiple pharmaceutical products requiring high quality cleanliness is complementing the industry growth.
Key segments across Industrial Cleaning market
Ingredient Type Overview, 2018-2025, (USD Billion and kilotons)

Surfactants
Chelating Agent,
Solvents
pH Regulators
Solubilizers/Hydrotopes
Others

Product Type Overview, 2018-2025, (USD Billion and kilotons)

General Cleaners
Disinfectants
Metal Cleaners
Dish Washing
Commercial Laundry
Food Cleaners
Oven & Grill Cleaners
Dairy Cleaners

Application Overview, 2018-2025, (USD Billion and kilotons)

Food Processing
Manufacturing & Commercial Offices
Hospitality
Retail Services
Automotive & Aerospace
Others
Regional Overview, 2018-2025, (USD Billion and kilotons)

North America
Europe

Germany
UK
Italy
Rest of Europe

Asia Pacific

China
India
Japan
Australia
Rest of Asia-Pacific

Middle East & Africa

Saudi Arabia
Rest of Middle East & Africa

South America

Brazil
Argentina
Rest of South America
Reasons for the study
The purpose of the study is to give an exhaustive outlook of the global Industrial Cleaning industry. Benchmark yourself against the rest of the market.
Be prepared for how investments across paper industry will be impacted by socio-political and economic factors over the next few years
Ensure you remain competitive as new innovations by existing key players boost the market.
What does the report include?
The study on global Industrial Cleaning industry includes qualitative factors such as drivers, restraints, and opportunities.
The study covers the competitive landscape of existing/prospective players in the industry and their strategic initiatives for the product development
The study covers a qualitative and quantitative analysis of the market segmented on the basis of ingredients type, product type, and application. Moreover, the study provides similar information for the key geographies.
Actual market sizes and forecasts have been provided for all the above-mentioned segments.
Who should buy this report?
This study is suitable for industry participants and stakeholders in the global in Industrial Cleaning industry. The report will benefit:
Every stakeholder involved in manufacturing and distributing components or solutions.
Managers within financial institutions looking to publish recent and forecasted statistics pertaining to the global Industrial Cleaning industry.
Government organizations, regulatory authorities, policymakers, and financial organizations looking for T&D investment trends in the global in Industrial Cleaning industry.
Analysts, researchers, educators, strategy managers, and academic institutions looking for insights into the market to determine future strategies.
Rising hygiene concerns and healthcare awareness along with government directives to maintain cleanliness to improve working conditions for employees, workers, and labors is augmenting the product adoption. Growing threat of infections and diseases has led to increase in overall health expenditure; which in turn is impacting the industry growth. Increasing number of deaths from infectious diseases caused by pathogens, and viruses, have escalated the demand for chemicals. Furthermore, ongoing industrialization across developing countries along with ageing industries across developed countries requiring cleaning and maintenance is poised to stimulate the business landscape over the forecast timeline.
Positive outlook toward improving health and hygiene conditions and improving operational of equipment and machines is fueling the product adoption. Although, strict prohibition by government on chemicals comprising environment pollutants is hindering the industry growth. However, ongoing research & development activities to enhance bio cleaning chemicals is poised to catapult the industry upsurge.
Ingredient Type Segment
On the basis of the ingredient type segment, the market is categorized into surfactants, chelating agent, solvents, pH regulators, solubilizers/hydrotopes, and others. The surfactants segment is analyzed to hold a significant share across the regions.
Product Type Segment
Industrial Cleaning market is segmented into general cleaners, disinfectants, metal cleaners, dish washing, commercial laundry, food cleaners, oven & grill cleaners, and dairy cleaners. In 2018, the general cleaners is accounted for major contributors in revenue and it is expected to lead the Industrial Cleaning throughout the forecast timeline.
Application Segment
On the basis of application segment, the market is segmented into food processing, manufacturing & commercial offices, hospitality, retail services, automotive & aerospace, and others. The healthcare sector is anticipated to observe significant growth in the coming years.
In 2018, Asia Pacific is accounted for a major share and is anticipated to follow the same pattern in the coming years. Ongoing industrialization leading to establishment of multiple manufacturing facilities coupled with a positive government outlook toward encouraging investment across the region is augmenting the product demand. Moreover, rising awareness across the region related to hygiene and cleanliness across the workplace and maintaining health conditions for workers is stimulating the industry outlook.
The leading players operating across the global Industrial Cleaning market Evonik Industries AG, BASF SE, Diversey Inc., Stephen Company, Dow Chemical Company, Ecolab, Spartan Chemical Company, Inc., and Pilot Chemical Corp including others. The market for Industrial Cleaning is consolidated with established global players and is further witnessing the emergence of new companies. Moreover, the industry players are targeting toward enhancing their market share through implementation of merger & acquisition, collaborations growth strategies.