The Hospice Care market is expected to grow at a CAGR of 10.49% to reach USD 8,228.54 million in 2027.
The global hospice care market has been expanding at a rapid rate in recent years and is anticipated to expand at 9% CAGR to reach a total market size of USD 6.53 billion during the forecasted period, 2021-2028. The rising number of patients suffering from cancer, renal disease, respiratory failure, and other diseases, the growing geriatric population, growing public awareness of the benefits of hospice services and care, and the availability of services from various government and private-sector organizations are some of the factors that will facilitate seamless expansion of the global hospice care market in the coming years.
On the other hand, increased rivalry among current market participants, as well as the adoption of new care models, would further boost different growth opportunities, leading to the expansion of the global hospice care market over the projection period. However, high levels of competition among current providers, rigorous government requirements for service approval, and knowledge gaps among end-user demographics such as rural population in developing and under developed nations are expected to stymie industry expansion.
A hospice center offers dedicated services to patients who are critically ill and need last stage care. Hospice care is an umbrella term signifying palliative care or acute care, provided by a team of health care professionals and volunteers who focus on the palliation of critically sick patients. They offer patients psychological, spiritual, and medical assistance. The goal of hospice care is to provide patients with a short life expectancy with comfort, serenity, and dignity during their last days. Hospice care is usually provided to patients who have their days numbered, somewhere between six months or less.
Caregivers strive to alleviate pain and other symptoms so that patients can stay as comfortable and aware as possible. Furthermore, hospice services assist and support the patient's family. Palliative care is a form of medical care that is given to patients who have a terminal condition. Palliative care helps to offset the symptoms and after-effects of chronic and fatal ailments. Palliative care aims to improve the family's and patient's quality of life, significantly offsetting the challenges of acute care delivery for terminally ill patient groups.
The rising cancer prevalence is likely to drive the global hospice & palliative care centers market in the near future. According to WHO data, 8.2 million people die each year from cancer, accounting for around 13% of all deaths globally. There are over 100 cancer variants, each unique in their therapeutic approach, diagnostics and clinical outcome. This is expected to boost demand for hospice and palliative care facilities in the near future. The hospice & palliative care centers market may be split into home hospice care, hospice centers, hospitals, skilled nursing facilities, and others based on location.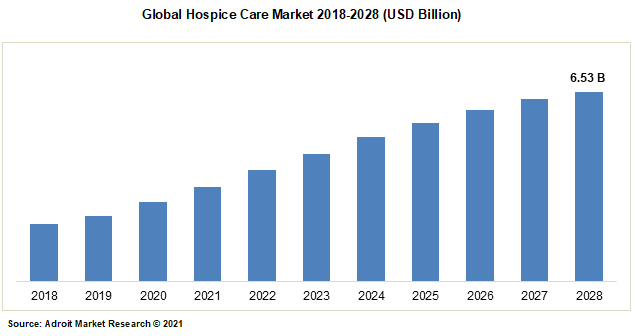 The major players of the global hospice care market are AMEDISYS, Inc, LHC Group, Gentiva Health Services, Almost Family, Seasons Hospice, and Palliative Care, HCR Manor Care, AseraCare Hospice, Crossroads Hospice, and Accent Care, Inc., and Compassionate Care Hospice. Before joining the market, companies are increasingly investing substantially in R&D activities connected to the development of neuroscience and computers.
The projection cycle will help the user comprehend the characteristics of the players by outlining their product price, international earnings, and market share. The report also discusses regional market trends and drivers, as well as risk and penetration obstacles, opportunities and threats, suppliers and customers, and distribution networks.
Hospice Care Market Scope
| | |
| --- | --- |
| Metrics | Details |
| Base Year | 2020 |
| Historic Data | 2018-2019 |
| Forecast Period | 2021-2028 |
| Study Period | 2018-2028 |
| Forecast Unit | Value (USD) |
| Revenue forecast in 2028 | USD 6.53 billion |
| Growth Rate | CAGR of 9% during 2021-2028 |
| Segment Covered | Product, Industry, Regions |
| Regions Covered | North America, Europe, Asia Pacific, Middle East and Africa, South America |
| Key Players Profiled | AMEDISYS, Inc, LHC Group, Gentiva Health Services, Almost Family, Seasons Hospice, and Palliative Care, HCR Manor Care, AseraCare Hospice, Crossroads Hospice, and Accent Care, Inc., and Compassionate Care Hospice. |
Key Segments of the Global Hospice Care Market
Product Overview, 2018-2028 (USD Billion)
Nursing Services
Physician Services
Medical Supply Services
Others
Industry Overview, 2018-2028 (USD Billion)
Hospitals
Home Settings
Hospice Care Centers
Specialty Nursing Home
Regional Overview, 2018-2028 (USD Billion)
North America
Europe
France
UK
Germany
Rest of Europe
Asia Pacific
China
Japan
India
Rest of Asia Pacific
South America
Brazil
Mexico
Rest of South America
Middle East and Africa
Reasons for the study
The study looks at significant developments in the global hospice care sector, as well as organic and inorganic growth strategies.
The hospice care industry's industrial chain structure, raw material costs, manufacturing base, and marketing channel analysis are all discussed.
It includes information on probability analysis, mergers and acquisitions, and analyst perspectives and opinions.
What does the report include?
Includes a detailed examination of the market from a variety of perspectives utilizing Porter's five forces analysis.
Corporate insights, a business overview, a SWOT analysis, and product benchmarking are all included in comprehensive company profiles for the key market participants.
The industry dynamics scenario and market growth prospects will be explored.
Includes a comprehensive assessment of the industry from a variety of perspectives to decipher peculiar trends and new growth propellants.
Who should buy this report?
Managers in the global hospice care market who wish to discuss current and future worldwide market data.
Market data is sought by strategy managers, researchers, and government organizations to aid in the planning of future operations.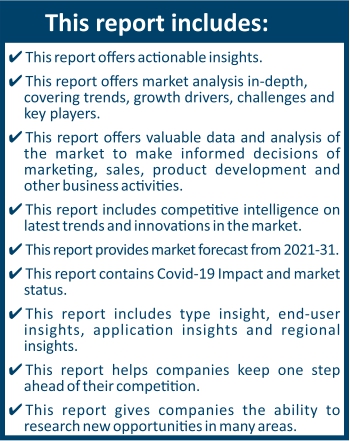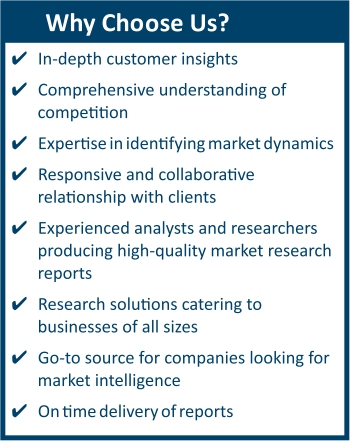 Frequently Asked Questions (FAQ) :
The hospice care market is growing at a CAGR of 9% over the forecast period
The major contenders in the global market are AMEDISYS, Inc, LHC Group, Gentiva Health Services, Almost Family, Seasons Hospice, and Palliative Care, HCR Manor Care, AseraCare Hospice, Crossroads Hospice, and Accent Care, Inc., and Compassionate Care Hospice
The base year for the report is 2021 in hospice care market.
Hospice care basically focuses on the quality of life for patients and caregivers who have a life-threatening condition. Hospice care provides compassionate care to patients in the final stages of an incurable disease, allowing them to live as completely and pleasantly as possible. The hospice concept embraces death as the last stage of life: it affirms life while not attempting to expedite or postpone death. Hospice care, rather than the disease itself, focuses on the individual and the symptoms of the condition.
A team of professionals collaborates to control symptoms in the person's final days to be spent with dignity and quality, accompanied by loved ones. Further so, hospice care is family-oriented, with where patient and patient families participate in decision-making processes. A palliative care team is a varied collection of specialists that collaborate with the patient, family, and other clinicians to offer medical, practical, emotional, and social, support. Palliative care experts such as doctors and nurses, as well as social workers, nutritionists, and chaplains, make up the team.
Palliative care, which is provided as part of hospice care, considers how the cancer experience affects the person and works to alleviate symptoms, discomfort, and stress. It provides patients with alternatives and allows them and their caregivers to participate in the planning of their treatment. It is about ensuring that all of their care needs are met.
The palliative care team's trained professionals can assist in identifying and managing any mental, physical, emotional, social, or spiritual difficulties that may arise. Palliative care can assist patients to comprehend their medical treatment options, n addition to enhancing the quality of life and alleviating symptoms. The structured services provided via palliative care may be beneficial to any older person experiencing a great deal of general discomfort and
Product Segment
The market is segmented by product into physician services, nursing services, and medical supply services besides several other variety of services. Pain management, home care, spiritual care, inpatient care, respite care, family gatherings, and bereavement care are among the services offered.
Industry segment
The hospice centers segment is accounted for the highest market revenue during the prediction period. Similarly, patients choose hospice treatment followed by home hospice care. Hospice facilities are favoured because they provide a welcoming environment for patients where they do not feel lonely, owing to the presence and companionship of other patients. These facilities also offer mental health assistance to patients through specific activities such as meditation, spiritual talks, and celebrations.
North America leads the market for the global hospice care market in terms of revenue, followed by Europe. The number of hospice and palliative care centres along with acute care facilities is growing throughout South America and Asia Pacific. During the predicted period, the tendency is likely to continue. The availability of a big patient pool, the development of the health care sector, and an increase in government spending towards health care enhancement is expected to push the market in these areas.