Growing at a CAGR of 9.4%, the size of the global horizontal directional drilling (HDD) market is projected to reach USD 16306.98 million by 2031.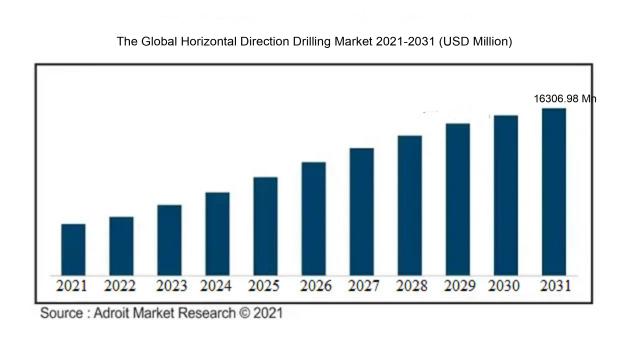 The global horizontal directional drilling (HDD) market size was estimated at USD 18.2 billion in 2018 and is estimated to expand at a CAGR of more than 5 % from 2018 to 2025. Based on the application the market is segmented into onshore and offshore. By rig size the global HDD market is divided into small rigs ranging up to 32 tons, medium rigs ranging between 32 tons to 90 tons, and heavy rigs that are more than 90 tons. In terms of end-use the global HDD market is segmented into telecommunication, oil & gas, utilities, and others.
The above diagram illustrates the HDD design calculation for various pipes installed in curved path. It is also called banana-shaped drilling method which starts with: declining straight segment (AB), which further undergoes a curved path (BC) after which it takes a horizontal straight section (CD). At the exit side this straight section (CD) further undergoes curved path (DE) and ends with inclining straight section (EF).
Trenchless technology is getting huge wow from engineers and contractors as more pipelines and underground utility projects progress requiring HDD. Telecommunications and technology advancements such as 5G are expected to result in continued work and HDD demand.
Existing underground infrastructure across cities and rural communities through most of the world are in ageing and high maintenance state. Most of these cities and communities also require new energy, clean water resources, and fiber optics. Ageing infrastructure is one more factor that is likely to boost the demand of HDD market over the forecast period
Government initiatives in creating affordable housing and gas distribution network across the developing economies continues to be a strong driver for the developing HDD market. Guidance program initiative in 2018 from U.S. Federal Energy Regulatory Commission's (FERC) about HDD monitoring aims to help industry professionals improve the quality and consistency of HDD plans and increase the efficiency
Polyethylene, PVC, steel and ductile iron are the most favored pipe materials during HDD. Ductile iron pipes are expected to work well in the areas with unstable soil with pressure of the surrounding earth. Polyethylene pipes is the most common choice in directional drilling followed by PVC, steel, and ductile iron.
Horizontal Direction Drilling Market Scope
| | |
| --- | --- |
| Metrics | Details |
| Base Year | 2022 |
| Historic Data | 2021-2022 |
| Forecast Period | 2022-2031 |
| Study Period | 2021-2031 |
| Forecast Unit | Value (USD) |
| Revenue forecast in 2031 | USD 16306.98 million |
| Growth Rate | CAGR of 9.4 % during 2021-2031 |
| Segment Covered | by Application, Regions |
| Regions Covered | North America, Europe, Asia Pacific, South America, Middle East and Africa |
| Key Players Profiled | Ellingson Companies, Halliburton Company, Helmerich & Payne Inc., Herrenknecht AG, Nabors Industries Ltd., NOV Inc., Schlumberger Limited, The Toro Company, Vermeer Corporation and Weatherford International plc. |
Key Segments of the Global HDD Market:
Application Overview, (USD Billion)
Size Overview, (USD Billion)
Small (up to 32 tons)

Medium (32 - 90 tons)

Heavy (more than 90 tons)
End-use Overview, (USD Billion)
Telecommunication

Oil & gas

Utilities

Others
Regional Overview, (USD Billion)
North America

Europe

UK

Germany

Rest of the Europe

Asia-Pacific

China

Japan

Rest of Asia Pacific

Central & South America

Middle East & Africa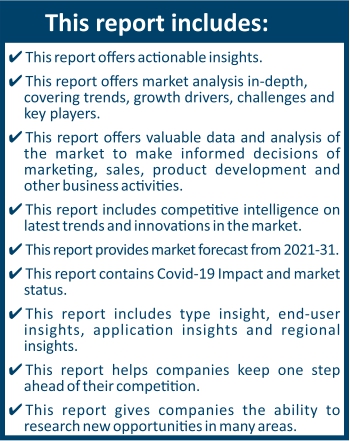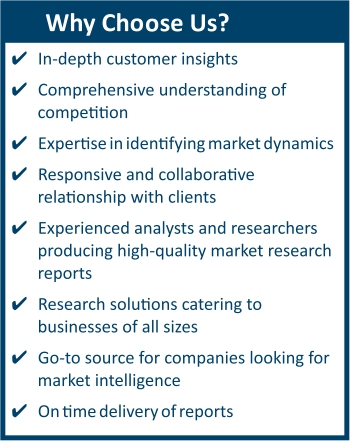 Frequently Asked Questions (FAQ) :
The market value of horizontal direction drilling market in 2025 was USD 27.3 billion.
The horizontal direction drilling market is growing at a CAGR of 6% over the forecast period.
The top companies that hold the market share in horizontal direction drilling market are Ditch Witch, Baker Huges and SchlumBerger & among others.
HDD is recognized as a trenchless technology that reduces environmental damage and energy consumption at the same time enhances sustainability metrics. In today's time of expensive labor and raw material cost energy and time efficient drilling technologies are likely to witness significant growth over the forecast period.
Horizontal directional drilling is the fastest growing technology used in the installation of conduits, pipes and cables in the underground bore-path construction. This technique is also anticipated to have the less restoration and construction cost which is driving its demand across the developing economies. To tap the widespread deposit of oil reserves, directional drilling makes it convenient for engineers and drillers to aim away from the 180-degrees down and large radius can be tapped.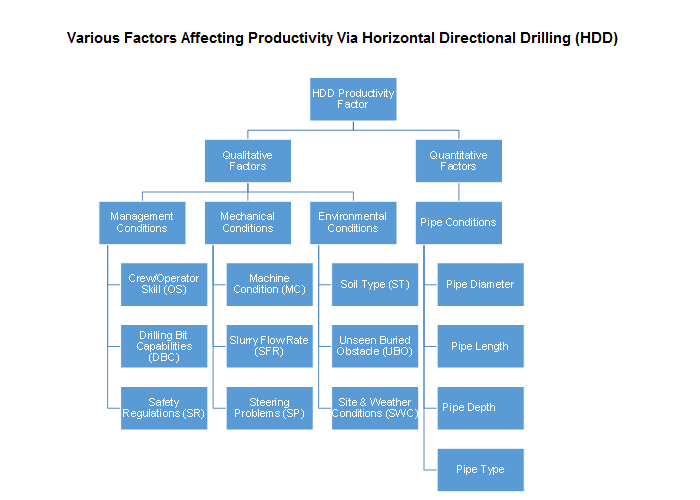 Of all the factors mentioned above, Crew (or) operator skills (OS) combined with steering problems (SP), soil type (ST), and pipe diameter (P dia) altogether account for a major share of nearly 45% followed by other factors such as drilling bit capabilities (DBC), machine condition (MC), and site & weather condition (SWC) that has nearly 35% of the impact on the HDD productivity.
Keeping the expenses of rigs and crews that might run into hundreds and thousands of dollars on daily basis, HDD stands as a cost effective solution of drilling. Sometimes HDD is only the best solution for instance, drilling under a nature reserve or town. Furthermore, drilling horizontally can be the best way of maximising extraction by reaching more sections of a reservoir.
In terms of application, onshore application dominated the horizontal directional drilling (HDD) market in the year 2018 with a market revenue share of more than 60%. Onshore is also estimated to be the fastest growing application of HDD over the foreseeable future. Onshore drilling market has shown improvements in terms of drilling efficiency.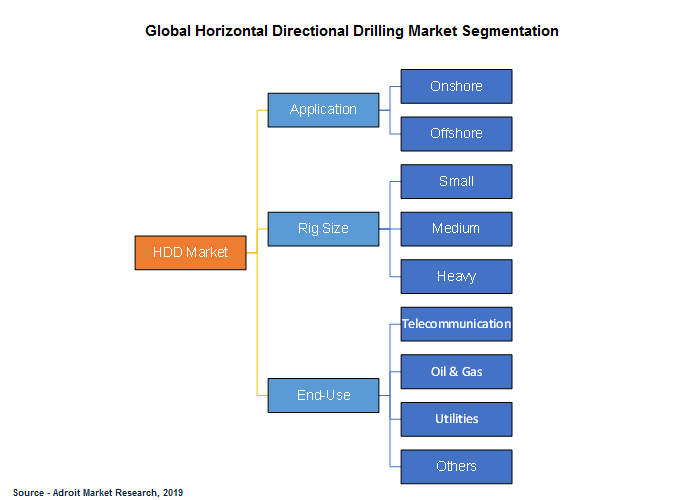 Onshore HDD is expected to grow owing to relative cost of drilling on land is significantly smaller in comparison to offshore whereas for offshore drilling the cost of drilling equipment is likely to reach more than 80% of an oil producer's total investment. Offshore directional drilling is expected to be 15 to 20 times greater than the typical total of onshore drilling.
Other major factors driving the onshore HDD market is increasing infrastructure activities across telecommunication, oil & gas distribution, and utility sector. The key factor supporting the growth of onshore HDD is reduction in time and cost coupled with faster construction.
Fiber and telecommunication field is the healthiest market for growing onshore drilling market. Digitalization is playing and will be playing a crucial part in the upcoming years. Cable providers and broadband providers are pushing themselves for network expansion in order to meet the increasing demand.
Yesterday was about 3G but the future is about 4G and 5G. For instance, Reliance Jio has recently launched its Jio Giga Fiber which is way faster than other network providers in India with a speed of 100Mbps. With expansion of digital network along with metro, gas, and telecom lines international players and domestic players are holding their grip in Indian market. Reliance is projected to be the key customer of Ditch Witch in for the Indian market.
North America dominated the global horizontal directional drilling (HDD) market with a revenue share of more than 30% in the year 2018. North America is anticipated to grow at a CAGR of 6.5% by the end of 2025.
At present, North America is also the fastest growing region since it is the only region with maximum practice of horizontal directional drilling. Consistent increase in the demand for mid and large rigs contract in the public works and oil & gas market for pipeline and utility installation is driving the demand of HDD in this region.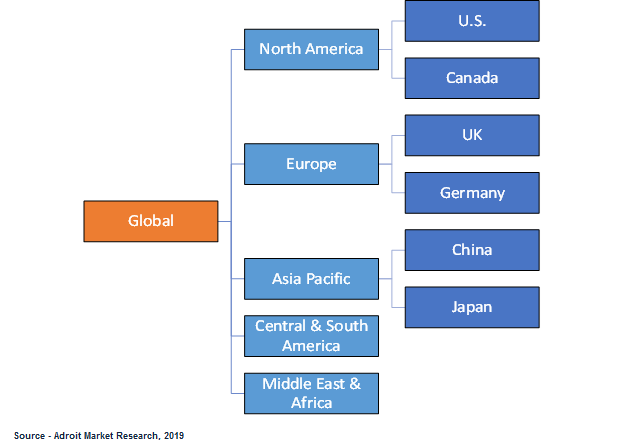 In 2018, ordinary onshore rig count is expected to be over 1000, of which around 208 are present in the U.S. and Canada, respectively. This rig count is expected to grow at a CAGR of nearly 3% by the end of 2019 to reach 1,040 and 211 in the U.S. and Canada, respectively. However, a major concern with the onshore drilling in North America is lack of insufficient pipeline, rail capacity, and trucks to carry the production from the field to the market. Furthermore, ageing skilled workforce is one of the key concern global HDD market is facing at current times which is hindering the HDD market across all the regions.
Asia Pacific accounted for a market revenue share of over 28% in the year 2018 and is expected to show significant growth rate over the forecast period. Economies of scale coupled with technological advancement are the key factors contributing to the growth of directional drilling in this region. Increasing boring activity by regional oil companies is expected to improve rig operation in this region.
In Asia Pacific, onshore drilling accounted for a maximum market revenue share in the year 2018 and is expected to portray similar trend over the forecast period. Small rig size up to 32 tons or more than 50,000 pound dominated the HDD market in this region. Increasing telecommunication network, water, sewer, and underground utilities is driving the demand of small and medium rig size. Telecommunication dominated the Asia Pacific HDD market with a market revenue share of more than 40% in the year 2018 and is also projected to be the fastest growing segment over the