The global healthcare wipes market was valued at USD 9,759.7 million in 2019. The growing health and hygiene issues and the rising concern and awareness regarding the issues worldwide has sparked a surge in demand for healthcare wipes. Beneficial features of healthcare wipes, such as prevention and control of infections are certain factors that are propelling the growth of the global healthcare wipes market.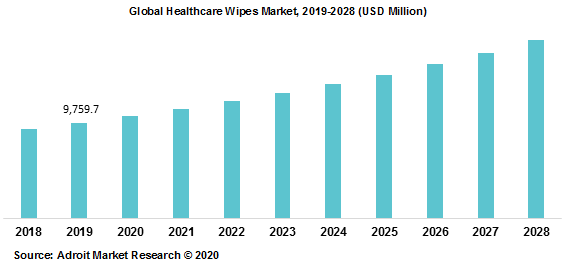 Healthcare wipes, including skin cleansing, surface cleaning, disinfection, hand sanitizing, and hospital sterilization, are used to maintain personal hygiene and sanitation. Bed bath wipes, macerator-friendly body wipes, flushable skin cleaning wipes, pre-injection alcohol wipes, and non-invasive medical device disinfecting wipes are the most widely used healthcare wipes. These wipes are available in a wide range of packets such as sachets, flow packs, canisters/ tubs, or containers. Healthcare wipes can be used on a wide variety of items, including on surfaces, on equipment that are easily contaminated and are suitable for regular use. Healthcare wipes are also commonly used for the prevention of transmitting germs in supermarkets and food preparation environments. These wipes provide patients with additional hypoallergenic benefits and infection control in hospitals, nursing homes, and medical practices. These factors are anticipated to boost the demand for healthcare wipes devices during the forecast period.
One of the key reasons for the growth of the demand for healthcare wipes is increasing awareness of hygiene among consumers. Owing to their diversified uses, different styles of wipes such as personal, wet, flushable, feminine, and scented have been launched over the last few years. These wipes are very efficient in preventing infection in various healthcare facilities. Rising demand for clean-label products made from recyclable chemicals and renewable resources are likely to flourish demand for healthcare wipes. However, the use of certain chemicals that may not respond well with a few body or skin types, and strict government regulations may restraint the growth of healthcare wipes market.
Key players operating in the global healthcare wipes market include Procter and Gamble, 3M, Johnson & Johnson Private Limited, Diamond Wipes International, Inc., The Clorox Company, Kimberly-Clark Corporation, Costco Wholesale Corporation, Reckitt Benckiser Group plc, Procotech Limited, and Beiersdorf AG among others.
Key Segments of the Global Healthcare Wipes Market
Product Type Overview, 2019-2028 (USD Million)
Distribution Channel Overview, 2019-2028 (USD Million)
Pharmacies & Drugstores
Supermarkets & Hypermarkets
E-commerce
Others
Regional Overview, 2019-2028 (USD Million)
North America
Europe

Germany
United Kingdom
France
Rest of Europe

Asia Pacific

China
Japan
India
Rest of Asia Pacific

Latin America

Brazil
Mexico
Rest of Latin America

Middle East & Africa
Reasons for the study
Rising global awareness regarding sanitation and personal hygiene
Rising advancements in chemicals used to manufacture healthcare wipes
What does the report include?
The study on the global healthcare wipes market includes qualitative insights such as drivers, restraints, challenges and opportunities
Additionally, the market has been evaluated using the Porter's five forces analysis
The study covers qualitative and quantitative analysis of the market segmented on the basis of product type and distributional channel. Moreover, the study on healthcare wipes market provides similar information for the key geographies.
Actual market sizes and forecasts have been provided for all the above-mentioned segments
The study includes the profiles of key players operating in the market with a significant global and/or regional presence
Who should buy this report?
The report on the global healthcare wipes market is suitable for all the players across the value chain including raw medical material suppliers, hospitals, long-term care facilities, clinics, ambulatory surgical centers, medical device manufacturers, healthcare organizations, distributors, suppliers and wound type geeks
Venture capitalists and investors looking for more information on the future outlook of the global healthcare wipes market
Consultants, analysts, researchers, and academicians looking for insights shaping the global healthcare wipes market
The need for healthcare wipes has significantly increased owing to the growing health and hygiene concerns among individuals globally due to the effect of COVID-19 on the population. Following the current pandemic crisis, the sector has experienced major changes in the healthcare wipes industry worldwide. Wipes for healthcare are currently in high demand. The widespread use of healthcare wipes for various purposes, including cleaning of health-related equipment, sanitization of personal care, and skin cleaning, is another key factor that favours market development. Prominent manufacturers are encouraged to innovate their product offerings by increasing the use of healthcare wipes in other fields of service, such as food preparation / packaging environments, and in supermarkets to prevent harmful bacteria. These factors are predicted to boost the demand for healthcare wipes.
In addition, the disposable nature of wipes and the advantages of healthcare wipes for the prevention of infection are encouraging customers to purchase more healthcare wipes. Growing infant population, growth in urbanization, increasing spending by female customers on personal hygiene products further influence the segment of healthcare wipes. Moreover, the use of facial wipes to clean the face, especially when travelling, is growing among consumers. The rapid growth of online retailing and increasing product innovation is contributing to the growth of this market.
Furthermore, healthcare wipes' beneficial properties, including infection prevention make them suitable for use in a wide range of applications such as surfaces, tools that are easily contaminated, and for everyday use. However, with the instability of the supply chain due to the pandemic crisis and the widening of supply-demand gaps across the world. The industry is currently facing major challenges with regard to rising production capacity to help offset supply shortages. Several companies have started using their mass manufacturing capacities to produce these goods for their domestic markets in order to counter this supply shortage.
The global healthcare wipes market has been segmented based on product type, distributional channel and region. Based on product type, the healthcare wipes market is segmented into dry and wet wipes wherein the dry wipes segment dominated the market. Dry wipes segment growth is attributed to rising demand for the product for various purposes in healthcare facilities such as hospitals, medical facilities, and nursing homes.
On the basis of distributional channel, the healthcare wipes market is segmented into pharmacies & drugstores, supermarkets & hypermarkets, e-commerce, and others. Pharmacies & drugstores dominated the market in 2019 due to the mushrooming growth of these retail formats worldwide. The convenience and ease of getting healthcare wipes from these stores.
The global healthcare wipes market is cumulative to North America, Europe, Asia Pacific, Latin America and Middle East & Africa. North America dominated the global healthcare wipes market in 2020, however Asia Pacific is expected to grow at a highest pace through 2028.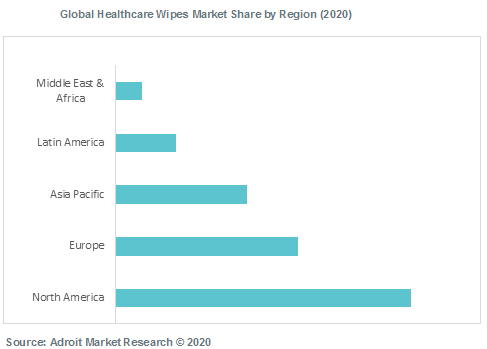 North America, especially the U.S. dominates the global healthcare wipes market. This is due to many factors, such as increasing urbanization, changing lifestyle, and increasing the emergence of scented wipes. In addition, growing numbers of hospitals in countries like Canada and the United States along with growing consumer awareness regarding prevention of potentially harmful microbes. Over the forecast period, Europe is expected to experience substantial growth. With growing customer awareness of personal hygiene, vendors in this area are actively investing in the introduction of novel and premium products by doing research and development. Moreover, in countries such as Italy, Spain, and the UK, the novel coronavirus outbreak has created a healthy demand for healthcare wipes.
In the Asia-Pacific region, increasing consumer awareness of the use of personal care products, especially to prevent skin problems and infectious diseases, is driving the growth of the market. The increasing spending on baby care products affects the region 's sales of baby healthcare wipes. The demand in the area is expected to be driven by substantial growth in the number of potential buyers from emerging economies such as China and India. Moreover, along with high internet penetration, rising purchasing power is changing the way customers purchase healthcare wipes. In addition, rising production activity and modernization of healthcare practices, especially in developing countries, are expected to see significant growth in the market for healthcare wipes during the forecast period.