The global halal market size was valued at USD 7.2 trillion in 2020. Halal food refers to foods and beverages that are prepared according to the Islamic dietary law's rigorous guidelines. Alcohol, blood, pork, pig by-products, animals that are dead before slaughtering, and animals that are not slain in the name of Allah are all deemed haram, or unfit for food, according to this commandment. Furthermore, halal food is packaged and stored in utensils that have been cleansed according to strict rules.
Increasing disposable income as a result of the economic development of leading Islamic nations like Indonesia, Malaysia, India, Pakistan, Nigeria, and Iran is predicted to expand the worldwide halal products market in the future years.
Over the past few years, halal food items have become popular amongst both Muslim and non-Muslim consumers as they have evolved from being an identification mark of religious observation to assurance of food safety, hygiene and reliability. Technological advancement and investment in the global halal industry are expected to increase its market concentration. New halal food testing technologies (pork test) by France and nanosensor technology kit for halal detection in Malaysia has maintained halal standard and quality. Manufacturers operating in this industry are expanding their operations in developing countries in order to capture the untapped market. For instance, in 2016, Al Islami Foods, a Dubai-based halal food producer announced that it is planning to open a new halal food factory in Brazil.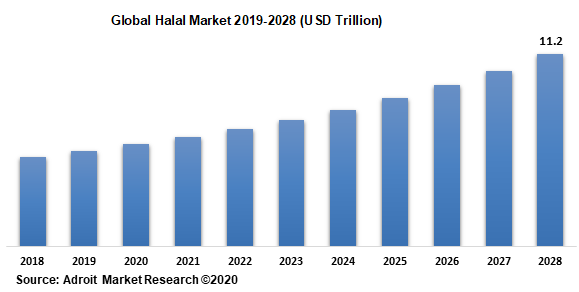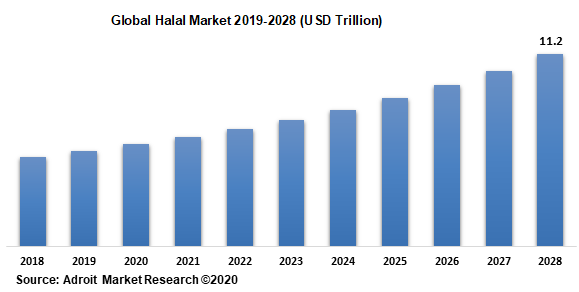 Halal Market Scope
| | |
| --- | --- |
| Metrics | Details |
| Base Year | 2020 |
| Historic Data | 2018-2019 |
| Forecast Period | 2021-2028 |
| Study Period | 2018-2028 |
| Forecast Unit | Value (USD) |
| Revenue forecast in 2028 | USD 11.2 trillion |
| Segment Covered | Product, Regions |
| Regions Covered | North America, Europe, Asia Pacific, South America, Middle East and Africa |
Key Segments of the Global Halal Market
Product Overview, 2019-2028 (USD Million)
Food and Beverages
Finance
Tourism
Media and Recreation
Fashion
Pharmaceuticals
Cosmetics
Regional Overview, 2019-2028 (USD Million)
North America
Europe
UK
Germany
France
Rest of Europe
Asia Pacific
China
Japan
India
Rest of Asia-Pacific
Middle East and Africa
UAE
South Africa
Rest of Middle East and Africa
South America
Brazil
Rest of South America
Reasons for the study
The purpose of the study is to give an exhaustive outlook of the global Halal market.
Halal is widely used for various end uses in food and beverages, owing to their excellent properties and the market is expected to gain traction over the coming years
With the growing personal care uses, there is a rise in the demand for Halal which is further expected to have a positive impact on the overall market growth
What does the report include?
The study on the global Halal market includes qualitative factors such as drivers, restraints, and opportunities
The study covers the competitive landscape of existing/prospective players in the Halal industry and their strategic initiatives for the product development
The study covers a qualitative and quantitative analysis of the market segmented based on Product and End Use. Moreover, the study provides similar information for the key geographies.
Actual market sizes and forecasts have been provided for all the above-mentioned segments.
Who should buy this report?
This study is suitable for industry participants and stakeholders in the global Halal market. The report will benefit: Every stakeholder involved in the Halal market.
Managers within the Halal industry looking to publish recent and forecasted statistics about the global Halal market.
Government organizations, regulatory authorities, policymakers, and organizations looking for investments in trends of global Halal market.
Analysts, researchers, educators, strategy managers, and academic institutions looking for insights into the market to determine future strategies.
The new QC and R&D lab would enable the organization to conduct testing through its different business units and improve its innovation capability. In addition, major players are concentrating their efforts on acquiring smaller market players in order to broaden their product range and geographic footprint. The Halal market is expected to be restrained to some degree during the forecast period due to strict regulations imposed by regulatory bodies in various regions on the use of Halal in the automotive industry.
While growing health concerns among people have been driving food and beverage manufacturing companies towards pulses ingredients, the Covid-19 pandemic has resulted in several unforeseen consequences for the market. A key trend observed in several developing countries during 2020 was large segments of the migrant working population returning to their homes in rural areas. As a result of this reverse migration, farming activity has increased.
Product Segment
The product segmentation for Halal food accounted for 42.5% of the global market share in 2020. With Growing demand for quality foods and the rise in halal certification requirement is expected to increase consumption of halal food over the projected period. Well-established food manufacturers are expanding their production facilities in order to cater to the growing demand. For instance, over the past few years, Nestlé opened halal food production facilities in Malaysia and Pakistan. Moreover, Unilever has opened a halal certified plant in the Philippines to cater to growing demand from South East Asia.
On the other hand, the worldwide halal tourism sector is likely to be driven by increased consumer spending power among Middle Eastern and African travelers, as well as government support to recruit new clients, over the forecast period. For example, the UK and Schengen visa waiver plan for UAE nationals, as well as the Tourism Authority of Thailand (TAT) expanding its tourism marketing budget, are likely to boost the halal tourism industry. Furthermore, the governments of Singapore and Malaysia have consistently enticed Muslim travelers by providing superior infrastructure and healthcare.
Taking into consideration the regional analysis, the Asia Pacific accounted for the largest market share in the total Halal market. The Asia Pacific was the leading market for halal food in 2020, and during the forecast period, the region is expected to provide market sellers several opportunities for growth. The market growth in the Asia Pacific can be attributed to the large religious and cultural population of the region that demand halal food. Moreover, the emergence of halal friendly hotels in non-Muslim countries such as Thailand is expected to provide a potential opportunity for the halal tourism industry, in turn, driving the global halal market. of more than 750 million Muslims and attractive travel destinations from Cape Town to Kenya, makes Africa a potential halal market. In 2017, Africa accounted for more than 5% of overall market share. Growing agriculture industry and the large untapped market is expected to encourage manufacturers to expand their production facilities in African countries.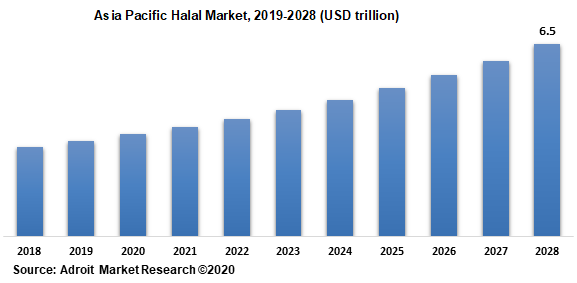 The rising demand for halal goods across the globe is aiding the growth of the market. Increased customer awareness regarding the product is also supporting the market growth. The growth in online shopping is expected to catalyse the market growth further. The rising purchasing power of the consumers is also projected to boost the demand for halal food in the coming years.
The global halal industry is fragmented in nature as a large number of halal products manufacturers are operating in this market. Some key players are Al Salam Bank-Bahrain, Al Rajhi Bank, INAYAH, MMA Bio Lab Sdn Bhd, Pharmaniaga, Midamar, Nema Food Co., Ivy Beauty Corporation Sdn Bhd, CLARA INTERNATIONAL BEAUTY GROUP, and Crescent Foods. Manufacturers operating in this industry are adopting merger & acquisitions and new product development to increase market competitiveness.
.