The surge in energy costs, tight government restrictions, and greater environmental consciousness about fuel usage among consumers are driving the global green tire market growth.
At a compound annual growth rate of 15 %, the size of the worldwide Green Tire market is projected to reach USD 38 Billion in 2030.
Covid-19 Impact & Market Status
The spreading COVID-19 epidemic around the globe has had a significant influence not just on people's lives, but also on the global economy. However, following the lockdown, industries are progressively coping with losses, although the rate of recovery is rather slow. Several companies and individuals are changing their investment plans to recoup losses rather than investing heavily in R&D innovation. Furthermore, in the middle of the epidemic, people are not investing much in purchasing automobiles. All of these challenges have had a substantial impact on the automobile industry.
Vehicle sales have plummeted as a result of the protracted shutdown and shift in investment budget. Moreover, the interruption in the trades, and the shutdown of manufacturing firms, has resulted in a surge in the procuring cost of raw materials, which has impacted vehicle production capacity. As a result, a decline in car sales is projected to stymie the market in the face of the coronavirus.
This report provides a detailed study of the global green tire market looking at key market aspects such as competitive landscape, investment opportunities in near and long term, challenges, market constraints, and other.
Light Weight Vehicles Segment Accounted for Maximum Market Share
The global green tire market is classified into heavy commercial vehicles, passenger vehicles, light weight vehicles, and others on the basis of type. Among these, the light weight vehicles segment experienced more demand for green tire. Government policies is aiding to the market growth. The rising rate of carbon emissions from cars is causing serious environmental issues. Because of their enormous use of fossil fuels, vehicles are the most prolific causes to air pollution. Although individual automobiles may not emit a large quantity of pollution, the total number of vehicles on the planet is immense. Several emission standards are being imposed on automobile manufacturers by governments throughout the world in order to limit the rising rate of vehicle emissions. For example, all tires marketed in Europe are required to be labelled.
The On-Road Segment Is Driving The Growth Of Global Green Tire Market
The global green tire market is classified into on-road, off-road, and other ion the basis of application. Among these, the on-road segment experienced more demand. Growing environmental concerns leads to the rise in green tire market growth. As the rolling resistance grows, so does the energy required to overcome the friction, resulting in the discharge of additional pollutants. This helps to lower the total weight of the vehicle type, resulting in less fuel consumption. The invention of green tires reduces rolling resistance while increasing gasoline consumption. Rolling resistance raises the amount of energy required for the tires to flex when they make contact with the road surface. Furthermore, in order to decrease rolling resistance, it is necessary to have complete control over the composite connection between the tire structure, and rubber compound.
Asia Pacific Emerges As The Market Leader In The Green Tire Market
Asia Pacific is expected to develop at a quick pace and will lead market growth during the projected period, owing to an increase in the usage of silica for tire treads. Because to the implementation of environmentally friendly alternatives, the area retains a strong position. The regional market has been driven by ongoing innovation and trends. It is the market leader in silica and silane manufacture. New advancements are constantly improving the performance of silica/silanes, which enhances tire performance.
North America is expected to rise due to an increase in demand for green tires as a result of the need for environmental awareness. Furthermore, rising automobile demand is projected to activate demand forces in the area market. Government incentives encourage owners of passenger and commercial vehicles to utilise green tires, which drives market development over the projection period.
The increasing need of sustainable and environment friendly tires are improving reliance on green tire furthering the development of global green tire market.
Owing to benefits such as low rolling resistance, improved fuel efficiency, reduction in emissions, durability, longevity, green tire is experiencing more demand is driving the demand for high-performance green tires as opposed to conventional tires thus fostering progress in global green tire market.
Factors such as stringent government protocols implemented by governments and low rolling resistance of the tires are driving the global green tire market.
The advantages such as better weight grip, lower rolling resistance, reduced fuel consumption, cheaper production costs, reduced use of chemicals and crude oil encourage further adoption of green tires. These factors collectively influence thumping growth of global green tire market.
The green tire market is expected to be of worth USD 45.2 billion at a CAGR of 5.7% during 2022-2029.
Vehicles, owing to their extensive usage of fossil fuels, are among the most significant contributors to air pollution. Even while individual automobiles do not emit a substantial quantity of pollution, the automotive industry's global appeal means that the sector's total impact is enormous. Tires are an important component of a vehicle when it comes to influencing the quantity of pollutants generated by the vehicle. In this regard, the rolling resistance of a vehicle, i.e. the friction between the tires and the pavement, is critical. The higher a vehicle's rolling resistance, the more energy it needed to overcome friction and the more pollutants it emits.
Because automobile tires contribute significantly to pollution created by vehicles, green tires have been conceptualised and built with the goal of reducing pollution and contributing to the environment.
The green tire is a new form of tire that has been introduced to the market recently. The green tire is far lighter than typical steel-belted tires, consumes half the energy of existing tires, and decreases greenhouse gas emissions by up to 80%. There are various kinds of green tires on the market currently, but experts are working on developing a new form of ecologically friendly green tire. The new tyre will exceed the old one while costing significantly less to manufacture.
Plant-based ingredients are used to make green tires. They are excellent for the environment since they do not need the use of fossil fuels to create and do not affect the environment when disposed of. Green tires, on the other hand, are still a developing technology. They haven't yet been mass-produced, so it's difficult to predict how well they'll function on the road.
Green tires are made from renewable resources like nylon rubber in a low-energy method. Tires are traditionally constructed of rubber, however with rising energy costs, tires are now being manufactured from renewable raw materials such as resins. At the moment, these environmentally friendly raw materials are preferred over traditional goods due to advantages such as being lighter than conventional items, resulting in a reduction in overall vehicle weight. Furthermore, it consumes less gasoline and aids in the reduction of rolling resistance. This is mostly owing to additional benefits like as long-life, durable tires, and so on.
Automobile tires are essential components, since they cover the rim with inflated inner tubes positioned beneath the wheel. The tires aid to keep the car's hold on the road while also providing friction between the road and the vehicle to absorb shocks during crashes. With increased emphasis being paid to environmental and energy challenges, tire manufacturers are increasingly shifting their focus to renewable raw materials in order to produce ecologically friendly tires.
Adoption of sophisticated technology and eco-friendly tire innovation has resulted in a surge in the creation of next-generation airless tires throughout the world. The airless tires typically operate without an inner tube or air pressure, and the flexible ring formed of metal spokes is attached to the sturdy inner hub to keep its shape. Airless tires are made up mostly of high-tension belts, and hubs. These tires have the ability to reduce carbon emissions by reducing energy loss and lowering frictional resistance.
The key constraints that may stifle global green tire market expansion are a lack of technological know-how and a lack of knowledge about the creation of these tires. Furthermore, the engineering required in the production of green tires, scarcity of raw materials, and associated costs may the global green tire market growth.
Also, substituting conventional raw materials for renewable raw materials might have a detrimental influence on braking performance. The market's expansion is further hampered by a lack of understanding regarding green tires. Regardless of these hurdles, rising urbanisation, and globalisation, as well as increased fuel consumption, will drive market expansion in the future.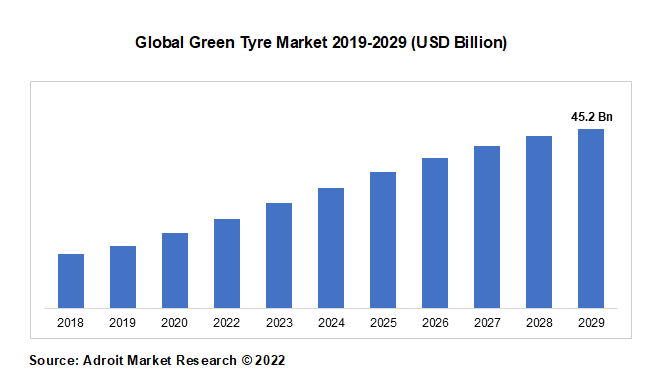 The key market players in the green tire market includes Bridgestone, Hankook, Goodyear Tire & Rubber, PPG Industries Inc, Continental AG, The Yokohama Rubber Co. Limited, Evonik, Maxxis, Michelin Inc. among others.
Major Developments in The Global Green Tire Market: A Snapshot
Manufacturer Nokian Tires has announced the Green Step concept, a winter tire produced using 93% recycled or renewable materials.
Green Tire Market Scope
| | |
| --- | --- |
| Metrics | Details |
| Base Year | 2020 |
| Historic Data | 2018-2019 |
| Forecast Period | 2021-2028 |
| Study Period | 2018-2028 |
| Forecast Unit | Value (USD) |
| Revenue forecast in 2028 | USD 45.2 billion |
| Growth Rate | CAGR of 5.7 % |
| Segment Covered | Type, Application, Distribution Channel, Regions |
| Regions Covered | North America, Europe, Asia Pacific, Middle East and Africa, South America |
| Key Players Profiled | Bridgestone, Hankook, Goodyear Tire & Rubber, PPG Industries Inc, Continental AG, The Yokohama Rubber Co. Limited, Evonik, Maxxis, Michelin Inc. among others. |
Key Segments of the Global Green Tire Market
Type Overview, 2019-2029 (USD Billion)
Heavy Commercial Vehicles
Passenger Vehicles
Light Weight Vehicles
Others
Application Overview, 2019-2029 (USD Billion)
Off-Road Purpose
On-Road Purpose
Others
Distribution Channel Overview, 2019-2029 (USD Billion)
Online
Aftermarket
Others
Regional Overview, 2019-2029 (USD Billion)
North America
Europe
Germany
France
UK
Rest of Europe
Asia Pacific
China
India
Japan
Rest of Asia Pacific
South America
Mexico
Brazil
Rest of South America
Middle East and South Africa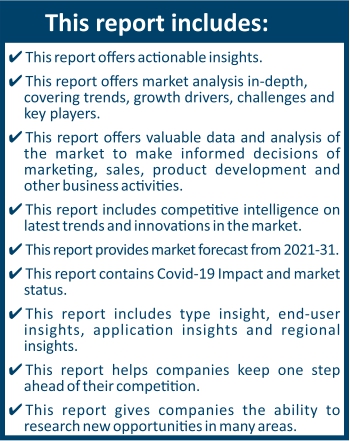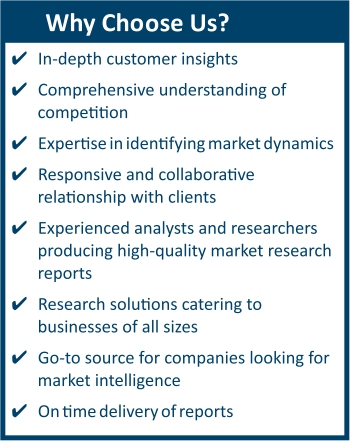 Frequently Asked Questions (FAQ) :
The market value of green tire market in 2029 was USD 45.2 billion.
The green tire market is growing at a CAGR of 5.7% over the forecast period.
Asia Pacific dominated the market for green tire market and accounted for the largest revenue share.
The top companies that hold the market share in green tire market are Bridgestone, Hankook, Goodyear Tire & Rubber, PPG Industries Inc, Continental AG, The Yokohama Rubber Co. Limited, Evonik, Maxxis & among others.
To get latest version of green tire market report can be obtained on demand from the website.