Silanes are saturated hydrosilicons, which include silicon and hydrogen, carbon, and nitrogen atoms. It comprises a homologous series of inorganic compounds that are synthetically derived for commercial purposes. Silicon atom possesses four bonds, where a hydrogen atom is attached to a silicon atom. The size of the silane compound is defined by silicon atoms. Silanes can improve compression strength, wetting properties, adhesion properties, electrical properties, shear strength, and mechanical properties.
In the recent few years, silanes have witnessed significant penetration owing to the growing end-user across the various sector including paint, adhesives, and rubber & plastics industry. Silanes are further used as an adhesion promoter for additives or primers in coatings, paints, adhesives & sealants, and inks. Also, construction applications including bridge and deck utilized silanes as a function for hydrophobing or dispersing agents. Moreover, it is used to cross-link acrylics, urethanes, and polyethylene to improve properties such as water resistance, heat resistance, and durability, in adhesives, paint, and coatings.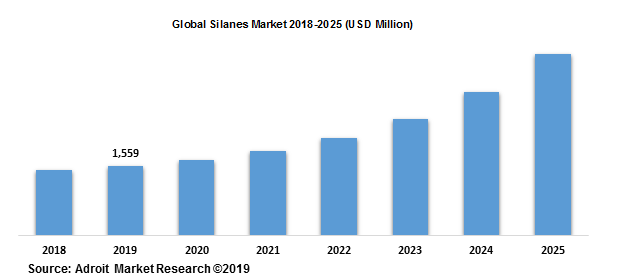 The rise in production through the expansion of manufacturing capacities has led to a proliferation in the industry. The automotive industry has significantly contributed toward enhancing the product demand. The shifting customer focus toward improving fuel efficiency and road safety through overall performance improvement is augmenting product adoption. Silanes are used as a reinforcing agent in rubber, which plays a vital role in improving fuel economy as well as tire properties. It is further used in paint & coatings for automobiles which increase the adhesion properties that in turn is anticipated to escalate the product demand.
Key segments across silanes market
Type Overview, 2018-2025, (USD Million and kilotons)

Vinyl Silanes
Epoxy Silanes
Amino Silanes
Methacryloxy Silanes
Others

End User Overview, 2018-2025, (USD Million and kilotons)

Paint & Coatings
Adhesives & Sealants
Rubber & Plastics
Fiber treatment
Others

Regional Overview, 2018-2025, (USD Million and kilotons)

North America

U.S.
Canada
Rest of North America

Europe

Germany
UK
Rest of Europe

Asia Pacific

China
India
Japan
Rest of Asia-Pacific

Middle East & Africa

Saudi Arabia
Rest of Middle East & Africa

Central & South America

Brazil
Rest of Central & South America
Reasons for the study
The purpose of the study is to give an exhaustive outlook of the global carbon black. Benchmark yourself against the rest of the market.
Be prepared for how chemical industry investments and silanes will be impacted by socio-political and economic factors over the next few years
Ensure you remain competitive as new innovations by existing key players boost the market.
What does the report include?
The study on global silanes includes qualitative factors such as drivers, restraints, and opportunities.
The study covers the competitive landscape of existing/prospective players in the industry and their strategic initiatives for the product development
The study covers a qualitative and quantitative analysis of the market segmented on the basis of type and end user. Moreover, the study provides similar information for the key geographies.
Actual market sizes and forecasts have been provided for all the above-mentioned segments.
Who should buy this report?
This study is suitable for industry participants and stakeholders in the global silanes. The report will benefit:
Every stakeholder involved in manufacturing and distributing components or solutions.
Managers within financial institutions looking to publish recent and forecasted statistics pertaining to the global silanes.
Government organizations, regulatory authorities, policymakers and financial organizations looking for T&D investment trends in global silanes.
Analysts, researchers, educators, strategy managers, and academic institutions looking for insights into the market to determine future strategies.
Growing urban population coupled with rising establishments of commercial and residential buildings and complexes are surging the demand for paint, rubbers and adhesives & sealants. Silanes is primarily used in paints & coatings to enhance adhesion capabilities to coated surfaces. Its ability to improve rubber properties has led to extensive adoption for tires in automobile industries along with consumer goods. Furthermore, silanes are used as a coupling agent to treat chopped strands, glass fibers, mats, glass wool, yarns, and rovings, surfaces to eliminate the hydrophilic properties of the fiber in order to reinforce the bond between resin and fiber in composites. Silanes capability to improve multiple properties have led to significant penetration across several industries, which in turn is anticipated to complement the industry in the coming years.
Surging demand for plastic products owing to its capability to utilize as a mineral filler into a polymer matrix that improves the end product functionality. However, rising demand for paper and environment-friendly packaging materials in order to reduce the land and air pollution is anticipated to hamper industry growth. However, rising research & development activities to expand product application along with growing focus toward water-based coating formulation will stimulate the industry size.
Type Segment
On the basis of type segment, the market is categorized into Vinyl Silanes, Epoxy Silanes, Amino Silanes, Methacryloxy Silanes, and Others. Others dominate the global silanes market with a share of over 28% share in 2018 and is anticipated to dominate the industry for the forecast period 2019-2025.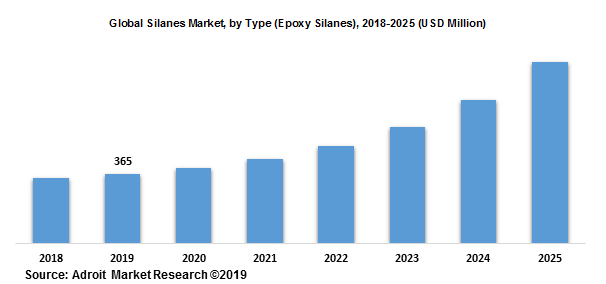 End User Segment
On the end user basis, the market is bifurcated into Paint & Coatings, Adhesives & Sealants, Rubber & Plastics, Fiber treatment, and others. The paint & coatings segment is anticipated to hold the major share over the forecast timeframe.
Asia Pacific region is analyzed to hold a major regional share for the global silanes market. Rising suburban migration along with growing middle-class income has led to an upsurge in the demand for residential apartments. This, in turn, has led to an escalation in demand for adhesives, paint & coatings which will propel the product demand. Furthermore, growing disposable income has led to the adoption of automobile which will further positively influence the industry landscape.
Europe is anticipated to gain significant penetration in the coming years. Growing application of fiber composites to enhance general-purpose application and high-performance application across marine, building & construction, automotive, sporting goods, printed circuit boards, and aerospace are driving the product demand. Increasing demand for carbon fiber and glass fiber composites across end-user industries including wind energy, construction, and aerospace will drive the business outlook.
Major players operating across the silanes market comprise of Momentive Performance Materials, Dow Corning, Evonik Industries, Shin-Etsu Chemical, Wacker Chemie, WD Silicone Nanjing Shuguang Chemical Group, Gelestand China National BlueStar. These industry players are adopting inorganic growth strategies including mergers & acquisitions, joint ventures along with organic strategies such as regional expansion and product launches to strengthen their market presence.