Global green & bio-based solvents market accounted for a market revenue of USD 6.28 billion in the year 2019 and is projected to grow at a CAGR of more than 6.5% over the forecast period. Increasing population and resulting development in sectors such as housing, public service, manufacturing and building can be attributed to development in the paints and coating as well as in the adhesive industries.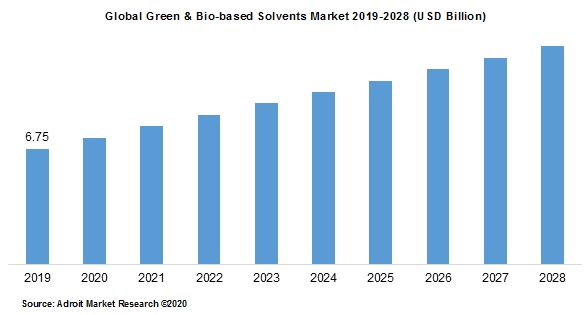 The main driving force in the industry is the expanded R&D ability of manufacturers to build new feedstock and manufacturing techniques for the facilitation of large-scale development. Increasing demand for bio based raw materials in other end user industries and misunderstandings of the cost and performance of bio based solvents are key challenges in the industry.
Key segments across green & bio-based solvents market
Product Overview, 2019-2028, (USD Billion)

Bio-alcohols
Bio-glycols
Bio-diols
Lactate esters
D-limonene
Methyl Soyate
Others

Application Overview, 2019-2028, (USD Billion)

Paints & coatings
Industrial & domestic cleaners
Adhesives
Printing inks
Pharmaceuticals
Cosmetics
Others
Regional Overview, 2019-2028, (USD Billion)
North America
Europe

Germany
UK
France
Rest of Europe

Asia Pacific

China
India
Japan
Rest of Asia-Pacific

Central & South America
Middle East & Africa
Reasons for the study
The purpose of the study is to give an exhaustive outlook of the global Green & Bio-based Solvents. Benchmark yourself against the rest of the market.
Be prepared for how Metal industry investments and Green & Bio-based Solvents will be impacted by socio-political and economic factors over the next few years
Ensure you remain competitive as new innovations by existing key players boost the market.
What does the report include?
The study on the global Green & Bio-based Solvents includes qualitative factors such as drivers, restraints, and opportunities.
The study covers the competitive landscape of existing/prospective players in the industry and their strategic initiatives for the Form development
The study covers a qualitative and quantitative analysis of the market segmented on the basis of derivative and application. Moreover, the study provides similar information for the key geographies.
Actual market sizes and forecasts have been provided for all the above-mentioned segments.
Who should buy this report?
This study is suitable for industry participants and stakeholders in the global Green & Bio-based Solvents. The report will benefit:
Every stakeholder involved in manufacturing and distributing components or solutions.
Managers within financial institutions looking to publish recent and forecasted statistics pertaining to the global Green & Bio-based Solvents.
Government organizations, regulatory authorities, policymakers and financial organizations looking for T&D investment trends in global Green & Bio-based Solvents.
Analysts, researchers, educators, strategy managers, and academic institutions looking for insights into the market to determine future strategies.
Increased demand for raw materials such as soya oil and corn starch for biofuels will affect their availability for bio-based solvent production. The highest growth in Asia Pacific is estimated by raw material availability, low production costs, the presence of a large number of manufacturers and high demand for environment friendly solvent solutions for multiple vertical end-use applications. The increasing growth of the region's middle classes and the increased discretionary income have led the customer to become more conscious of the environmental effects of high-VOC paint, coating and adhesive goods.
In terms of product the global green & bio-based solvents market in terms of product is segmented into bio-alcohols, bio-glycols, bio-diols, lactate esters, d-limonene, methyl soyate, and others. Similarly, in terms of application the global market is segmented into paints & coatings, industrial & domestic cleaners, adhesives, printing inks, pharmaceuticals, cosmetics, and others.
In terms of geography, the global Green & Bio-based Solvents is segmented into North America, Europe, Asia Pacific, Central & South America, and Middle East & Africa. Asia Pacific is projected to lead the global market owing to advancement in the technology and presence of key industrial players.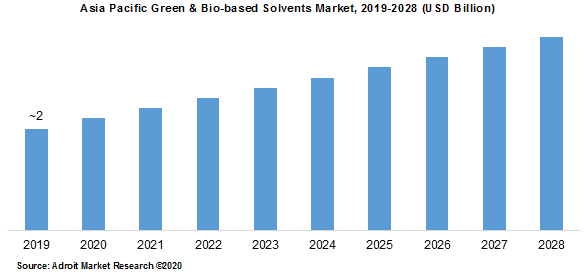 Key players include Archer Daniels Midland Co., BASF SE, The Dow Chemical Co., Huntsman Corporation, E.I. DuPont De Nemours & Co., BioAmber Inc., Myriant Corporation, Cargill Inc., Cobalt Technologies, LyondellBasell