The global Graph Analytics market is projected to reach US $ 6.37 Bn by 2029, growing at a CAGR of 35%
Graph analytics solutions are analytical methods used to assess the intensity and direction of the relationships within a graph between objects. Graph analytics is an overview of the network and is generally used for computational workload. Graph analysis is primarily being used for influencer analysis in social networks. Marketing managers use this software to identify their potential marketing campaign targets by trying to trigger chain reactions for buying products and services between social network communities. This also helps to track financial crimes like money laundering. This is also used to detect fraud cases, such as fraudulent purchases and banking applications, government benefits fraud, insurance applications and reimbursement fraud, and other fraudulent telecommunications practices. Such devices are used for crime prevention and counter terrorism.
The global graph analytics market revenue is projected to reach close to USD 5,221.52 million by 2028. Growing demand from the companies for advanced analytical solutions to improve customer service and rising number of innovations and product enhancement drive market growth.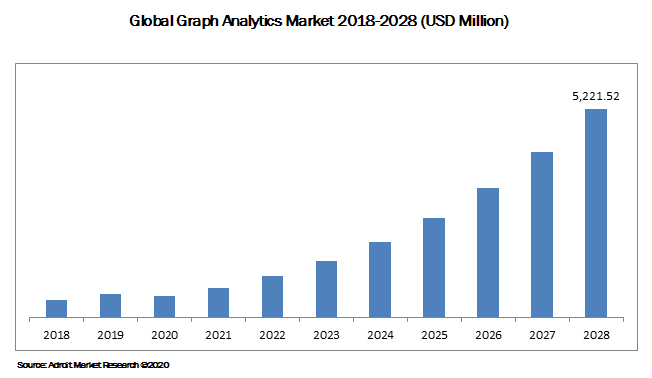 Similarly, the growing demand for analytical tools to analyze real-time data relationships is creating an impetus for business development. On the other hand, there is a lack of technical expertise to build a high computing algorithm and inadequate standardization resources which hinder market growth.
Analytics Market Scope
| | |
| --- | --- |
| Metrics | Details |
| Base Year | 2021 |
| Historic Data | 2019-2020 |
| Forecast Period | 2022-2029 |
| Study Period | 2019-2029 |
| Forecast Unit | Value (USD) |
| Revenue forecast in 2029 | US $ 6.37 Bn |
| Growth Rate | CAGR of 35 % during 2021-2029 |
| Segment Covered | By Component, by Deployment Model, Application, Vertical, Regions |
| Regions Covered | North America, Europe, Asia Pacific, South America, Middle East and Africa |
| Key Players Profiled | IBM Corporation, Amazon Web Services, Oracle, Neo4j, TigerGraph, DataStax, TIBCO Software, Lynx Analytics, Cambridge Intelligence, Kineviz, Franz, Expero, Dataiku, Tom Sawyer Software, Teradata, Linkurious, Graphistry, Objectivity |
Key Segment Of The Graph Analytics Market
by Component, 2022-2029 (USD Million)
• Solutions
• Services
by Deployment Model, 2022-2029 (USD Million)
• On Premises
• Cloud Based
by Application, 2022-2029 (USD Million)
• Customer Analytics
• Risk & Compliance Management
• Recommendation Engines
• Route Optimization
• Fraud Detection
• Others
by Vertical, 2022-2029 (USD Million)
• IT & Telecom
• BFSI
• Ecommerce & Retail
• Transportation & Logistics
• Manufacturing
• Healthcare & Life Sciences
• Others
Regional Overview, 2022-2029 (USD Million)
North America
• US
• Canada
Europe
• Germany
• France
• UK
• Rest of Europe
Asia Pacific
• China
• India
• Japan
• Rest of Asia Pacific
South America
• Mexico
• Brazil
• Rest of South America
Middle East and South Africa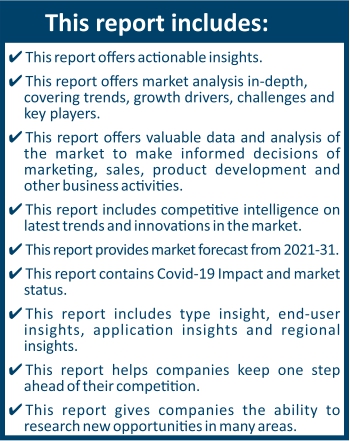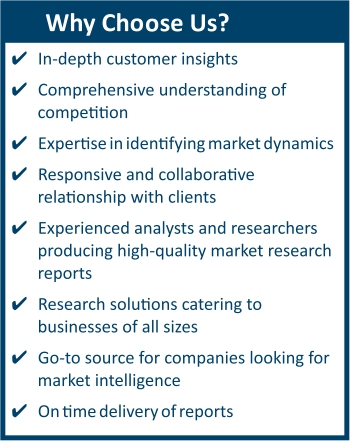 Frequently Asked Questions (FAQ) :
The application of the graph analytics market Retail, Government, BFSI, Transport and Logistics, Healthcare, Media and Entertainment, IT and Telecom, Manufacturing, and Education.
To get latest version of graph analytics market report can be obtained on demand from the website.
The market value of graph analytics market in 2028 was USD 5,221.52 million.
The growing demand to analyze low-latency queries and to uncover relationships between data in real-time are the key reasons driving the demand for graph analytics solutions Graph analytics is an emerging and noteworthy new field for analytical tasks, and is also defined as network analysis. The capability to be used for analysis of social network influencer has created adequate market growth opportunities in graph analytics. Marketing managers are specifically interested in recognizing influencers in social networks, since they are possible targets for social media marketing campaigns. Integrating with influencers may cause chain reactions among groups in the social network and cause sales of products and services. The global demand for graph analytics is expected to develop at a robust rate of growth and attain prominence by 2028. Increasing demand for analysis of low-latency queries coupled with the ability to reveal the data relationship between data in real time.
Deployment Mode Segment
Based on the deployment mode, the market is segmented into on-premise and cloud. The cloud segment leads the market growth in 2019 and it is anticipated to hold its position during the forecast years. In the graph analytics industry, number of vendors provides cloud-based maintenance solutions to make complete profits and efficiently optimize the process of maintaining equipment. It is anticipated that the adoption of cloud-based graph analytics solutions will witness a positive amount of growth, due to benefits including easy data generation maintenance, cost-effectiveness, scalability, and efficient management of these solutions.
Organization Size Segment
In terms of the organization size segment, the market is segmented into small and medium-sized enterprises and large enterprises. In 2019 the small and medium enterprises segment accumulated the major market share and it is expected to do so over the forecast years. Given the high convenience of cost-effective cloud solutions, during the projected timeline the graph analytics industry is likely to witness a significant growth rate among small and medium-sized enterprises.
Application Segment
In terms of the application segment, the market is segmented into retail, government, BFSI, transport and logistics, healthcare, media and entertainment, it and telecom, manufacturing, and education. In 2019 the IT and telecom segment accumulated the major market share and it is expected to do so over the forecast years. The market growth of the IT and telecom segment is mainly ascribed to the development of cloud-based graph analytics market.
The North American region dominated the overall market in 2019 and it is projected to keep its position during the forecast years 2020-2028. However, the Asia-Pacific region is anticipated to gather the highest growth over the forecast years. The market growth in this region is mostly ascribed to the growing need for improved productivity and increased demand in this region. On the worldwide graph analytics market, North America is estimated to hold the largest market share, while Asia Pacific (APAC) is expected to rise at the highest CAGR over the forecast period. APAC's high rate of growth can be attributed to companies in the region taking opportunities to go beyond maintaining enforcement and implementing technology to curb illicit capital flows that endanger clients and their communities. When applied to a transactional data history, Graph analytics and Machine Learning (ML) will help companies uncover transaction patterns.
North America is the largest source of sales to the global graph analytics industry. The area is experiencing marked business developments. The high growth rate in North America can be due to the growing use of big data technologies, growing volumes of data across verticals and rising investment in real-time analytics by businesses.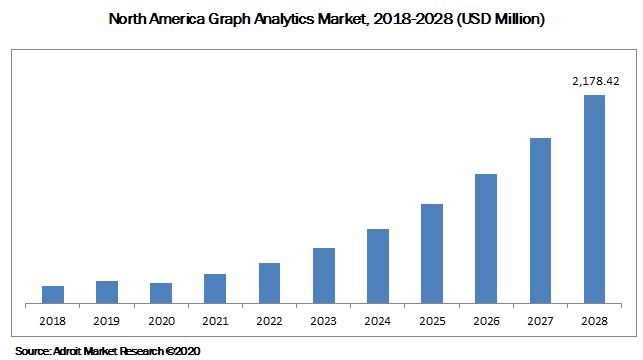 The major players of the global graph analytics market are Graphistry (US), Teradata (US), Microsoft Corporation (US), AWS (US), IBM Corporation (US), Dataiku (US), Lynx Analytics (Singapore), Neo4j (US), Oracle Corporation (US), TIBCO Software (US), Cray, Inc. (US), Linkurious (France), DataStax (US), Objectivity (UK), and TigerGraph (US). The graph analytics market consists of well-established global as well as local players. In addition, the previously recognized market players are coming up with new and advanced strategic solutions and services to stay competitive in the global market.